---
Northumberland Avenue, London WC2N 5DE 0844 871 7631
Synopsis
Theatremonkey show opinion
Reader reviews
Performance schedule
Ticket prices
Previews from 15th November 2021.
In a time when the world is changing forever, there is one place where everyone can be free…..welcome to the Kit Kat Club. This is Berlin. Relax. Loosen up. Be yourself.
One of the most successful musicals of all time, CABARET features the songs Wilkommen, Don't Tell Mama, Mein Herr, Maybe This Time, Money and the title number. It has music by John Kander, lyrics by Fred Ebb, book by Joe Masteroff. Based on the play by John Van Druten and stories by Christopher Isherwood.
The Kit Kat Club has taken over the Playhouse Theatre while it has been standing empty, transforming one of London's most famous theatres with in-the-round auditorium and reimagined spaces. The marginalised have staked a claim, the artists have taken over, filled their container and found their community. It's 1930s Berlin. It's 2020s London. It's Then, it's Now. Who knows how long it will reside here. For now, we're enjoying the party. The party at the end of the world.
The show stars Oscar, Golden Globe, BAFTA, Tony and Olivier award winner Eddie Redmayne as 'The Emcee' and Bafta Nominee and British Independent Film award winner Jessie Buckley as 'Sally Bowles'.
Guests will be allocated a 'club entry time' on booking which will allow them to fully explore and experience all parts of the Kit Kat Club and pre-show entertainment.
Exclusive three course, pre-show dining at cabaret tables available.
Before the show, guests are invited to enjoy and explore the Kit Kat Club with drinks, dining and pre-show entertainment all on offer. When booking, guests will receive a 'club entry time' to allow enough time to take in the world of the Kit Kat Club before the show starts. But of course, the show really starts when you first join us in the club……
The full cast also includes Omari Douglas as 'Cliff Bradshaw', Liza Sadovy as 'Fraulein Schneider', Elliot Levey as 'Herr Schultz', Stewart Clarke as 'Ernst Ludwig' and Anna-Jane Casey as 'Fraulein Kost'. The ensemble is completed by Josh Andrews, Emily Benjamin, Sally Frith, Matthew Gent, Emma Louise Jones, Ela Lisondra, Theo Maddix, Chris O'Mara, Daniel Perry, Andre Refig, Christopher Tendai, Bethany Terry, Lillie-Pearl Wildman and Sophie Maria Wojna.
The Prologue Company consists of Gabriela Bendetti, Rachel Benson, Laura Braid, Julian Capolei, Hollie Cassar, Celine Fortenbacher-Popławska, Samantha Ho, Andrew Linnie and Sally Swanson with an original score composed by Angus MacRae.
Photo credit: Joel Palmer, used by kind permission.
Fabulous. I enjoyed every second of it. It certainly lives up to the hype. The cast are excellent, the two leads make it their own. I wish I could go back again. Best show I have seen in the West End for quite a while.
Legacy reader reviews
Upper circle row D: Sight lines very good up there, unlike when it was the shallow rake. Legroom for row D was fine, it did look tight in the sides of row A. You also kinda need to lean to get the best full view. When I booked the main concern was heads in the way/front of stage being cut off but it wasn't at all. For the price (compared to the stalls/dress) it's a real bargain.
The monkey advises checking performance times on your tickets and that performances are happening as scheduled, before travelling.
Monday to Saturday at 7.30pm
Wednesday and Saturday at 2pm and 7.30pm
No performances on 25th December 2021.
TIME CHANGES
23rd December 2021 at 2pm and 7.30pm
24th December 2021 at 2pm only.
31st December 2021 at 5pm only.
1st January 2022 at 7.30pm only.
Theatres use "dynamic pricing." Seat prices change according to demand for a particular performance. Prices below were compiled as booking originally opened. Current prices are advised at time of enquiry.
All details are provisional and subject to change.
All performances from 15th December 2021 onwards:
Preview performances from 15th to 26th November 2021 only: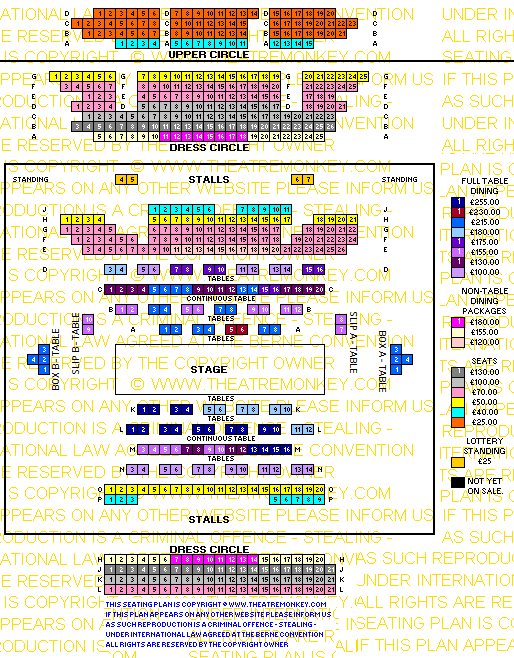 DAILY LOTTERY: This will be via app Todaytix at https://www.todaytix.com/london/shows/23939-cabaret. Entries open at 0.01am on the day of the show, with the draw closing 4 hours before performance time. Winners are contacted by email and have 30 minutes to accept their tickets. Maximum 2 tickets per winner. 
Back To Top