The website Theatremonkey.com has never sold tickets itself. Instead, it directs guests to the real theatre box offices and reliable STAR member ticket agencies.
Sometimes guests have a problem with tickets they have bought, and need to contact someone.
Theatremonkey is always happy to hear about good experiences, and can listen sympathetically to poor ones. It is just that the office cannot help with most "after sales" questions - particularly if the enquiry is urgent. This includes things like issuing confirmation emails, rectifying mistakes made while booking and assisting with performance date changes. All these matters have to be done by the ticket agency.
It hopes this guide will direct guests to the correct place quickly, and hopes every issue is solved equally fast.
The office has noticed that quite a few guests forget which company they bought tickets through. So, to help them find where to get help, this page features the main online contact details for the major ticket agencies, with pictures of their website to help jog the memory:
Encore: support.tixuk.com/support/home.  As a rule, your confirmation email will begin with letter T, followed by numbers: T1234567890.
Lovetheatre.com (Theatremonkey Ticketshop): help.lovetheatre.com
London Theatre Direct: www.londontheatredirect.com/email-us
From The Box Office (Ingresso): www.fromtheboxoffice.com/site/about/

Ticketmaster.co.uk: help.ticketmaster.co.uk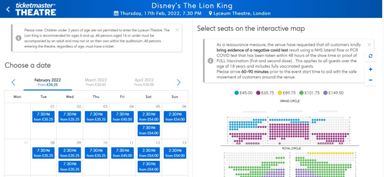 See Tickets: www.seetickets.com/customerservice
Theatre Tickets Direct: www.theatreticketsdirect.co.uk/contact
For other ticket agencies, including Fenchurch, London Theatre Bookings and Leicester Square Box Office, see www.star.org.uk to find information.
For the major theatre owning companies, websites include:
www.lwtheatres.co.uk for the Adelphi, Cambridge, Gillian Lynne, London Palladium, Theatre Royal Drury Lane.
www.atgtickets.com for the Ambassadors, Apollo Victoria, Duke of York's, Fortune, Harold Pinter, Playhouse, Lyceum, Phoenix, Piccadilly, Savoy and Trafalgar.
www.nimaxtheatres.com for the Apollo Theatre Shaftesbury Avenue, Duchess, Garrick, Lyric Theatre Shaftesbury Avenue, Palace and Vaudeville.
Other theatres have their own independent websites. Again, www.star.org.uk can confirm the correct website address as all venues are in the list of members.