---
Victoria Street, Westminster, London SW1E 5EA 0344 482 5151
Synopsis
Theatremonkey show opinion
Reader reviews
Performance schedule
Ticket prices
George Washington had a friend called Alexander Hamilton, who helped him shape America.
A fusion musical import of the Broadway hit by Lin-Manuel "In The Heights" Miranda.
From 19th June 2023: Declan Spaine (Alex Sawyer at certain performances) plays the title role of Alexander Hamilton, with Ava Brennan as Angelica Schuyler, Simbi Akande as Peggy Schuyler/Maria Reynolds, Dom Hartley-Harris as George Washington, Lemuel Knights as Marquis De Lafayette/Thomas Jefferson, Simon-Anthony Rhoden as Aaron Burr, Shan Ako as Eliza Hamilton, Emile Ruddock as Hercules Mulligan/James Madison, Jake Halsey-Jones as John Laurens/Philip Hamilton and Joel Montague as King George III.
Ensemble: Gabriela Acosta, Elizabeth Armstrong, Alishia-Marie Blake, Aimie Hibbert, Sam Holden, Christian Knight, Nathan Louis-Fernand, Stacey McGuire, Lewis Newton, Hassun Sharif, Alex Tranter and Maddison Tyson, Matthew Elliot-Campbell, Manaia Glassey-Ohlson, Maya Britto, Barney Hudson, Nicolais-Andre Kerry, Ella Kora, Aaron Lee Lambert, Kerri Norville, Samuel Sarpong-Broni, Lindsey Tierney and Brandon Williams.
 
(update: seen at the afternoon performance on 5th November 2022)
The monkey felt able to upgrade this show with a fifth banana. The 2022 cast are high-energy and for the first time it understood the show is about the love of a nation in parallel with the various loves of Hamilton himself. It left impressed and refreshed. Enough said.
(seen at the afternoon performance on 23rd December 2017).
For several years, the monkey has actively avoided anything to do with this show. It desperately wanted to come to it "fresh," knowing nothing except the fact it was written by the creator of its favourite "In The Heights" and that it is about American politics. Thus, everything written here is the view of a monkey seeing and hearing every note fresh and without expectation.
So, to start, it wishes to make two important points: first, that no show can carry that much weight of expectation. Second, this is absolutely NOT "Les Misérables" in terms of breaking new ground theatrically or in any other way. This show is very much its own creation.
It's a history lesson, given by one of the coolest, funniest, hippest lecturers around. The show has a reputation as a "rap" musical. That's not accurate. It's a fusion. Yes, rap plays a strong part - lending a high degree of humour, most often. It still, though, has plenty of traditional musical theatre vocal, and lyrics are clear whether spoken or sung. Better still, there is no repetitive drumbeat as non-rap fans may fear.
Our guide is Aaron Burr (Giles Terera), friend of immigrant Hamilton (James Westman) and sometime narrator of the plot, as well as protagonist. Not always in "The Room Where It Happens" but vital, and played with verve.
Hamilton himself is a flawed genius, wife Eliza (Rachelle Ann Go) long-suffering, the pair as fine a musical theatre couple as you will find anywhere in the West End.
Other characters (to say more would reveal the plot) move in and out of Hamilton's life as history unfolds, but to mention a few, Michael Jibson (King George) delivers wonderful musical speeches, starting with "You'll Be Back" and Rachel John (Angelica Schuyler), Christine Allado (Peggy Schuyler) and Obioma Ugoala (George Washington) all deserve particular note.
For the monkey, the second half was meatier than the first, as the real politics kicked in. The whole show is episodic in nature, with some spectacular set pieces and impressive Andy Blankenbuehler choreography. The lyric has some lovely turns of phrase, true wit and beautifully considered references as appropriate. The music has elements of "In The Heights" in the way an "apprentice piece" will eventually reflect a later master craftsman's work.
If it is honest, it did find this harder to love, simply as the characters are less endearing than Miranda's earlier work. There's also an odd, slightly "plastic" feel too. Partly hands that had nothing to do with the original evolution have been at work, partly that this just feels a little "cloned" from the original. That aside, it's individual and certainly has a different voice - one that must be heard as it constantly draws parallels with today. A history lesson and a lesson for the future in a single show, that's pretty good going, thinks the monkey.
Second visit, at the matinee on 3rd November 2018. The show has hit its stride, and the monkey was far keener on the choreography and understood much of the energy that flows from the show itself. Certainly now a high 4 stars from it, and one it would see again.
Legacy reader reviews
Important: Some reviews below can contain "spoilers" - please don't read if this bothers you!
Saw the third preview on 8th December 2017. The extra rehearsal time due to delayed opening has paid off and the show was brilliant without any faults or hitches. The music and choreography is totally novel and the cast are superb. Jamael Westman as Hamilton needs to invest his character with more depth but that is a minor carp; the whole thing is totally original and deserved the cheering and standing ovation it got at the end. Does it live up to the hype? YES, but American audiences no doubt are more aware of the history and characters in the show than we are over here and a bit of research on Hamilton, Lafayette, Thomas Jefferson and Aaron Burr will make the show easier to follow. The sound level is perfect (unusual in the West End nowadays) and this is important as it is necessary to hear every word to follow Hamilton's story. 
Highly recommended.

John, 
Derby
______________________________________________________
I did it! I scored a seat first row of royal circle, A19, dead centre. By waiting until 5 minutes before curtain, I only paid £57.50! And the show wasn't bad, either! Not as good as the original cast album, but worth the price of admission. I chuckled through "The Room Where It Happened", picturing Randy Rainbow doing his version on stage. ??
Seat A19. Sorry, leg room at a minimum, and seat backs are a bit short, but no rail to block the view, with comfy padded area, perfect for leaning on or resting water bottles and candy boxes (my neighbours, not me) instead. You are so close to the stage and are able to fully enjoy the choreography. 
I know you like to go in cold, but I found that familiarity with the lyrics enhanced my enjoyment as they are difficult to understand during much of the first act without prior knowledge. Just saying...
______________________________________________________
I saw Hamilton last night (16th December 2017) and given it is so new I thought a review would be helpful:
First entering the theatre etc:
They were really strict regarding the process to get into the theatre, you are only allowed to get in the queue when your whole group has arrived - they suggest that you have to have the confirmation printed but just having it on your phone is fine, they also didn't check my photo ID (but I wouldn't risk it), they just scanned my credit card and the tickets printed out (super quickly) which is great, I was interested how they'd manage the process but it is actually not much slower than them scanning tickets normally.
Seat review Stalls P 27: 
This seat is in the centre of the theatre towards the back of the stalls but there is no obstruction from the overhang unfortunately there isn't much rake in the stalls nor are the seats offset and my view was obstructed by a tall gentleman in front of me, I spent the show leaning to see around his head, so I wouldn't recommend these seats if you are short! But I don't think there is any noticeable difference between these seats and row O which cost £47 more each so they do represent good value (or row O represents bad value) 
Show review: 
I loved the whole thing! A lot of the cast replicate the performances of the original broadway cast with the exception of Giles Terera who is a very different Aaron Burr, it is a bold casting choice but I think he does a great job in the role. I was also really impressed with Michael Jibson's King George and Cleve September especially as Philip Hamiliton. But the whole cast were great. 
_______________________________________________________
Stalls D20/21. Some slight spoilers in this seat review.
These seats were one row in front of the very expensive premium priced seats. I would say they represent reasonable value compared to the rows behind and probably the cheaper ones at the back or in the front row.
The view was excellent, really close to feel part of the action but enough back not to feel the pain experience from looking up at a very high stage (I'd definitely avoid the front row unless on a tight budget). We could just about see the feet of the performers (although not the revolving part of the stage) and definitely right to the back.
_______________________________________________________
Grand Circle G35 and 36.
These seats were priced at £37.50 during previews, and offered excellent value for money. They provided an excellent view of the whole stage, and didn't feel too far off to the side as I'd feared they might. The excellent rake in the Grand Circle ensures clear views. Very occasionally action takes place on the upstage balcony, and we could still just see all the action below the top of the proscenium arch - I think if you were sat in row H or further back your view might be restricted during these moments.
The sound in the Grand Circle is exceptional - top marks to the sound team.
The leg room was poor - I'm 6ft 2 and in G35 I couldn't get my right knee down far enough to get my foot flat on the floor, as my shin was hitting the seat in front. Even my very petite date found the leg room limited. The seats themselves are well padded with a comfy back, but a little narrow.
There seemed to be plenty of toilets and bars on all levels of the refurbished theatre - bravo Cameron. Staff were all very friendly, welcoming and efficient. 
________________________________________________________
My thoughts on last night's Hamilton - final preview 20th December 2017.
Getting In to the Theatre - "Hamilton Paperless Ticketing"
It's actually very slick. There is a short queue on the pavement outside the theatre, which you are not allowed to join without showing your email booking confirmation (on phone screen or paper), and having the correct number of people for your booking with you. A short shuffle down the pavement and someone checks your photo ID matches the name on the email. On to the front doors of the theatre for a standard bag check. Final step just inside the foyer involves handing the credit card you booked with to people with little hand held card machines, which instantly spit out little tickets the moment your card is swiped. People with issues at that point (maybe they changed their credit card since booking, or whatever) were getting directed to a desk at the side for more in depth conversations. The whole process was done in less time than the queue for bag check at many of the other West End theatres these days, so I really do hope more places roll out something similar.
Inside the Refurbished Theatre
It's an absolute work of art, Cameron and his team have done a terrific job. Far more than just a repaint and recarpet; it appears as a top to bottom reworking of everything. The strange "side lobby" is still there as it was but is now an extended Stalls Bar; circulation spaces upstairs also appear to have been extended and improved, notably I didn't notice any toilet queues anywhere so I guess they have added decent facilities. Beautiful lighting and wallpaper throughout give the building a huge lift in class. It looks like new seating throughout, and certainly in the Stalls where I sat, the new seats are big and bouncy. They have cleverly added little boxes to the back and sides throughout the auditorium, also adding to the feel of grandeur; the Stalls boxes are each entered through individual doors off the main entrance corridor, in the style of a Parisian opera house or the Royal Albert Hall.
Stalls Seat S9
The rake in the Stalls is slight but sufficient, in this particular corner seats are staggered enough that you can easily see the full stage between the heads of the people in the row in front. It is a bit of a "widescreen" view, being framed horizontally by the Dress Circle above; but it doesn't appear to matter for Hamilton, with almost everything happening on the centre and front of the stage, in a "semi staged" fashion, with no significant scenery changes other than what's on the stage when you walk in. It might be a poor seat for future shows (if Hamilton ever leaves!) that make use of scenery in the upper half of the stage. This seat is high enough to clearly see the large stage revolve that is key to a lot of the choreography, I suspect that won't be visible further forward. I chose this seat because it is £22 cheaper than the seat right next door, and is a saving well worth making for no appreciable difference in view (seats in this rear corner also benefit from very rapid access to the exit, toilets, and bar!). The only criticism of this seat is that there are a few (short) sections where somebody sings from a balcony on the right hand side of the stage; you can tell who it is but can't see their face. For this reason, the equivalent seats on the other side (R40 and upwards, S40 and upwards) will be a better bet for the same money. But they are not near the toilets/bars!
I did take a short wander to the other levels (they're all easily accessible in this theatre) and, legroom issues in places aside, it looked to me like you would struggle to find a bad seat anywhere, certainly for this show. Even the back of the Upper Circle looked like it had a great and unobscured view.
Hamilton the Show
It's actually really enjoyable throughout, and I learnt a lot about early United States history! It's true that it has a rap basis to the whole thing but yet it cleverly weaves so many other types of music on top of that, it works really well, and nobody should let the rap element put them off. Special mention for the sound team, every word is astonishingly clear! Similarly, lighting is super tight, costumes are glorious, choreography is stunning; together with the superb performers they've found it all comes together to be a triumph. I predict the Victoria Palace will be occupied by Hamilton for years to come!
______________________________________________
Me and my dad went to see Hamilton on 19th of December 2017 and we were blown away. After listening to the Broadway soundtrack for years the day had finally come. We were sat on the back row of the stalls Row T seats 23 and 24 and they had an almost perfect view (tops of heads of cast were hard to see when they were high up.) I wanted to make people aware that they don't have to feel pressured to pay the extortionate £200 ticket prices to get a good view or experience and that those seats are just as fantastic.
I thoroughly recommend this masterpiece of a musical and whatever expectations you have now, be ready to have them blown away!! 
(Also to put the cherry on top of the cake, I was stood right next to Cameron Mackintosh at the merchandise stand and I have to admit I was fangirling!).
_____________________________________________
I just wanted to send a review of a seat, as I had a great experience even though I was worried about a seat and wanted to share with others :) it's long but I wanted to include my thoughts.
Box B Stalls 1-2
At £100 these seats are the second most expensive in the stalls and right at the back but don't let that put you off. This was a totally different theatre experience for us and a great one at that. I wouldn't normally choose seats so far back and so expensive but with it being this production and seats being harder to get, we treated ourselves and were really pleased we did. 
Firstly, you entrance to the box is through its own private doorway. The boxes themselves seat 4 people and you don't have to buy the whole box (at least not at the moment).
There are 4 movable and very comfortable chairs lined up in front of the waist height (when seated) cushioned on top wall. The space between each chair isn't huge but you have more space than in the bolted chairs of the auditorium. There are multiple advantages to this chair, especially if you are tall - you could push the chair far back and be able to stretch you legs fully out.
We had space to put our coats, bags and merchandise behind us in a corner so didn't have it all under our chairs. 
The box also had a narrow table at the back, perfect for the drinks - which did I mention you can order from the butler service which is part of the box. 
The lady serving the box was super friendly and was there when we first arrived. She was serving the other boxes as well but was super efficient. We order drinks before the show and also at the same time ordered some for the interval. She took cash and card. The drinks came promptly both times. 
The view itself is much better than your normal boxes as your sat at the back of the auditorium (right behind row T, their seats rest against the wall). Another rare thing is that despite being in the stalls with a small rake, you get a view that is clear of anyone else's heads (and I'm 5'3) This is due to the box being a good bit higher than the row in front. Unless you have a giant in row T, you get an amazing view over everyone's heads. This is a first for me in the stalls as I usually end up peering between people. 
Yes, it's a but further away from the stage, but at £10 more than row T, I would pick this box any day for that view. I'd actually say I'd pick this seat over being in the last 6-7 rows of the stalls, due to the fact your sat higher.
The only bit that gets cut off was the second level corners that are towards the front of the stage. As a focus point, they are used very rarely and I don't think it distracts from the experience. I'd take missing a few lines for having a clear view of the stage for the rest of the show. You can see most of the second level of the stage, especially the central bit but the second level isn't overly used for the principles.
Due to having our own private door, it was super easy to make a dash out to the toilets during the interval before the queues formed. 
I'm usually not one to pay over the odds for tickets and will religiously seek out the best value seats for for any production. It's rare for me to buy tickets of £45 so this was very unusual. But I have to say I felt it was totally worth it and I really liked feeling of having more space. A great view and the obstruction was very minimal. Even though your at the back, I could see the actors faces really well and the sound was fantastic. I'd say don't discount these just because their boxes (which I often gloss over) and expensive (because they're not a lot more than most of the seats in the stalls - including the row in front of you with a poorer view).
The show itself is unbelievable and so so slick. We're saving our pennies up to go again. 
_____________________________________________
Finally saw Hamilton on December 23rd 2017, evening performance after being mucked around on seats and dates.
Personally I would rate it 4/5 - so very good, rather than great - but maybe it was excessive expectations and an over-excitable very American audience that whooped and cheered all the time. Big fan of Miranda and had greatly enjoyed 'In the Heights' at Kings Cross.
Sat in the Stalls seats N 5,6 which were just OK due to very poor rake.
On the whole I found the 'new' Victoria Palace rather underwhelming... a little on the gaudy side but above all poorly equipped ...tiny toilets = very long queues at the interval for example.
Excellent staff though all of whom were super-keen to help.
As others said, long line round the block at the entrance is actually less of a concern than feared and moved quickly.....not so sure how the crowd would feel under pouring rain though.
Btw, I stick to my guns: very close analogies between characters in Hamilton and JCSuperstar ....the former is much more high-energy of course, but the latter has better tunes.
Worth seeing of course, but not at crazy prices.
______________________________________________
Royal Circle, C39: This is the last seat in the aisle, but it's got a great view. I could see all of the action except for things happening at the very left of the stage. However, most was mirrored on the right of the stage and the main action happens in the centre. Perhaps the best thing about this seat is the leg room. It does have a seat in front of it, but I am 5ft 8 and had ample leg room. I could see people in the centre were incredibly cramped. Most would be fine in this seat, and even the tallest would have the aisle to turn into. I can't wait to bag a (similar) seat again.
______________________________________________
Went Saturday 6th January 2018, with my daughter and two of her friends who'd come down from Scotland for this. I booked a year ago and I thought the three girls would spontaneously combust from the anticipation. I went in with high expectations but not expecting to be blown away as I was very unimpressed by 'In The Heights' (which I know theatremonkey loved), and rap/hip-hop leaves me cold. But I was blown away. Truthfully one of the best shows I've seen and genuinely innovative (and not just innovative for the sake of it). I was particularly impressed by the intelligent lyrics. It worked for me on every level. And I had to download the soundtrack immediately as I wanted to explore the music more deeply. Worthy of the hype, I believe.
Sat in Stalls K39-42. Double legroom! We could stretch our legs out and didn't have to stand up to let people in and out. But I was surprised by the almost total lack of rake. I noticed several people folding up their coats and sitting on them as they had tall people in front of them. Also, considering these were top price tickets (apart from premium) I was surprised that the left-hand side of the stage was out of sight. Don't know if I missed much (I know some individuals were singing and King George was sitting there for a while) but, frankly, I expect to see everything when I've paid £89.50 for each ticket.
HELPFUL TIP passed on to me by a friend which proved to be true: there's huge demand for merchandise. If there is a massive queue in the shop downstairs, as there was on Saturday night, dash upstairs to the Grand Circle bar where there's another sales stand which always has a much shorter queue, as it's not signposted.
_______________________________________________
Having sat in stalls D10 - D12 for an evening performance last week I thought I'd share a review.
Overall the seats are good - D12 being sold as non-restricted view is a little cheeky, but you can (just about) see the performers at every important point. D10 and D11 have key performers totally obscured at least three times (i.e. cannot see who is speaking / singing), but for £75 instead of £89.50 this was probably worth it as none of these mattered greatly and the seats offered all the benefits of being close at only £17.50 more than the Royal Circle (where reviews seem less than enthusiastic). 
You can just about see the performers' feet in Row D, and so central seats would be excellent, I think. I also think the other end of the row would be very good as nothing significant would be obscured.
Personally, I'm not prepared to meet the cost of the premium tickets and feared I'd made a mistake not opting for the cheaper Royal Circle view, yet being close to the action was a real plus. Overall I'd definitely recommend Row D, not so sure about C or closer.
_______________________________________________
I went to see Hamilton at the end of December 2017, and the production was brilliant! The cast, staging, music and choreography were all phenomenal. I was really looking forward to seeing it and my expectations were exceeded which I didn't think was possible. 
Seats: We were sitting in Upper Circle A1-4 and these seats were great. The view was brilliant, there was no rail in the way and only a small part of the stage was obstructed despite us being right at the side of the circle. The view was also better than I'd expected given my experience in similar seats in other theatres. The leg room is limited but we did not find this too much of an issue, and it wasn't too bad as long as bags were carefully placed. I'd definitely recommend these seats as the view far outweighed any legroom issues. 
_______________________________________________
I've seen it twice now. Great show etc. and so forth. 
B15 stalls - without a doubt the worst seat I've ever paid £89.50 for in any theatre. It's shocking that it was sold at top non-premium price. Side seats further back in the stalls would be much better. Pro - huge comfortable seats with amazing legroom, brilliant view of principals when they're near you, no disturbance from heads in front because they're all still much lower than the stage. Con - you lose - all the lighting, all the choreography and staging, any sense of what principals at the back of the stage might be up to. 
B20 Grand Circle - picked up a pair (B19 and B20) of restricted view seats - because of the central safety rail - for £39.50. Almost the cheapest seats you can get for Hamilton and the safety rail is no more obstructing than a tall person in front of you. The front of the grand circle is still pretty close to the stage as balconies go and you get to see all aspects of the show clearly. The legroom is truly, truly dismal; I am 5'1" and my knees were jammed into the back of the seat in front. But as a way to see this show without breaking the bank, it would be hard to better these seats.
_______________________________________________
I went to see Hamilton last night (24th January 2018) and I thought I would let you know about my experience.
Firstly, I did not buy my ticket a year ago! Just before Christmas 2017 I went online to see if there were any individual tickets available. In my experience no show is ever completely sold out, there is always a rogue seat available somewhere. I would have been happy with a matinee however luck would have it that there was a ticket available for the evening performance. The seat was in Royal Circle, Box A (seat 2) and cost £75.00. I couldn't believe my luck!
My experience of getting into the theatre was very positive. The staff members scanned my credit card and checked my confirmation email (they did not check my photographic ID). I was extremely pleased with my seat. The view was excellent, with clear views of the stage. The extreme right hand side of the stage was obscured, however I did not miss any action of note. In fact at the end of the opening number Alexander Hamilton held his stare on me directly for what seemed liked an eternity! With it being a box legroom is what you make it, as I was with a complete stranger I did not feel able to stretch out! I thought the seat was excellent value and I would recommend a box seat to anyone.
As for the show, what can I say? I have not previously listened to the full soundtrack or watched any clips online. I personally thought that the first act was outstanding! So much action and pace, along with inventive storytelling that kept you hooked. The second act was more laboured, as its really all about political intrigue in 18th century America. It was still very, very good! What most impressed me overall was that it was not the rap that didn't work, nor the traditional musical theatre passages. What let the show down was the lapses into modern RnB balladry from the Schuyler sisters. Much of it was tuneless and the lyrical complexity was lost on the audience.
Overall, is it worth the hype? I'd say yes and I'd happily go again to see it.
_________________________________________________
Sat in Stalls Row B Seats 20 and 21. Almost central. The good news is that pretty much everything that happens occurs near the front of the very high stage. And thankfully anything that happens near the back of the stage happens from the waist up. From these seats you get the close up, see the nuances of every performance and often eye contact with the performers. You lose the sense of the "whole" as well as the stage floor and part of the back wall. So (you know where I stand/ sit on this) although the view was overall great and I stopped noticing the restriction after a while, it still is a restriction of sorts. Now obviously being extremely tall I could probably see more than most but I still object to paying £90 for a less than perfect view. It doesn't matter to me that other seats are stupidly expensive, £90 is still a lot of money. Even knocking £20 off until the restriction stops would help, but they are not going to do that while the tickets will sell. Legroom was just about ok and I felt very close to the people around me on all sides. We were the last into our row and taking my coat off without hitting anyone around me took quite some doing. I had to sit bolt upright but because we were all looking up at the stage , hopefully this didn't affect the people behind me too much.
Because we were pretty close to start time, getting in was no problem, we arrived at 2:15pm and walked straight in. I applaud the efforts being taken to beat the touts, its just a shame with the number of premium seats the theatre itself has become the touts instead.
Which brings me to the renovation. 10/10 for how the theatre looks, it really is absolutely stunning -the team have done a wonderful job. What bugs me is that this could have been the Rolls Royce of theatreland in terms of comfort, sightlines etc. What it is in my opinion is a monument to the "pack them in, price them high" method of business. Legroom in the stalls was tight and a it has a very shallow rake. I couldn't help but think that you could have paid £200 for your seat and then have someone like me sit in front of you. It seems like a missed opportunity. Obviously the show is popular and the renovation expensive so you can see where the policy comes from but it could have been better in my opinion. They also need to sort out the signage so the poor usher near the stalls merchandise stand doesn't have to keep directing people to the gents even though the sign does say ladies!
So its a good job that the show was stunning! I went into this having heard very little of the soundtrack -this was deliberate as I didn't what any preconceived ideas of how it should sound or be. On paper, a piece about a virtually unknown politician performed mostly in rap should not work but it really does. It took me a while to get into it, the opening "Alexander Hamilton" is very wordy and for a while I wondered if I would be able to follow it but either it settled or I got used to it. But overall, I thought this was innovative, intelligent and superbly performed. The absolute standout for me was Giles Terera's ' Burr, from the seats it was easy to see every glance, every tiny gesture. But he was almost matched by Jason Pennycooke, in fact the entire cast. I have never had the pleasure before of seeing Rachel John in a lead role but I can now see what I've missed. The staging was a masterpiece of simplicity in one way, but using the cast to make it more complex and involving. Overall, I can say without hesitation that out of the musicals I've been to, this is high amongst the best in London right now. A thrilling piece of musical theatre. 
____________________________________________________
Saw Hamilton last night (7th February 2018, here's my seat review for C26 & C27 in the stalls:
Very happy with these seats for £90. You're looking up to the stage yes, but we didn't find it too painful (A and B would be worse). We would like to go back and see the show again from a higher vantage point to get the full impact of the choreography. But on the plus side we loved being really close to the action and seeing the emotion on the performers' faces. Legroom was fine for my 5'10" partner.
____________________________________________________
 I saw Hamilton at Victoria Palace twice this week: Monday, March 12, 2018 and Wednesday, March 14, 2018. I adore the show (having seen it several times in Chicago): not surprisingly, the UK production is the same exceptional quality as in Chicago. Really outstanding - I'm always speechless when I leave!
I write mostly to comment on seats. In a nutshell, choose the royal circle over the stalls (assuming decent seats in either place). I sat in stalls Row O, seat 18. The rake is quite shallow and the seats aren't "offset" very much. I had a hard time seeing at times, and the people in front of me weren't even tall. In contrast, I sat in the Royal Circle, row E, seat 8. This seat was much better than the stalls, not to mention 50 pounds cheaper! The rows are tiered, and the view of the entire stage was fantastic. I was very happy with the view. I very much preferred my Royal Circle seat, even putting aside the large price difference. Like others, I found leg room in both locations very limited, and I am short (5 foot 3 inches). The seats are comfortable in the seat itself, but the back is very upright.
An overall comment on the renovation: I think it looks beautiful. The loos are very nice, and I love having a nice bar and lounge on each level. The staff was very accommodating and friendly.
____________________________________________________
I enjoyed it- some better acting than some of Broadway. And it's certainly got the production values and some excellent direction. Rachelle Ann Go a disappointing Eliza if I'm honest but nobody else struck me as lesser than their Broadway counterparts. I wouldn't ever go as far as Go is BAD but I feel like it's not 'her part' if you know what I mean. Loved the other two girls though, and the ensemble is flawless. It's a well packaged machine of a show but I think for me it lacks a little heart or something.
I'm still not one to have a "religious experience about it. But I enjoyed very much. I look forward to seeing it without breaking my back in May - bloody hell those slip seats are uncomfortable....I'm surprised I could walk down the stairs.
_____________________________________________________
I was at Hamilton last night (9th April 2018) — second visit. 
I booked for myself last year when the madness started and got K5 in the dress for last night. Good view from here. Sight lines seem to be excellent in the refurbished theatre. I could see the whole stage and even the overhang didn't prevent me from seeing the actors up on the gantry. Being seat number 5, the view of actors on the gantry, stage right was a bit tight, but I could still see them. Further along that row would give a great overall view. Leg room was just about right for my 5' 10". Anyone taller might find it a little restricted, but no worse than some stall seats in other theatres at much higher prices.
Going a second time gave me the opportunity to see alternate Alexander Hamilton, Ash Hunter. The rest of the cast were all principles — if they were nursing post-Oliviers hangovers it didn't show.
______________________________________________________
Wednesday 11th April 2018 - Evening Performance 
So finally after waiting 14 months after booking tickets the day finally comes along and we get to see the hype machine that is Hamilton - I had listened to the OBC cast recording beforehand so knew what to expect musically.
Paperless Ticketing
The process seemed to go really smoothly - we arrived at the theatre around 6.25pm and waited a few minutes to have the email and photo I.D. checked before being ushered into the theatre to present the card I paid with to have the tickets printed out from the machine - she had to swipe my card a couple of times to get the tickets out, but thankfully they did come out. 
The Theatre
Have to admit it's been years since I had been to the Victoria Palace - had no interest in seeing Billy Elliot, and think it was Jolson with Brian Conley that I last saw there. The restoration has been done really well - can't fault how it has been done inside - the only thing I would mention is that if you are going through door 1 to get to your stalls seats as we were watch out for the rather nasty irregularly shaped slope that leads up to door 1 - I nearly tripped up as it isn't particularly well highlighted and the carpet sort of camouflages the slope as you approach it - wife and I were sitting on the sofa just outside the door and it was amazing how many people were nearly tripping over it going into and coming out of the bar (don't think they were all drunk lol) - don't remember seeing any warning signs for it but something to watch out for...
The Show
Very Impressive - not worth all the hype but a solid show - watching it it reminded me of going to see 'Rent' when it first opened in 1998 (wow was it really so long ago !) - it had that same kind of atmosphere and buzz in the air - there are obviously a lot of Hamilton fanboys and fangirls who whoop and holler every moment they can. 
The cast are absolutely stellar - not really a duff one amongst them so great care appears to have been taken to cast the parts very carefully - we appear to have had a night where some of the understudies were on instead of the main actors but the fact you couldn't tell was a testament to how good they were.
I will make one confession here - Jamael Westman was absoutely amazing as Hamilton - however, having listened to the OBC recording of the show many times before seeing this, I did feel a slight tinge of disappointment it wasn't Lin Manuel Miranda playing the lead role - it would have been so great to have seen him performing the role he created; but don't take anything away from Jamael, as he was astounding.
We had understudy Aaron Burr - again, no complaints here - Sifiso Mazibuko played it marvellously - actually, after hearing the cast on the Olivier Awards, I thought he sounded better than the actor who should have been playing Burr!
Miriam-Teak Lee was on as Angelica Schuyler - wow, she was amazing - such a powerful voice and so clear.
Rachelle Ann Go as Eliza really put her heart and soul into the part and again her voice was just so amazing to listen to. Her solo song towards the end of the show sent chills through you with the emotion she was getting across.
We only had 3 small niggles - Jason Pennycooke plays 2 parts: General Lafayette and Thomas Jefferson - we found him a bit hard to understand as General Lafayette in the first act, as he is putting on a French accent which did tend to get drowned out by the music at times - However once he puts on the Thomas Jefferson costume in the second act he was crystal clear and sounded amazing. 
The other niggle involves Hamilton's son - the actor who starts playing John Lawrence in the first act then becomes Hamilton's 9 year old son in the second act - it isn't very believable and does come across as a bit silly as he does not look 9 years old in the slightest!
Final niggle from me is I found the choreography a bit samey all the way through - primarily from the actors who are dressed in the plain white costumes.
However, not taking anything away from the show as it was a great experience - we'd probably see it again but sit in one of the circles next time, as I think it would be good to see the revolving stage. 
Personally, I wouldn't spend £200 a ticket to see it. It's not worth that much to me - it's going to be interesting to see how long it ends up running for. The hype alone will keep it running for a year or two, no question, but once the people who want to see it have seen it, I wonder how many people will be willing to pay the mega money it is currently demanding to go and see it ..... 
The Seats
We were sitting in seats J11 and J12 in the stalls - these are a nice distance back as you are just about over stage height so can see feet on stage - assuming there isn't someone's head in front of you, as the rake isn't brilliant here. I had a tall persons' head in front of me first act, but they swapped seats second act, so had a smaller person in front of me second half so made seeing things a bit easier - Seat J12 looked a bit more offset than mine was. Seat J11 is very slightly outside the proscenium arch - this means when someone is speaking on the balcony on the right hand side as you are looking at the stage it can be difficult to see who is talking, but thankfully for the most part there isn't much going on up there. 
We found the seats a bit uncomfortable - both wife and I were having to move around a bit every so often to get comfortable. Sound was for the most part perfect - there were a few occasions when the band drowned out the singing, but this didn't happen very often. The couple beside us had paid £200 each for their seats where we had paid £89.50 - I don't think they got a particularly better view for the extra £110.
__________________________________________________
Royal circle row C , seats 19 and 20. Fabulous view. Amazing, lively and energetic show.
I am 5 '7" and was quite comfortable.
Beautiful theatre.
Karen.
__________________________________________________
May 3rd 2018, Matinee.
I participated in the ticket lottery via the official Hamilton app. Very easy to use. A big plus is that you find out the day before the show whether or not you've won, so you can plan accordingly. I got lucky on my 2nd attempt. Called box office with the verification code I received, paid £10 with credit card, then asked, rather timidly, where my seat might be, only to learn it would be Stalls A37, that's front row, almost in the middle. Whoa!
The seat was great, legroom excellent. The stage was only very slightly above my eye level, so I had a great view of just about anything. And let's not forget, it cost only 10 quid. That's one one and one zero. No further zeros. Amazing!
"Hamilton", as we all know, is one of the most lauded (and hyped) musicals in many, many years, so I was appropriately excited to see it. I wish I could tell you it lived up to my expectations, but, alas, I feel slightly underwhelmed.
Don't get me wrong. It's a top notch production. The cast is great (though I never really warmed up to Alternate Hamilton, Ash Hunter), I particularly enjoyed Giles Terera as Hamilton's "frenemy" Aaron Burr, and Obioma Ugoala as Washington. The text is filled to the brim with historical information, cultural references, and wit.
On an intellectual level I have nothing but admiration for "Hamilton". But what I'm missing is the heart. Shows like, for example, "Les Misérables" or "Once" are much less ambitious or sophisticated, but they leave a lasting impression, because they moved me (to tears, at times). They touched my soul (please forgive the corny expression). I didn't have that in "Hamilton". So if you're going to see the show, adjust your expectations. You might not be moved. But you'll certainly be impressed.
___________________________________________________
Seat review Stalls O 24: This seat is in the centre of the theatre towards the back of the stalls. In theory a great seat, however there isn't much rake in the stalls at this point, in fact none, nor are the seats offset. The head of the person in front is directly in your eyeline to the stage. My view was very significantly obstructed by the person in front of me and I spent the first half of the show leaning to the aisle to see around his head. I would not recommend anyone sits in rows N, O or P. 
Management moved us for the second half, but to a seat on the far left with significantly obstructed view of the left side of the stage. I later discovered that these seats were sold for less than half the price of our original seat however management forgot to mention the fact that they were moving us to a far cheaper seat. We had no choice but to sit it out but this very significantly coloured our experience.
This show is happy to take your money but not so interested in your special night out being an enjoyable experience.
__________________________________________________
Saw the matinee yesterday (11th October 2018). Got to the box office at about 9:55am and we were the first people there. Scored 2 standing room tickets up in the Grand Circle £12.50. The theatre's small so we had excellent views. Price is incredible value for money.
__________________________________________________
We had our second visit to Hamilton last week (November 2018), and were very happy with our two seats in Royal Box C at 75 pounds each. After sitting in row C of the stalls the first time around, we'd wanted to have a view from above and be able to appreciate more of the choreography and what was happening at the back of the stage. We felt very close to the stage and the actors, who often looked off into the distance around where we were sitting...! It was quite a treat to be able to move our chairs around for the best view/legroom, put the bags and coats out of the way, and feel a bit more "special" despite paying less than we paid in the stalls. We did miss a bit of what was happening on the far left of the stage, but I can only think of a couple of occasions where it was material (Hamilton coming down the stairs in the first song, and George Washington shouting at Charles Lee during the Battle of Monmouth). I certainly would recommend these seats, and it's a show that rewards a second viewing.
___________________________________________________
I bought my tickets the day they initially went on sale, and we were in Stalls H40-44, or whatever the end 4-6 seats are. In the end seats, the left hand side of the stage (can only speak about the left, as I was sat there) is cut off... you can't even see the staircase, let alone the balcony. The seats were sold before the theatre seating arrangements were finished. I complained, and they made 2 of the 4 seats into restricted view seats (even though all 4 were restricted view), which lowered the price by about £10-15 per ticket...they refunded us the £10-15 for the 2 tickets which they changed to restricted view. I would advise anyone for Hamilton to pay a little bit more for more central seats, and to not get seats on either end (the first 6-8 seats on each end I would advise, are not a great view) - especially when seeing such a genius show!
___________________________________________________
I went to see Hamilton last night at the Victoria Palace Theatre (25th March 2019). We sat in the Royal Circle seats J21 and J22 - end of the aisle but in the middle of auditorium. Great view from up here of the whole stage and glad I didn't bother paying over £200 for the nearer seats. Only problem - seats are not staggered very well and the 2 people in front were quite tall/big. So we had to sit to the side to see properly. Leg room poor - luckily we are only 5'4" so ok for us. Anyone over 5'8" would struggle I think. But I was pleased with the seats for the money paid.
___________________________________________________
Grand (Upper Circle) 'Box A' Hamilton 30th March 2019
Having sat in £100 seats three times, needed to save of money! So at £37.50 per seat, this two-seater 'box' gives you lots of space (as chairs are free-standing), privacy, a bit of exclusivity, and a great view. So you have to lean over the rail a bit, and can't see a tiny bit of the stage, but you are so close to the stage that it really doesn't matter. Box C would be the same over the other side, with Boxes B&D not quite so good as a tiny bit further forward, but great value still. If I had a party of 4, I would go for Boxes A/B or C/D so all sat together, and for £150 in a totally private space, you will have a wonderful time! The privacy is brilliant! £100 or £200 each for premium seats? Not for me any more! 
___________________________________________________
Thank you theatermonkey.com!! Strategised for Bank Holiday Monday (26th August 2019): arrived from hotel at 7am, only one person in line ahead of me, two more gals came by 9am. Just before opening, the box office let us know 4 standing seats – exactly as we needed!!
Nervous the theater top tier would be hot, but AC was perfect – many tall patrons joined us in 2nd act as they didn't have enough legroom. Obviously they don't know about your website.
Learnt about it in the states from a Rick Steves blog.
A magical day!!
___________________________________________________
Not being made of money I had decided to take my chances with Grand Circle Box C having looked at your site.  Benefits we thought were the fun access to the box, the privacy once there and the free standing chairs.  You are also roughly in line with row 6-8 of the stalls so very close to the stage and able to see every facial expression albeit from a height.  Sound is excellent. 
Negatives - it is an extreme side view missing a small section of the stage on the left hand side.  There is also a thick bar around the top of the box which means it is always in view and you are either having to go over or under it to see what's happening.  Maybe if you're a bit taller you'd do better here. It was quite hard to be fully engaged when you're bobbing around chasing the view.
From our vantage point we couldn't help but notice that legroom throughout the theatre looked atrocious (another reason for choosing the box) and I heard several people comment on how poor it was as we were milling around.  
Would I sit here again?  No. I'd take my chances with the legroom in the Grand Circle and go for a front on view of the stage even though it is a long way away.  
As an additional note, the queue for the ladies in the interval was appalling.  Easily 40+ people in front of us by the time we got there and we'd just got to the front of the queue when we got the 5 minute warning to go back to our seats.
___________________________________________________
Seat review for Grand Circle, E24: Monday 11th November 2019.

The term 'Grand Circle' is somewhat misleading, since there was nothing 'Grand' about these seats at all. It has the steepest rake I have ever experienced in a theatre – if you suffer from vertigo, sit elsewhere. Also sit elsewhere if you're over 5ft tall. With such a steep rake, the seat back of the row in front pressed against my legs, and almost no room for feet. I'm 5'6" and well before the end of Act 1 was experiencing back pain from sitting in the same position in an uncomfortable seat.
You do get a good overall view of the choreography, which in Hamilton is amazing, but you're also looking down on the top of cast's heads all of the time. I paid £57.50, really wish I'd spent the extra for seats in the Dress Circle or Stalls. Didn't feel this seat was value for money at all.
____________________________________________________
Firstly let's discuss leg room, G34 in the Grand Circle has a great view and superb sound but oh my goodness the lack of leg room is appalling, they really do need to put warnings on the tickets. I'm only 5'7" and it was very uncomfortable. The theatre has been beautifully restored and there are plenty of toilets!!
As for the show. Wow how slick it is. Great performances, superb sound, the lighting is incredible. The only adverse comment is that it is sometimes too busy on stage when you really don't want to be distracted by so much 'business' going on in the back ground (flying chairs etc) and it is on occasions over choreographed. suddenly 10 dancers running on to do a few twirls. I'm not a bit hiphop fan but after 15 minutes they start mixing it up with ballads etc.
Well worth a visit and I suspect it will be around for a very long time!
4 stars.
Taljaard.
____________________________________________________
Hamilton matinee, February 2020: Sat in Royal Circle, C3 and 4. These are the end of a row, probably more comfortable than the front stalls where I sat last time, not much room to move but ok to sit up in, nobody behind which meant I could sit bolt upright without fear of reprisals. The back right corner of the stage is obscured but it was good to see the lighting which I missed last time. As for the overall view, I guess from the circle you see the whole spectacle more, but miss the intimacy from the front stalls. I'm sure that there are better seats to be had in the circle, but if having a bit of room to stretch is important then you could do a lot worse.
The show is in good shape although with the exception of Karl Queensborough as Alexander himself, I felt the cast weren't quite as strong as the originals. However, I thoroughly enjoyed it again.
____________________________________________________
August 2021. We went to 'Hamilton' a couple of nights ago, my summer of 'cheap seats' continues … J 34-36 in the Grand Circle. Lots of stairs up, very high and steeply tiered which meant that sight lines were only affected when people leant forward (mercifully not often!) and the view was clear. Despite being near the end of the row you could see pretty much everything at stage level, it didn't seem quite as angled as a lot of 'end of rows'. You could only see the bottom half of the actors when they used the upper level though. Not a huge issue but obviously not ideal. Being towards the end of the row you also don't have any people standing behind you which is a plus I think. I preferred sitting here to the box we were in last time and would book these seats again (if I couldn't afford anything else 😆).
____________________________________________________
Victoria Palace Theatre. Saturday 8th January to see 'Hamilton.' Superb show, incredible cast. How do they keep up that calibre of performance night after night. Must see show!
Got tickets for stalls row O seats 5,6,7 and 8. £95. Due to height of stage shallow rake didn't affect view of cast. Only restriction was right hand balcony not visible but only minor scene involvement in show so worth paying £80 less than seats further in row for 1 song. Legroom good.
All in all very pleased with purchase. Ignore anyone who says don't sit in O!
Thanks Theatremonkey, always first port of call for info.
____________________________________________________
Last night (12th May 2022) we went to see Hamilton at Victoria Palace. I grabbed tickets two weeks ago priced at £20 each (including booking fee) which were in D8 and 9 in the Grand Circle...fantastic views. As my hubby said, it was good being up high as you appreciated the lighting used on the stage which the stalls sitters would miss.
The musical was equally fast paced (more so perhaps) and it must be exhausting for the actors as they are all on stage in every scene.
Great music and dancing, the only small quibble I had was that I couldn't catch all the words that were sung, or rapped at times. But the storyline is fairly clear and very moving at times.
Cleverly staged and with great costumes/dancing etc. It was good to get back to live theatre at long last with no masks.
____________________________________________________
Stalls C39 and 40: Below the stage and with advised restricted view - more restricted than expected but just about worth the lower ticket price. At 6'2 having no seat in front was definitely worth the ticket price! 
As for the show, the less said the better 🙁.
Yorkshire Monkey.
____________________________________________________
Grand Circle J20-22. Central back row of the grand circle, you miss some of the top of the set when they're on the balcony, but this isn't very often and also is less of an issue here than it was further towards the end of the row. (Or maybe this cast is just shorter!). The sheer rake means a clear view of the stage, not much legroom but we bagged an aisle seat so it could have been worse. As the cheapest seats in the house, these are absolutely fine and I'm very likely to sit here again. 
The monkey advises checking performance times on your tickets and that performances are happening as scheduled, before travelling.
Monday to Saturday at 7.30pm
Thursday and Saturday at 2.30pm and 7.30pm
Runs 2 hours 45 minutes approximately.
Theatres use "dynamic pricing." Seat prices change according to demand for a particular performance. Prices below were compiled as booking originally opened. Current prices are advised at time of enquiry.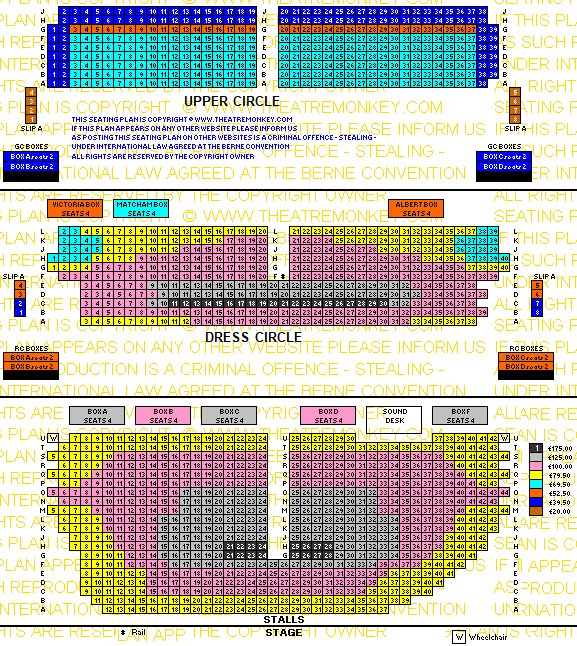 £10 Lottery: Enter using App Todaytix - download it, find the show's name in the list and click the button.
Tickets are for the following week's performances.
The draw opens at 12:01am each Friday and close at 1pm the next Thursday. 
If you share that you have entered on social media, you get a second entry chance.
All entrants will be told "winner" or "not a winner" every Thursday between 1pm and 6pm via email and mobile push. 
Winners have 1 hour from the time they are notified to claim, before tickets go to another entrant.
Maximum 2 tickets per application.
Back To Top