---
17 Wilton Rd, Pimlico, London SW1V 1LG 0333 009 6690
Synopsis
Theatremonkey show opinion
Reader reviews
Performance schedule
Ticket prices
Ever wonder what the real Elphaba, the Wicked Witch of the West, was like? Back before Dorothy's house turned her sister into Yellow Brick Road-kill, and Dorothy gave her a shower, Elphaba was a student just trying to do what was right. This is the story of her college years, meeting Glinda, the fact it is no fun being green...and in love - magical or not.
(Seen at the Evening performance on 11th February 2015). Some actors have since left the cast.
There's a reason the monkey is able to re-visit this show after 9 years... it remains a (pure) waterproof hit, as slick as its first night.
After all these years, it's very clear just what a well-constructed piece it is. Memorable songs, satisfying story that makes its two and three-quarter hours fly by like a magic broomstick.
Best of all, at the performance the monkey saw, a prediction it made back in September 2011 came true. With regular Emma Hatton unavailable, Natalie Andreou stepped in at the shortest notice as Elphaba - just as Ms Andreou did in September 2011 for Amy Pemberton in "Rock Of Ages." The monkey said then that "Ms Andreou isn't known – but should be, and soon. A leading lady who producers should be falling over themselves to sign to whichever musical takes her fancy." The monkey is so glad the producers of "Wicked" took its advice.
At the risk of channelling its "Wicked inner fangirl" Natalie Andreou smashes her role out of the ballpark. The monkey was almost in tears with her "I'm Not That Girl," and "Defying Gravity" is a triumph. If this is her third performance, her 103rd will be something. Andreou is someone special in musical theatre. If you can catch another of her nights "on," do.
Savannah Stevenson (Galinda) and Martyn Ellis (The Wizard) are the other stand out performances, both managing engaging performances. The ensemble too put in a fine effort on a "double performance" day, taking the show at a slower pace which helps the narrative.
This show remains the perfect teen treat as an introduction to musical theatre.

Note: This review refers to the original cast. Casting has now changed.
"Lyrics and music and book, oh my!" Proof, if proof were needed, that the old-fashioned Broadway musical isn't dead. The story is basically the traditional "green girl wants boy, boy wants yellow girl" ending with green girl turning boy yellow, and yellow and green girl settling their differences - with some animal rights stuff and zingy one liners thrown in. The satisfaction is in the neat dovetailing with the classic film - find out how the well loved characters became what they are; the downside is overlong sequences that look great but add twenty minutes of ballast to the proceedings.
This is very much a show of two halves. The first has Winnie "My So Called Life" Holzman channel female adolescence with acuity once again. If business starts to slip, producers should re-paint the theatre walls powder pink, replace seats with furry-toy strewn beds and provide free popcorn, cosmetics and a pizza delivery service. Very much attuned to the sleepover crowd, the fun "Popular" and 'I wish' numbers "The Wizard and I" and "I'm Not That Girl" are arrows to teenage hearts. Once the director realises "Popular" works way better with an American air-head accent than it does with a British spoof-Sloane one, it'll be the perfect "DVD night in" substitute. That isn't to say Helen Dallimore should be upset by frank analysis, but the director should consider the show in need of personality dialysis and restore it to the original (United States) state at the next cast change. Oh, and that line is probably the "wittiest" in the show - you can almost hear Sondheim scream as it is sung.
Act two grows progressively darker, and the resolutions come late into it. Tighter than act one, and noticeably more adult, it eschews the clumsy shifts of place for a smoother cinematic feel but feels rushed to ensure the show comes in at the sub-three hour mark. The searing "As Long as You're Mine" and insightful "For Good" deserved time that "Wizomania" pointlessly occupies and could have turned a good show into an unforgettable one. Time to contemplate motives, cause and effect are limited, and the monkey would have appreciated more of it spaced through the production.
Expensively staged, occasionally buckling under its own spectacular mass, set (Elphaba could perhaps have flown properly had there been space) and a desire to give the audience every penny of the production costs in spectacle over substance, this is the golden era of musicals brought into the 21st century. Those old musicals had their faults, as does this, but ultimately a show succeeds on how deep its songs and images engrave themselves in the memory. Probably too crass for the current "post war" musical lover (though Schwartz produces some of his best work here), Wicked will still worm its way into the affections of many - younger people especially - perhaps ultimately ending up as a "standard" in fifty years time. As the dragon signifies, it is time that tells, and this show is mostly worthy of the audiences' hours.  
Legacy reader reviews
Note that some reviews may refer to previous cast members who have since left the show.
____________________________________________________________________
Many thanks for your site - always reliable and helpful when booking tickets. Taking my granddaughter to the theatre for the first time, I noted your comments about the shallow rake in the first rows so splurged and booked row Q - Q28 and Q29 - to see Wicked at the Apollo Victoria. Superb seats and fantastic views. Thank you. 
One point on which I differ from other comments about the Apollo. Given that temperatures were in the high 20s I was prepared to find the theatre on the hot side as per what I had read. But it was in fact cool when we entered and remained comfortable throughout. 
_______________________________________________________
"Stalls Q10, 11 and 12: Re-opening night, 2021. Ditched the cheap seats and secured Q10,11,12. You just can't go wrong with central row Q, not too far back, more leg room than you know what to do with, hopefully nobody blocking your view too much and the perfect vantage point to see the whole spectacle. These seats were on the end of the centre block so central enough to see the whole stage clearly. Would sit in this row every time if money were no object 😆"  
_______________________________________________________
Wicked dress circle A7, A8, A9: sold as restricted view due to missing the very front of the stage on occasion.  However, there is hardly any action there and you can see if you lean forward slightly - it is only the right hand cog which is cut off, the main stage is completely visible as long as you're sitting upright. I would say these seats are about as far towards the end of the row as you'd want to go as you start to lose the very back of the stage as you get to the end of the row. Legroom is more than adequate and A9 is on an aisle giving you an extra bit of stretch room and a hasty exit at the interval. You are also at ground level and very close to an exit so you miss the crush through the foyer to get out at the end.
Sound isn't as good as in the stalls (and it's pretty bad there!) The balance doesn't seem quite right and it isn't as loud as I would like.  The circle is massive and I would hesitate to book a back section as I'm not sure how well the sound would carry that far back. The view too must be very distant. Row A seems to overhang around row M so is close enough to see some expression and not feel too remote.
This was my 16th visit to 'Wicked' and the last 15 have been in the stalls so it was a novelty to see the show from a different perspective and I would definitely sit here again.
_______________________________________________________
"Stalls X 16-18: Cast change day and we absolutely lucked out by having no one behind us and 2 clear rows in front - so had a completely clear view of the stage and no interruptions from those around us. Leg room is good, sound is OK from here and these are excellent seats. I think the row in front is sometimes in the next price bracket and it's absolutely not worth paying extra to sit there (in my humble opinion!)
We shuffled along the row 48 hours later for the new casts first night, X 19 to 21, slightly closer to the central aisle, this time had people in front but could see through the gaps and would still consider these to be very good seats. As ever, the closer you are to an aisle the quicker you will get to the loo queue at the interval, male or female (but particularly female!) the queue is always horrendous.
_______________________________________________________
Still hammering the summer offers we went to Wicked again tonight (23rd August 2019). I've written many times about seats in various parts of the theatre so will be brief!!
On this occasion we were in Stalls P 11, 12, 13 which was the back row of the front section. Excellent seats! Decent leg room, clear view of the stage as the rake has kicked in a bit, absolutely no complaints. 
Interesting show tonight, it was our first time seeing the new cast and at the interval Laura Pick the Elphaba standby took over the role due to Nikki Bentley being 'indisposed'. Both of them did a great job though.
_______________________________________________________
Took the kids to Wicked this week (July 2017) and had booked Stalls F38, 39, 40 after not seeing anything too negative about them on Theatremonkey.
Was a little concerned as they were £42 each compared to the £100+ of other stalls seats but I feel that they were great value. At times when the action was at the back of the stage you had to wait a couple of seconds before the actors moved forward to see exactly what was happening, there is also a spiral staircase at the side of the stage which can partially obscure the action occasionally but I really don't feel that we missed out on anything. Even if we did, to be close enough to see every facial expression and to be so totally immersed into the action was worth it.
Last time I saw the show I was in the dress circle which was fine but this was better just because you are so much closer. We were lucky to have children in front of us so no issues with raking.
I absolutely love this show, it's so powerful and the cast are so talented. I'd go again tomorrow given half a chance.
_______________________________________________________
H43 and H44: Having read the reviews on the website I was hopeful that despite the tickets being 'Limited View', I would still see most of the show and it wouldn't spoil my enjoyment. I would say that although our overall enjoyment of the show was not spoilt and we got the jist of the story, it should be pointed out that we did miss any action at the back of the stage (including, I believe, some projections of images that we completely missed) and a lot of the staging of the cast meant that we saw a LOT of the backs of people's heads (so missed their facial expressions). There is also a spiral staircase on this side of the stage that blocks the view of the back of the stage. If you know these facts and you don't mind missing some bits then, at £25 each, I would say it's still worth the money if you know what to expect.

Nicola.
______________________________________________________
Having checked with your website, I booked stalls N 44-46 and your reviewer was right they were great seats. We couldn't quite see the far left hand side of the stage - but that didn't really matter as nothing much happened there. Think the theatre have been reading your reviews as tickets were £32.50, but still great value for money.
Lynn.
______________________________________________________
January 2013. Very good show, got a ticket from GILT late on for £35 so can't complain. Thought it was a nice theatre inside, reminded me of the Dominion a lot. Thought the single foyer set up was rather poor though, everyone having to cram in and just wait for the doors to open half an hour before, couldn't see why they couldn't let people in earlier. Shame they only do the big £7 programmes there...boo.

Stalls ZA38 - Very good view from here, it is nowhere near as far back as you fear from the seating plan. The overhang is quite high so you don't lose anything of the actual stage at all. The dragon that sits on top of the stage is partly obscured, but it hardly moves anyway so not a problem. Leg room is quite good back here for the 6ft plus, with this being an aisle seat it is better as well. This would also be a good seat for kids or shorter people, as the rake means that there is no one sat directly in front of you in the line of sight to the stage. I got it on the GILT offer so great value, if you were paying full price you would naturally want to be a bit further forward, somewhere around Q would be perfect probably for Wicked. However if you get offered a discounted ticket for ZA then go for it, it is still a very good view.
_______________________________________________________
We sat in the dress circle seats C31 - 33 for the matinee performance on the 21st February 2013 (£62.50 seats). The seats have a good rake and are offset, so we had a good view of the main stage at all times, including the sets and action that takes place above the stage. The seats were comfortable and had adequate leg room. Our view of performers on the 2 smaller stages projecting towards the audience were sometimes restricted by people leaning forward over the wall in row A, causing those in row B to do the same! However, these stages are not frequently used, so it was a minor irritant.
Booster cushions seemed to be available for smaller children.
One word of caution for ladies - expect a long queue for the toilets at the interval! Some were returning after the show had resumed.
The show is very colourful, with lots of movement and changing sets, and the singing was good rather than outstanding. Due to events at the end of the show I think it is an advantage if everyone is aware of the Wizard of Oz story, as it then makes more sense. Although we enjoyed the show, we didn't find the songs memorable, and left the show feeling a little underwhelmed.

Frank.
________________________________________________________
Caution: this show is not suitable for audiences over 30 unless accompanied by a youngster.

Unless you are of the generation for whom 'wicked' means 'excellent', this very popular musical is unlikely to delight. Clearly Wicked has a huge international fan base, but a charming, intimate, theatrical experience it is not. The Apollo Victoria is a massive barn of a theatre (2500 seats) into which hordes of youngsters are herded, and the resulting atmosphere in the auditorium is one of barely contained, squealing excitement.

We went in February 2013 and sat in D15, 16 and 17: the side block of the front stalls, almost in line with the side of the proscenium. The auditorium is very wide, so we had to look well over to our left to see the action. While D17 provided an excellent view down the aisle, in D15 the head of the person in front totally obscured centre stage. This was exacerbated by the inability to look through gaps, and the lack of rake: row D appeared lower than row C. We may have been particularly unlucky, as the patron in C16 was large, but it did ruin the evening and, after swapping seats at the interval, two of us each saw only half the show! Additionally, the ladies' toilet facilities are inadequate for the huge, predominately female, audience.

The show itself was a disappointment. The set was impressive, but we were underwhelmed by the songs, of which 'Defying Gravity' and 'Popular' were the best in an otherwise unmemorable score. The principles belted out their songs, and Gina Beck as Glinda was subversively winsome with the best one-liners, but overall the show left us unmoved, with a particularly uninspiring chorus.

Clearly, we were not the target audience, and the performance appeared to be enjoyed by the groups of young Americans and Orientals who cheered and whooped. I am not averse to a 'young' musical – I loved 'Legally Blonde' – but 'Wicked' had neither its energy nor its fun. Hence my opening caution: this show is for the X Factor generation.
________________________________________________________________
Very spontaneously, on a Friday night we decided to catch some tickets for 'Wicked.' After running our feet down, we got some for Stalls ZA 1 and 2. The guy at the ticket booth told us, that these seats are premium seats! ( But more about this later). The fact is, you are pretty far away from the stage. The sound is crystal clear, you're able to overview the whole stage, and what's going on up there and you're able to see the actors/witches faces but not really their expressions.
I was a little bit distracted by the candy shop, hidden behind the curtain, next to me. I was able to smell those yummy yummy sweet temptations during the show, which kicked me out of OZ from time to time!
Back to the ticket booth guy: lovely fellow with a joke on his lips for every customer. Maybe he made a joke when he told us about those premium seats. They are nothing like that. Of course they are OK, ( we paid a fair value), but, as the monkey said, there may be better seats for the same price.
Martin,
Austria.
________________________________________________________________
I took some friends to see Wicked on the 24th June 2013 as a very impromptu do. We bought the tickets on the day and not much was left over. Just some "limited view" seats for £25 behind a stairwell up in the circle. I was in seat S34 so not the row directly behind stairwell wall thing. No one really had any problems seeing the show. The only thing I can think of causing the "limited view" is the occasional people going in and out via the stairs. The seats are far but no problems enjoying such a big show from up here.
Last time I saw the show I was in the front stalls and I can honestly say I enjoyed it more up here. Perhaps its the technical theatre geek within me but the lighting in Wicked focuses quite a lot on patterns projected on the stage floor. Something you miss when viewing from the stalls. Overall definitely worth the price, no qualms from my friends either.
________________________________________________________________
"ZA6 and ZA7 for watching Wicked. We were at the matinee performance on Saturday 1st February 2014.

We (husband and I) got these tickets for £40 each on the GILT offer so didn't pay full price. We were delighted with the view for the price we paid. Although slightly off-centre we felt that both seats gave a great view of the stage. We could just about see the moving dragon at the top of the stage so didn't feel that the overhang of the circle got in the way at all. None of the rest of the stage was obscured in any way.

The seats in the rear side stalls are both raked and slightly offset so you are not directly behind the person sitting in front and you are slightly higher up. Legroom was not amazing but just about sufficient. We found ourselves just about the right level to look onto the stage, which is set quite low, although we could understand how smaller children would struggle to see as the rake is not that steep (booster cushions are available which seemed to help the small child in front of us). We were also far back enough to take in the overall effect of the staging and production, which is visually spectacular. We could not quite make out detailed facial expressions, so perhaps the best seats are slightly (but not a lot) further forward – perhaps the front centre circle seats or stalls centre row Q - to get the best of both worlds (detail and overall effect).

My overall impression of the theatre itself was largely good. The foyer is very small for the number of people coming in, though we managed to find a spot to stand in reasonably comfortably. I liked the relatively informal feel – the bars and snack stands are easily accessible in the auditorium and drinks, snacks etc can all be taken into the show. The one real negative point is that there are simply nowhere near enough ladies toilets for the (predominantly female) audience and they are all located on one side of the building – the far side from where we were sitting. I managed to get into the pre-show queue quite early on and only had to wait a few minutes, but after I came out and at the interval the queue was just enormous.

Oh, and since it was a matinee, we were not expecting any of the cast to come out before the evening show. However, as we were walking out past the stage door, Jeremy Taylor (currently playing Fiyero) popped out and was very willing to sign a few programmes – a lovely end to the whole Wicked experience!
___________________________________________
I went to see Wicked today (19th February 2014) with my 7 year old daughter, and we sat in seats ZD38/39, which cost £35 each plus commission.
I had to write and say how wonderful these seats were for the price. My daughter, who is an average sized 7 year old (not tall) sat in ZD38 which was an aisle seat....without a booster cushion....and had a totally unrestricted perfect view. We were admittedly a little far back but for the price I thought these seats were fantastic, especially considering that the "mirror" seats on the other side of our aisle (but in one of the two central blocks) were selling for £10 extra.
Plus the show was absolutely amazing !
Mary.
___________________________________________
I have been attending the theatre for more years than I care to remember, anything up to a dozen times a year (and sometimes more). I am, to respond to another reviewer's comment, definitely over 30 and most certainly not of the 'X-Factor generation'. Yet of all the shows I have seen, the one I love above all is 'Wicked'.

Based on Gregory Maguire's book of the same name, 'Wicked' takes the story of the Wizard of Oz and turns it on it's head as it tells the tale from the angle of the two witches, Glinda the Good and Elphaba the Wicked Witch of the West. Where I found the book disappointing, Winnie Holzman's storybook of the show is far tighter and the narrative structure makes much more sense.

The first half of the show is mostly lighter and contains most of the comedy moments and more amusing numbers (and also contains the two most famous songs 'Popular' and 'Defying Gravity'), dealing as it does with how the two young girls first meet and, from a place of pure loathing they come to form a firm friendship that culminates in their trip to the Emerald City and the chance to achieve their heart's desires.

But they find there is a heavy price to pay...

The second half is far darker, as the girls' lives move apart and take a very different direction, before coming back together for the final showdown. The Green Girl definitely has the best of the songs this time around (including one of my favourite songs 'No Good Deed'), but the two leads share the beautiful and tender 'For Good'.

I believe 'Wicked' balances dark and light perfectly. It gives a lot of spectacle and big scenes for the younger audience, and a classic romance (if you consider 'green girl meets boy, boy chooses blonde girl but falls for green girl after all' a classic romance!). But it also deals with adult issues; prejudice, suppression of free speech and the misuse of the media for propaganda are all contained therein.

At it's heart, 'Wicked' is an old-fashioned Broadway musical. And old-fashioned Broadway musicals need big numbers. But it contains gentle songs as well, such as the aforementioned 'For Good'. The true test of a score is whether the songs are memorable; and in the case of Stephen Schwartz's 'Wicked' score, two of the numbers ('Defying Gravity' and 'Popular') have gone on to be known in their own right, outside of the musical arena.

I find myself lost in the show; I have always been so caught up in the performance that it took me until the fourth visit to remember to check out the scene change in the lead up to 'No Good Deed'! 'Wicked' just grabs hold of me and keeps me hooked in a way no other show has managed (with the exception of the sublime and beautiful 'Once').

But as a huge fan of the show, my views could well be considered biased. So perhaps the best way to explain the appeal of 'Wicked' is through different eyes. Like the gentleman sitting behind me on my last visit, who got the humour in the show immediately and was laughing out loud. At the interval he turned to his companion and said "Isn't it marvellous?", followed by "That was wonderful" (an accidental pun that occurs all too often) at the end. Or the four girls (in their mid-20s I would guess) sitting in front of me on another occasion, all grinning sheepishly at one another as they realised they had all been weeping openly as Glinda and Elphaba said their goodbyes in 'For Good'.

But the memory that sums up the appeal of the show comes from a girl of perhaps 10 or 11 who was sat beside me the first time. We were approaching the final scenes and she went to take a sip from her water bottle. But became so captivated she froze in position, totally caught up in what was happening on the stage, water bottle held just an inch from her mouth.
Any show that can have that effect is, my friends, by any use of the vernacular, 'Wicked'.
Further visit in September 2018:
The seats: Dress Circle, seats D28 and D29. Great seats, centrally located, just far enough back to clear the edge of the Dress Circle but give a full view of the "cogs" (the stage extensions that both Elphaba and Glinda use). Good legroom, well worth the ticket price.

Sophie Evans: Obviously not doing anything with my existing review, but if you have a place for this, she deserves much praise for her portrayal... so here it is.

Current production: Sophie Evans gives a fine portrayal of Glinda. She finds a vulnerability in the role that is all too easy to miss. In 'No One Mourns The Wicked', her pain at the loss of her best friend - which she has to quickly hide when speaking to the citizens of Oz - is palpable. And in the segment between 'Dear Old Shiz' and 'Loathing' when she announces she has a private suite, she gives a flash of panic when she realises she is alienating her until then adoring schoolmates before pulling them back to her side deftly. Her voice more than handles the demands the role places upon it. I wonder if, in time, she would be able to join the incredibly short list of actresses that have played both Glinda and Elphaba (and, of course, the triple threat of Dorothy as well!).
Visit in March 2022: 
Stalls K26.
Perfect placement. Plumb centre and far enough back to take in the whole stage but close enough to pick up every subtle nuance and expression.
Your view will depend on the size of the patron in front. As many others have said, there is no stagger to the Stalls seating and the rake is shallow until you hit row Q.  If, like me, you are blessed with Munchkins in front, you'll have a perfect view. But if, like the young woman two seats to my left in K28, you get someone well over 6ft (he was SO apologetic), then you'll struggle to see anything (she swapped seats with her taller boyfriend who coped better).
Legroom? More than adequate for my 29" legs.  Comfort?  Couple of fidgets during each half, but comfortable enough and the seats are decently roomy.
All in all, a fine seat, but you are paying a premium for the privilege.
2023 visit:
Q4 to Q9: Row Q is the 'magic' (no pun intended) row. It is raised higher than the seats in front and also blessed with a corridor in front that means you have a good couple of rows clearance (this has a downside as it means you have people heading to the loo mid-performance... go before people!).  
Q4 to Q9 are to the right, but you're not looking across much.  Seats are comfortable and as stated have stellar legroom. Still close enough to pick up expressions (and properly see Elphaba's dress - from a distance it looks black, closer up it's iridescent. They have a dress on the stairs, make sure you see it).  
If you are happy to pay the premium row Q exacts, try for around Q15/16/17 - these are THE 'magic' seats and get a view down the aisle.
Bob Pickett.
______________________________________________
I went to see Wicked on Saturday the 7th of September 2014 and sat in row O seats 34-37 in the stalls. These seats gave a perfect view of the whole performance and were OK priced at £60 each as well. The theatre was packed but the air con was on for most of the performance.
Now to the show, this is the fourth time I have seen the show (twice on tour) and it just keeps getting better and better, it was also a treat to see Kerry Ellis again who is back in the role of Elphaba, I know some have slated her in online forums for not being as good as her last run, but we have to remember she has been out of the show for a few years and is also a new mum as well. All of the cast were fantastic and the audience was extremely well behaved with no talking throughout the performance.

And finally to the theatre staff, what a fantastic team of people who were very pleasant and helpful which really makes a difference to the whole experience of going to the theatre.
______________________________________________
Thursday, 07th August, 2014. 19:30 performance.

Stalls - Row H seats 29 -31. Seats great - saw everything, when I managed to stay awake that is! Between the unbearable heat in the theatre and the mind numbing boring delivery I choose to sleep. I woke up briefly at certain songs and was so depressed I went to sleep again. I've seen the show three times before and loved it; I went with friends who had never been, and all of us were really disappointed. The review is a reflection of their opinion as well, as they managed to stay awake.

They seem to be having issues filling the role of Elphaba after the previous artist left early due to health - and it shows really badly.
The night we went we had 4 understudies for main characters and (I'm not sure of the term) second or third understudy for Elphaba. We all likened the main cast to a very good school production.

Ensemble fabulous, costumes amazing, Ephaba and Galinda not so much. The girl playing Elphaba put her all into it, and I liked her acting, but I felt her voice wasn't quite strong enough for the role. Galinda - who wasn't a understudy - appeared to be rushing, and even the jokes weren't given time for the audience to enjoy and respond to. She seemed to be very bored and desperately wanted to get the show done and over with.

Anyone planning on seeing it: I would wait until the new Elphaba is announced and has a couple of weeks to settle in.
_______________________________________________
(August 2013 London, October 2014 Liverpool (UK TOUR)

The vocals are incredible, that cannot be argued against, and the storyline is a welcome twist on 'The Wizard of Oz' storyline. The show also has many catchy songs such as 'Defying Gravity,' 'As Long as You're Mine,' 'For Good' and 'Dancing Through Life.'

The show starts with, in my opinion, ('No One Mourns The Wicked') one of the weaker songs but then it quickly makes up for that. Some of the scenes in this show seemed to serve little or no purpose, whereas others were simply overlong. A show that is concise can be just as good as a long one. The first act could be tightened and perhaps that would resolve this problem.

Another smaller point, I thought the actor playing Fiyero (Samuel Edwards, UK Tour) didn't have a great voice, but that could just be me who thinks that.

It's hard to give shows a mark out of five but for the purposes of short reviews I do so: Three and half out five. Wicked is a strange one, universally loved but after seeing the show twice I'm still unsure about its 'greatness'.

Seat Review: I sat quite high in the Circle and this definitely impacted the experience from here, although visually I could see everything. When I saw it in the stalls you get to better appreciate the design of the set and all the individual actors on stage. For a cheap ticket though, around 25 pounds, the rear circle is worth a look.
Laurence T.
_______________________________________________
OK, so seeing "Wicked" in half-term (February 2016) was always going to be an interesting time to go. But what is with a theatre that sells popcorn? Still dreaming of being a cinema? I was horrified at the sheer mess left behind (row B, I'm looking at you – two half-full giant size tubs of popcorn strewn across the floor). I feel so sorry for those who have to clear up after theatre-goers. (Phantom was pretty awful, too, and that was a midweek mostly adult audience.)

Anyway, we went for our usual front row dress circle, A26 to 29. These seats are sensibly sold with a warning that they are most suited to those over 5'8 and of the various theatres we have been to, these seats were actually the most challenging in terms of seeing over the front wall. If you settle back in your seat, you do lose the front of the stage, and a fair amount of the action takes place there. I tried not to lean forward; sitting upright like a proper Victorian I was fine (5'7) and my daughter at 5'11 was better, though she did lean forward at times. Legroom was OK there too, and I was seriously glad we'd gone for the front as going any higher made my hands tingle with vertigo – unbelievably steep rake up there! Anyone who is wary of heights should be very cautious. I was trying to imagine how an audience in the Thirties would have managed to see a black and white movie from the back row: it's a big place and balanced up there on the ceiling, Fred and Ginger must have been very far away …
_______________________________________________
Saw 'Wicked' at Apollo Victoria on Saturday 25th June 2016 matinee performance.
Needed to book 5 seats and wanted to book a 2 in front and 3 behind so we could get 2 aisle seats and restricted view reduced seats. Couldn't do this over the web but they were happy to do it over the phone.

Sat in G42,43, H43 and H44 which were marked as restricted view and therefore under £30 each. No real issue with view, minor parts blocked by a staircase used during the show but all the action comes forward to the front of the stage anyway. The sound mix is not as clear in those seats, got a lot of the fantastic music but it was not always easy to make out the lyrics being sung by the actors during some numbers.
My husband and son who are both well built and over 6 ft sat in the aisle seats and there was plenty of room. As there was 5 of us had to pay for one more expensive seat, H42, but in total 5 of us saw an amazing West End show for £160. Would definitely be happy to sit in those seats again at that price.
________________________________________________
Thanks for the awesome website! Its a plethora of great info!

So Yesterday (Friday - 2nd June.2017) - I arrived at the Wicked theatre steps at 6:00am and I was the first one there (if you don't count the homeless folks asleep).

At about 7:15am, I thought it was odd that I was the only one there - and then an Apollo Victoria Theatre employee was taking photos of the homeless people sleeping and he asked me if I was waiting for day seats and I replied "yes" - he was llike "you are at the back of the building, the box office is on the other end. I was sooo shocked and worried that on the other side were already 20 people queueing as I ran around the building!

I got there to find one guy there - thank gawd. The next people arrived about 8:00am and 8:30am there were 10 people and 9:30am - 18 folks. The guy in front of me had arrived at 6.15am, so technically I was first :)

I got just off centre seats - front row A22-A23 - and the guy in front had centre A24-A25.
I knew not much about Wicked - no music ...
I loved it... perfect seats for seeing all the great facial expressions. a bit of the big picture set was missed but still so worth being so close. great view.

Great Story, Great Actors, Great Effects!
________________________________________________
Wicked, we did get the standby (not understudy) Elphaba, Laura Pick, and an understudy (not standby) Glinda in February 2018. Laura Pick was OUTSTANDING. I've seen Wicked about ten times and I can honestly say she's one of the best Elphabas I've ever seen. My Dad could not believe she was the standby. Understudy Glinda was not great but she hit her marks, if you know what I mean. Certainly as good as any other standard Glinda I've seen, just not really special. To be honest, will the West End ever get anyone as wonderful as Kristin Chenoweth to play Glinda... one can dream I suppose?!
To be honest, my brother also wants to watch Wicked now (even though he doesn't really like musicals), so I will probably take him and try to see the lead actors because I've heard amazing things about Alice Fearn especially... I can't believe I still enjoy watching this show after so many years.
________________________________________________
I came upon your site by chance yesterday - my husband and I are in London for a few days and we wanted to see "Wicked" - and the day seats section of the website was so helpful! The gentleman at the box office said that they only give out front row seats (Row A) and there are only 24. the seats were great!
Thanks again for having such a great website!
_________________________________________________
Wicked, stalls Q27-28. Fantastic seats! Central, unlimited legroom as on the aisle, nobody in-front of you and you are able to appreciate the whole spectacle of the show while still being close enough to see facial expressions. I'd take these over pretty much any other seat in the front stalls to avoid the significant risk of the shallow rake and bad seat alignment which I've struggled with before. Usual cost on a Tuesday night is £95 but we got them for £40 in the New Year Sale and were thrilled to bits!
_________________________________________________
Dress Circle Seats O 49 to 52: First thing to note is that the numbers on the seats are actually 48 to 51 - there is technically no seat 52!!!!! When you actually ask for assistance in this matter they tell you to go by the number on the step (which says 49) and although they are numbered 48 to 51 they are tickets 49 to 52 !!! Worth being aware of as otherwise you might find two people sat in the middle of your seats!!!
49 and 50 are the better view of the two, as the other two might be subject to people leaning forward in row L because of the bar which has a knock on effect on the other far end of row. Just depends how selfish the people in front are. Man in front of us just told them!! Although a theatre chap did bring some people here little cushions - rather nice! But for £15 per ticket all were fab value and well worth it. 
Is it just because it's a cinema so many women think it's O.K. to wander out to the toilet whenever they feel like it?!?
LATER POSTING (November 2006):
I have now seen the show four times and have sat in a variety of seats. After 0 in the dress circle I have had row P centre in the dress circle, row W dress circle and row D in the stalls.
I have to say that from all of these seats I got something different from the show - but all were great. Row W of the dress circle - booked last minute - cheap - great overall view - took my cheap Argos binoculars for a closer view - but others in my party were still blown away by the show from here.
- only problem I have found with any of the dress circle seats - is the leaning forward person - if you have someone that does that - it is a real pain - but a polite word often does the trick. 
Row D of the stall was a very different experience - very powerful and personal. Great as I'd already seen the show - but maybe you miss out a little on the whole effect. I would book these / or closer again - as I saw lots of little things I hadn't noticed from further back.
Dawn
_________________________
A friend and I went to a preview on a Saturday afternoon (9th September 2006) and couldn't believe the level of mobility – within the audience. Not only were children getting up and moving around (in some cases running) or going out, but adults just seemed to think it was fine to wander about without so much as ducking down to avoid getting in the sightlines of the rest of us. I've never seen such an inconsiderate audience. Add to that the childish wails from the far-too-small tots who'd been brought along and were frightened by the bangs, crashes and lighting effects, and there was serious competition for the performers to contend with!
We were seated in the Circle in Row T, seats 21 and 22, which had cost the princely sum of £5 each. Legroom was very good (my friend is 5' 8") and the view was fantastic – central, clear and so well-raked that even with a couple of tallish people in front there was no problem at all. Very comfortable, although walking up and (particularly) down the fairly steep steps can be a bit heart-in-mouth, especially when being pushed by a crowd, as there is no handrail and the seatbacks are too low to grab if you stumble. Might be sensible to allow a few extra minutes if you're at all concerned about mobility and have a Circle seat. Toilet facilities (certainly for women) totally inadequate; the interval queue snaked down from upper level to the ground floor...
The staging was highly dramatic and made good use of the vast, bowl-shaped auditorium, but technical glitches (e.g. flying problems at the end of the first half) spoiled what should have been some mega-moments. Singing? Not impressed; I thought there were some rather weak voices around, who didn't seem entirely comfortable with some of the uneasy rhythms/lyrics. Music? Can't remember so much as bar; instantly forgettable. Choreography? I presume there was some, but most of the action on stage appeared to be pretty random, relying on noise and movement rather than anything more polished. Story? No idea what it was. Verdict? £5 was about the right price!
___________________________
Saturday 9th. September, 2.30pm matinee, Dress Circle row W, 34 and 35.
Saw the info on your site and got these preview tickets for £5 each. You rate them "green", I certainly agree.
Although, they are high above the stage and a bit distant, for this price (and £15 after previews), they are wonderful value. There are glasses, 50p if need be, but as most of the play is action on a grand scale, this distance is not a problem. Leg room is ok if you are 5 foot 6 or less. If you need to see every wrinkle and spot on the actor's faces, pay £60.
As this was only the third day of performances, entry was slow and badly organised. I think it was a full house too. There was no-one greeting and heading you in the direction of your seat. Signage was poor. There were lots of people selling drinks, programmes, witches hats and tee shirts though! As usual, massive queues for the ladies toilets. Except for the latter, I'm sure things will improve.
Stage setting, fantastic, especially the dragon. Lighting, brilliant, some of the best I have seen creating a wide range of settings and complimenting the staging brilliantly.
Music good, singing strong, especially the two witches. Costumes out of this world. Story, makes you think, but not too daunting.
Standing ovation from mixed aged audience. Say no more, beg borrow or steal a ticket now!
Monkey will love this, may even be asked to join in certain scenes if they are short.
Problem, people arriving late and taking ages to find their seat and those who kept taking toilet breaks during the play. This is not the cinema. There is a different etiquette in theatres. It is called "consider others". 
Susan Richards.
___________________________
I had £5 Wicked seats in the middle of row Q on Friday night (8th September 2006) - and what an absolute bargain! The view was a little distant but incredible - totally clear view of the stage and you can really take in the enormity of the show.
I then went to queue for Wicked day seats on Saturday morning. I got there at 8.50am and was in a queue of about 50 people. All was calm.........until the box office opened. I have never known such chaos! The matinee people were called, so I jumped right to the front of the queue, only to be elbowed by an old woman. There were Americans shouting at the box office saying they were here from 7.30am etc, etc.
Anyway, I got my tickets! A bargain on the front row - although I'd ensure you were as central as possible as many cast members block your view at a couple of moments towards the side.
Thankyou for your help on day seats - had to see Wicked again though (not sure when I will get another chance)
Liam
___________________________
I saw the show at the Saturday matinee performance, 9th September 2006. 
The audience was very full of young to teenage girls, who presumably all want to be witches, so there was considerable fidgeting and eating. Idina Menzel was fantastic and it is definitely "her" show - and she is received like a pop singer at a pop concert. At the moment Helen Dallimore seems uncertain as Glinda, particularly on her first entrance, but warmed up later and was giving a good performance by the second Act. 
Miriam Margolyes and Nigel Planer were excellent and Martin Ball gave a good performance as the, rather underwritten, token animal in the show. There are the monkeys and a very badly designed lion cub as well, but his goat performance stands out. The chorus are great, lots of life and energy and jumping around, but there seem too few for the size of the stage. James Gillian and Katie Rowley Jones as Boq and Nessarose do their best with what they have, but there is not much in those roles to work with. Adam Garcia as Fiyero seemed to sleepwalk through this role when I saw the show. He seemed to be rather adrift, as if why he was there was a complete mystery to him. 
The other major disappointment was the failure of Elphaba to fly. From pictures and videos of the New York performance I expected she would, during the "Defying Gravity" number. There were no announcements to apologise for the failure of equipment during my preview, so maybe she doesn't. Perhaps other monkey reviewers will be able to clear this up for me. (According to other reviewers there were problems with the equipment at this performance - Ed).
With certain reservations the set and costumes are great and I liked the Time Dragon who lies over the proscenium arch, waking up for the odd roar. Be warned that the glossy programmes seem to have pictures from the US productions, although I imagine pictures from London will appear once the show finishes previews. The key to this show is the performance of Idina Menzel, so my advice is to rush to see her before she leaves it in a few months.
_______________________
I think the Apollo Victoria are in a bit of shock having a hit at last! I have seen "Wicked" 3 times already and it's "the business." Twice in the stalls row E, which was great, and once in row P in the currently £5 priced seats which was okay - but not sure I would want to sit there again though. The front of the stage is a bit obscured by peoples' heads, and in fact some of the action too, as the stage extends a bit and they use it quite often. But, great for £5 but in the main run (£15) I don't think they are really worth it, as with "Wicked" (and Idina especially) you just have to see her facial expressions to really enjoy her awesome performance.
________________________
I can report that I absolutely hated Wicked, which I attended last night (Tuesday 12 September 2006) and I stayed only until the interval. I thought the story was tedious and uninteresting, and the score was without any musical merit whatsoever. The choreography was amateurish, and the staging was disappointing. 
After seeing the theatrical magic of Chitty Chitty Bang Bang, Mary Poppins, The Lion King and even The Witches of Eastwick, I was expecting something imaginative and exciting, but alas it was neither. The best effect (at least until the interval) was the big dragon above the stage! I genuinely get a big buzz when various spectacular things happened, like the car flying just before the end of the first act of Chitty, the wonderful things that came out of Mary Poppins's bag, as well as Bert walking all the way around the proscenium arch, and the three witches flying right out into the auditorium in The Witches of Eastwick! There was nothing whatsoever in Act I of Wicked to compare with these sudden moments of theatrical brilliance! I was expecting Elphaba to fly on her broomstick at the climax of the first act, but, despite the clever lighting effects, she just seemed to be standing on the top of a column or pillar and there was no thrill from that. And the picture in the programme seemed to indicate that that was all that was supposed to happen at that moment. When we have seen spectacular flying effects in Chity Chitty Bang Bang (for both the car and the child-catcher), Mary Poppins and The Witches of Eastwick, then it is an anticlimax to see Elphaba merely standing on top of a column in the centre of the stage! 
It's not really flying if Alpheba stands stock still atop her column! Levitation, perhaps, but hardly flying! Certainly not by the standards set in The Witches of Eastwick or Mary Poppins where the characters not only fly, but actually come right out into the auditorium over the heads of the audience. OK, so you could see the wires, but it was still thrilling. I could see some wires attached to Elphaba but they didn't seem to be serving any purpose, because she didn't move.
The audience of some 2,400 people seemed to be all under the age of 25 (apart from me, of course) and they whooped and hollered and cheered every number, at least when they weren't all getting up and going to the toilet during the performance. I was amazed at how much they seemed to approve of everything they saw and heard. I guess I am just an old fogey who prefers good tunes and intelligent staging. How sad can that be! Maybe I should just go to things I know and love like Guys and Dolls, Chicago and The Boy Friend!
______________________
Paid £15 for seat 37 row L of the circle and OMG what amazing seats. Could see the whole stage and take in the amazing sets and costumes from there. As for the show (13th September 2006, matinee) WOOOOOWWW. It was completely faultless. 
Sets and costumes were stunning. Singing pretty good, especially from Idina, it was only Fiyero who disappointed with a slightly weak "Dancing through Life."
"Defying Gravity" was 'wicked' as Elphaba flies into the sky, again amazing vocals from Idina.
Overall this has to be the best musical EVER, and recommended to everyone, get your tickets whilst there still are some before Idina goes. 
On a small side note, leg room is insufficient for taller people (I'm 5foot 11).
______________________
Saw the matinee performance of "Wicked!" Wed 13th September 2006. Sat in seats 18 and 19 Row M Dress Circle. Seats only £15 each (in previews) and EXCELLENT value for money. We had a clear view of the massive stage and set. I can't see any reason to pay top prices if you can get seats in this section of the circle. I did have a walk up to the rear of the circle to see what the £5 seats were like. A bit too high up for me but great at that price.
The show was magical. Lots of fun, very spectacular and damn good family entertainment. For a Wednesday matinee to get a standing ovation, it must be good!
Only one complaint: the constant barrage of theatre staff trying to sell you things. Even when we were trying to have a drink in the interval we kept having programmes and cd's thrust at us. I refused to buy from one guy about three times and, on his final attempt to sell me a cd, he said 'Don't worry, you'll change your mind and buy one on the way out!'. 
Paul Nicholls.
________________________
A previous review cites one of "Wicked's" main shortcomings as that it is short on flying cars and general midair suspension. Quite frankly, Idina Menzel could stand on a plastic garden chair and still impress you. During "Defying Gravity" where the 'flying' occurs, it is her vocal acrobatics which are meant to blow you away as opposed to any flapping around the proscenium arch on a highwire. In fact, any Peter Pan antics would have detracted from the wonderful moment for Elphaba's character which occurs in the song; whereas the simple raised flying effect (which thankfully, was working fine on the evening performance on the 13th September 2006) really complements what is happening. And if you really still are a flying fan, Elphaba's winged monkeys are quite a treat anyway.
The show in my humble opinion, is wonderful. The presence of so many young fans that whoop and clap at every song, merely shows "Wicked's" cult status. I personally thought that the audience reactions came in all the right places and didn't really detract from what was going on on stage, although if I had of been in a matinee full of 13 year old girls I may have disagreed. I also don't really see any problem with an audience full of young people; in fact I think it's quite refreshing. At least we aren't all out jacking cars. Anyway, I think the audience reactions may settle a little once the die hard fans have been once or twice to drool over the Idina Menzel's singing /Adam Garcia (delete as applicable). 
The whole look of the show was amazing and the chorus were wonderful. Idina Menzel was the best thing I have seen on stage…ever. I can't really sum up her performance better than that. I have heard from a few people that Helen Dallimore as Glinda has seemed a little nervous. On our night she wasn't. I thought she judged the tone of the character beautifully, and made Glinda, despite her foibles, quite endearing. I had to stop myself grinning every time she came on stage. Her English accent has become a contentious point amongst fans but I felt it worked. 
Wicked is fun, fun, fun. Don't go if you want a serious night at the theatre. However, for all its knowing Oz references and silliness, it does actually examine the relationship between two friends, through all of its ups and downs, beautifully. Everyone can identify with Elphaba in some way (even if the majority of us are not green) and for many it really does strike a chord. Go see it! 
Hannah M
___________________________ 
Went to see "Wicked" tonight (15th September 2006), well to be more accurate I saw about 45 minutes of "Wicked." It truly is the worst musical I've ever seen. It's also the first time I have ever walked out of a theatre. I couldn't take it anymore... The big tacky expensive sets, the corny musical numbers, the bad BAD acting and the smugness of it just drove me crazy! All the characters are the usual boring clichés you see time and time again, the outcast, the popular girl, the stern headmistress... Oh I could go on but I can't put into words how naff it is. It's like if musicals were restaurants, "Wicked" would be McDonalds.
I was gobsmacked that everyone was so into it, clapping and whistling and whooping at every lame joke. Agh! It was like being at a football match being stuck amongst such ill-mannered people. The ushers were letting latecomers in the theatre even up to half an hour late. Not just those in the aisle seats either! When we finally walked out, one of the ushers ran after us and said "Can I help you?" and was very rude and standoffish when we said we were leaving. Perhaps he was upset we didn't buy something from the wide range of crappy merchandise! 
Well, if something other than "Wicked" was on at the Apollo Victoria, I would recommend our seats. S44 and S45. The aisle seats have loads of legroom, although the seats are very narrow for the ample of bottom! 
Natalie 
___________________________ 
I saw the first preview on 7th September 2006 and saw the show again on the 14th. My word, they have worked hard on it during that week! Not that the first preview was bad - but one week later the production looks totally 'match fit'. 
Idina Menzel totally nailed that performance on the 14th - 'Defying Gravity' and 'No Good Deed' were awesome. I know its something she's sung maybe 400 times but she seemed to have completely relaxed into the London production and the reticence to go for the most demanding notes that was apparent in the first show - mainly in 'Defying Gravity' has completely gone. 
Helen Dallimore's Glinda has come on leaps and bounds in that week. The comic timing is now spot on - 'thank goodness' they've reinstated 'unprepossessing features' instead of 'unflattering features' which just did not work in 'Popular'. I think everyone in the UK is so used to the OBCR* that a dotty very English Glinda was a bit of a shock - but seeing and hearing the portrayal for a second time - it's just great and its getting funnier. I think Helen is going to grow into that part even more over the next week or two. The only bit of comic timing she could improve is the line in 'Popular' when she is telling Elphaba: - 'lets start 'cos you've got an awfully long way to go' - it needs a bit more emphasis to indicate what a 'state' Elphaba is in. I've seen an illicit bit of video on the web where one of the US actresses rolls her hands over and over as she says it and it works really well. 
Nigel Planer seemed to loosen up as the Wizard too. There was more swank and panache than a week ago and the singing was more enthusiastic - he seemed to be really going for it and just more confident.
Miriam Margolyes and Martin Ball seemed to be at the top of their game in the first preview and to me they were playing Madame Morrible and Dr Dillamond just the same tonight - they seem 'home and dry' and don't need to tamper with anything.
Adam Garcia as Fiyero? I saw lots of negative comments on the web about his performance and he still looks uneasy to me. He's fine in Act Two where Fiyero is more serious - Captain of the Guard and all that - but its 'Dancing through Life' that lacks a bit of swagger and well - sex. I don't know if the choreography for London is exactly the same for London as for the US productions but it seems to me that it's Fiyero's moves that rein him in a bit during the dance sequences. Glinda is obviously 'hooked' - but he needs a few sexier dance moves - let him 'Tony Manero' it a bit to get the sexy and dissolute prince's character across to the rest of us. Adam is obviously great looking - let him use his attributes to the best advantage in the Ozdust ballroom. I don't think there's anything wrong with his ability - it's the part that's not quite right.
I'm still not convinced that the sound is right - I have no idea how that is adjusted - or if it can be - but where principals are singing with the full company e.g. in 'One Short Day' they are not quite prominent enough - Idina and Helen were not sufficiently 'picked out' when singing the 'there are buildings tall as quoxwood trees / dress salons / and libraries / palaces /museums / a hundred strong'. I was in E36 in the stalls - which is very much to the side of the theatre - perhaps it was a quirk from that position - but I could have done with a more treble sound to the principal vocals from there and picked them out even more in the mix. But what do I know? 
All I can say is 'very well done guys' - technicians and performers - everyone seems to be really believing they can pull this off now - I am really looking forward to seeing the show again at the charity preview and getting to have a chat with some of you at the dinner - if you have any energy left to make that!
*Original Broadway Cast Recording
______________________
I can't rave enough about the day seats for this show!! Only £15 (during previews) for a front row seat! I'm the sort of person who likes to be 'up close and personal' with the actors. I like to see their facial expressions, hear every comment, witness things you can only see from the front. I also like to loose myself in a show - envisage myself in Oz with no other audience heads to confuse the illusion. If you can relate to any of that you have to get the day seats!
There is no restricted view like some theatre day seats. At the Apollo Victoria you can see the whole stage. The only effect you don't get the full benefit of is the dragon fixed above the stage and green lighting that reaches up into the balcony when the characters arrive at the Emerald City.
Idina Menzel has to be seen (and heard) to be believed. In fact even now I've seen the show twice I'm not sure I can get my head around how amazing that woman is! Her voice is incredible! I've never heard anything like it on stage before. She literally took my breath away during Defying Gravity.
I saw the show on both the 14th and 15th September 2006. Whereas the 14th ran perfectly smoothly from start to finish, the 15th was riddled with mishaps. It was all handled very well by actors and crew alike and I didn't sense any upset from the audience. To a certain degree you should expect a preview to not be the 100% polished show - they are still rehearsing and ironing out the creases. That's why the seats are cheaper!!
For me personally it enhanced my enjoyment - a small glimpse at the people behind the costumes when they slipped out of character for a few seconds, for example when an ensemble member in a big 'weeble' type costume fell over and couldn't get up again during 'One Short Day'. A stage hand had to come on stage and help him up resulting in a very amusing finish to the song which was spluttered by a laughing Idina rather than sung!
It was also fun to see Idina's impromptu little jig for the audience after a piece of set broke down in the second act and the show had to be paused for 10 minutes. As she said herself "That's live theatre folks!"
The only negative I can come up with is the queues for toilets / bar / merchandise. They're huge!! Don't attempt to go to the loo in the interval unless you're sat right by the exit and you can jump up as soon as the safety curtain falls!
This is a must see show for anyone with a love for musicals, an imagination and a heart! If you're a Harry Potter fan this is for you. It you like the more serious and believable shows don't bother.
Wicked is big, glitzy, glam and above all ABSOLUTELY FANTASTIC!!! 
Sarah Clarke. 
________________________
Travelled from Dublin specially to see Wicked on Monday 11th September 2006,and was not disappointed.
Sat in the Circle Row D 5 and 6. Good seats, but could not see all of the front of the stage without leaning forward. Idina Menzel was spectacular - what a voice! Some "technical problems" after "One Short Day" meant a delay of about 15 minutes which was annoying as people thought it was the interval and began to move about. When it did resume it was only about ten minutes before the REAL interval so it sort of broke the continuity. All in all though, I have to say - "What a Show!!" We knew all the songs, from playing the CD for months on end, and will travel back again in another few weeks to enjoy it all over again and hopefully this time there will be NO technical problems! 
Verdict: Brilliant - Dont Miss It!
Lynda
______________________
Saw "Wicked" at the evening performance on 16th September 2006. Our party of 5 was in row ZA of the Stalls seats 19 to 23. The seats were comfortable, with plenty of legroom (tallest 5' 11"). We found these seats to be excellent, I was worried about being so far back, but the steep rake allowed for an excellent view and even the children in our party could see the stage reasonably well with adults sitting in front. Binoculars were 50p but not really necessary. The biggest drawback was the heat. It was stiflingly hot. I can't imagine what it must have been like higher up. The queues for the Ladies during the interval were the longest I've ever seen. Thank goodness for a cast iron bladder!
I thoroughly enjoyed the show (apart from the teenage whooping mentioned elsewhere). Idina was something else. Her live performance far excelled the CD recording. Shivers up the spine. Nigel Planer & Miriam M were excellent. I would agree that Adam Garcia's Fiyero lacked sex appeal. Stephen Schwartz was in the sound booth and kindly signed my programme. I saw the show in Chicago, and maybe I enjoyed the London performance much more as it was second time around, but I don't think it was entirely down to that. This is a great blockbuster show and wonderful entertainment. The critics will probably hate it - too 'popular' perhaps? See it with Idina while you can.
Rebecca, 
Fareham, Hampshire
_______________________
Just wanted to mention that seats R19 and 20 in the Circle are over the stairwell, and if you are sitting there you need to lean forward the whole time, thus blocking everyones' view behind you. I don't think these seats are meant to be sold, as they should have been empty on Saturday (16th September 2006, matinee) but two latecomers sat there for the first half. So definitely ones to avoid. Also theatre needs to sort out getting people in - the foyer was very overcrowded and the queues for the ladies were the worst I have ever seen, all the way down the staircase.
________________________
I sat in row E of the Dress Circle at a preview performance of Wicked, and whilst the view was very good indeed, the sound was very very poor. The orchestra sounded as if they were in another building and the cast could have been singing in French for all we could tell. the dialogue was not much better - you really had to strain to hear what was being said and a lady sitting next to me summed it up when she said that "This is billed as the untold story of the witches of Oz - I have sat through three hours and am no wiser as I can not hear anything". It was a preview but they HAVE to sort this problem out - at £55 a ticket it is not on. I do gather that the sound is better in the stalls but I can not confirm this.
(later).....
Well I said I would give it a second go, and indeed I did last night (final preview 26th September 2006) - I was so hoping that after 10 days the show would have improved but alas it left me cold again.
I know they have been playing at night and rehearsing during the day but everyone apart from Miriam was as flat as a pancake. Again I sat in the front section of the Dress and again the sound was dreadful. The orchestra sounds hollow and flat - the singing is a blur (no chance of hearing the words) and the dialogue is lost. Now call me old fashioned but I do like to hear the script. What is interesting is there must be some amusing lines as the stalls laugh but the circle - no, because we have no idea what the hell is being said. Have the sound staff not sat in the front dress to hear the level or do they know the show so well that the actual dialogue is now not important I wonder.
On my last visit I thought that the end of act one was ok but nothing special - was something not working? Well, last night just the same - cherry picker and loads of black material. Now I like inventive (i.e. "The 39 Steps") but at these prices one expects more than a lift - think what can be done - flying in "The Witches of Eastwick", "Chitty", "M. Poppins" - now whether you like the shows or not the effects there were stunning - Wicked is so LAME.
Typical American show - lots of gloss and hype - no substance and oh so clinical.
Michael
________________________
We have seen Wicked twice now and I wanted to comment on sound. The first time was from the back of the circle Row W at the first preview 7th September 2006 and the sound back there was fantastic. We could hear every word clearly even from the ensemble and the songs really belted out to us. They seem to have additional speakers behind the audience there too (very noticeable during the "Wizard head" talking for example). 
This time we saw it on Monday September 18th 2006 from the front of the circle Row D and whilst the sound was adequate it was certainly not stunning. It was much louder and clearer in the cheap seats. Last night there was a more "muddy" sound with lyrics sometimes hard to understand. Individual voices were mostly okay but as soon as more than one person sang it was hard to follow lyrics. Whilst it is great to have a much closer view of the stage people should be aware that at the side block (we sat in D38 and D39) there is a quite high horizontal bar on the front of the Circle that I found slightly irritating because I found myself having to look under it to see the actors when they were on the very front sections of the stage that jut out. 
I was a fan of the show from Broadway and I am very happy to see Idina Menzel here as Elphaba, she is simply stunning especially during her big numbers (The Wizard and I, Defying Gravity and No Good Deed). Helen Dallimore is getting much better as Galinda, initially she wasn't getting the laughs although she has a lovely voice and can easily sing the role. Last night it was obvious she has worked hard to develop her performance and I liked her very much. Adam Garcia is just badly directed I think, whilst he is improving he is still not that likeable as Fiyero, that role worked much better in the show with Norbert Leo Butz's American slouch approach rather than an English upper class twit character that we have. The show looks fantastic with a first rate ensemble and overall it is an absolute treat for theatregoers. 
Lee Wilson
lee.wilson@gmail.com
_______________________
I couldn't attend the 'Clients evening' (performance for group bookings clients - ed) on 13th of September 2006 as we were away, so my daughter and grand-daughter went instead. I asked my grand-daughter what she thought of it and she replied as only a nine year old would, with just the one obvious word. "WICKED!!!!!"
_______________________
Have just returned from "Wicked" (19th September 2006) and I loved it - it's an imaginative story with good characterisation, extremely well sung and acted, cleverly staged, excellently dressed, beautifully lit, BUT and it's a huge BUT - the sound was awful. Not being familiar with the words I found it very hard to know what was going on at times. We were right in the middle of Row G in the Dress Circle and the sound was truly dreadful - the only thing we could hear clearly was the percussion track which was very annoying at times and, of course, Miriam Margolyes who has the best speaking voice in England. If I'd been able to hear better it would I think have been one of the best shows I've seen. I've been looking up the theatre details to try to find someone to complain to but with no luck.
Morvey 
__________________________
We saw Wicked on one of the preview nights, 19th September 2006. We had been looking forward to this for many months. First of all - the cast ...- overall - excellent! Idina Menzel certainly lived up to the 'hype' - great voice and fantastic expressions. Helen Dallimore as Glinda was good - managed to hit those high notes beautifully, although her speaking accent was a bit wobbly and inconsitant at times. Adam Garcia as Fiyero was a bit of a disappointment - great dancing, but zero charisma and a mediocre voice (in my opinion). Nigel Planer is great as the Wizard, I loved Martin Ball's Dr Dillimore. James Gillan and Katie Rowley Jones were a great pairing as Boq and Nessa. Both have wonderful voices and gave some of the most expressive performances in the show. 
The ensemble were outstanding - so much energy! For me, Miriam Margoyles was the best performer - she does not really sing, but that doesn't really matter - her voice, delivery and actions were both comic and quite chilling at various points in the story - she was made for this role! (although there was a couple of lines at the start of the first scene where she really sounded like Lady Whiteadder - I thought she was going to mention turnips!)
From the technical point of view, for me, the lighting and effects were fantastic, but I think the best was the costumes and the wigs (wigs rarely seem to get a mention - shame!). I know some other people have commented on the sound. we were in the Circle, Row E 31 to 33 - the sound was fine, possibly slightly quiet, but I had no problems hearing any of the show. having been to some shows where the balance of music / vocals have sometimes been disproportionate, I was pleased that the balance seems right here. Re. the seats - legroom is a bit tight, but the view was fine. 
All in all, I loved the show - it is well worth seeing, even at top price, for the sheer spectacle. We have already booked to see it again in October. 
Ali
______________________________
Wicked? It wasn't even good!
I went to see Wicked last Tuesday night (19th September 2006) - I had no idea of the hype beforehand, it was a spontaneous decision - there was a spare ticket going and first saw the film and loved it when I was a small child. We sat in the stalls in the middle, of the front section. 
Firstly the acoustics were bad, the music was highly forgettable - occasionally you could hear a few bars and think this is promising but then plummet into mediocrity again, the voices were for the most part shrill (Helen Dallimore was very guilty here). Miriam Margolyes singing was non-existent. Adam Garcia and James Gillan definitely had the best voices in the cast. Idina Menzel was ok, certainly not inspiring. The choreography was dull and clompy.
What was good with it - the sets were excellent, the story linked in cleverly to the film and the sheer enthusiasm of the cast - for the sake of the cast, I hope it runs.
I wasn't the only person to feel the same way about this production - there were a number of people in the audience who like me were unable to clap and I counted at least twenty who walked out at the interval. However, always a perennial optimist I stayed until the end but wish I hadn't I couldn't understand the reaction of the audience who got up and gave the cast a standing ovation, stamping and cheering, (perhaps I was seeing a different production?), if I were being polite I would say that the whole production was very weak, however I could never describe it as "Wicked" only really rather bad.
______________________________
We attended the preview show on Friday 22 September 2006. We had seats in Q35 and 36 of the dress circle. Although we were a long way back, it was nice to get the overall impression of the staging effects which were quite spectacular. We had no problems with sound at all. As to be expected from sitting so far back, we missed all the nuances of expression etc from the performers but as we managed to get them for only £5 (preview price) each seat, we certainly couldn't complain!
The show itself was truly "wicked" and "wonderful". It was refereshing to see an original show with such an entertaining story and wonderful score. The first thing I did when arriving home was to track down the cheapest place online to buy the soundtrack from (HMV by the way!). I am also so glad we managed to see Idina Menzel who sent shivers down my spine during her "belters". Galinda was raising many laughs with her delivery and we truly couldn't fault any of the performances. We were surprised at how good a singing voice Nigel Planer had! Overall, this is a fantastic show and I would thoroughly recommend it. Have fun trying to spot the references to the film "Wizard of Oz"!! 
Do go and see this show!
Mandi
___________________________
Friday, 22nd September 2006. Predictably, online excitement about Wicked at the Apollo Victoria is amassing volcanically – as it did for the superb OBC Recording, now boasting more than 600 Amazon (US) reviews – and London's so ready for it!
Let's not beat around the bush: Schwartz is a genius; listen to Pippin (1972), the work of a 24-year-old which made more than $3m on Broadway, and judge for yourself. History encourages us to believe that artists, musicians, writers of substance have a work in them – a Guernica, or Sound and the Fury – which perhaps surpasses all other personal achievement, and so it is with Schwartz in his chosen field: Wicked is his best, and better than anything we've seen in the UK. The 2000-strong standing ovation at Friday's preview, and the block-long queue of cameraphones desperate for Idina well over an hour after the show, bear witness to this.
What an amazing night! I've never felt an atmosphere in the West End like it: a huge, collective, monumentally visceral anticipation. And when, when did a Creative Team last come together so emphatically? The Book is dark but compellingly wry, Mantello's direction as ingenious and sure-footed as in Take Me Out (2002) at the Donmar, the design, staging and costume all scrupulously detailed, and, wow, the lighting. The ticket prices are high but, for once, you feel the money has been well spent, not least on Gareth Valentine, possibly the most inspirational force in London Musical Theatre. So many talented people, all at the very top of their game.
Other reviewers have discussed the cast and the intricacies of the set. Suffice it to say, I didn't spot any technical hitches at this performance. Of the principals, Helen Dallimore was spot on (tuneful, spirited, engaging…), Adam Garcia, very watchable, and Idina Menzel utterly amazing (no wonder there's so much gnashing on Amazon about not having seen her in the Original Cast); see Idina before she flies off 'for good,' it's quite simple. She defies both gravity and belief!
Wicked rocks… and so to Press Night, and to the other three performances I've booked.
Richard Sutton SE18
____________________
My husband and I went to see this show on Tuesday 19th September 2006 after months of anticipation and I can happily report that we were not at all disappointed. The show was magical, moving and above all we could not get over how funny it was and with a sharp script and a cast of well bedded in characters. We plan to see it again as soon as possible. 
The set is magic and also hides some nifty and yet very simple and effective transformations so just by a few extras one minute you can be in a magical ballroom of Disney-sequel proportions or a beautiful poppy garden with an ornate bridge spanning the stage and lit by candlelight. There is creative lighting, mechanical wizardry and even video and projector images all used to great effect. 
We sat in the Circle row D 10 and 11 and they were well worth full price, we were bang level with the (enormous) time dragon (who sparked lots of oohs from the audience whenever in motion) and when Elpheba flew in Defying Gravity we had a fantastic overall view of the whole scene one suspects you would not get in the stalls. 
To the cast; Miriam Margolyes gives everyone a lesson in voice projection, Idina Menzel is ten times better than she sounds on the CD, Adam Garcia is effortless, Helen Dallimore a wonderful character actress with good comic timing, Martin Ball evokes sympathy and gives some funny and touching moments, Nigel Planer is just "wonderful" as the wizard (again big mention to the wizard setup - wow very impressive) and backed up with a solid cast of talented dancers and ensemble. The monkeys are really well done, wings very clever and very effectively portrayed. 
The problems people seem to be having with this show is they have only the CD to base it on and every actor interprets the character their own way and they are all still finding their characters. For example having read peoples opinions on Adam Garcia's performance before we went we kept an open mind and after Dancing Through Life my husband turned to me and said "I have no complaints...". His only problem is the brief dancing he does is quite contemporary which is a little ...well, gay for him. He is not gay (thank god hey ladies?!) and he does his best to funk it up the way his character would. Plus with the exception of Elpheba and the Wizard the cast have been made British and given clear cut accents - which avid fans of the soundtrack may find odd to begin with. But its early days and good for them for trying something new and bringing it to our audiences rather than so many musicals being americanified (Full Monty anyone...?!)
Only problems is the sound could go up a notch especially the orchestra I wanted to be blasted out my seat by that overture and I was not, it sounded like they were hidden behind a screen somewhere, but again early previews yet!
Seats at the very back in the Circle I personally would avoid they were miles high and I looked at them thankful I was not swayed by the cheap offer and had paid the money.
The atmosphere was electric, people cheered after every song, they cheered even more at Elpheba's first entrance and they were the best behaved audience I have seen in a long time, plus of course at the finale not one person remained seated and I suspect mostly not a dry eye in the house.
One word sums it up for me "Wicked". This is what theatre is all about!
_______________________
I finally saw Wicked, the London production last week (18th September 2006). It was a pleasure to finally see Idina, especially as I saw Shoshana on Broadway last year. What can I say about London? It was good, but I think I still prefer the Broadway production. I feel Glinda doesn't quite work being a "Sloaney" and "dumb blonde" especially as Glinda isn't really a dumb character. I have to say, Katie who played Nessarose was absolutely amazing, as was Martin Ball and James. Adam certainly had the moves.
I eagerly await press night and the reviews. Oooh sat in the the front of the Dress Circle. It definitely was a great view to take in all the effects of "Defying Gravity" and a good place to appreciate the staging and choreography.
Jazz
http://www.lucy-harris.co.uk (Mamma Mia's Lucy Harris, a fan page)
___________________________
I went to the final preview of Wicked last night - 26th September 2006.
A really good show which tells the story of the two witches from the Wizard of Oz, with a few references to the Judy Garland version too.
I was sat in Row S of the Circle and paid just £5 for my ticket. It was very, very loud and I felt the lady who played the part of Elsaba had rather a shrill voice. A couple of scary bits for the younger ones too. 
The air-conditioning was blasting out - in fact, I had to put my jacket on by the end of the first half it was so cold.
The show was finished by 10.30pm for those rushing to get trains etc.
Judith
___________________________
I have seen the show twice now, first time in the stalls row R 24 and 25 and second time stalls row C seats 18 and 19. I had an amazing experience is both, but it depends on what you prefer. Row R enables you to take in the whole stage and offers excellent views and sound, though there is a walk way in front so people are able to walk past during the performance which can be annoying, especially during a good number. Row C lets you become completely absorbed in the action. I love seeing the actors close up and thought this was fab. You are slightly looking up but this is a small matter really. Defying gravity is awesome and I was blown away by this in both seats, row C was fantastic for this song. Idina's voice is simply beautiful and is a joy to watch. Love the show!!
Peter Rose
____________________________
WOW! and more WOW!
If you have never been to a London musical before make sure Wicked is your first choice. I cannot recommend it too highly. It is fantastic ,amazing ,the best show ever!
All the cast are superb. Quality of singing from Idina Menzel is exceptional. The ensemble were first class too and set is fantastic especially the dragon and the neon green set for Oz.
As part of the audience I felt it was a really moving production and enjoyed the atmosphere as everyone applauded each song. It was a real credit to the cast that it all culminated in an explosion of tearful cheering, applause and not one person sat in their seats! All of my party wanted to stay and watch the performance again and again.
As a party of 10 I felt very nervous about the position of the seats I had booked to see Wicked on Saturday 30th September 2006. Even though I had consulted Theatre Monkey to help me decide I was still unsure about whether we would have an uninterrupted view or whether they would be worth the money we had paid. We were sat in the stalls row S24 to 33. Well I shouldn't have been worried at all. The view from row S was ideal to see everything and to feel totally included in OZ, but I'm going to have to go back again to take in things I must have missed as there was so much going on at times.
If you are due to see Wicked soon be assured of one thing you will be blown away!
Julia.
____________________________
Wicked is great, definitely a big show worth watching. The Wizard of Oz is a timeless classic and the play helps to answer some of the questions that might have been lingering afterwards. 
After reading reviews here we paid for top price tickets in the stalls (J22 and 23), what a big mistake. Out of all the seats in the theatre, the guy with the biggest head and curliest ridiculous hair had to be sitting in front of me. All I could see was the back of his head! Sufficed to say my enjoyment was cut drastically. The seats are not set aside to one another either, i.e. the seat in the row in front of you will be directly in front of you rather than to one side where you would be able to see through a gap between heads. Others around me were finding it hard to see past taller people in front of them as well given that the rake in the stalls is virtually non-existent. I would advise you seriously think about this and perhaps sit in the Circle instead or the first few rows in the Stalls.
I heard two people on the radio talking about "Wicked" and how you simply must go and see it, 'you won't regret it' they said. Well, I am writing these thoughts 19 hours after the end of the October 3rd 2006 performance, and you know what? I can't remember the tune of a single song. 
I was sat comfortably in the dress circle row J seat 28, almost centrally placed in a green area of the monkey's, cost £49 with all the extras. On comes Helen Dallimore as Glinda and I found it difficult to distinguish what she was saying. I had similar problems with all the female characters apart of course from Miriam Margoyles whose every word was crystal clear. I experienced a similar problem as mentioned by another correspondent. The audience was laughing and as I didn't hear properly I couldn't understand why, although a couple in front of me seemed to get everything OK. 
All through the first half I wondered what is this all about, and what was that dragon doing there? Will it fly? What will it do? Answer, not a lot really. The first half ended with 'Defying Gravity' which partly stirred me after the tedium which had preceded it, but even this wasn't that great. Again, I am mirroring another correspondent's views when I say I watched in awe and wonder as the car "flew" in Chitty Chitty Bang Bang. I felt the same when Mary Poppins "flew" at the end of that show. The sets were very good, costumes were very good as was the lighting, especially the way they lit the side of theatre with green when Emerald City was being portrayed but there wasn't a show stopping moment, well not for me there wasn't. 
I thought the second half must be better. I heard a similar comment from someone in the bar during the interval, not that I would purchase a drink at those ridiculous prices. I was stretching my legs. Second half started, can't remember how or with what, probably a song or two and how about some dancing? Well that wasn't very good either. In fact it completely lacked energy throughout. Although, fair play to the monkeys. They flitted about all over, and above the stage and looked more animated than most.
Now for Idina Menzel. A loud voice, yes but I also had problems understanding what she was saying, and not only her speech. There was one song in the second half by her which was very very loud but I had no idea what it was about because I could hardly distinguish a word, let alone a line. I noticed a light two seats down from me, it was a woman looking at her mobile phone, very bad manners but showed she was bored with the show. It was almost a relief when it was all over. The audience went mad, most were standing applauding loudly and there was no curtain call, just a scant acknowledgment of the applause and lets get the curtain down so we can go home attitude. 
At least it didn't take that long to get out of the theatre because the Apollo Victoria has two exits. I travelled to the show by motorcycle and at the bike park (conveniently located very near) I spoke to someone who was unlocking his bike ready to leave. I said have you watched the show? He said 'no I work backstage. Did you enjoy it?' he said. I said 'no, not really.' He said 'never mind, at least you can say you've seen it.' Well you can also say that if you go, but don't be fooled by the hype, as is shown by the fact that I can't remember a single song means that to me it was instantly forgettable.
This is the first "new" musical I've seen. Previously I have know at least some of the songs before attending a show and have gone out of the theatre humming at least one tune, but I can honestly say I went out of the Apollo not remembering one. I should have got the soundtrack from somewhere, but after that glowing recommendation from those two on the radio........... The reviewer from "The Times" was right, two stars out of 5. 
Stephen
_________________________
Well what can I say? One of the best musicals I have seen!!! I can thoroughly recommend this show. We wanted to see this show when we were in the States last year but couldn't get a ticket for love nor money (there were tons of Americans in the audience of the performance we saw!) so when we found out it was coming to London we booked tickets early.
We were in the stalls (J22 and J23) these were somewhat disappointing - the rows are all on one level so if you have a tall person in front of you, you have to keep dodging their head when characters are centre stage. I suggest for the stalls either buying tickets further back (from row Q) where the seats slope or if you want to be near the front don't go in the centre that way you are always looking diagonally so people in front of you do not get in the way. The stage itself was fantastically set.
If you love the story of the Wizard of Oz (as I do) then you will love 'Wicked', its alternative story for the witches of Oz ties in beautifully to the original story with every attention to detail!
Finally I must say if you decide to go and see this show then do so before the end of December - the reason for this....IDINA MENZEL. She won the Tony award for this role in the States and my god you can see why! It was the best performance in a musical I have ever seen, she literally took my breath away. I'm sure her replacement will be brilliant but she was out of this world, so I would get your tickets quickly so not to miss out.
All in all 10/10!!!
_________________________
I booked preview tickets for the whole family to see this show on September 19th 2006. We sat in Dress Circle row S, seats 27 to 30. The theatre is set out in such a way that you could probably see the stage to a decent degree no matter where you sat if you are of average height, but being only 5' tall, I have trouble seeing anything wherever I go. Although the rear circle has a good rake, we had a tall man in front of us and we had to swap seats around so that the tallest member of our party sat behind him. But even he had problems and had to constantly lean to one side to get a proper view. Then of course there were safety bars right at the front of the circle, so the four rows in front of us all in turn had to lean forward, until we were all leaning forward to see over someone's shoulder! I had a neck ache for days after. 
The show itself was indeed 'Wicked'. We all thoroughly enjoyed Idina'a fabulous voice, she really is a talented performer. We were disappointed however that 'Glinda' - although very talented - was played by an Australian woman with an English accent, and therefore the song 'Popular' lacked the quaint little lilt of tone that the very American original artiste portrayed. Also we thought it a shame that Madam Morrible did not attempt to sing at any time! (on the CD soundtrack she sings). The three women in our party particularly enjoyed Adam Garcia. 
The mobile set and colourful costumes were fantastic, and the sound was brilliant, but I was really blown away by the lighting and special effects.
All in all, despite having a raging stiff neck for a few days, we all enjoyed this show immensely and would happily recommend it to anyone to see it. 
Jan
_________________________
Well what can I say.... in a word F A N T A S M A G O R I C A L!!!
I went to see the show with 28 other Cast members from G.A.P.S - Gatwick Airport Pantomime Society (www.gatwickpanto.co.uk) and we were sat to the side of the Stalls in rows G, H, and J seats 32 to 45ish.
As you walk up the steps into the theatre the sheer buzz that you get from the masses and crowds is just out of this world. This show seems to appeal to such a wide mixture of patrons such as Families, Homosexuals, Grandparents, Students....the list is endless.
These seats were excellent and a fun and most memorable time was had by all, with no viewing problems whatsoever like others have mentioned on Monkey's site. A very clear uninterrupted view.
For any musical or show, I would always recommend front Stalls as the best seating.
Idina Menzel, and Miriam Margolyes really make the show. Idina's Voice is truly unmatched by anybody else, she makes your whole body shudder with delight and leaves you feeling like "wow how does she do that" and what can I say about Miriam, dear Miriam, she bumbles onto the stage all voluptuous and boisterous and its then that you know you are watching sheer class!
When Idina walks out there is a massive cheer which at one point felt like we were at a pop concert at Wembley, as she generated such an tremendous buzz (probably being as she is along the same lines of stardom as Julia Roberts in the USA)
I'm going again to see the show on in December with my long-time friend Ian, and we have somehow managed to get seats J30 to 31 after plenty of ringing around (finally booked through SeeTickets), which in my eyes these seats priced at £55gbp+fees will be just............WICKED!!!!!
Roddy 
From the Gatwick Area
easyboylgw@aol.co.uk  
___________________________
Wicked: matinee performance 25th October 2006
After many hours listening to the Original Broadway Cast recording and enjoying the music greatly, I got on the phone on the day of the tickets being released and booked two seats for Wicked. Normally I would have booked mid-price seats for a West End show but I thought, "what the hell let's splash out," so I got seats M 24 and 25 in the stalls for 55 quid each. Before I go into the review proper I will tell you about these seats and the technical aspects of the production. Other readers of Theatremonkey have commented on the lack of rake in the front centre stalls. This is a problem but we were very fortunate to have two children in front of us (there is no off centre seats i.e. they are all behind one another in this block). Consequently we enjoyed a perfectly central uninterrupted view of one of the most lavish sets I have ever seen. Close enough to see faces and expressions but far enough away to get the whole effect of the set and which does not restrict itself just to the stage (genius usage of the LED fabulousness that is the Apollo Vic). I would like to predict now that Mr Lee will add to his awards collection with the London transfer of his set. 
With regard to the lighting of the show…it could not have been more perfect (another predicted awards bonanza for Mr Posner). Stunning visual treats were created with both set and lighting , the like of which I have not seen before and do not imagine seeing again until a certain big budget show comes to the Drury Lane next year. What really adds to the spectacle is Susan Hilferty's extraordinary costumes of which there were loads!! I cannot imagine how crazy a life of a "Wicked" dresser must be but, my god, the quick changes were everywhere and unless you were paying attention you would not notice the fact that most of the cast changed from one mentally complicated costume into another in the space of less than a minute on numerous occasions throughout the show. 
I then come to the band…oh my frikkin god, they were brilliant. One of the best gatherings under a stage in a long, long time. I would like to moan about one moment when a trumpet was about a quarter tone flat which ruined the whole show for me (I joke monkey lovers…its just that as a musician these things are a bit more noticeable for me). Some readers have also commented on the sound. I thought it was perfect with the correct variation in volume for each movement and song and my god they have to bash it out when a certain green girl starts to sing with wonderful megaphone style belting qualities (odd compliment but it works).
Right lets get to the nitty gritty of the Wicked experience. I will unusually begin with pre-auditorium entry. Jesus wept people, avoid going into the theatre too early…the place is rammed and you can hardly move. I have a feeling that most people were trying to avoid the bloomin' awful stench of rotten poo and eggs that for some obscure reason was blighting the Victoria area on Wednesday afternoon and causing hundreds of people to walk about with scarves and hands over their nostrils in a fashion that wouldn't have been out of place in a smog filled east Asian mega city in the summer months.
Stinkfication aside we got into the theatre and took our fabulous seats..ooh very comfy and with decent legroom too, and marvelled at the twinkling emerald city and the cogs and gears of the dragon clock. It was very clear that Wicked had already achieved teenage cult status with girls wandering about in show t-shirts and odd looking ladies getting excited over their 15th viewing of the show. One must remember that it was half term for schools (reason I was there) and that it was definitely a family visit to London occasion which I loved as the buzz before the show was brilliant and when the band started to play cheers and yelps one would normally experience at a 'Take That' concert (albeit not as fun as 'Take That' and with an older crowd) were heard all over the theatre and this actually added to the fun and wonder of the show (I have a feeling that the cast are loving their jobs as grins and laughter were evident throughout especially from the flying green bird). 
Anyway the show …. God this is taking an age… opening fantastic, good projections and lighting effects setting the scene for something a bit special, first chance to hear the flipping awesome ensemble….cracking voices, awesome dancers, one of which was very floppy indeed (look for the one in the skirt in dancing thru life he is very 'ballet boyz' lol). Finally we meet Helen Dallimore in her bubble. What a pretty lady she is and, after all the moaning we have seen about her interpretation of a role that some see as only playable by copying squeaky star number one La Chenowith, I was pleasantly surprised by how I warmed to her almost immediately and what a lovely voice she has… At one point in 'thank goodness' she proved to me that she could belt green girl off the stage if she wanted to! She played the part wonderfully and I for one am chuffed for her that she got the role. 
I think it may be time for the woman of green to be talked about….I would normally use expletives to show my enthusiasm for her performance but I will restrain myself and just use the words…..oh my god!!! What a woman….acting perfect, singing perfect and one must on this occasion separate her singing voice from her belting voice as it is quite possible that this woman has another little person living in her larynx ready and waiting to add to the volume when required. Once she had blown the roof off the theatre in 'the wizard and I' the audience went nuts and rightly so…we were witnessing one of the best vocal performances of our time…she is better now than she was on the CD, more warm, full bodied and rounded vowels adding to a master class in musical theatre singing. This is not to detract from her sotto voce... which really suited duets with Dallimore (a lot nicer to listen to than Menzel Vs Chenowith).
Right swiftly onto other cast members…I will be brief. Katie Rowley Jones as Nessa Rose: stunning voice and later on evilness ooh she was good. James Gillan as Boq: aaaw wee Scottish fella who broke all our hearts and who hides a huge voice which practically explodes out of him on a number of occasions! Miriam Margolyes as Madame Morrible: wow…what a woman - not a note sung but it was still splendid and you really wanted to smack her chops by the end of the show (in a nice way obviously). Martin Ball as Dr Dillamond: again heartbreaking performance and a lovely singing voice to match. Nigel Planer as the Wizard was good…it's a crappy part but he did well to make it good. And finally Adam (best bum in town) Garcia as Fiyero….I was really happy with his performance….he needs to breath more or at least put some effort into sustaining ends of phrases but a nice voice and one that complimented greenies very nicely…I would if I could go at him with a pair of scissors…that hair is really bad!
Right that's the cast, but I do want to go on a bit about the end of act one…never have I felt such exhilaration and joy than at this moment... wow wow wow! Edina Menzel is wonderful and the simple effects are some of the most breathtaking I have seen on a stage…who cares if she doesn't dangle like a blimp (there's a cross reference for you), she rises majestically and because there was no roof left on the theatre at this stage of the show, I will have to start using 'the walls being blasted apart as she sang' as a metaphor. God she is loud and it works so well….seriously, by the end of this song the vast majority of the audience are stunned and in shock at what they have just experienced. Even the old man sat behind me said "(expletive) me darling,,, that was a bit good!"…and then during act 2 she comes along again and caused nuclear meltdown of the whole of Victoria with 'no good deed' ….ah ha maybe that's why the sewers are buggered….some women break glass when they sing,  she breaks concrete!!
Right it's time to go …here are my final words on Wicked….get a bloody ticket before she leaves in Jan 2007... the woman is a green goddess (without the blonde hair and terrifying leotard). Obviously she isn't the whole show on her own - and Kerry Ellis will do a fine job when Menzel leaves - but if you can see Edina blow up London if you can. Right I have to go and buy the Take That Tour DVD …bye x
Freddy
Freddy_1979@hotmail.co.uk 
______________________
Wicked is an absolute must see!
It is proof of the almighty power of live theatre in its rawest and most passionate form.
The sets are absolutely breathtaking and the costumes utterly marvellous. The score is powerful and the lyrics poignant and witty.
TOP TIP: The theatre holds the whole of the front row until the day of the performance, when, for only £25 you can buy them (max. 2 per person). They go on sale at 10am. We arrived at 12pm, slightly worried that they would be sold out...but they weren't! I hate paying full price in the West End as it always deadens the excitement for me - so this is definitely worth a look!
We sat in the front row of the Wednesday matinee and I must admit I was slightly worried that the principles may not be performing or that maybe they wouldn't be up to their best - I shouldn't have worried! No cast members were understudied and the intensity of all actors was incredible. We were about 8 feet away from the actors, including the fabulous Idina Menzel who rightly deserves the hype - her voice is like nothing else I have ever heard in the West End!
The only negative thing about sitting in the front row is that you lose a lot of the impact of the set, which comes right out over the proscenium arch and into the auditorium. But the fact that you get so close to the marvellous costumes and stunning actors more than makes up for it. You also get closer to seeing things done with smoke that you'd never imagine! 
I cannot believe another post on this website that suggested all the songs were instantly forgettable! The show-stopping 'Defying Gravity' was haunting me on the train home and I just had to download the album as soon as I got home (which, incidentally is fantastic).
The supporting cast is awesome with Miriam Margoyles putting in a devilish Madame Morrible and Adam Garcia superb as the love interest 'Fiyero'. 
All in all, one of the best things I have ever seen in the West End.
YOU HAVE TO SEE THIS SHOW!
Andy B
_______________________ 
I went to see it last night (14th October 2006), sitting in Row E of the Dress. I was a
little concerned before by the reports on this site about the sound. I feel they must have sorted it because I felt it was perfectly balanced between vocals and orchestra, at an appropriate volume - Idina Menzel's magnificent voice given just the right "knee-trembling" factor! Also, the spaciality of the sound was right. So, I breathed a sigh of relief.
On another note, I am sure the theatre is now more than air cooled, judging by the temperature at times. It was quite a mild evening last night, and I am sure I felt some icy blasts! Also, during the quieter moments (yes, surprisingly there are one or two) the noise of the cooling system became quite intrusive!
_______________________ 
Having booked months in advance for best seats, I was eagerly looking forward to seeing Wicked. What a disappointment. The songs were instantly forgettable, there was little variety in the style of music and there were far two many songs and not enough drama.
For the last half century, the songs in musical theatre have been integral to telling the story. Well, in Wicked the songs are boring and there is not enough story to make a two and a half hour show. The show failed to engage me - I couldn't care what happened to any of the characters. I found myself listening to lines that should have been quite witty, but were not getting any laughs. It was hard to know just what audience this show is aimed at – it is too scary for young children and too juvenile for adults.
Technically, there were problems with the production I saw (Tuesday 10 October 2006), and the first act finale failed to take off - literally. The wicked witch looked frankly ridiculous standing centre stage clutching a broomstick and singing "I'm flying high – defying gravity". It's a pity that technical problems can spoil the highlight of a show well after opening night. 
On the positive side the costumes were spectacular, the acting generally good (Miriam Margolyes is the real star of the show), and the sets and lighting were quite good – but sadly the positives were not enough to make it a good night out or value for money.
_______________________ 
Saw the matinee performance on Saturday 14th October 2006. Sat in seats J 18, 19 and 20 in the stalls. Fantastic seats could not fault them. The slope in this part of the stalls is not very steep but it didn't make any difference. Could not recommend these seats too highly.
Before the review a major moan. After paying £55 for a ticket (plus booking fee) the brochure (no programme available to buy) is in my opinion a complete rip off. For £6 all you get are the photos you can get off the website for free and the cast bio's you can also get off the website for free. Plus there is plenty of advertising in there too. You would think that they would make sure that after the high price of tickets, the brochure would be quality. Sadly not.
Anyway....
Wow wow wow wow.
I had hear it was good but did not expect how superb it actually was. 
The story is marvellous, very clever the way it is its own story but weaves so much of the original story into the plot. 
The sets are breathtaking, the whole stage is like a huge clock turned outwards capped off by a dragon dominating the top of the proscenuim. The set changes flow seamlessly. 
The music is fantastic, in particular "No Good Deed", "Defying Gravity", "For Good" and "No-one Mourns the Wicked" just did it for me. 
Idinal Menzel - just see her! See her while she is still in London. Her soaring voice was breathtaking. She brilliantly conveyed the transformation of Elphaba from a lonely teenager, to an idealistic young woman and finally a tortured outcast. The audience absolutely got it and loved her from the first time she appeared on the stage. This I felt was a legendary performance.
Helen Dalimore was a fantastic Glinda. It appears, from having read earlier reviews, that she has grown quickly into the role. She was hilarious, scatty and spoilt but conveyed a vulnerability coupled with a real steel hand in the silk glove. She was fantastic.
Miriam Margolyes as Morrible - all I can say about her is that she stole every scene she was in. She was wonderfully, wonderfully evil!
Nigel Planer as the Wizard - could not imagine anyone doing it better. Just great in a limited role.
In supporting roles, Martin Ball, James Gillan and Kate Rowley Jones as Dillamond, Boq and Nessarose were all superb. Faultless performances.
The company is also faultless. Magnificent singing, dancing and movement.
What a fantastic afternoon at the theatre. Have not stopped raving about it since I saw it. The audience gave it an ecstatic reception at the end. The ovation was massive - real enthusiasm.
In the end though, two words: IDINA MENZEL!!!!!!!!!!!!!!!!!
As I was leaving I sent a text to a work collegue who is seeing it in November and said it was the best show I have ever seen.
It was, and I cannot wait to go back.
__________________________
Wicked Update:
Your comments about the un-American-ness of the show appear to have been taken on board as it would seem from a visit last night - 17th October 2006 - that it is much more in tune with the Broadway version that I saw last November in NY.
"Once the director realises "Popular" works way better with an American air-head accent than it does with a British spoof-Sloane one, it'll be the perfect "DVD night in" substitute."
It is now getting back to the American-ness that should always have been there.
Friends who saw a preview a few weeks ago and who also came last said everything was tighter and better, especially the sound balance.
We were sitting in row H 40 to 44 which are in red on your seat plan. True the left-side stage action when the cast are not very far forward misses a bit of a view but, overall, you lose nothing. One important thing to bear in mind about this show and others - is that a lot of the close-up action takes place on the left side of the stage and rows A to J seats 35 to the 40s really get the best and most intimate view of what is happening in key scenes.
Also, last night, seats in 35 to 42 in rows B to E were unsold. Any late-comer, personal-callers at the box might enquire about availability of these if they desperately want to see the show at short notice or to try and do a deal.
What your other correspondents don't seem to take into account with regards to "seat rake" is that the theatre was originally built as a cinema and as such the stalls seating in the first 20 rows needed to fall away from the stage level to make the screen visible. Why Live Nation have failed to address this is clearly a matter of cost and priorities - and of course Live Nation's bottom line.
Final moan, and something I have taken up directly with Live Nation directly, is the obscenity - in this day and age - of the long, long queues for ladies toilets all through the interval. There simply just aren't enough and it is a scandal that a top West End show really has inadequate provision for basic comfort needs for women and girls. The Coliseum - after its own £40m refit - faces exactly the same problem. 
One day, one fine day, some entrepreneurial property developer, in collaboration with a truly caring and wise theatre-management organisation is going to build a really magnificent London theatre with a wide and flexible stage, excellent sight lines, fantastic acoustics, seating and prices geared to what the public wants and needs almost certainly as part of a comprehensive, major property redevelopment programme.
When the developers built the Uris Theatre in New York - home of the Broadway "Wicked" production they knew just what to do and how to do it see below. And as result are reaping the benefits. See http://www.newyorkcitytheatre.com/theaters/gershwintheater/history.html for details.
Where, is Mr Alswang when we need him?
Trevor Chenery
__________________________
I went along on 31st October 2006... had seen the show once before on a "Dress Circle" evening in September during the previews was interested to see how the cast were doing since then.... 
Well - I enjoyed it even more than last time - excellent seats in row J of the stalls 26 and 27 ... I have seen that other reviewers didn't like row J- maybe we were lucky not to have tall people in front! I was able to see details of the fantastic costumes and the facial expressions. Legroom was ok... fully agree about the inadequate toilet facilities though!
Helen Dallimore as Glinda just gets better and better - her accent has settled down, her voice seems stronger, and with the delivery of some of the lines and the expression, she is hilarious - just perfect for the role.. 
Idina Menzel put in another fantastic performance - 'Defying Gravity' is possibly the most spectacular, but her performance of 'No Good Deed' is just mind-blowing!
Adam Garcia as Fiyero .. hmm well, he has got a bit less wooden, but I still don't particularly like him in this role - the character has charisma, the actor should portray this, but doesn't IMO
Miriam Margolyes - excellent ! I can't imagine anyone better for the role - she goes from a rather comical figure to a chilling manipulator. Speaks rather than sings, but I think this works well 
Nigel Planer as the Wizard - I think he is very good - he manages to maintain the mid-west accent pretty well (to my ear, anyway), and some of his expressions, towards the end of the show are very moving, and actually made me feel a bit sorry for this quite evil character.
Martin Ball as Dr Dillamond - very very good - can't be easy to play I think with the mask, but I really warm to him, (which I guess makes Elphaba's fight for Animal rights so important)
James Gillan and Katie Rowley Jones as Boq and Nessarose - Katie has an amazing voice, and her character development is excellently done. James is perfect as the lovelorn Boq, and has a few nice touches as the Shiz Boq (I loved it when he stuck his tounge out at Elephaba behind her back) .
The Ensemble ... possibly the best in the West End at the moment (well, tied with 'Les Mis') - excellent singing and dancing.
The sound levels were just about right - the staging and lighting are awesome - if you haven't seen it yet, I really would recommend going to see it ...
Ali
___________________________
As a show, there isn't much to compare with Wicked. It's lavish, the performances were great, the plot is very cleverly woven into the original "Wizard of Oz", and overall it's fantastic entertainment.
However, as one of the earlier reviewers has already said, the songs are unfortunately instantly forgettable, and since this is normally one of my favourite parts of any musical, I found this to be very disappointing.
Overall, the "Wow" factor of this show is really there, and it was certainly money well spent (very good seats, thanks to the Theatremonkey Ticketshop!) It's not going to compete for my "favourite show" spot though.
Would I go again? Most definitely.
____________________________
I saw Wicked on 2nd November 2006.
I though this show was mixed. The awards for me go to the sumptuous costumes and the spectacular set – and a personal achievement award to Idina Menzel. She is outstanding and I would urge people to book before she leaves the show. Miriam Margolyes does a good job. Most of the rest of the cast were very poor – they needed a charisma infusion to carry the show through. Interesting how we now have two major West End female parts – Elphaba and Evita – being filled by foreign actresses and benefiting from it. 
The staging is extraordinary in its lavishness and in how the setting becomes the focus of the show. The finale of part one is a stunning visual; the only other show I can think of with scenes where the visuals of the setting are so important and so strong is "The Lion King." I also enjoyed the clever book and lyrics, and the construct that alluded to the film. I'm glad I saw this show but I realise that I've analysed it rather than emoted with it. I took children aged 12 and 16. They enjoyed it but also identified the faults, so I wouldn't bank on it for success as a preteen party.
Sara Levene
____________________________
Saw the matinee on 5th November 2006. Was a bit worried as could only get seats ZC1-2 in stalls but needn't of worried - did not feel like I missed anything. Yes, would be nice to be in centre of theatre but if this is all that's left did not feel cheated... and loads of leg room! I`m over 6ft and had no problems. In quieter bit did get a little noise from behind curtains at side where they keep stock for the bars etc, so staff should be quieter - and cold blasts as someone else said - but I had a great view.
Not a perfect show, but pretty damn good; has some really magical moments. A little long though, I felt, could be cut a bit and not lose anything . Very strong cast all round no one is weak. Idina Menzel and Helen Dallimore are FAB - fans of the 1939 classic will not be upset or disappointed as they link it in quite well. Great set and lighting, sound was fine even at the back. Both leading ladies should be up for Oliviers as should the show. 
_____________________________
I'm an American student studying over here, and jumped at the chance to see Idina Menzel in Wicked! Saw the Wednesday matinee on November 8th 2006. Was supposed to sit with a friend in B 8 and 9 of the dress circle - to all the readers, try and avoid B9 of the dress circle as much as you can, as there's a pole right in front of your line of vision! Luckily the seats in the centre of B of the dress circle weren't filled, so we moved and 2 friends who had bought tickets for other seats moved down to sit with us, B in the centre of the dress circle are great seats, I could see everything, facial expressions quite a bit too! A 5th friend showed up REALLY early and got front row centre seats - I'd highly recommend this, I paid 55 pounds for dress circle, great seats once we moved, and she got to see Glinda's tear in 'For Good' for 25!
I LOVED THIS SHOW, it's something I would totally see again! I've listened to the soundtrack so many times, especially recently, and saw a bootlegged Broadway version last year, but this absolutely surpassed it all! I'm sure that Kerry Ellis when she takes over as Elphaba will be wonderful, but I gotta say nobody will EVER top Idina Menzel, the woman is absolutely incredible!!! Her voice is so powerful that she left me with chills, almost in tears, and seriously feeling like the roof was gonna blow off from the strength of her voice alone. Although I do have to admit that she let on me down slightly on 'Defying Gravity' because she did a shorter, one noted version of the "is ever gonna bring ME down" at the end rather than that incredible belted changing ME note that's on the soundtrack, but the change in weather might have meant that she wasn't quite at the top of her game today, plus the fact that the woman does that show 9 times a week! Course if what I saw was Idina Menzel sick, I can only imagine what she's like when she's fully healthy. Like someone else said, 'No Good Deed' is absolutely mind-blowing, by far the best song in the show, at least to me!
Adam Garcia was great, I particularly enjoyed 'Dancing through Life', but 'As long as you're mine' needs some work - the stage movements took away from the chemistry that you're really supposed to be able to cut with a knife. I absolutely loved the Irish or Scottish version of Boq, he was AMAZING. Miriam Margolyes as Madame Morrible deserves an award, she was awesome! My friend and I disagreed on the Wizard and Nessa - I loved both of them, she didn't. Nessa was great as the little spoiled sister who can still be pitied, I really liked her. And the Wizard was great - I loved the fact that Nigel Planner stuck more to the traditional Wizard of Oz as a harmless US hick who got carried away rather than the EXTREMELY creepy bald guy version I saw in the bootlegged version, and I have to give him props on the Midwest accent - he did great, though when he first came out my authentic St. Louis/midwestern ear caught a touch of southern...
Now we come to Helen Dallimore as Galinda. I have to give her some credit, because it's a hard role to do, especially 9 times a week. And she did get much better during the 2nd act. But she just didn't get it in the first, in fact she seemed to lack confidence in the first act, the exact opposite of what spoiled self-assured Galinda should be at that point! The low point was definitely 'popular,' sadly because I'd been so looking forward to that. But the producers need to realize that it just does not work to do 'Popular' in a British accent!! The words are "Popular. You're gonna be popular" and she did it as 'going to be'. Seems small but 'gonna be' and 'going to be' are two totally different things - Helen just made 'Popular' way too proper and it didn't work at all. I think if she can gain the confidence in the 1st act that she has in the 2nd and really work on 'Popular,' she'll be great. But like the song says, "let's start, cause you've got an awfully long way to go".
The set and costumes were amazing, but next to Idina my favourite part of the show were the monkeys!! Especially the part where they're set free - ABSOLUTELY AMAZING! They were flipping and flying everywhere, it was incredible! And I'm not sure what people are talking about with people not flying, because those monkeys were most definitely flying all over the stage, and maybe it's just me but considering that Elphaba got up to my eye level in the dress circle in 'Defying Gravity', I'd say that's definitely flying. It's one of the parts that kept me open-mouthed during that song.
I'd highly recommend this show to anyone, but say that you should definitely go now or before December 31st - DO NOT MISS THE CHANCE TO SEE IDINA MENZEL PLAY ELPHABA, SHE'S THE BEST PART OF THIS SHOW AND SHE'S AMAZING! 
___________________
I went to see Wicked last night (9th November 2006), and while it is not the greatest musical of all time, it was very, very enjoyable. 
I think we had fantastic and great value seats, Circle, Row H 18 and 19. These are two seats on their own, right in the middle, not too far back and priced only £35. The same would be true for Row G and Row I. 
Pass the message on. 
Emma 
_______________________
Finally saw Wicked. I enjoyed it very much. I'm afraid, though, I'm going to be the odd man out here. I was a bit disappointed with Idina Menzel. She does sing beautifully and has a powerful voice (her lungs must be made of steel). However, I didn't find her acting all that impressive, especially considering she's been playing the part for a very long time, and that she received a Tony for this performance. I was, unfortunately, underwhelmed. Maybe my expectations were too high. 
I was pleasantly surprised with the rest of the cast, though, and I definitely enjoyed Helen Dallimore as Galinda. I was kind of reticent that any actress could actually outperform Kristin Chenoweth in the Original Broadway Cast recording, and yet she did a great job. No problems at all with her Popular. Then again, I'm not American and my expectations are not the same. Helen wasn't as smug and self-loving as Kristin's Galinda, but more ambitious and wackily ruthless, which suited the rather hypocritical character just fine. She made me laugh in lines I didn't expect too. Miriam Margolyes, as everybody pointed out, was brilliant. I also thought James Gillan as Boc quite good. 
Even though Wicked is not exactly my cup of tea (sometimes it seemed more like a live concert than a musical), it made me wish to see it again sometime in the future.
Carlos 
_________________________
We went to see Wicked this weekend (11th November 2006) and it was terrific and second to none!! We had seats P42 and 43 in the stalls and we were a little worried as you had these as red on your seating plan. Yes, we did have to view the stage at a slight angle but we didn't miss any of the action on stage and had a fantastic view of all of the characters. The tickets at full price were worth every penny and we would recommend them to anyone.
________________________
Saw the show on Saturday 11th November 2006. It's a great story, the show is quite slick, scenery well done and the cast were all good. However, I have to say it just didn't do it for me. A previous reviewer hit the nail on the head - it just seemed too long winded, and the story kind of got lost along the way on occasion.
I felt most of the songs were a bit bland - no memorable 'thighslappers' here. I felt the show would have worked better without some of them or at least they could be shortened them to get on with the story. I was really disappointed that Elphaba didn't fly when singing about defying gravity - felt like there was perhaps a technical hitch there and she should have done so - if so they hid it well...show must go on after all, but if not, what a shame and nevertheless thought there would be more 'flying' all round.
Didn't live up to expectations and left feeling a bit disappointed - shame really as there is a cracking show in there crying to get out. The cast are good but wouldn't agree they compare to 'Les Mis' - perhaps that's down to the songs as well.
Ladies - make sure you 'go' before you arrive - unless you want to wait for ages - the queue for went all the way down the stairs to the door in the foyer at the start and was worse at the interval - be warned.
Dee C
____________________
We saw Wicked on 9th November 2006. Our seats (stalls K 26 and 27) were AMAZING. I can't imagine better seats for this show. Close enough to feel part of the show, far back enough to allow a small amount of illusion. We had to look up to get the full effect of the dragon, but I really think that it should be that way. After all, he's meant to be looking down over OZ.
We were a bit nervous about the show, having not been grabbed by the soundtrack we purchased online. We went into the theatre feeling even more unsure, as there were notices tacked up everywhere saying that Idina Menzel was not singing that night, but rather her standby, Kerry Ellis. I'd read reviews saying Menzel's voice carries the show, so was totally gob smacked when I heard Kerry Ellis. What a voice! Having never heard Menzel live I can not compare but OH WoW was Ellis amazing. She'll be taking over in January so don't by any means think you must rush to hear Menzel before she's gone, because Ellis has the kind of voice that gets right into your stomach and carries you through the show. When it ended I wanted to sit right down and watch it all over again. 
The thing is, the entire show was amazing. It was the kind of experience where you find yourself shaking your head in disbelief because it's so good. The scenery is wonderful, the transitions (something I'm picky about) were seamless, the costumes lavish and the staging masterful. 
Basically, don't miss this show.
KFried
_______________________
Went to the Matinee (18th November 2006). Spectacular show but the sound was truly appalling. We were in row F of Dress Circle (£55 per ticket). Good view. Spoken word could be heard and mostly understood but as soon as the orchestra struck-up we couldn't understand a syllable! There was just a wall of unintelligible sound! 
Very disappointing. 
GP
_______________________
I went to Wicked yesterday (23rd November 2006) and it was amazing. During the interval I was already plotting ways to see it again before the end of the year.
Our seats were pretty good although we couldn't see all the action on the left hand side of the stage, especially the part where the house lands on the Wicked Witch of the East. Luckily a girl was sitting in front of me so I didn't have to lean to the sides to see the action.
Although I was disappointed that Idina wasn't performing, Kerry was amazing and she won everyone over by the end of 'The Wizard & I'. She didn't hit all the notes that Idina hits in Defying Gravity but she put a lot of emotion in her singing.
Adam Garcia was pretty good. His singing wasn't on a par with Norbert Leo Butz and Kerry's voice overpowered his during the duet, but his acting and dancing was good. Kerry Washington, Miriam's understudy was also on. She was OK but I think Miriam would probably bring more to the character.
The wizard has a very dodgy American accent and I've figure out why; he's supposed to be from Kansas in the US. I guess Idina keeps her accent because that makes her even more different from all the "normal" people, and Kerry keeps her own accent because her Elphaba wants to fit in. I didn't think Nigel Planer was particularly good as the wizard; he was too flamboyant for a man who is actually quite unsure of himself.
In conclusion, I loved it and will be going to a Wednesday matinee before the end of the year hopefully
_________________________
I have now seen the show four times and have sat in a variety of seats. After 0 in the dress circle I have had row P centre in the dress circle, row W dress circle and row D in the stalls.
I have to say that from all of these seats I got something different from the show - but all were great. Row W of the dress circle - booked last minute - cheap - great overall view - took my cheap Argos binoculars for a closer view - but others in my party were still blown away by the show from here.
- only problem I have found with any of the dress circle seats - is the leaning forward person - if you have someone that does that - it is a real pain - but a polite word often does the trick. 
Row D of the stall was a very different experience - very powerful and personal. Great as I'd already seen the show - but maybe you miss out a little on the whole effect. I would book these / or closer again - as I saw lots of little things I hadn't noticed from further back.
Dawn
______________________
With 159 people in my group opinions stretched over the full gambit from at least three saying it was by far the best show they have ever seen, to two of the men wanting to walk out at the interval and one saying it was the worst show he has ever seen. You can never please everyone.
The main consensus however was that it was a superb production with incredible stage props and effects and amazing costumes. Kerry Ellis was Elphaba and no one should be disappointed about seeing her in the role full time from January 2007, what a voice!
I had encouraged all who had access to the Internet to read up on the story line of the link between "Wicked" and "The Wizard of Oz" and for the others I had copies of the story on the coaches for them to read, but still many had real difficulty in understanding what it was all about; but I think they were the ones who were just not inspired by it at all and didn't want to understand it. I suppose they were looking for catchy songs to sing on the coach back which they will get with our next two shows "The Sound of Music" and "Mamma Mia." 
'Wicked' may not have memorable songs but it has a uniqueness that makes it quite special.
I was waiting and waiting and looking for Elphaba to get on that broomstick and do a Harry Potter but it never happened!
I think it is true to say that more ladies enjoyed it than the men and it certainly appeals most to the teenage and younger, audience, but most of the thanks and comments coming my way after the show have been most complimentary and so far those who did not like it have not expressed those views to me.
I did get one complaint about the brass rail on the balcony which is just on eye level, fortunately there were other seats empty which they moved to and others in the circle almost had vertigo due to the rake of the seats and they moved to the stalls.
_______________________
We had seats H34 and 35 in the Dress Circle. I took my 10-year-old daughter and she thought they were the best seats we'd ever had! Unobstructed view and it was nice not sitting next to anybody! We usually pay top price so I was apprehensive but I would recommend these to anybody. Show is fabulous - don't be put off by critics' reviews – I've recommended this show to many people and they were all knocked out by it!
Francesca 
______________________
Went to see "Wicked" for the second time on Saturday 9th December 2006, having first seen it back in October 2006. Then, I sat at the very back of the stalls in the centre. This time row N of the stalls, centre block.
This show is a breath of fresh air in West End theatre. Yes the revivals are great, and yes I've got my tickets for "The Sound Of Music" but give me "Wicked" any day. The music is wonderful, the dialogue sharp and witty, the costumes sumptuous and the sets quite spectacular. And as for the performances...
Both times I have been fortunate to see the full original cast. Second time around Nigel Planer and Adam Garcia had definitely settled into their roles and were a pleasure to watch. Miriam Margolyes strongly deserves to win her best supporting actress nomination as she commands the stage each time she comes on. Helen Dallimore gives a clever and very amusing performance as Glinda. Whilst perhaps not matching the voice of Chenoweth (original Glinda on Broadway) she acts as a great foil to Elphaba and the two of them work a good chemistry on the stage. So what of Idina Menzel?
Outstanding! Not only is her voice the most incredible I've ever heard in live musical theatre, she creates a totally believable character in Elphaba. She takes Elphaba on a journey from the young, naive,e nthusiastic girl in "The Wizard And I" to the dark, haunted and tormented woman of "No Good Deed" with ease. Her second calling of Fiyero in "No Good Deed" must be one of the most emotional and chilling moments of the show. There is no note she cannot hit, no musical dynamic she cannot master. Got to be on for the best performance in a musical at next year's Olivier awards.
Technically the show runs like clockwork. We just had a very short failing of Elphaba's microphone at the start of "One Short Day". Otherwise,perfect.
"Defying Gravity"r emains the biggest show stopper of "Wicked" but second time around I enjoyed many other parts of the show as much.
My feeling with "Wicked" is that there is no middle ground. You'll either love it and allow yourself to be transported to Oz with all its wonders or it simply won't be your thing at all. Guess which category I come under. 
_________________________
I think loads of reviews have talked about the wonderful performances in Wicked, but the show as a whole is amazing too. Many musicals on the West End seem to have their very firmly in cheek, 'Spamalot' and 'Avenue Q' (which I absolutely love) being obvious examples. Indeed many critics seem to think that musicals must be wryly self referential and 'not take themselves too seriously' in order to be taken seriously . Wicked is definitely a funny show, but it is definitely of the old school, proudly sporting at least two power ballads and the odd romantic duet. I think this may be why many newspapers and reviews have not been kind about it, but I believe they have missed the point. It's well executed, the songs are not too overdone and there is always a joke or a knowing Wizard of Oz reference to stop things getting too serious or self important. It may not be the 'coolest' musical, but it has a magic to it. I got lost in the show for two and a half hours, caught up in the fun and excitement of what is going on. 
I was sat in stalls seat B11, marked red by Theatremonkey. I totally agree with this assessment. Soundwise it is fine, but because it is so far over the side of the stage, you miss some of the action upstage left. The way the chorus are arranged in some scenes also prevents you seeing all the action, which is not great if you don't know the story. I also got a very good look at:
a) the stage hands in the wings, and
b) Helen Dallimore's pants at least twice in every scene (which some may see as a selling point).
However, if you are seeing the show for a second time, it has its advantages. What I lost from some of the chorus numbers, I gained in the leads songs. I was really close and it did really give the more emotional songs more impact.
I love Wicked, and the 15th December 2006 was the second time I have seen it. Even though I am a massive fan, straight theatre is more my thing and I generally wouldn't be so into this type of musical. It really is hugely enjoyable and has something which has now made it a lasting favourite of mine. It is an fun, honest, unpretentious and amusing musical with brilliant tunes. I agree with another reviewer who says you love it or you hate it. If you fall into the first camp then you can help but go along with it. It might not be to everyone's taste, but give it a go and you may be pleasantly surprised. 
a later review:
You got me... I went to see Wicked again on 30th December 2006. I started queuing at 12.40am on the Apollo Victoria steps in driving wind and rain wearing practically all my clothes. And I was reading a Dan Brown novel. Things could not get much worse. But I stuck it out until the morning and got a ticket! The last day seat to be exact, stalls A36.
As it was Idina Menzel's last night (you wouldn't catch me sitting in central London all night otherwise) I don't think there is much point in reviewing the performance. However, all I would say is just because she has left, don't stop going to see the show. She is undoubtedly an amazing performer, otherwise I would not have queued nine hours for a ticket, but the show doesn't rely on her performance, it is a brilliant musical in its own right, and the other actors are brilliant. I know she has her detractors but Helen Dallimore is a treat as Glinda. She has a real warmth and watchability which has grown over the three (ahem) times I have seen Wicked. You feel for her in a way that I think may have been harder if she had been the bitchy cheerleader type that she was on Broadway. 
I was nervous the queue was going to be a mad scrum but everyone was really calm and fair about who had arrived first. If you can spare the time to queue, these tickets are great value, especially as the prices are going up. Now that Idina Menzel has left I doubt people will need to turn up that far in advance either, especially on weekdays. 
For £25 this is a really good seat. I have sat on the far side at the other side of the stage and the view here is much better (and I didn't see Helen Dallimore's pants). The odd bit of a scene was blocked by chorus members, but all in all I caught most of the action. 
I realise this is now my third review but I would like to point out I am not a weirdo (much). I have never seen any other musical more than once, and indeed have never owned a soundtrack for a show I haven't been in apart from this one. Wicked has something about which has got me, go and see it! 
Hannah M
____________________________________________
I saw Wicked for 1st time in November 2006 from row G of the circle, 2nd time in December 2006 from row L of the stalls.
I queued for day seats on a very cold Tuesday, arrived 0830 (box office opens 1000). I was 14th in the queue but about 5+ people joined friends ahead of me at various stages so I ended up further back. All the day seats went by about 4 people in front of me - **NB** every 1 person can buy either 1 or 2 tickets (it does state this on the show's website) (worth checking the policy though, if planning to buy these seats, as it can change - editor). The people at the front of the queue had been there since FIVE THIRTY A.M.!!! and this on a day where it was about 1 degree C. Goodness knows what the queue is like on Saturdays!
I think they should do 1 ticket per person as most day seats are, that way you can judge if you are too late in the queue.
Other points:
I would agree with previous reviews about the sound - when I saw it in the circle I could barely make out half the words of the songs. The theatre needs to sort this out - that's why you have preview performances. The sound quality was MUCH better in the stalls. It's not fair to penalise people who can't afford top price tickets such that they get bad sound quality.
The view was still excellent from row G circle though, and I didn't find the bar in front of the seats restricted the view.
Idina Menzel as Elphaba is EXCELLENT. Helen Dallimore and her understudy are both very good. The other parts are all well cast.
Wicked is a visually spectacular show. Costumes and stage are well designed.
The songs are a bit pop-musical-ly and I didn't think much of them the first time round - although 'Popular' and 'Defying Gravity' did have some impact - but they've all grown on me.
Be warned - this show has gone cult and both performances I have seen there are screaming people (mostly teenagers and I have to say lots of American tourists too!) at various points during the show. I didn't know that and it came as a bit of a shock to my friends and I!
You will enjoy the show even if you know nothing about Oz, but if you've seen the film The Wizard of Oz, and particularly if you read any of the Oz books as a child, you will enjoy the in-references and back story etc. Very clever.
________________________
Even sitting in the dress circle where all the actors looked like dots (binoculars come in very handy, so bring your 50ps!!) - the atmosphere was fantastic and the show was amazing!!!
Idina Menzel was amazing - what a great voice! Beautiful girl - shame she only gets to be seen in the green!!!
Strongly recommend!
Laura
_________________________
So much praise has been written of Idina Menzel, all of it deserved, but she has left now (January 2007), and we must look to Kerry Ellis who has replaced her as Elphaba. I first saw the show in October 2006 and was mesmerised by Idina's performance, so I must admit I had a preconceived prejudice that she could not be equalled. I went to the show on 1st January 2007, which was Kerry Ellis' official first night. I need not have worried; she soared to the occasion - one might even say she defied gravity - belting out a tremendous performance. 
Her singing was extremely strong - especially in her big opening number "The Wizard and I", after which she had the audience under her spell. But where she triumphed was in her acting ability. She captured the nuances of the change from vulnerable, isolated girl, to dark, embittered activist with panache and subtlety. The relationship between her and Helen Dallimore worked well, too. It was also prudent not to make Kerry play it with an American accent - Elphaba worked just as well with an English one. While Idina just had the edge in the voice department, anyone who is due to see the show need have no worries that it has been any way diminished by her departure. Kerry was joyous and excited at the curtain call, a delight to see as she absorbed the justified applause and inevitable standing ovation. 
A quick mention of the other principals' performances since I first saw it. Helen Dallimore has improved a lot. She has relaxed into the part, and I wonder whether some pressure has been taken off her with the change of Elphaba. I certainly think the chemistry between them is better. Nigel Planer has also settled into the role of Wizard, looking more comfortable. 
_________________________
This show has definitely made a 'WICKED' impression on the both of us. We have now been to the emerald city a grand total of 7 times and every time it gets better!! We have sat in a variety of seats spanning the breath of Oz from row A of the stalls to row X of the dress circle and each seat has given us a new experience and added a new dimension to the already fantastic show. Back of the dress circle is great value for money at £15 but we recommend the middle blocks for optimum viewing. Front row is great but make sure you try to get seats 16 to 25 as a lot of the action takes place here. 
The only issue we have as frequent theatre goers is that the theatre seems to allow late comers in at any given moment throughout the show even though they say 'late comers will be admitted at a suitable time'. This can really ruin the performance and has done for us! 
We simply loved Idina and are devastated that she has left. We agree with the reports the Helen has grown into the role and have witnessed her flourish with every performance we see. We are now fans!! Adam Garcia seems to have been working hard, although we don't think his performance is as great as it could be. It has definitely improved from when we first saw him during the previews.
We are really keen (but nervous!!) to see Kerry Ellis step into Idina's shoes. We will report back when we have seen her in action!
TIP: NO GOOD DEED GOES UNPUNISHED!!
Karen & Peter
_____________________
Got myself day seats for both shows on Saturday 30th December 2006. 
The shows were amazing and definitely worth spending the night outside in the cold for the day tickets!!! There were lots of tears from the cast and most of the audience actually, a few moments of spontaneous laughter from Idina and Adam, and a beautiful speech given by Helen at the end. The atmosphere within the theatre was amazing, everything Idina did was supported with a massive cheer and she lapped it up with extra riffs and harmonies, as well as adding more comical moments than usual. Was truly a fabulous day and was so pleased to have been there.
Saw Kerry Ellis on Thursday 4th January 2007, our very first British Elphie!!! She was fantastic and can't wait to see her develop more and more into character as she goes on.
_____________________
Saw 'Wicked' for the second time on Saturday 13th January 2007. I had heard Kerry Ellis was
good, so wanted to see her. Only booked tickets two days before and checked before I bought that she was performing. They said "yes!" so I spent £230. Arrived on Saturday to be greeted by a small A4 sign on the door saying, "Boq and Wizard = understudies" and, worse still, 'Elphaba' - no Kerry or stand in - but understudy! I was really miffed to say the least.
But, I have to say how much the whole show has settled and improved since last time I saw it. Helen Dallimore is really great now, a real star; Adam Garcia much improved. The wizard u/study, well, in my opinion better than Nigel Planer. Boq was great too. 
Now comes Elphaba, played by Cassidy Janson? I think that's right? Well all I can say is "WOW" - she did a great job in such a demanding role - I was not disappointed. She hit every note (did not quite soar like Idina), but great job and deserved her standing ovation. Just wish Elphaba really did fly? Not enough space perhaps...
Sat in row U of the stalls 31 to 34. Had great view, and was close enough to pick up on things I couldn't from previous seats in row ZA. 
Think its wrong prices go up next month; I worry many families etc will soon be priced out of theatres.
Rob 
_____________________
Wednesday 24th January 2007. 
Really enjoyed the show – certainly full of special effects and costumes and set were great. Kerry Ellis was very good and the other female lead, whose name escapes me – one or two of the other parts were a little weaker, namely the male lead – who didn't have a very strong voice – Kerry has a really powerful voice and needs someone equally powerful I feel, to match up to her. Can't remember who played the Wizard but not Nigel and he didn't seem to make the most of his character. Overall though I really enjoyed it and feel it is well worth going to see – and it would especially appeal to younger people. It was very well received by the audience. 
The one point I would make is that I can't think of any of the songs standing out for me – normally when I have been to the theatre there is one song at least that I can't stop humming – even if I've never heard it before but I honestly couldn't hum one of those if you asked me to (and I'm sure you won't – your loss not mine I hasten to add!) Shame they didn't use one of ELO's songs from El Dorado. 
Sat in Seats Row ZA in the stalls 28 and 29 and very good view as most of the stall seating seemed to offer. 
______________________
My partner and I went to see the show Saturday 3rd February 2007, and found the production wonderful. As already stated by previous visitors to the site, Kerry Ellis delivers. 'The Wizard and I' and 'Defying Gravity' left us stunned, such was the power of her performance. She and Helen Dallimore complimented each other well and the whole cast was worthy of the standing ovation it received. 
Now the negative part, don't pay £55 or £60 (come the end of the month) to sit in Stalls, row E, seats 8/9. These are top price tickets and yes, you guessed it, they had a restricted view. We could not see a full half of the back of the stage. Thankfully, most of the action took place further forward.
Furthermore, "Where did the stage hand come from"? We saw a lot of him. I didn't realise that the bedroom scene for 'Popular' involved Elphi, Galinda and stage hand, but there he was! Also, there was a strange noise coming from the walls. Was it water pipes? To conclude, a fab production that we will see again, but spoilt by unnecessary additions and NOT worth top prices for dodgy seats. Now I'm off to complain to the theatre/ticket outlet.
Moon 
_______________________
I reviewed this musical for the 'Monkey' back in September and subsequently for www.wickedwestend.co.uk: 'Defying Gravity…and Belief!' 'Wicked' was the best thing in town by a green mile; I saw Idina Menzel eight times including both performances on her final day as Elphaba: Saturday 30th December 2006. As innumerable blogs, mostly on YouTube, testify, this was one of the greatest days in the lives of everyone lucky enough to get tickets at the Apollo Victoria.
The performance I saw on Saturday 3rd February 2007 (7.30pm) was simply not the same show. Idina has gone, and with her all the magic. Gone the beauty, charisma, wit and vocals which raised Wicked above the rest.
Kerry Ellis was on, with three understudies (Morrible, Fiyero, Nessarose), and it felt like the 'B Team' it was. Had you never seen Idina then Kerry would pass as serviceable, but the comparison is painful. She sings sweetly enough and they turn the amps up, but so what. Worse is the patent lack of acting talent: virtually everything spoken is flat, humourless and inaudible. Worst of all – about which nothing can be done – her stage presence: she is not credibly 'wicked' at any point in the evening, resembling little more than a short, tedious school prefect. The show lives or dies by Elphaba: thus we witness a debilitating death. Even Helen Dallimore – excellent September thru' December – was a pale imprint of earlier golden-ness, suffering no doubt from the low energy levels surrounding her.
The producers' nightmare, all this. I was convinced Wicked would run and run; now I'm not so sure, and I certainly won't be hurrying back. I'll make do with the memories of 2006 and the CD.
Richard
______________________
19th February 2007. Well, what a show! I can't remember when I last saw something new that I
was so impressed with. Good music, good lyrics and a book to match. I had heard 'Popular' and 'Defying Gravity' before but none of the other songs and I have to say the majority I really enjoyed. In particular 'I'm Not That Girl' and 'What Is This Feeling?' stood out for me. 
As for the cast Kerry Ellis has a wonderful voice and whilst one other reviewer seemed to think she lacked presence and 'wickedness' I can only say that I saw none of that from the performance we saw. One of my favourite singer/songwriters, Mr K Frog, sang of how 'It isn't easy being green' but our emerald heroine plays her part with such style and apparent lack of effort it might make him a liar. I thought her standing ovation was thoroughly justified. Helen Dallimore is wonderfully funny and Adam Garcia is also very good. It's testimony to the current cast that an American gentleman was overheard at the theatre shop asking to buy a copy of the cast recording, but upon hearing it wasn't with the current London cast he turned heel and left. 
For the sake of balance however not everything is wonderful in 'Wicked'. I agree with others who say there are one or two bits of padding and the Wizomania bit seems simply out of place. I almost expected to see Stuart Hall come on stage laughing about the Belgians as the giant heads bobbed around. All in all though this is a musical I will definitely be seeing again soon and such a relief to find a new show that lives up to the hype and delivers in a big way.
Mark
________________________
Saw the show on 5th April 2007, amazing! Kerry Ellis' voice is superb and she has a great stage presence. 
Had row W 17 to 20 in Dress Circle, was a bit worried we would not see much but good view, a bit steep going up, and I don't like heights but coped! 19 and 20 were the better of the 4 seats as with the other 2 it was the problem of people leaning forward in rows in front of you. Only annoying thing was people being let in late and going in and out to the toilet, not very considerate, I had two children with me and they managed to keep still. Also ladies toilets a nightmare, tried to go in interval and queue right down the stairwell, but isn't that always the way...the men's were fine. On the whole a brilliant evening. 
Karen Wheeler
_______________________
The Apollo Victoria Theatre is filled to capacity during our April 2007 Friday evening viewing of Wicked. The scale of the production with its staging, dazzling visual effects, and eye-catching costumes is sure to delight. Kerry Ellis delivers a strong performance as Elphaba, the wicked witch of the West. The strength of Wicked is its imaginary appeal as a story about the Land of Oz before Dorothy, performed in the beautiful art deco confines of the Apollo Theatre which itself could pass as a portal to Oz. 
But Wicked also has some problems, the biggest being how to tell the story of pre-Dorothy Oz to folks who have not read Wicked, but are very familiar with the Yellow Brick Road version. I feel that Wicked's script is clumsy and foggy for the uninitiated viewer who is not privy to the book's history of characters and events in Oz. It's not that anything is glaringly wrong, but I simply could not connect the dots to many of the side stories which are intended to show why Elphaba is not the wicked witch she seems. My wife, who read the book, tries to keep me up to speed, but this leaves me scratching my head as to why the script is not more tightly written.
The musical score, though pleasant on the ears, lacks that "wow" factor, those songs which stick in your head on the way out the door ( 'Defying Gravity' comes very close though ). This is unfortunate as Ms. Ellis has a great voice but only a couple of opportunities to really showcase it. The ending also falls flat, rolling to a stop instead of building to an emotive final conclusion ( and this is a shame since the cast works so hard throughout ). Indeed, there's a happy ending, but it lacks the words or music which should be there to reward both cast and audience and re-enforce the magical production effects.
Does this mean that one should not see Wicked? Not at all. 
Wicked is an entertaining journey to Oz. One can focus upon the costumes and staging or you can take that imaginary journey to Oz with the characters. We're glad that we see Wicked, but we're not in a hurry to go back. All musicals go through transitions and work arounds. Perhaps the script will be tightened and characters more clearly defined to take full advantage of the fabulous staging, the energetic cast, and the wonderful theatre in which Wicked is playing. So by all means go and see Wicked and enjoy Oz without fear of being carried off by flying monkeys.
The Apollo Victoria Theatre is itself an attractive art deco venue with high ceilings & a large stage -- perfect for a production such as Wicked. Our seats in Dress Circle (D24/25) were as TM suggests, very good seats - comfortable and good leg room to boot. However that brass balcony railing which is located adjacent to the aisles is indeed an annoyance which blocks your view of the stage. It affects my view of the stage from D24, though not my wife's view. I suspect that the same is true for rows C, E, and F immediately behind or opposite my seat. Perhaps others can weigh in.
Barry Liimakka
Cinnaminson
USA
_______________________
28th April 2007, matinee. This was my third visit to this fabulous show. This time I had my children with me - age range 7 to 13, and my husband. We sat in row C of the stalls 24 to 29. Fantastic seats with a great view of all the action and the emotion.
I had seen the show twice with the amazing Idina Menzel and the question I asked myself was "Is the star the show" or "Is the show the star?" Quite simply the show is the star. I do feel that Idina Menzel plays the part of Elphaba better than Kerry Ellis but that is not to say Kerry is not good. She was fantastic. I just feel Idina holds the stage better and her movement is more theatrical, which compliments the part. She also delivers those comic lines with a touch more timing and punch.
However with a less dominant figure in Elphaba the rest of the cast seemed to shine. Helen Dallimore was on sparkling form and Adam Garcia was at his swankiest - a shame they are leaving this summer. Susie Blake played a thoroughly sinister Madame Morrible - excellent. The costumes in Wicked are out of this world! Sitting as close as we did you could see the incredible detail and Susan Hilferty really should have won the Olivier award for costume design.
Loved it, loved it, loved it!
One final comment. Your previous contributor from the US made reference to Adam Garcia mistakenly leaving stage left and having to run across the stage to correct himself? He has done that each time I have been to the show. It's called comedy!!
_______________________
We saw this show on 2nd March 2007 and were blown away. The cast was superb ad the lighting effects fantastic, particularly for 'Defying Gravity.' Special praise must go the the sound engineer. We heard every word clearly, not always the case.
________________________
 My third time seeing 'Wicked!' Was it third time lucky?
........ well, yes and no. I finally got to see Kerry Ellis play Elphaba and, after everyones' great reviews 
was expecting to be blown away... and yes, she delivers where it matters. Her best song was "No Good Deed," which was the best I've seen, but I felt I could not connect with her performance - her acting was pretty shallow in my opinion .I felt both Idina and Cassidy gave real rounded emotional performances. 
My seats - front stalls row N 23, 24 and 25 were perfect - best I've had. They seem much higher than the row in front. We had a clear view - even my niece who is an (emo) then (scene)... I know, if like me you don't get it, we are too old! It's a kids' thing but she LOVED the show - hasn't stopped singing the songs, wearing her hoodie, and reciting "toss toss" from 'Popular.'
Susie Blake was a good Madame Morrible, completely different performance to Miriam Margoyles but just as good. For me the real star of the show is Helen Dallimore. It's amazing how she has improved and really made the part her own, her comedy timing is fantastic her voice soars, for me she is the star of the show. Whoever takes over as Galinda has some big shoes to fit. 
All in all a great night was had by all. One little gripe, and I know lots of people have mentioned it, but latecomers!!!!!!!!! We counted 20 coming in 15 minutes after show started, then 6 during - I mean DURING - "DEFYING GRAVITY!!!" and sat behind us, then never came back after interval. The theatre must do something about this. Also felt sound was bit muffled and clearer a little further back. 
Rob 
_____________________
I queued up for day seats for my wife and step-daughter on Saturday 2nd June 2007. I arrived at 7am to find approximately 10/12 people ahead of me in the queue. Some of those at the front appear to have been there most of the night!! Please bear in mind that the box office is in Wilton Road and not Vauxhall Bridge Road.
The 3 hours passed quickly thanks to meeting a very pleasant couple from Atlanta, Georgia. We all noticed however a number of people "appearing" from nowhere and becoming a part of the queue, not behind us but in front of us...so beware interlopers and people "saving" places for their mates. At least one of the latecomers had a "Wicked" sweatshirt on and clearly they knew the score and the right tactics to ensure success for gaining tickets. It may well be that they were only after one ticket each rather than two but still...by 10am we had been relegated to 20+ in line. 
Anyway all's well that ends well I got the two matinee tickets at £25 each - Row A seats 28 and 29 - which saved my bacon with the missus, and the girls adored the show, and can't wait to go see it again. Looks like I will get to know the Victoria Apollo pretty well...
Robert Devaney
_____________________
I saw Wicked (June 2007), from stalls seat D30. I didn't feel I was too close to the stage, neither did I feel a sore neck. But there was very little leg room and I was sitting beside a rather large American woman who took up her own seat and much of mine. When we had to let someone in during the second number she refused to get up and chaos ensued. 
Personally I didn't like the show. Two good songs (Popular and Defying Gravity) don't make a show and what I heard was extremely bland. Kerry is a powerful singer but I was not impressed by Helen Dallimore, I thought she screeched. Also, I was only in row D yet found the sound a problem. And Ms Ellis sounded as if she was in a hurry to get home. I could hardly make her out in certain parts cos she spoke so quickly!
______________________
Loved it. Second time around I thought Kerry Ellis superb (she was understudied last time) but prefer Helen Dallimore to the new Glinda - who was a bit over done. Oliver Tompsett was, however, just as wonderful a Fiyero as Adam Garcia.
We had £20 seats in the circle and quite a good view, but found latecomers, toilet visitors and general movement throughout the performance to be rather irritating. 
OK, it was a Wednesday matinee in the summer (August 2007), so there were a lot of children, but I had two kids with me who would not dream of behaving so in a theatre. Many adults were no less disruptive. 
The woman behind me even thought it a good idea to give her restless daughter her mobile to play tunes on during the climactic scenes. Thanks, that really helped the atmosphere.
I wish the theatre staff could patrol a bit more, or do something! It felt more like a cinema than a theatre.
_____________________________
I queued up for day seats for "Wicked," I got there at 8.00am due to delays on the bloomin' Piccadilly Line and there was about 18 people already in front of me... but my gosh was it worth the wait... we got row A seats 31, 32 and 33 - they were great. Central seats would be ideal, but still they were fab. You do miss a bit at the beginning but its nothing to fret about... 
Kerry Ellis was amazing and Dianne Pilkington was amazing as Glinda.. I have seen wicked before - last year with the original cast - but prefer it now. Also, Oliver as Fiyero... Wooo he is hot!!!... and has a great voice!!
Overall a standing ovation, and an amazing performance
_____________________________
Previous to seeing the show, my friend said "I liked it, but I didn't love it. The choreography wasn't very 'WOW!'", and perhaps this lowered my expectations, but I thought it was a great piece of new musical theatre. Every penny is up there on the stage, and most of the sets only appear once, for five minutes, and then are hauled off never to be seen again; this lack of thrift is nice from something that is obviously a money-spinning production rather than a labour of love. 
Dianne Pilkington plays Glinda with the perfect balance of comedy and tragedy, and her in-jokes give the show its cleverness - it is actually a smarter show than I had realised, particularly in act 2 when the well known Dorothy storyline starts to kick in. However her singing is not great, particularly in act 1 (she affects a silly voice for the acting (good) which she carries through into the singing (bad), leaving it very nasal, and the high notes sound rather operatic). In fact, 'Popular' was a big hit, but more because she plays it silly and big rather than she hits any particularly impressive notes. Not true for Kerry Ellis who is serious hairs-on-the-back-of-your-neck stuff. Pitch perfect in every department, I simply couldn't fail to love the show whenever she was onstage: 'The Wizard And I', 'Defying Gravity', and 'No Good Deed' are all showstoppingly amazing. 
Interesting then that for a show which seems all about the lavish spectacle, that the big production numbers are the slowest moments. 'Dancing Through Life' is nothing special and serves no real point except when Galinda realises how she has hurt Elphaba, and this is, admittedly, well handled (partly due to the leads' excellent acting) but a 10 minute song to go around that moment is a bit much. 'One Short Day' feels anything but, and could quite easily be cut without losing anything and I think 20 minutes pruning in act 1 would keep the whole thing feeling lighter on its toes. As an aside, I think it was in these places that my friend found fault, and it's true that this is in no way a dancer's musical. Nigel Planer is underwhelming as the Wizard and looks like he's about ready to leave the company. Neither of his songs really have anything to them and it niggled me that although none of the other characters affected an American accent, he did. 
The enormous difference in the quality of the two witches' singing voices mean that the duets are not perfect, particularly 'What Is This Feeling?' but by the end of act 2, Glinda was far less whiney, so 'For Good' was really, well, good. Overall, it feels like a really big production in a really big theatre, with, perhaps, slight overkill in almost every aspect (slightly too long; tries to do big dance numbers unnecessarily; the connection with The Wizard of Oz, particularly at the end are well and truly hammered home; and somebody please tell me what is the dragon for?), but my worst fears were unfounded - I didn't feel like I'd been processed or sold cheap emotions, and actually had a wicked time (sorry). 
A few other bits and pieces: 
1) I was shocked that there are no programmes or cast sheets, only £6 glossy brochures (particularly having just come back from Broadway where everyone gets a free programme at every show). What a cheek! 
2) I went during the week so there weren't very many children under about 15, but the theatre really try to make it crap for everyone by selling big rustly plastic bags of crunchy popcorn, even coming into the aisles just before act 2, so beware. 
3) I was sat in the centre of row G (G25, G26). Great seats and didn't have to look up. There is a dragon above the stage but he literally does nothing except wiggle occasionally to cover scene changes.
4) As I left I overheard a teenage boy turn to his friend an say "...yeah, but I have only seen it 4 times." to which she replied "Really?!?" so it looks as if repeat audiences will keep this one running for a while yet... 
A.C
___________________
Our trip to 'Wicked' was on Tuesday 11th September 2007 - booked several months ago. Our seats were Row E 21 to 25 in the Dress Circle and we had a good view, seating was well raked and all the stage was visible. Legroom was a little tight but nothing out of the ordinary.
I came to this show with very little expectation and I came away having had a pleasant evening but I had not been "Wowed". Parts of the musical are very funny, parts are very spectacular, the two leading ladies were both superb - fantastic singing by both Kerry Ellis and Diane Pilkington.
I enjoyed the songs but now can't actually hum any of them. The scenery and costumes were very glitzy and green. The diction from the chorus was very bad at times and the sound didn't blow you away but the story has been cleverly invented and woven around the original version with some neat touches. 
The theatre seemed to be only two thirds full so I was surprised to read about people queuing to buy tickets. Maybe this was just a bad day for ticket sales.
My score overall would be 7 out of 10 - not in my top ten of musicals and I won't be going to see it again but an enjoyable evening out.
___________________
Friday 14th September 2007: went to see 'Wicked.' This is a toughie to comment on - the hardest yet. It's easy when something is naff or great. For me the first hour bored me stiff and, having spoken to a few people in the audience, they also agreed; however the next half hour in the emerald city was superb. 
For me the show was brilliant in parts / boring in some, good in others / poor in other bits, very good and so on and so on. The costumes were great. The choreography I thought was quite basic - not much dancing and nothing that would give the choreographer sleepless nights!!!! Pity; for me in musical the highlight is the dancing!!! Sadly lacked a bit in this show!!!
The singing, in my opinion, must rank amongst the best in the whole of the West End. The Wicked Witch (green girl) - her singing was phenomenal. For ME the good fairy, Galinda, I couldn't stand her speaking voice or her singing voice. That is NOT saying she hasn't got a good singing voice - just not my sort of voice. 
Most of the songs I thought were boring and very similar - the best song for me was from the Wizard himself, "Wonderful," - a different tune and catchy. Once again a great voice (as did the green girl's "boyfriend" - great voice.)
For me the show was too long. Normally the longer a musical, the better, but not in this case. The first hour could have been shortened by half an hour on what we saw. The monkeys were fantastic - obviously trained acrobats I would have thought? 
Now here comes the extra talent also... the stage designers, the lighting, the special effects - all phenomenal. A very high standard - and obviously these "guys and dolls" who did this know their jobs - to the highest extent.
Would I go again? No. Would I recommend it? No. Would I not recommend it? No. Would I stop anyone from going? No. This is what I mean: this is a difficult one to opinine on because I did enjoy it and I didn't enjoy it! It was 'great and it wasn't great' make sense of that if you can!!!! 
The hardest musical I have ever had to opinine on because of the contrasts. It was expertly done - so as always it's a matter of one's own opinion... go and see for yourself!!!!!
Christina
_____________________________
Wicked' - As Good as it Gets
Originally got curious about 'Wicked' when noticing its success each time I visited the USA and, despite REALLY not being a fan of the MGM, the success, size and spectacle drew me to watch it. Saw it back in June 2007 on a Saturday night and it simply blew me away, so much so that me and my girlfriend have already seen it again and booked tickets for another viewing in October 2007.
'Wicked' is as big as you can get in terms of size and spectacle. Aside from 'Rent' and 'Footloose' I'd always appreciated this kind of show more than others, shows like 'The Lion King,' 'Chitty Chitty Bang Bang,' etc. I wouldn't say 'Wicked' is THE most lavish I've ever seen, but it's certainly up there. The sets, the costumes, the effects, everything is sheer quality - it's no surprise that Hollywood giant Universal is behind the production.
The music is quite simply the finest of any show I've seen. Whilst many shows have strong numbers with a few that really stand-out I think 'Wicked' has almost 10 numbers that are brilliant, with several that are as good as anything I've ever heard. The show reminds me of when Disney were churning out another golden age of animated musicals with the likes of 'Beauty and The Beast,' 'The Little Mermaid,' etc but in terms of the sheer number of killer songs multiply it by five.
The story is refreshingly different and very different from the book. Whilst it's been "sugar-coated," the author of the original novel appreciates the fact that you leave the show with the "right" feeling that he intended when writing his wildly successful fantasy.
Aside from production values and the music and story itself, the role of Elphaba and Kerry Ellis's portrayal of her is simply perfect. I don't think I've seen a greater lead-character and certainly Ellis's performance is awe-inspiring. If you're not left with rock-solid goose bumps when the curtain comes down for the interval you must be a robot. Idina Menzel made the role her own and my niece was extremely disappointed not to get the chance to see her playing Elphaba when she saw 'Wicked,' but, needless to say, she now wishes it was Kerry Ellis singing on the soundtrack CD and not Menzel. 
I guess if I had to note any negatives there's a lack of traditional choreography and big dance numbers, but please don't let that put you off. Also, the first half of the show is much bigger in terms of spectacle and feel-good factor; but the emotional impact of the second half of the show makes up for that. 
To summarize, 'Wicked' is brilliant. Amazingly written songs, brilliant to look at, packed full of every kind of emotion and world class performances. Musicals do not get any bigger or better than this.
On a later visit to a Wednesday Afternoon performance in October 2007: 
For our third time in 4 months we used the brilliant 'Orange 2-4-1 scheme' (an offer for that cellphone network's users - editor) to get two top price tickets for £60 for the Wednesday Matinee Performance. I would never choose this particular performance usually but we were in London for the evening to see Darren Hayes play the Royal Albert Hall in the evening so it made sense, if the offer wasn't on we wouldn't have watched it again quite so soon but very glad we did.
In terms of the show the principle cast was thankfully all correct and present with the exception of understudies playing Morrible and Dillamond. With all due respect to Susie Blake and Martin Ball I was just delighted that Kerry Ellis was performing and to a lesser degree Pilkington and Tompsett. Interesting to note that my father (who is 70+ and very much not a theatre-goer) thought Glinda was outstanding, as on first viewing I wasn't convinced. In the space of the four months since I've watched her, though, Dianne Pilkington has improved superbly and I was very impressed by her acting skills this time around when watching so closely.
This was my chance to catch Nigel Planer for the first time, as previously he wasn't performing, and I have to say the show was much the better for it. The other guys were good; but Planer was perfect as the Wizard. It's a difficult role to play as the audience don't know whether they should love him or loathe him and that's exactly what Planer nails. Superbly played and I loved it when he spat a tiny piece of spittle toward Elphie by mistake when speaking some lines and, even though hardly anyone saw it and it only travelled a few feet, Kerry Ellis made a light-hearted gesture with her eyeline as if he'd gobbed a massive ball of spit that flew straight past her - she had a "Wicked" look about her as if to suggest "Nice one Planer - that just missed me" 
Seat Reviews:
Stalls Row Z 28 and 29. Paid £40 for these £60 seats when visiting the Box Office on the day (local discount offer, Editor) and were good value for the money. My girlfriend is of average height for a female and her view wasn't brilliant with someone of average height in front of her, quite far back with low ceiling due to Circle Overhang but for £40 good seats. For face value of £60 you can get MUCH better.
Stalls Row M15, 16 and 17: Researched these seats and came up trumps. Superb. The raking just comes into effect and the aisle location means that the person in 17 has a total unrestricted view. Plenty of key scenes straight ahead too. If you're paying top price for tickets, these are near-perfect seats
Despite wanting to check out the show from the Circle I'd been put off by many reviews on this site so this time plumped for the Stalls Row C Seats 32 and 33. These are the aisle seats on the side front stalls block and this is the second time I've sat on the aisle on a side block and strongly feel that any aisle seat on either side block from Row C back to P are brilliant. Because of the angle your view will be totally un-interrupted and the seat in from it are usually very good too. My seat in Row C on the aisle was perfect bearing in mind it was my third viewing. I had no one sat in front of me in Row B so when Elphie, Glinda and Co, were my side of the stage it felt like they were singing directly to me. Awesome. 
Like others have said before though, for a first viewing I think ideally it's better to sit further back - I bought my parents tickets in P16 and 17 which was a few rows back from my last seats and they loved their view. Having now watched the show from both sides of the Side-stall's I would recommend labelling Seat No's C17 back to P17 and C32 back to P32 as great seats. As mentioned previously the seats next to these won't be as good but they'll still be good ones.
_____________________________
Loathing, unadulterated loathing? No way! I went to see Wicked on Thursday (18th October 2007) for the 14th time, this time taking another 94 critics in the shape of pupils aged between 11-16. They absolutely loved the show and I thought it was one of the best performances I have seen yet. Kerry Ellis was on top form, with 'No good Deed' and 'Defying Gravity' being highlights, gave me goosebumps. It was the first time I have been since Dianne Pilkington has taken over the role of Glinda...with a Ga. I went with reservations, but she was amazing, ultra funny and has made the role her own. Kerry and Dianne have a great chemistry and it looked like they were having a great time. 
As for the sits, we were spread across the front section of the stalls. I sat in row N seat 19 and had perfect view of the stage, however this was because no one was sitting in front of me (lucky lucky). The seats in the front section are poorly raked and hardly staggered which means your full view can be blocked if you are smaller. Some pupils needed cushions kindly supplied by the staff, to help them see. So I would pick front dress circle or the first 5 rows of the stalls. Some pupils commented that some of the action was missed as they were on the ends (seats 3-7) and sight lines are not great (I have trained them well!!) 
Overall though, apart from some of the seating, a great show that I have yet to get bored with. Go Kerry, we salute you!
 
Peter Rose
_____________________________
Queued up for day tickets to see the performance on Tuesday 16th October 2007. I arrived at 8.00am and discovered I was the queue!!  After another 20 minutes or so another 2 arrived followed by another 2 another 20 minutes later.  By 10am there was only about 10 of us in the queue. I got tickets A22 to 24 and have to say they must be one of the best bargains in London. The view of all the action is amazing because you do not have to look up to see it all. 
This was my first time at 'Wicked' although my wife and daughter saw it last year.  They both thought that Kerry Ellis was amazing and if anything better than Idina Menzel.  I personally thought Dianne Pilkington was quite sensational as Glinda. The show itself was quite amazing and I would certainly recommend anyone to but the £25 day seats and have a great evening.
_____________________________ 
This was the second time for me (first time for my partner!) and I enjoyed it much more this time. We had B14 and B15 in the Dress Circle. We were both amazed at how remote we both felt, despite being only 2 rows back from the front of the circle. The seats were good, though the person in front of me kept moving leaning forward when any action took place at the front of the stage and this blocked my view. 
_____________________________
The Green Girl Lives On!
There is SO much to say about this musical that frankly I'm going to find it hard to keep this a readable length.
First off, I decided to take a look at the reviews on this page to see what people had thought about the masterpiece that is 'Wicked,' and although it had many valid points, found myself irritated by the line in the TheatreMonkey review stating that Wicked gives "spectacle over substance." You see, the WONDERFUL thing about Wicked stems from its depth and beauty...
The hidden meanings and themes are intriguing, sometimes political, and frankly so moving that the second time I saw it my eyes hardly stayed dry. (I've seen it 3 times and am going again on January 18th 2007)
The thing is, the more you read into it, the more life-changingly wonderful it becomes! You begin to notice hidden refrains, leitmotifs and chord progressions.. Songs and characters that used to seem so unimportant start to come alive and you become sucked into the hugely moving story of this girl and the 3D world in which she lives. 
But Wicked isn't just for those looking for an obsession and a new philosophy on life. The Tony award wining sets and costumes mixed with the obviously powerful and catchy songs and score shimmer with style and splendour.
All of this contributes to the absolutely spellbinding experience Wicked provides night after night. There are, I believe, 8 productions currently running around the world; 'Wicked' has broken records on Broadway, around Europe and the UK, fans spend hundreds of pounds to return over and over again and it has spawned itself an almost religious following similar to that of the legendary "RENTheads," all fantastic proof of how 'Wicked' has managed to touch literally millions!
I fully understand why people may be sceptical, I'm not a totally naïve obsessive fan girl. I myself went to it originally expecting a 'Wizard of Oz' rip-off with mediocre music and no depth, but out of the 20 or 30 theatre productions I have seen over the last couple of years, nothing has inspired and affected me so much. I pray with my heart and soul that this will lead the way for a new wave of musicals which aren't obsessed with cheesy melodies, big dance numbers and an ever-grinning cast.
Whether you love "The Wizard of Oz" or not, (It means nothing to me but for fans it tells you how Dorothy's friends came to be and there are some witty references), please give this musical a chance and go see it! 
See the green girl as you've never seen her before, let your heart "Defy Gravity," and allow Wicked to change you - "for good.." 
LATER VISIT: 
Well, when I posted my first review of Wicked on Theatremonkey (above), I was about to return for my fourth time, and theatremonkey asked me to e-mail again with my comments on what it was like now…
I have to admit I was actually a bit worried about returning… My third visit (front row seats!) was amazing but wasn't the best, and I was worried perhaps 'Wicked' was losing its magic for me…
BOY was I wrong!!!
I go to the theatre a LOT. I see lots of good shows, bad shows, and some that frankly never should be shown at all, and I can honestly say I've NEVER seen anything quite as magnificent as what I witnessed on 18th January 2008.
I sat in the stalls, near the back of the front section, great seats with a good view, and I was totally absorbed into the world I've grown, over the last year, to love. 
Kerry Ellis is one of the greatest performers I've ever had the pleasure of seeing onstage and after over a year of playing Elphaba now understands every single movement and emotion of the character to the fullest degree! She effortlessly hit notes most people could only dream of, and on many occasions caused the audience to erupt into rapturous applause. Dianne Pilkington, though not quite as accomplished vocally (although her vocal lines are INCREDIBLY hard!!!) is the single most hilarious comic actress I've ever seen onstage, reducing me to a giggling lump in "popular," laughing so much it hurt. She has a great performing talent to pick up on any hint of humour, no matter how small, and create a comic masterpiece.
The rest of the cast were similarly stunning! The chorus never missed a beat and the choreography was of the highest calibre, the kind of drilled group it seems only the best American choreographers can manage, and I noticed this 4th time, lots of hidden musical staging and clever choreography I hadn't noticed in my previous visits. Any principal characters I had doubts about had also improved immensely, most notably Katie Rowley Jones, who was absolutely spectacular as Nessarose, a very difficult part to pull off.
I don't really know what more I can say to describe how amazing this experience was for me and how much it restored my faith in 'Wicked!' By the halfway point I was experiencing the kind of rush of excitement you can only get from true genius. I was shaking and my heart was thumping, yet I 'couldn't have been happier!' 
And the comments of the other audience members only help to reiterate my point. After the Blackout before the interval, I looked at the woman and her child in front of me...They just looked at each other and said "wow." The cheers and woops were deafening throughout, and when the lights faded at the end of the finale, one of the loudest cheers I have ever heard ripped through the theatre.
There were standing ovations wherever I looked, (Though I found myself almost angry there were not more!) some younger audience members waving, screaming and cheering, people still drying their eyes, and as I left, I found myself grinning uncontrollably, caught blissfully between laughter and tears.
As I was leaving I looked back towards the magnificent proscenium arch stage and thought to myself that I had just witnessed a life-changing piece of theatrical perfection…
How anyone could leave the theatre that night and not have fallen under the 'Wicked' spell, I will honestly, NEVER understand! 
Holly M
_____________________________
In spite of the hype surrounding this mystery musical, I reluctantly conceded to my girlfriend's insistent pleas, and booked some tickets in the centre of Row G in the Circle. And despite trying to look happy to be there, I truly wasn't. Overall, the show lacked "oomph". To someone who works in the industry, the whole show seemed like a Christmas cracker; packed full of the old cheesy stuff just to make sure everyone feels like they have got the money's worth. The choreography was lackadaisical, and the special effects just weren't special at all. The mix where I was sitting was absolutely dreadful; I could hear bass and nothing else. 
The wonderful cast however, did contribute something to the show. Outstanding performances came from Nigel Planer and Kerry Ellis, and a less than satisfactory performance from the Dragon hiding the top of the Proscenium. 
The second act, which is by far the better, was sadly rushed, and I felt let down by that. Needless to say, swarms of other people probably enjoy the quirky first Act, as well as the improper use of the English language. 
Perhaps I am a little sceptical, but for me, this was awful. The show lacked character, menace and insatiability. Nothing stood out on stage with poise and elegance; it felt like watching something turned out of Bollywood to make quick money, forgetting what the true Theatre experience is all about.
Maks Taylor
_____________________________
2nd of January 2008: went to see 'Wicked' for my fourth time. I queued for day seats £25, got seats A19 to 21. Amazing, perfect view the best seats in the house - front row. Everyone was on top form; it was a full cast except for "Glinda," which Sarah Earnshaw played. I have never seen her before but she is very, very good. I think I prefer Dianne but Sarah is amazing too. Overall a great night out, a fantastic show, thoroughly enjoyable, Everyone will love it.
_____________________________
We went to see 'Wicked' on 8th February 2008.. We sat in stalls Z39 and 40.. which I was really worried about but the view was excellent.. except we couldn't see the dragon at the top of the stage, but it didn't matter.
It was really great, and I would definitely go again!
Ashleigh Gray was playing Elphaba .. and she was EXCELLENT!!!! Her singing voice was better than anyone in the show! 
_____________________________
I saw Wicked for the first time last week (May 2008) and I sat in the Dress Circle row T seat 10. Like other people already said, it's really distant from the stage, but you saw everything and the sound was great! 
The only bad thing was that in the row behind me sat a quite drunk couple and they were talking loud the whole time! I tried to give them mean looks but they didn't care at all. In the interval I went to one of the guards and told them but, before they could do anything, the couple stood up and (accidentally?) spilled drinks all over my, and the girl sitting next to me's, seat. I got really mad and started arguing with the man and they left. I don't know if the crew talked to them later because they gave us new seats to compensate for the wet ones. This time we got row P seat 35. They are marked as red but I liked the seat. Really good legroom and a bit closer to the stage. Would, however, prefer to sit even more close. I'm glad we got to change seats but I would've preferred a free ticket for another time because the whole first act was completely destroyed because of those idiots behind us....
I just booked tickets for the 6th June 2008 evening show, this time in the stalls row ZE seat 24, I don't know if its closer to the stage but I'll give it a try anyway. It's definitely not going to be the last time I see 'Wicked!'
_____________________________
'Wicked the Musical' is certainly one of (if not the) best West End show around at the moment. I think everyone at one time in their life has felt like an outcast, and I think that not only is this musical modern and entertaining, but also something each of us can relate to.
I have read many a review of how people are 'reluctant' to buy tickets for their friends. However, I think if this is your attitude when you go, of course you are going to focus on the bad points. And this is the case for any show. Therefore I'm here to tell you the point of view from someone who certainly wasn't reluctant - getting tickets 3 times.
Act 1 is certainly the more complicated of the acts, both technically and in terms of how the characters develop. The singing is superb and every night is professional as the very first. And the contrast between the two main characters is shown so well by the cast and the understudies. The story is a bit of a typical 'high school' film, but because it's set in its own world, it just makes it that more different. I think it's magical, the Act 1 songs are the ones I always come out singing.
Act 2 is less complicated to follow, as we are not skipping from scene to scene as fast, which actually works with the theme of 'neither side is winning just grinding to a halt' (Yes, I'm a drama student, I look out for these things). But, I have to say this is definitely the Act which will make you emotional. All the characters have a difficult life in the act, and it is quite sad. It is so well performed I feel like I'm actually a part of the land of Oz.
What is this feeling? It's the feeling that you want to buy tickets NOW! :D
_______________________________
My husband I took our two boys 8 and 10 to see the matinee performance on 11th June 2008. We arrived at the theatre at 10.10am and luckily, got 4 of the last 5 seats they sell for £25 - they were A 27 to 30. 
The show is wonderful; however I must comment that our two boys would have benefited from having a cushion as they were quite low down to the stage and one got a sore neck in the last hour from looking up. However the seats would be perfectly fine for adults. The theatre was about three quarters full I estimate. Wonderful show, we had Alexia Khadime as Elphaba, she was very good.
Karin W
from New Zealand
_______________________________
This was my third visit to see "Wicked" (20th May 2008) taking along my mum this time... who absolutely loved it. Previously I'd been up in the circle each side - rows B and D respectively - so this time I booked early and bagged row C 18 and 19 in the stalls. These seats were on the central aisle and were perfect. I got to see such a different show sat there and felt so up close and personal with everything that was going on in font of me. No-one will have a problem sitting in these seats, they were great!!!
Cassidy Janson (who has now left the production) was in the title role as Elphaba and was completely amazing. Just as good as Kerry Ellis, I find it hard to believe she wasn't promoted into the role while Kerry is away on Broadway.
Harriet Thorpe has got to be the best Madam Morrible to date, playing the role with the right amount of sinister humour and nastiness to make her an absolute joy to watch.
'Wicked' is the number 1 show in the West End and it's not hard to see why and there are not many people who don't come away having had a great evening out. It's a barn of a theatre and needs a big venue to do the show justice. 
I'm going again in July 2008 and will be sat in the stalls row K, so a different perspective again.
_______________________________
My latest visit to see Wicked (4th time - July 2008) was another fantastic night out with a standing ovation at the end. My friend who came along with me was blown away by it, and wants to go again. The new Elphaba played by Alexia Khadeim was incredible, you could hear every word she was singing and boy, what a pair of lungs she has on her. She is a great little actress too and for me is the best Elphaba yet (yes, better than Kerry and Idina). 
I won't waffle on anymore with regards to the show in general because I've done that on previous reviews, however, i will mention a couple of negatives (i know,sorry!). Firstly, Desmond Barrett, who is the new actor playing the great and terrible Oz, ironically ain't great... but he is terrible. The part of the Wizard is pretty boring anyway, but this guy takes it to an even lower level. The whole part of the Wizard needs to be revamped and they need someone with a fresh outlook on the whole part. I see him as some sort of mad Dr a cross between the Joker and Emmet Brown from 'Back To The Future. 'The Wizard's costume is so drab - as are the lines from the script - that it's the only part of the production that sags. It shouldn't, because the Wizard is one of the main reasons Oz is Oz, a man of no power but a liar and a cheat. Mr Barrett unfortunately does everything in monotone and not an ounce of charisma comes from him. It spoils the whole feel of the show and almost makes you think that they should write it out completely. Good job I'm not up on that stage 'cos they'd be in for a shock!!!!! LOL.
The other point I would like to raise is the rake in the front section stalls. We were sat in row K 24 and 25 so we were dead centre and 11 rows from the front, perfect, I hear you cry, well cry you will because the rake is non existent and even at 6ft 1" I could not see over the head of the guy in front of me. OK, this particular guy did have the head the size of a large pumpkin (yes he did) in fact he could go to his local farm show and he'd win first prize for the largest pumpkin EVER!! If anyone is slightly smaller they will not see a thing and at £60 a time for these seats it's no laughing matter. I had a much better view from row C when I was sat there at a previous performance because you do have to look up to the stage. Row K you are looking straight ahead, I wouldn't recommend these seats to anyone. Row A to F would be OK, and I would miss the next few rows out and opt for row P going further back as the rake starts to get steeper from there. It would probably help if the seats weren't directly behind eachother and moved slightly left or right with each row so that you are looking through the gap of heads rather than at a head (or pumpkin in my case).
_______________________________
"Stalls K 41 and 42. Purchased through Ticketmaster for £30 plus service charge. We thought these seats were fair value. Row K is a good distance from the stage in that you are close enough to see everything and feel the emotions of the characters, and far enough that you can take in the whole stage and are not looking up. We could comfortably see almost everything from seats 41 and 42. There are a very few scenes where you have a few seconds of a restricted view (mainly left hand side) but as soon as the characters come further forward (usually within seconds)--you have a wonderful view. This is mainly due to the proscenium arch, but it in no way detracted from my enjoyment of the show. In fact, the savings of £30 greatly increased my enjoyment because it meant that I could also go to 'Billy Elliot the next night :-)"
I loved Wicked--it is a wonderful show--my evening did indeed "defy gravity".
B
________________________________
We went to see Wicked on the 6th August 2008, managing to get 10th row circle tickets (K20 to K29) for £40 each from the booth within Leicester Square Tube Station. The view was great, apart from the very front of the stage being cut off (not that we missed anything). Leg space was adequate, though our America friends felt cramped, however we left without bruises on our legs from the seats in front which isn't always the case!
I probably ought to proclaim my bias ... Stephen Schwartz can do no wrong ... so obviously I loved 'Wicked,' however I wasn't blind to its faults. Without doubt the first half is much stronger than the second. The pace is good, the humour is well-placed and mixes well with the more serious aspects of the story. However the second half felt disjointed, the humour, for instance when Fiyero helps Elphaba escape by threatening Glinda and the guards with a musket, was too broad and out of keeping with what should have been a dramatic moment. It made the transition to the next scene and Elphaba singing 'No Good Deed' feel very 'clunky'.
Also the quality of the effects in the second half disappointed, particularly the transformation of Boq into the Tin Man – was wheeling him behind a wardrobe, waiting, then wheeling him out the best they could come up with?
I was glad that I knew the songs well before I went as the quality of the vocals was poor; it was hard to make out most of the lyrics, whether this was the fault of the sound engineer or the artists I don't know. Also whoever was doing percussion in the pit should be fired. He or she had no finesse, sense of timing or understanding of dynamics and seemed incapable of counting to 4. The rest of orchestra were great and the balance with the vocals was fine.
Don't get me wrong – I had a great night and really enjoyed the show; it's stronger than some recently written musicals I've been to see, with songs and themes which lodge in your brain. It really ought to be on the 'must see' list.
Steph Nicholls
________________________________
Went to the matinee performance on 9th August 2008. This was our second visit to see 'Wicked,' having seen it right after it opened with the original cast. I enjoyed it then, but enjoyed it even more this time round. We sat in seats K26 and 27 in the stalls. Fantastic seats, dead centre, a good rake and outstanding view. Could not recommend these seats highly enough.
Last time, I moaned about the quality and price of the programme; this time, a different moan. Why is it that some audience members (foreign tourists this time) think its acceptable to hold conversations with each other throughout the performance? Behind us were a trio of the most rude people I've come across in any West End performance I have ever seen. All the way through, they constantly exchanged comments, not even in a whisper. Thought of turning round a couple of times and telling them in the politest way to shut up but decided this would only encourage them - so I did my best to ignore them. 
Despite the people behind us, we loved it. The current cast - principals and ensemble are outstanding with the acting, vocals and dancing. I had forgotten just how visually stunning this production is with seamless scene changes, spectacular settings and awesome costumes. From the seats I mentioned you can see everything in vivid detail which was great. If you go, catch the costumes worn at the start of the second act during 'Thank Goodness' - they are the best I think I have ever seen in the West End and reminded me in some ways of the costumes worn during the Ascot sequence in the movie 'My Fair Lady' although these are a lot more colourful.
Going back a second time with a different cast you make comparisons so here we go. 
Alexia Khadime as Elphaba - one of the best voices I have ever heard in London. Absolute power, completely pitch perfect and expressive. She was better than Idina Menzel both vocally and with her performance. She made the character all the more human and the times that Elphaba is funny she really hit home. Outstanding performance. I have to say that when she sang 'No Good Deed' the hairs on the back of my neck stood on end and the audience roared their approval at the end of the song. All of her songs were great but that went into a different league. London has got itself one hell of an Elphaba.
We saw the standby Sarah Earnshaw as Glinda. Now, I don't know what Dianne Pilkington has got, but if she matches Ms Earnshaw then wow. She blew Helen Dalimore's performance (which I enjoyed) out of the water. She was hilarious, but could move you during her sadder moments. But it was the humour - she absolutely nailed it 100 percent and the audience loved her. She looks, sounds and feels like a Glinda and adds her own little touches which were great. Her performance of 'Popular' stopped the show. The audience howled with laughter and she picked up every nuance and meaning of the song. Brilliant performance and a fabulous voice. 
Oliver Thompsett sang, moved and acted much better than Adam Garcia. Was much more convinced with his Fiyero. His performance of 'Dancing Through Life' was brilliant. He caught the humour of the role much more effectively as he did the more emotional and tender sides to the character.
Harriet Thorpe as Morrible was less over the top than Miriam Margolyes and more sinister, but she was a glorious Morrible. From our seats you saw the facial expressions and gestures while other characters were speaking and singing which revealed as much and more than as when she is speaking/singing herself.
Desmond Barritt was better than Nigel Planer as the Wizard. He was everything the Wizard should be and seemed more relaxed than Mr Planer was in the role.
Caroline Keiff as Nessarose and Jeremy Legat as Boc were both good but I think I preferred the original cast members more. No criticism of their performances because they were very good- just a personal preference. Jeremy Legat especially was just not how I see Boc.
The ensemble are outstanding - really are at the top of their game.
The special effects are wonderful and even second time round hit home.
We loved it last time but enjoyed it even more this time - a fabulous show! Go and see Alexia Khadime as Elphaba though - she is just amazing!
The show remains 'wicked' in every way! Go and see it!
_______________________________
Went to see 'Wicked' on the 30th July 2008. Was the matinee and a sign interpreted performance. Do not be put off by signed performances, I forgot the woman was in the corner of my eye after 5 minutes! Maybe it's just the fact I've seen it 4 times now, but I think the new cast are rubbish. Dianne has gone from pure brilliant, to damn right awful. She was so not as funny this time round, she seemed to be bored. I like Alexia as Elphaba, for she interpreted the character in a different way, but personally Kerry Ellis still rocks. And as for Caroline as Nessarose, I saw her understudy Galinda and think she deserves the role now! She was much better. The new Boq is okay, but the old one will be missed. And Oliver Tompsett is the only person who is still amazing as ever and didn't disappoint. Went to the stage door afterwards. We don't like Alexia; we were the last two people in line and she said she was too busy to do anymore autographs! How lazy and rude is that? Oliver Tompsett and Jeremey Legatt were very nice however, and we love them.
Sat in the Stalls Row C seats 12 and 13. Brilliant view all the time! But for some reason I prefer Row D! Totally worth the price as in many theatres, side view seats would be at top price in the stalls.
_______________________________
Went to see this amazing show for the third time (25th August 2008). Great, although Alexia Khadime does not have the same spark as previous Elphabas and Diane Pilkington was not on either.
Our Seats: Stalls Row G 40 and 41 only cost £ 20 and were great value - especially considering a few seats across they were £60. There were only a couple of occasions that our view was not great, but overall brilliant value - I would suggest that the seats similar to these at the other side i.e. Row G 8 and 9 would be slightly better than ours as there is a circular stairway on our side which does protrude more than on the other, where there isn't one. But if your on a budget and want to see this great show don't hesitate.
John
_______________________________
Went to see 'Wicked' on 27th August 2008 (Wednesday Matinee). The seats were adequate (Stalls Row T 3 to 5) although I was surprised that, booking at 10 am on the first day the 'Kids Week' (annual London event - editor) tickets went on sale I couldn't get better tickets.
I hadn't seen the show before and was totally blown away by it, and I absolutely loved Alexia Khadime as Elphaba. My only problem was the behaviour of other people. We sat behind four young women who gave the impression they didn't really want to be there. They spent the entire time fidgeting about, talking (which caused a problem as my kids tried to angle themselves to look through the gap of heads, so every time they put their heads together to have a chat, my kids couldn't see), passing sweets backwards and forwards (and no, they didn't pass them to the next person, they passed them to the person furthest away from them) and going to the lavatory. 
I haven't been to the theatre for many years so I might be out of date here, but when did this kind of conduct become acceptable? It spoiled my enjoyment to an extent, and although I loved the show I'm not in a hurry to go to the theatre again. Admittedly, I "only" spent £90 for three tickets when the full price was £180, but still, it is too much money to waste when you get distracted by inconsiderate people around you.
_______________________________
Myself and three friends went to see 'Wicked' last night (Thursday 28th August 2008) and what a show it was. It was my second time to see it, but my friends thought that it was absolutely spectacular! 
When I saw it last time, I was sat in the Circle Row K Seats 14 to 17, which, at the time were £30, but as I have just noticed have now changed to £40. These seats were good, although the characters seemed quite far away, and also the front of the stage was cut off by the bar splitting the circle and the top of the stairwell just a row in front of us. Cassidy Janson (who has now left) played Elphaba, and although I was disappointed not to see Kerry Ellis, she still played the part perfectly. The sound was powerful and loud and nothing can fault those seats for the amount of money we paid. 
Back to the 28th August, we sat sat in the Stalls Row R Seats 43 to 46. Although these seats were located right on the left - hand aisle, and just behind the aisle splitting the stalls horizontally. Surprisingly, nobody got up and walked out to the toilets etc. during the show, so the view was not blocked by anyone (this was except for about 20 seconds during 'What is this Feeling' when 2 latecomers had to slip into their seats, which luckily were also on an aisle so didn't result in people standing up!) 
On your seating plan, it marks seats 45/ 46 as red...but I think that this is wrong! My two friends who sat here basically had the same view as myself and my other friend did in seats 43 / 44. They were all worth £30, so obviously had a slightly restricted view. There were short amounts of time where you couldn't see scenery because of the staircase on the left hand side of the stage, like the house in the Catfight Scene and the Stairwell during 'For Good' but you did not miss anything at all because most of the action took place on centre stage. Here, the sound was better than previously because the orchestra sounded louder and therefore the songs were more spine- chilling, and also you could actually see the character's facial expressions!
We saw Alexia Khadime as Elphaba and Dianne Pilkington as G(a)linda, and they were both phenomenal! Defying Gravity was perfect, and the flying section made me get goosebumps because it was so loud and powerful! Oliver Tompsett was perfect as Fiyero, as like before, and Harriet Thorpe as Madame Morrible was brilliant. We saw all of the cast except for Dr. Dillamond/ Witch's Father who was played by the understudy, David Stoller. I wouldn't fault the rest of the cast at all because it all was perfect!!
So if you are planning on seeing Wicked, please consider the block of £30 seats in the rear stalls because they are really good value for money, especially as there are £60 seats situated next to them! Wicked was really "wicked"!!!
Tom C
_______________________________
We went to see the matinee performance of Wicked on Wednesday 27th August 2008. Our seats were stalls row D 36 and 37 which were each £20. The performance was amazing and we thought Alexia's voice was fantastic particularly in "No Good Deed" which was a very powerful performance. 
As for the seats they were very good value for money and I would definitely recommend them to anyone, particularly if they enjoy being close to the action. At other musicals I have sat in the circle, but preferred the experience in the stalls as you could see the acting more clearly. Our seats were classified as restricted view - and occasionally we could not see people when they were entering the stage - but we didn't miss any important parts of the show as all of the main action took place near the front of the stage. I am glad to see these seats are marked green on the chart because I would definitely choose them again.
Harriet
_______________________________
Theatre: I thought it was very impressive, the structure inside was very nice and really matched the atmosphere ,unlike Cambridge theatre. I was also very impressed on how big it was. Overall it was a great experience just being inside.
 
Musical: 'Wicked' was indeed a very good musical and I'm sure it deserves No.1 in in the monkey polls; but it only comes third in mine - better than 'Chicago' but not 'The Phantom Of The Opera.' But yes, you should really go to see it, although my friend said that it was quite too juvenile for his taste. but on the other hand the special effects were dazzling and the songs really sent shivers down your spine; but I thought that the front seats in the stalls were really affected by an overflow of smoke that covers the whole theatre.
 
Seats: I was seated on the stalls row c seats 36 to 37 , which were £20 each and when the show started I really knew why!! These seats were really on the side, and parts of the musical were blocked by the staircase on stage. I actually thought that the best seats were in the stalls behind row P in the middle,  just because of the rake. In my seats, a very tall man sat in front of me for the second half and I had a neck ache by the end of the show. I also noticed the seats were old, creaky and very uncomfortable - the space was poor and the leg room atrocious.
 
Overall: 'spellbinding' , 'dazzling' and very well done. I doubt I would want to see it again, but that's just my opinion for the most 'popular' musical in London.
 
4 out of 5
 
Cristopher H.
________________________________
My Mother and I went to see 'Wicked' on Tuesday 16th September 2008 and I think that the theatre is possibly one of the worst I have been in. I was annoyed by this fact because I had been looking forward to seeing this musical for several years. The acoustics were terrible and we could hardly understand what Glinda was singing half of the time. 
Our seats were in Row T, seats 33 and 34 in the Dress Circle. Alexia Khadime was amazing as Elphaba but I was particularly disappointed when, during 'Defying Gravity,' which is arguably the best song in the whole production, a young male usher was stood directly in my way. This frustrated me a great deal as he blocked out the moment where Elphaba starts to fly. I could only see her once again when she had reached the top of the stage.
Our view was also obscured by a female usher during the first 15 minutes when she stood in the stairwell, blocking my view directly, even when she wasn't ushering anyone to their seats.
I have complained to the theatre about this and I have so far heard nothing back. I am still disappointed about the ushers ruining my view, as for me, it ruined the whole show. I had heard many great things about "Wicked" and the show itself is a brilliant production. The staff, however, left a lot to be desired. 
______________________________
I went to see 'Wicked' for the 6th time on Friday 11th July 2008. This time I queued for 'day seats' for the first time - and that was an experience. I got there at 7.45am and there was only one girl waiting. After about 40 minutes we were about 5 and then came an American family, a mother with her two teenage daughters. The mother kept nagging about the girls not having enough clothes on, it was a bit chilly in the shadow, but the girls didn't want to lose their place in line. So I talked to them and offered to buy them a ticket - so the mother stayed and the girls went back to the hotel nearby to get a sweater. When the box office opened I got money from them and I bought the tickets and they really appreciated my help. We then walked separate ways but just before the show started they came to me with a box of chocolate wrapped in gold paper, I was so touched, that was such a nice thing to do! This good deed didn't go unpunished :)
OK, so about the seat: I got A25 and although I've read that sitting behind the conductor wouldn't be a problem, it kind of was for me. Not a lot but it was a little bit disturbing, especially when he was making little dance moves or something:) Apart from that, I really loved the seat! It was right in front of the action and it felt as if Alexia Kadhime was looking straight at me when she was singing "No good deed". It was so incredibly intense and really gave me the chills! Ok, she was probably looking at the conductor, but still :) I'm going to queue for day seats again sometime this week and this time I'm going to try and get a seat just a little bit to the side. 
________________________________
I went to see Wicked for the 5th time on 24th December 2008 for the only performance, and then again for the matinee on 3rd January 2009.
I personally felt that the 24th December wasn't as good as the 3rd January. I think this was because it was the day before Christmas, and not many people want to be working on that day. So I did feel sorry for them! However I still thoroughly enjoyed the show and it's amazing to see Kerry back at work! She's still bubbly as ever. 
We sat in Row D of the Stalls in seats 36 and 37. Excellent view for the price, much prefered then my old favourties of £25 on the other side. Leg room acceptable, and considering the seat next door is £60, it's a bargain. Only disadvantage is scenes with dry ice make you very cold, and there is no heating! But loved them. Comfortable as always. We got their autographs at the stage door, which was very pleasant too.
The 3rd January was much more fun, partly because the person I went with is as obsessed with 'Wicked' as I am, and also we went to the stage door twice! (I thoroughly recommend going to the stage door at 'Wicked' as they are always very nice and make it really enjoyable). We got all the main cast that were performing to sign before (as some don't come out after matinees) and even some of the ensemble! Then we actually watched the show, and there was so much energy for 2009. 
Definitely my favourite time at Wicked! Kerry Ellis amazed my friend so much that she stopped singing (my friend that is)! Dianne was hilarious as ever. Oliver is still dancing through life! But my favourite is Jeremy Legat. I wasn't sure at first when I saw him, but he's my favourite Boq and I love him. I cheer him every time he comes on! For this performance we had the understudy for Nessarose. Not as good as Caroline Keiff, but still very talented and would pay to see her. 
We sat in Row J of the Stalls in seats 44 and 45. Personally this was the biggest bargain I've ever made at a theatre. I could see all but one part of 'The Wizard and I' because of the stairs, and Elphaba's entrance to the Ozdust Ballroom, but otherwise everything was clear and detailed. I loved it. Definitely good seats. Much better then others same priced in the stalls. Legroom is good at the end of row and very comfortable. Some theatres that sell £15 seats aren't anything compared to this. 
We went back to the stage door after the performance to get photos and missing autographs! Very fun, finally gave George Ure (understudy for Boq) his present and I made his day! If Jeremy does decide to leave, he has to be next Boq!
Get your tickets now and you'll be on top of the world (except I think Elphaba took that too literally).
____________________________________
Well, what can I say this time? This was my SEVENTH time to see Wicked on 23rd January 2009 for the evening. I deliberately went this time for my Birthday and because I wanted to see Ashleigh Gray play the role of Elphaba. Apart from that, we had the main cast.
I must say, Ashleigh Gray is the best Elphaba I have ever seen! She's positively a star. Therefore I wouldn't be disappointed by not having Kerry Ellis. If you enjoy the show with Kerry, I think you must try seeing Ashleigh. it's my favourite time at Wicked and was truly a night to remember! I think I'm going to try and see her again myself.
Of course the rest of the cast are amazing as usual! In fact not only was this my favourite time, but I think it's the best audience of 'Wicked' I've been to. You could tell people had come just to see Ashleigh because there were more laughs than usual, more cheers and claps and an even bigger standing ovation than the last few times I'd been!
We sat in the stalls Row H seats 41 to 42. Must say I loved these seats. I think I'd get them around here because you're not too far at the side, and not too close to the action to get a bad neck. Lots of legroom, extremely comfortable, just beware of uber tall people in front (although I didn't have one). Could see everything from exit to entrance.
Went to the stage door after, many an Ashleigh fan is around which is good to see. People who had just seen the show camped out for day seats the next day! All the cast are extremely nice, Ashleigh especially! Once again, stage door is a must do.
______________________________________
I went to see 'Wicked' with my friend for my birthday on the 19th of December 2008. It was my second time round seeing it, and again, it was AMAZING! All the cast members performed fantastically and sang and danced flawlessly.
We sat in seats Row B 27 and 28 in the Stalls. Even though you have them marked red, in my opinion, they are the best seats in the theatre. As the stage is quite low, you don't have to look up so no neck ache! And you are so close, you feel as if you are right in the action and you can see the facial expressions and costumes so clearly. These seats are best for fans of the show who have seen it before, because admittedly you do lose some of the impact of the set. If I had the chance, I would definitely book these seats again.
Kerry Ellis was fantastic as Elphaba, she sang and acted with so much emotion. We had Sarah Earnshaw, the understudy, as Glinda who sang flawlessly and was extremely funny in popular! Oliver Tompsett was excellent as Fiyero, and we enjoyed 'Dancing Through Life' very much. We thoroughly enjoyed Andy Mace, the understudy, for the Wizard and Caroline Keiff as Nessarose.
It was an amazing birthday which I will never forget and would definitely go for a third time! A "wonderful" night out! :)
written by Bethan
_______________________________________
February 2009: 'Wicked' was my fifth time. Sat in the stalls C26 and 27. Good view, close to the stage where you can see all the actors trying their best (except Desmond Barret who is still terrible). No problem with any large heads in my way this time, although a rather annoying child kept rocking backwards and forwards in her seat and as they are obviously not oiled you can imagine the squeaking got on ones nerves after a while. 
My friend thoroughly enjoyed the show but I'm not sure if I will go again now. (I know nobody won't believe me!!)...
_______________________________________
Myself and my fiancée take in a few shows a year, a couple in London, a couple usually on tour in our home city of Cardiff. As we were visiting the capital this past weekend (28th February 2009) we decided to see if we could get a decent deal on another performance of Wicked - our fourth time. This decision was based on three factors: 
1) The amazing Kerry Ellis finishing this Spring, and wanting to catch her playing Elphaba one last time,
2) Loving the show and in particular the music,
3) Nothing else really grabbing our attention at the moment!
After checking online sales for a few weeks beforehand we noticed that availability really seemed limited considering that we'd managed to get great seats previously, once even when Orange were offering their brilliant '2 for 1' deal (now ended - editor). Seeing the demand, and the fact that the performance was totally packed out with approximately 30 people queuing outside the theatre at 7.20pm for return tickets for 7.30pm, really led me to believe that perhaps this show has genuinely picked up steam in terms of word-of-mouth and truly become the phenomenon that it's promoters claim it to be! Considering the size of the venue and the fact that it's been running two years now is a pretty good sign I'd guess.
I digress ... we decided to show at the theatre on the morning of the performance to see how large the queue was for 'Day Seats,' but we only got there 15 minutes before the 10am 'Doors Opening' time and there were about 70 people ahead of us. Needless to say the front row seats were gone by the time we got to the Box Office, and we ended up paying face value (£60) for what would appear to be excellent Dress Circle seats. Further to reviews on theatremonkey, I've always avoided Circle seats but seeing as this was our fourth performance I was more than happy to have central seats only four rows from the front. In terms of sitting in the Circle this is about as good as it gets, so even though we didn't want to pay full price we were both happy that we had tickets at all - were at least pleased with what we managed to get.
We had Seats D19 and 20 and as feared, whilst these seats are almost as good as it gets in the Circle, it's still a long way up from feeling as though you're part of the action. Considering the great seats you can get in the Stalls, the Circle is just too high up and far back. The leg room was OK and it was great to see more spectacle from the position, but this is far outweighed by what sitting in the stalls at the Apollo Victoria offers. Another thing I found unreal was how everyone had to lean forward to see the performers when they ventured to the front of the stage. You often get this was the front row or two but here I'm talking everyone. It should be said, when attending the theatre I'm neither a Circle or Stalls fan. Some shows I'd prefer to be sat in the Stalls, some the Circle. It all depends on the show itself and obviously the theatre. Having now seen Wicked from four different areas, easily the best place to see the show is one of the aisle seats of the Stalls Front Section, side areas, C to P 17, C32 to P32. 
If the above wasn't bad enough, far and away the worst thing about sitting where we were was the almost non-existent sound level of the orchestra. It should be said, the vocals were fine. When the chorus belted out together, it was indeed as rousing as it should be; but it was quite simply tragic to miss out on the wonderfully arranged score. Some of the very reasons myself and my fiancée fell in love with 'Wicked' so much could genuinely not be heard. The increasingly frantic strings at the climax of "The Wizard and I", the masterfully dramatic horns of "Defying Gravity" and the emotionally charged accompaniment of "For Good" and the finale. Unless you knew they were there and listening out for them, they were almost non-existent. I'm truly not exaggerating but I left wondering whether or not majority of the people in the Circle who I was surrounded by did not grant a standing ovation because they simply didn't share the same emotional experience that I did when I first saw 'Wicked.' In fact my sister saw the show several months ago from high up in the Circle and as a frequent musical-goer she was surprisingly un-moved by the whole experience and did comment that she felt far from the action and the sound was too quiet. 
I'm truly staggered that a mega-budget, worldwide smash on the scale of 'Wicked' can allow approx 50% of it's London audience to experience a below-par performance due to sound levels. I can appreciate that the Apollo's layout may not be ideal in terms of a high Circle but sound level is surely easily remedied? Not being a sound engineer myself I did wonder why the bank of speakers hanging from the roof was quite so minimal - you'd think with 2000 people paying £60 a time 8 times a week, they could afford a few more?
The cast and show itself ? Almost flawless. In fact, in terms of performance it was arguably the best I've seen. Kerry Ellis was genuinely awe-inspiring. Perfect, in fact, and it was with sad hearts that we saw her exit the stage for the very last time in this role as I can't remember a performer impressing me in a singular role as much as Ellis as Elphaba. Dianne Pilkington does sometimes grate and I don't think she works well on duets with Ellis, but her performance of 'Popular' is quite brilliant. Harriet Thorpe is probably the best Morrible I've seen and Oliver Tompsett is quite simply Fiyero. I think Nigel Planer was far and away the finest Wizard, and whilst I preferred the previous Boq and Nessa-Rose this didn't detract in any way from a wonderful performance. 
As we've done once before, we loitered for 15 minutes after the show and told Tompsett and Ellis how much we enjoyed their performances; and we were again very impressed at how lovely they were with a bunch of fans who were as useless with their camera phones as the Sound Engineers are with the levels up in the Circle!
_________________________________
Once again I found myself seeing Wicked in February Half Term on 3 occasions! First time was on 18th February 2009 for the evenings and the other two were both on 21st February 2009.
18th February was very different from 21st February. Firstly, I was once again amazed at the crowd outside stage door after the matinee. I got pushed onto the wrong side of the barrier and when Kerry Ellis came out, I was almost on the floor. To escape the 1000 pleas for photos, Kerry ran across the road and was followed by several fans. Is this really the reputation we want in London's Theatreland?
However, after this the show was amazing once again. Kerry Ellis managed to recover from the stage door trauma and was even laughing at the end of As Long As You're Mine. Oliver Tompsett and Dianne Pilkington both excellent too. We sat in Stalls Row G Seats 40 and 41. Excellent seats, for £20 you can see everything. I don't see where 'restricted' view comes in at all. Although being at the side, I do think they are excellently priced and well worth it. Would attempt to get a few rows in front for the same price (if possible) though. The only understudy we had was for Boq, we had Alex Jessop and he was good, very funny, but I love Jeremy Legat more. Shame he was ill for the whole week because...
21st February showed another new Boq. George Ure finally went on for the first time in the role and as I have met him at stage door, I was waiting for the day he'd play the role. Being second understudy for the character I decided I had to go both performances as I may never get a chance for a while (if ever). He was THE best and is my joint favourite with Jeremy. His Scottish accent is just like all the cute well-known Boqs. I went just for him, and the added advantage was Ashleigh Gray was playing Elphaba (which was my original reason for going again). She is even better than Kerry Ellis and I'm so glad that she and George are staying after cast change. I will see many Ashleigh performances as I can. She hits all the high notes and was wonderful. 
Both shows were very successful and brilliant. Didn't get bored at either. Two Wicked performances in one day sounds mad, but it's really wonderful. Best bit is, you notice any mistakes if things are different in either. For the matinee I sat in Stalls Row E seat 8. This use to be my favourite area to sit in as it is amazingly priced for £25 when the seats nearby are £60. You are up close and personal and the sound if perfect. Legroom at the end of the row is plenty and is very comfortable. 
HOWEVER, having experienced £20 on the other side of the STALLS I personally feel they are better for money, because I don't see the restriction over there, but at this seat where Glinda stands in the first scene blocked the 'Witch's Mother' scene, and the back of the stage is not visible.
For the evening I sat in the Circle Row R 31 and 33. We got these last minute from the box office and I think they should be £15. Compared to the £20 seats behind, which may be further back, they are even worse. There is a ledge in front because of the staircase and I couldn't see sitting back (and I am 5ft 8). I had to lean forward for most of the performance and my back hurt so much at one point, I gave up and just sat forward enough to see their heads. However, from my last experience of the Circle, the sound has much improved and the view without the leaning would be fair value. However, go for Row T in the middle if wanting to sit in the Circle. Stalls for same price much preferred.
____________________________
We bought our tickets through a third party and were given P38 and P39, and although they're in white on the seating plan, we found them to be AMAZING!! (but we were quite lucky - the two seats in front of us were unoccupied).
We didn't really know what to expect as neither of us knew anything about the show, apart from that it was supposed to be excellent, which it proved to be! The plot is creative, the music is fantastic and all the actors were incredibly talented, and even my boyfriend (the musical-hater) had to admit it was pretty damn good.
 I have since bought the CD and every time I hear it I want to see it again. I recommend it to anyone and everyone (even if musicals aren't your thing).
______________________________
28th February 2009 19:30 performance.
I'm probably going to be outnumbered here, but having seen most shows currently in the West end: 'Les Mis,' Oliver,' 'Avenue Q,' 'Grease,' 'Dirty Dancing,' 'Phantom of the Opera,' 'Billy Elliot,' 'Joseph,' 'Zorro' - to name but a few; this was my second time seeing this and I stand by my words last time....it is my least favourite.
I know, I know, it's won awards and Kerry Ellis is amazing I agree. But I just fall asleep. This musical drags and this time I sat in the back circle, having previously sat in the stalls in top price seats, and it made the performance even less enjoyable. You can see the stage but everything's mini and most of the binoculars were missing! I find this show would probably be OK if you were a small child (or like my partner you like all the flash stages and costumes), but to me - I don't think the story generates enough interest and I find that the theatre's cramped and not very well laid out in comparison to most others. It may suit others well, but if you prefer a storyline and to leave the theatre thinking - avoid this! Its more for the 'want to leave the theatre singing and dancing to the songs' kind of musical!
Louise Robinson, 
Lancaster
______________________________
I went to the 'Wicked' matinee on Saturday 11th April 2009. I have to say I am one of these crazy people who 'day seat' and on this occasion my friend and I went at 5am to queue for day seats. Five minutes later someone else joined us and by half past six another two people followed. By 10am the queue had stretched all the way down to the stage door, so I was kinda pleased I had got there early, though I was freezing. 
I was able to purchase seat 23 on row A. I have sat in this seat before and I love it. Its very central and you don't miss a thing, except perhaps the dragon, which only really moves at the beginning. I was too busy watching the action onstage anyway. The show was really good. Kerry Ellis was on as Elphaba and Dianne Pilkington was on as Glinda. I love Kerry Ellis and I think her and Alexia Khadime are the best Elphabas London has ever had. I have seen Dianne Pilkington before, but I have also seen Sarah Earnshaw too, and I must say I much prefer Sarah's way of Glinda then Dianne's. Dianne seemed to lack energy and enthusiasm yesterday, and I just felt like she was being really fake and rushing through her lines.
Oliver Tompsett was on as Fiyero and he is awesome, I think he does a really good job of playing Fiyero. I'm glad he's staying after cast change. Harriet Thorpe was Madame Morrible and she really scares me, she is kind of pyscho-scary in the role and it's brilliant. Andy Mace was on as the Wizard, which meant David Stoller was on as Dr Dillamond for Andy and they both did very well. I thought Andy Mace was a brilliant wizard and, because he is a bit younger, was more 'dancey' than Desmond. I love Desmond too though, so I'm lucky to have seen both over the ten times I have been to "Wicked." Caroline Keiff was awesome as Nessarose, and I'm sad she's leaving in May, but hopefully she may come back one day and be Elphaba. Jeremy Legat is a very nice person at stage door but his Boq is so annoying. His voice is very distinctive, you can pick him out a mile off in the ensemble numbers. I look forward to seeing Alex Jessop or George Ure after the cast change, just to see how different they are from him. 
I loved seeing all the facial expressions of the cast and the detail on the costumes is amazing. They are so beautiful to look at. The set design never fails to impress me either. I really want a go on the 'bubble' and the lift machine lol. I am going back to see 'Wicked' again. God help me, I'm going on cast change, but thankfully I will not be 'dayseating.' I do not wish to be mobbed and gored to death by 2000+ Kerry Ellis fans all chomping at the bit to see her last ever show. I have pre-booked my tickets, but for future performances I will be 'dayseating' again as £25 is well worth seeing one of the best shows in the West End.
Kirsty
__________________________
I have seen 'Wicked' three times and I have sat always at the front of the dress circle. I personally can't stand the stalls as I am 13 and I find it very hard to see anything. 
The first time I went I sat in row A44 and 45 with my best friend. These seats are the last two seats on the row, however I could see everything perfectly and for £30 well worth it - seeing as the seats next to them are worth £60.
I loved the show, so I had to go back again! This time I sat in Row D 13 and 14. Central seats, however the view was distant. The seats are so tightly packed, all I can remember of that time I went to the show was a family of 10 sitting around me. Four on either side of me, and two in front. The kids and even the PARENTS started standing up for no apparent reason (not during an applause), and blocked my entire view for the whole of "Defying Gravity." I missed all the special effects, and I was very upset as I had paid £120 for the pair. 
I just wasn't satisfied, so I had to see it again. This time I sat front row A23 of the dress circle... fabulous UNINTERRUPTED view. The first two times I saw it Alexa Khadime was playing Elpheba. She was unreal and excellent voice, very soulful; better than Idina Menzel who I saw on Broadway. The most recent time Kerry Ellis was playing Elpheba; also very good, but not as good as Alexia. My all time favourite spellbinding blockbuster musical. 10/10. I love it <3 x.
___________________________
I saw this marvellous production at Halloween 2008 – how apt. It was a 'two for one' deal at one of the booths and we were happy with rear stalls for the price we paid. 
I must admit I felt you could get a good view from any area of the stalls and Row P was fine for me, even though I'm usually a front row fan! If I see the show again (and its highly likely I will as it completely captivated me) I would like to sit further forward just out of personal preference. 
What struck me before the show started was the young audience it attracts, and I'm gathering they're fans of the production because they have their faces painted green. Either that or they felt a bit sick! I was also like a big kid myself watching the dragon hanging out of the top of the stage and getting very over excited when it started moving and emitting smoke.
All of the numbers were excellent and 'Gravity' gave me goose bumps. I was more taken with the Good Witch because she had some fantastic comedy moments and I will be keeping an eye out for Dianne Pilkington when she has moved on. I hope she doesn't go just yet though!
I thought that Harriet Thorpe was terrific as Madame Morrible, I know her from the TV but this was my first experience of her stage acting. She was very inspiring and although I hear that Susie Blake shone in the role, I'd like to see Harriet play the part again.
Overall 10/10 and a must see for all age groups. You don't HAVE to go at Halloween, but it seems to add sparkle if you do!
_____________________________
June 2009. Have just seen 'Wicked,' and whilst show was great, I was sitting in F27 in the stalls and was very disappointed with view. I am 5'6" and the man in front of me was of average height yet I could not see anything in centre stage at all. I spent the entire performance weaving from side to side to follow the performers and felt I had to apologise to the woman behind me for doing so. Her response was that she was following me because she couldn't see either! Having spent £66 per ticket I felt it was very poor value for money. 
_____________________________
I saw Wicked for my 14th time on Wednesday 8th July 2009 at 2.30pm. I went along for the day seats and got there at 7am. I was first person there until 7.45am when someone else showed up. I got A23 and A24 which are good seats. you feel very close to the action and I swear to God at times Alexia was staring right at me.
Stevie Tate - Bauer is the temporary 1st cover Nessarose while Emily Tierney has a broken foot. she was on as Nessa for her 2nd show at the matinee and she was very good considering it was her second time. She wasn't as powerful as any previous "Nessa"'s but her acting is really good and she had some lovely moments in 'Dancing Through Life'. I am looking forward to seeing her again on the 25th July 2009.
Gregor Stewart was on as Fiyero and he is posher than Oliver! I didn't think it was possible but apparently so. He is as amazing as Oliver and I don't think it will be too long before he develops a strong fan base of his own. His dancing is excellent and he has great chemistry with Alexia.
Alexia was good but I think she may still be 'under the weathe'r as she lacked a certain oomph. Her 'Wizard and I' was spectacular though, and her 'Defying Gravity' was also very good. I think I will have to see an evening performance with her to get full power Alexia. I also liked how she copied Avaric's Scottish accent when he asks does she realise who this is. LOL.
Sarah Earnshaw is without a doubt, a fab Glinda. I much prefer her over Dianne. She was hilarious in 'Popular' but not as funny as in previous shows I have seen her. I really like her riffs in 'NOMTW' and 'WITF'. Harriet Thorpe put in a pretty average performance as Madam Morrible, can't complain or praise her really.
Alex Jessop - Yey Lancashire Boq!!! I love him a lot. he is British but so different from Jeremy and I love the way he relates to Nessarose and Glinda. He is spot on and I think he is going to be one of the most favourite and best Boq's ever. Sam Kelly is now the wizard. Unfortunately I have nothing good to say about him. I'm sure he tried hard but a lot of his diction was lost and even though I was in the front row I had trouble hearing him. I don't know what he was like when he first started out, but he still needs to improve a lot. I missed Desmond Barrit in the key wizard scenes.
All the new ensemble seem to have settled in well and have really gelled well together. They put in a good effort with all their dance moves and acting, and I gave them all a standing ovation at the end. I cannot wait to go again for my 15th time on the 25th July!
Kirsty
____________________________________
I have been to see "Wicked" twice now. The first time my sister and I sat in G43 and 42 in the stalls, seats with "restricted view", so they were just £15. I cannot praise these seats enough for the price, there was a small bit of the stage, maybe the left fifth, but only at the back, you could see everything on the left at the front fine (and a great view for "As Long As You're Mine," it felt like Elphaba and Fiyero were just in front of us). I would definitely go for these seats before more expensive seats far back in the circle. I have never sat in the stalls to see a musical before because it's always too expensive for me, so it was amazing to be this close to the stage. As for the show itself, it was wonderful, Alexia Khadime was amazing as Elphaba, her voice was incredible. Everyone and everything else was great too (Fiyero was pretty).
I loved it so much I went to see it with some (9 actually) of my friends. It was a nightmare to find tickets, and annoyingly there weren't enough of us to get the group rate, and I wasn't clever enough to think to book 4 and 5 separately to get better seats. I ended up booking row W of the circle. The tickets were £20 each, which I know is quite cheap but I didn't expect them to be THAT far away. This time Kerry Ellis was Elphaba, and although I know a lot of people love her, I found her disappointing compared to Alexia Khadime; her voice wasn't as powerful, although I don't suppose it helped that we were SO far away. Interestingly though you could still see Fiyero's bald spot through the binocular things! On a related point, why don't they have these on the back of every seat (especially towards the back), it's annoying to have to pass around between 2/3 people? I would say avoid sitting this far back at all costs, it's definitely worth paying an extra £10 (or more if you can afford it). I'll be going to see it again soon with all my sisters and we'll be queuing up to get day tickets to hopefully get an amazing view!
______________________
I took my boyfriend along to watch 'Wicked.' He had never been to a musical before and even though I absolutely love them, I haven't had much of a chance to go see many. so I decided to book tickets to watch 'Wicked.' I booked the lower end tickets (£15) which were a great bargain and got seats K45/46 in the Stalls. I thought that being in the Stalls would mean having a fabulous view of the stage/show. Boy was I wrong! Yes, these seats are close enough to the stage to see precise expressions of the characters however, they are way too far to the left hand side of the stage and both my boyfriend and I found we had to constantly crane our necks to the right every time there was a captivating scene (which in my opinion is for the majority of the show!). In these seats the view of the stage backdrop is lost A LOT almost to the point of spoiling the evening. 
If I had paid any more for these tickets I would have been really disappointed but the FABULOUS acting of both Glenda and Elphaba made the night! The actress who plays Elphaba has the most AMAZING vocals ever! The story is warm and very cute and it is a must see! I would recommend theatre goers to definitely purchase tickets, but try to avoid seats that are along the far side. Overall, a great musical and a defo must see!!
Dee. 
_______________________
I've seen Wicked 5 times now and really feel that it has lost it's sparkle as it doesn't do anything for me now. I went along to the 19th August 2009 matinee, as a friend was staying with me from afar and really wanted to see it. It was a full house and we were sat in row T 24 and 25 which were really good seats - and no pumpkin head in front of me this time. T24 is situated on the aisle which meant I could stretch my leg out. 
The one annoying thing which I noticed last time and in other theatre to is the squeaky seat syndrome. All around I could hear seats squeaking away it was usually bored kids who were using their seat as a swing and ignorant parents not saying any thin to them. Wicked are not offering any discounts to see the show and i quite happy to charge full price for tickets and not even spend a couple of quid on an oil can to stop the squeaks on the seats, I mean if push come to shove they could ask the tin man I'm sure he'd help as one day he will be put off his performance...
Desmond Barrett was unfortunately on as the Wizard and even worse than last time if that was at all possible and poor old Di Pilkington was throwing her lines out so quick that most of the comedy was lost and made me feel like the whole thing was rushed and she couldn't wait to get off for her glass of bubbly before she ran on and did the whole road runner routine for the evening show.
Alexia was very good as Elphaba and Harriet Thorpe again put in a sterling performance as Madam Morrible. The whole thing is about making money and a lot of money at that and think it's sad when there are much better shows in town where the actors are giving it their all and yet are closing because they can't get the people in. Don't think I'll be stepping back into see the show again. Shame as thought it was the best once.
________________________
OK; I wasn't going to send another review of 'Wicked,' but I had to with regards to my latest visit.
I went to 'Wicked' on Thursday 1st October 2009. I pre-booked seats C10 and C11 in the stalls as I found out Chloe Taylor was making her debut as Glinda. She is the understudy for the role so she never ever gets to go on, and I wanted to see what she was like. C10 and 11 are OK. The view is not that fab if you want to see the whole stage. Anything that happens on the right hand side is totally lost. However, if you are slightly interested in seeing the scenery and cast members move on and off it is quite fascinating. You see everything centre stage and you are still close so you can see all the actors facial features and gestures. In the Shiz scene, though, I had Keeley Jane Jackson and Sabrina Carter blocking my view of Chloe's Glinda - but hey ho.
The show was awesome. Chloe as Glinda is so different to Dianne. She plays Glinda more as a person than a caricature. She isn't over the top high pitched, she is just a very posh, well spoken humorous Glinda. I think it was slightly Helen Dallimore-esque but as I prefer Helen over Dianne this meant that I fell in love with Chloe straight away. She just fits the part so well; if she doesn't get promoted to standby I may never see Wicked again. (gasp, the horror!). Her version of 'No-one Mourns the Wicked' was beautiful, and by 'Popular' you could see her nerves had gone and that she was having a fun time. It made me laugh when she came on for 'One Short Day' and she hadn't got changed in time to have her yellow dress zipped up at the back.
Alexia was very good too. Not the best I've seen of her, but she really gave it her all that night for Chloe. Her 'Wizard and I' were short at the end but still got many whoops and cheers from a stagnant audience. And her 'Defying Gravity' was out of this world. Her favourite song to sing is 'No Good Deed' and she shone here too. At stage door she sounded so croaky and ill, I wasn't surprised to find out on Friday night and that Ashleigh Gray had gone on instead. The poor girl is not having much luck at the moment, bless her. 
It was also my first time seeing Natalie Anderson as Nessarose. It was interesting to see how different she is from Caroline Keiff and Stevie Tate Bauer. Those two portrayed Nessarose as more mature and controlling, whereas Natalie really captures the youthful spoilt brat. She didn't belt as much in her big song in Act 2 but I was assured by my companion that she can do better. I am looking forward to seeing her again.
Oliver Tompsett threw in a few riffs here and there, Harriet Thorpe was fab as was Alex Jessop. Sam Kelly is refusing to grow on me, I much prefer Sean Needham as the wizard, if I can't have Desmond back lol. Sam just looked a loony on the stage. Harsh you might think, but it's my opinion - so whatever. The cast were all buzzing off Chloe's excitement and this was possibly one of the best shows of 'Wicked' I've been to thanks to Chloe and Natalie. They all worked so well. Go see it!
Kirsty 
_____________________________
Myself, my sister and a friend went to see the Matinee (2.30pm) performance of "Wicked" on Saturday 21st November 2009. It was my third visit, my sister's second and our friend's first!
We sat in the stalls, row F, seats 38-40 (£20). As I have mentioned in previous reviews, I have sat once in the circle (row K) and once further back in the stalls (row R). The seats for this performance were fantastic!! They were really worth the £20 that we paid. However, I agree with the ratings of the seats on your Apollo Victoria seating chart. I sat in F38 which had a perfect view of everything (except for a small amount of scenery in 2/3 scenes) - you have highlighted this as green which I agree with! My sister and our friend sat in seats F39 and 40 and had more of a restricted view. The stairs on the left hand side of the stage blocked around 1/5th of the stage - but as most of the action took place at the front it did not matter as much! They were just surprised at how good the show was! 
Another point that makes these seats so fantastic is that the speakers were literally a few rows in front (disguised underneath the stairs on stage). This meant that the sound was perfect - you could literally hear every instrument in the orchestra and all of the singing on top of this! There was no point in the show where I couldn't hear what was being said / sung.
We saw the whole cast at this performance except for Natalie Anderson as Nessarose. Her understudy, Emily Tierney, played the part fantastically (and personally I would not have even known that she was an understudy!) Once again, Alexia Khadime and Dianne Pilkington played their roles extremely well- after reading previous reviews I was worried that they would rush through their lines and therefore lose jokes etc. due to this, but they spoke and sung at a pace that was just right! It was Harriet Thorpe as Madame Morrible who had this problem - she spoke some sections extremely slowly and then suddenly sped up so it was hard to understand what she was saying! However, she played the part really well, and I was impressed with her effort once again. 
Oliver Tompsett (Fiyero) and David Stoller (Dr. Dillamond) also played their parts well - they have seemed to improved since I saw them in August 08 which gave me quite a surprise! Sam Kelly (The Wizard) and Alex Jessop (Boq) are fantastic additions to the cast and I was impressed with their performances as I had never seen them before. Nevertheless, they both sounded very croaky- so I wasn't sure whether they were ill or not but they still did very well! My sister said that she loved Alex's Lancashire accent!!
All of the musical numbers were PHENOMENAL! I cannot describe how good they were! "Popular" was extremely funny, Alexia Khadime's "No Good Deed" really showed the evil and wicked character of Elphaba and "Defying Gravity" was spectacular! Being so near the front of the stage meant that Elphaba looked like she was flying so high up- and the lighting effects made it even more special! Everybody was in awe (even the older man sat on my right) during the interval! He told me how impressed he was by turning to me and saying "WOW!" as soon as the lights came up! 
So, there is my very long but fantastic review of "Wicked"! Every time I see it, it changes and hopefully it will stay in the West End for many more years to come! Really, go and see it because you will be totally inspired! "Wicked" = 10/10!!
Tom C
____________________________
Took my friend to see this who had never seen a musical before (December 2009). She loved it! It was my fourth visit and as much as I had liked Alexia the time before, I wasn't liking her at all today. She swallowed a load of her words and sounded very nasal. Her diction was terrible. Oliver Thompsett, who I really didn't like the time before, was GREAT! So was Sarah Earnshaw as Galinda. 
We originally bought stalls seats in row B 37 and 38. They were really awful because the staircase was in the way. Just before the show there were literally hundreds of empty seats towards the back of the stalls, so we moved to R 38 and 39. PERFECT. If the box office staff hadn't been so hard about our student ID not having a date on they would have gotten a bit extra money for those top price seats :).
_____________________________
2nd February 2010.
Stalls G24: Although ideally placed, this seat (and those in this area) could cause problems. There's no rake and the rows are not staggered. If someone tall sits in front of you, then you're going to be in trouble. Fortunately, on this occasion I was lucky and so had a fine view of the stage. 
As for the show: I first saw this show about two and a half years ago. At the time I thought it was OK, but nothing more. I wasn't wowed like others were. Two and half years later, I was just so utterly bored - especially during the first half when I was praying for something interesting to happen. And it appears that I wasn't the only one - the lady to the left of me was having difficulty staying awake, and the couple to my right failed to return after the interval. 
I've now seen the show twice and heard the Original Cast album twice, and still the songs fail to register with me. I vaguely remember liking the song 'Popular' first time around, but last night it was dead on arrival.
Although most of the cast had fine singing voices (apart from Sam Kelly), they had no stage presence. For me, Dianne Pilkington appeared to be playing Glinda far too much for laughs - and wasn't really getting them. I couldn't hear any of the lyrics sung by the chorus and the orchestra failed to make itself felt until after the interval.
Perhaps I've been spoilt in recent weeks by seeing a series of wonderfully entertaining musicals. I've loved 'Legally Blonde,' 'Sweet Charity' and 'Priscilla.' Even tat like 'Dreamboats & Petticoats' won me over with its energy and enthusiasm - something sorely lacking from 'Wicked.' Maybe the forthcoming cast change will breathe new life into this show, but I won't be going to find out (unless someone offers me a free ticket - and even then, I'll have to think twice about it). 
In summary - I HATED IT.
______________________________
"Saw 'Wicked' at the Apollo Victoria this evening - 8th February 2010 - and was suitably blown away - this is a really, really good show. 
Elphaba was actually understudied by Ashleigh Gray - not that I could tell, she was exceptional - superb voice, and first class acting. Dianne Pilkington opposite her as Glinda was also very strong - bringing out the comic elements to perfection. Between them they had real chemistry, and brought out some emotion from the audience towards the end. 
The rest of the cast were more than solid, with no other stand-out performances, but they all gelled really well. The music is phenomenal, and the set is breathtakingly good. After a couple of recent West End experiences where I was left feeling underwhelmed, it was great to leave the theatre this evening feeling properly entertained and uplifted - I can see why it ranks at the top of the monkey's current 'best musicals' chart! 
In terms of seats - taking advantage of the January 2010 getintolondontheatre.com promotion, I secured S21 in the stalls for £35. Initially apprehensive (S sounded like a LONG way back) - I was pleasantly surprised - this is a great seat - for some reason it feels pretty close to the action. Perfect view of the stage, and due to the fairly steep rake there's no problems with anyone blocking your view. Legroom pretty decent too. At full price, I would probably opt for rows Q or P in the central blocks first." 
_______________________________
Went to see 'Wicked' with my sister last Wednesday (matinee - 10th February 2010). We really wanted to see Alexia Khadime again before the cast change, because she was amazing when we saw her before, so I asked at the box office when I went to buy the tickets a couple of weeks ago if she would be in it - but they said they couldn't tell me :(. I bought the tickets anyway, I asked for F36 and 37 (£20) in the stalls after looking at the theatremonkey plan and they had them. 
These seats were amazing! I can't explain how great they are, I think they are the best seats I have ever sat in, anywhere, and such a great deal! They were what I would describe as a perfect distance away from the stage: really close so you can see everything in detail but not too close. Even though they are towards the side, you can see everything, I sat in 37 and I think there was one occasion when I had to wait a couple of seconds to see who had just come on to the stage, but you can see all of the actual action as it goes on in the middle or at the front. I can see from the plan these seats are about to increase in price, but I would say that at £30, or even £40 they are still fair value, especially as the seats next door (and behind?!) are top price.
The show was, of course, incredible. We got lucky and Alexia Khadime was performing, and she was amazing, to me the show is all about her hitting the big notes and she did it perfectly. "Defying Gravity" and "The Wizard and I" were especially good, and also "No Good Deed", which I never normally pay attention to on the soundtrack, was also amazing. Glinda was played by an understudy but I wouldn't have known, she was great. The show was much funnier than I remember it being, most of the comedy coming from her, especially in "Popular". Fiyero was also played by an understudy, he was blonde. He was fine, I was a bit indifferent to him really though, I prefer the brown haired guy.
Interestingly, the theatre was not full at all, the stalls were half empty, not sure what the circle was like. It did make us wonder why they bother with weekday matinees when it's not the school holidays, surely it's not worth the effort (or money) on the theatre's part?
___________________________
I went and saw Wicked for the evening performance on 10th June 2009. After doing some research on this website I settled on Stalls, Row Q and was allocated seat 19. I was extremely pleased with the clear, unrestricted view of the stage and felt that this seat was well worth the top price that I had paid. I was near enough to see facial expressions but far away enough to experience the whole affect of the stage/set designs as they do spill out into the auditorium, especially during the Emerald City scenes. 
In addition, the wide aisle that runs in front of row Q gives you an enormous amount of legroom to really stretch out. The rake of the floor is also very noticeable in this row, giving you clear views over heads in the stalls in the front centre block. Before you leave, take some time to walk towards the stage and then look back to take in the beautiful art deco auditorium. 
___________________________
I bought seats Stalls Row S Seats 1, 2 and 3 for £62.00 each in April 2009 and thought they were brilliant value but maybe a little low on the rake. View wasn't obstructed at all as I am quite tall, but for anyone shorter may be a bit of a problem if you got an adult sitting in front. The show was amazing and would suggest getting good seats for the first time seeing it.
Second time I bought Row T Seat 23 and 24. These were even better seats, and I thought the view was spectacular. I would thoroughly suggest these seats to anyone even if they are full price tickets.
George Wheeler
____________________________
I made a last minute decision to see 'Wicked' on the 17th March 2010. The best seat they could offer me was seat 18 in Row A of the Circle. I have never been a fan of front row Circle seats but I have to say that I found this seat gave me an amazing view of the stage. Even better than my favourite seat in Row Q in the stalls. At 5ft 8" I found the Circle wall to be only very mildly off putting, as it cuts of the very front of the stage and you will sometimes miss some of the limited action that takes place there, especially on the right hand side (looking at the stage). Having always sat in the stalls for 'Wicked,' I found that sitting in the Circle gave the show a completely different look, and I could see things that I did not see before.
However, the only major problem I had was the sound. It was terrible! At times it was deafening and at other times it went really quiet. For the final five minutes it completely went and then I couldn't hear anything that was being said; which was a shame because I really enjoyed myself sitting in the Circle and would be happy to sit there again.
On a second visit (27th March 2010) we sat in row A, seats 22 and 23 of the Circle. Both seats give a good central view of the stage. In addition, I believe that row A sits at around row N in the stalls so you are not as far back as you think, although the Circle in this theatre does seem high up. At 5ft 8, I find the Circle wall only cuts off the very front of the stage (you will miss the orchestra and the right hand stage protrusion) but this won't spoil your enjoyment of the show and is a good place to see some of the big musical numbers like 'Defying Gravity' and to appreciate the sets, including an excellent view of the Time Dragon. 
In addition, seat 23 is on the aisle, so you can stretch out a bit, but I found that space was not too much of a problem in the front row. The only issue I had was the metal bar that sits on the circle wall at the bottom aisle staircase. Although it does not really obstruct your view, I found it a little intrusive, as if someone was standing right next to you. This was my second time in the circle and was pleased to notice that the sound was a lot better .
_____________________________
We saw 'Wicked' on Saturday night 13th March 2010 - it was the second visit for us. We sat in the circle seats A 7, 8 and 9. I was expecting a pole in front of us (I had these booked for me!), but actually this was not a problem. I think the rows behind were more affected than ours, but the bar was not in the field of vision at all. However the front right of the stage was obscured, even when leaning forward, due to the height and width of the lighting rig in front of us. However, 80% of the view was fine, although feeling distant from the stage. Leg room was terrific! Overall, I would keep these red for full price, but under the new pricing structure definitely worth looking at. 
As for the show itself, we were a little underwhelmed this time. I think we were spoilt last time because the show was brand new and we didn't know the twists and turns. Also, there was a real buzz in the theatre every time Idina Menzel stepped on stage. This time, although the casting was great, Diane Pilkington and Alexia Khadime made a good pairing, it just wasn't as exciting. A lot of the music passed me by as well, which surprised me as I knew the score this time around.
A literal wardrobe malfunction brought the second act to a halt, but the show was quickly brought back on track.
As a spectacle it remains unrivalled and the chemistry between the two leads made for an entertaining evening, but I don't think I would hurry to go back again. Still, judging by the reaction of the audience, I think I was in the minority not to be bowled over.
_______________________________
Was taken to see 'Wicked' (April 2010) against my better judgement, but actually enjoyed the show. I was concerned about it being a fluffy, girly short-of-a-show – and in many ways it was, but the music and (mostly) clever lyrics plus the many nods to the original 'Oz' and a good story that kicks off towards the end of the first half finally won me over!
Rachel Tucker (Elphaba) was excellent – I'd been told 'Defying Gravity' was the best tune, though I would disagree as 'No Good Deed' certainly was the vocal and dramatic highlight of the night for me from Rachel. Louise Dearman (Galinda) also was great and the chemistry between them was wonderful considering the short length of time they've been playing the roles. Lewis Bradley (covering for Lee Mead until mid-May) was relatively underwhelming as Fiyero – but it didn't strike me as a wonderfully written character anyhow.
Sat in L45 in the Stalls (£20) – utterly, utterly brilliant value. Missed very little (a few entrances) despite blocking issues with the way the ensemble were placed in the opening scene, as the majority is staged in the centre and front. I suspect I missed seeing Dorothy's house – but that didn't matter. Having been a 'best-seat' purist for many years, ticket prices mean that cheaper seats are needed now and then. These seats, should in my view – for the price and the view – be green.
Would see it again – glad I didn't pay £62.50 – and would be incredibly happy to see it from L45 once more!
Paul.
__________________________
Cast Change (27th March 2010), from seats S38 and 39 in the stalls!
These seats were amazing. I had full view of the stage, No view restrictions. Well worth the £62.50 per seat! 
If I went again I would try and get closer to stage. The sound is a tad low back in Row S and you don't get the full OOMPHH of 'Defying Gravity.' But... the view is clear, and you can just about make out the facial expressions on the actors/actresses faces.
Bloomin GREATTTTT SEATS!! :) 
George Wheeler 
___________________________
Having read all the reviews here and despite being a seating snob (always go for A-reserve), I decided to chance it and bought myself and a friend P42 and 43 in the stalls. I can't recommend these seats enough. £32.50 each and the only action blocked were three entrances which were brief and minor. Would I pay £30 more for these entrances? Absolutely not. To put it another way - the entire row (P 32 to 48) was empty apart from us but we were happy to stay in P42 and 43. If you can get these, take them.
___________________________
May 2010: This show will appeal to young teenage girls but in my view the story construction is far to close to the Harry Potter Stories to be unique. For example:
H. Potter  / Wicked:
Has 2 boys and 1 girl leading players / Has 2 girls and 1 boy leading players
Has broomsticks / Has broomsticks
Has flying / Has flying
Has magic wands / Has magic wand
Searches for people, places and things. / Searches for the Wizard, Oz etc.
The music / songs is / are totally forgettable except for "Popular," which I heard on the radio once.
It is basically one main set with add-ons wheeled on and off plus lighting changes.
I think that this show is over-hyped. 
There were a lot of visitors in the audience who insisted on yelping like demented Yaks at each opportunity. 
Do not have too much to drink before the show. We used the toilets in the interval which for a theatre with 2,000 seats are far too inadequate causing huge queues even at the gents. Patrons continued to disrupt the performance after the performance re-started.
We purchased our tickets from a company who advertised no booking fee and showed no booking fee but our account charged us £3 per person booking fee (£9) at the final total. I telephoned them but they refused to refund offering little excuse for their behaviour. I will complain to STAR.
David,
Redcar
Cleveland.
_______________________________
Went to see 'Wicked' on Thursday 10th June 2010. Something I think people should know and isn't made clear is that they offer the Student tickets to people with 16-25 rail cards. This effectively becomes a 25 and under offer to get top price seats for £25; definitely something that people should take advantage of (check with venue before travelling that this policy is still correct - editor). 
So me and my friend went, and we got stalls F20 and 21 - which I couldn't believe when the cashier told me! Central and close to stage and this was 3 hours before show. These seats are close to the action which is good as you see the expressions on the actors faces, but it is really hard to see the dragon as you have to crane your neck! Not that I am complaining given the price of the seats. As the monkey suggests, the most ideal seats are a few rows back. The rake also isn't great in these first few rows and so the person in front did have a blocking effect on one half of the stage. 
I had high expectations as reviews say it is great. The plot is great and there really are surprises in store if you have no clue about the plot; as the monkey says though, the realisations come late in the show but then you feel a moment of enlightenment and go 'Wow that's really smart!' 
Set and costumes are some of the best I have seen, and it shows how creative a modern day musical can be. However my only negative is that there are only about 5 good songs (but those songs are really good). One more thing, the 'Defying Gravity' is the best scene in a musical that I have ever seen. Unfortunately Lee Mead and the new Elpheba were being replaced by their understudies. The Elpheba understudy is fantastic but the Fiyero understudy leaves much to be desired!
I will be returning.
Diego
________________________________
I, along with 32 other people who travelled to London by coach, saw Wicked at 2.30pm on Saturday 26th June 2010. This was my fourth viewing of the show and was indeed the most spectacular. 
After previously seeing Cassidy Janson and Alexia Khadime play Elphaba, Rachel Tucker did not disappoint! Her performance was absolutely phenomenal, especially the three 'biggies' ('Defying Gravity,' 'No Good Deed' and 'The Wizard and I'). Louise Dearman as Glinda was also a highlight - she had a fantastic voice and was really funny, especially during 'Popular.'
We also saw Lee Mead as Fiyero who, unfortunately, sounded a little under the weather (probably a sore throat) - so much so that the orchestra made an obvious volume change during 'As Long as You're Mine'. Nonetheless, he did a very good job. A special mention must go to Clive Carter's Wizard - he is the best Wizard that the London production has seen in my opinion, as he added his own little touches to his songs and really stood out, unlike other Wizards who seemed a bit bored! 
The rest of the cast (no understudies) were outstanding too, as shown by the whole stalls giving a standing ovation well before Elphaba and Glinda even made an appearance in the curtain call! The atmosphere in the theatre was great!
We sat in a block in the stalls, rows U and W seats 10 to 23 and row X seats 18 to 23. I sat in U23 (on the aisle), giving a central, completely uninterrupted view of the stage. Although it sounds surprisingly far back, the stage seemed so much nearer but gave you a chance to admire the whole set as well. The orchestra were on fire at this performance, especially the electric guitarist (or at least I think it was!) who stood out during the musical numbers. 
On the whole, it was an absolutely wonderful performance, and the new cast have really set the bar now for future casts. I predict that Wicked will last for much longer in London - and it certainly deserves it! It's the best musical there is!
Tom.
_______________________________
Wicked (9th June 2010 Matinee). No Lee Mead, which didn't surprise me, Lewis Bradley was a pretty good replacement though. Now I've seen this 6 times now and have to say that this new cast has put my faith back in the show - they are brilliant and gel together like I've not seen before. There is certainly a new energy to the whole production and hope it can stay like that. Outstanding performances from the two female leads who are the best yet. I've also always thought the Wizard was a really boring part of the proceedings but Clive Carter is without doubt the best Wizard the show has seen and adds so much to what was before quite dull moments in the production. 
Sat in Dress Circle Row A 22 and 23 which is dead centre and on the aisle, a bar just to the left on the circle ledge might just creep into sight but it did not distract me at all. Great seats....Sound quality off balance a few times but not as bad as on previous visits; I really don't know why they cannot sort this out as the shows been running long enough now. 
Talking of which, the producers of the show are always bragging about how much they are taking in Box Office takings (or ripping people off as I like to think sometimes) so why cant they spend some money oiling the squeaky seats which is something I've mentioned before but they are too arrogant to take note. 
_________________________________
We went to see the matinee on the 21st July 2010. We booked our tickets through lastminute.com for £20 each, (though beware even though they say they don't charge a booking fee they do - and then they say they don't but that it is the theatre that charges and blames them) so we actually paid £22 each.
We picked our tickets up before the show and therefore took pot luck with the choice of seats. We were in circle row W 18 to 20 on the aisle. I actually took to clients with learning / physical difficulties to see the show. The seats are comfy, the legroom is some of the best, and it is not the steepest aisle in theatreland. That said, it is worth talking to the theatre as they can be very accommodating; allowing you in a little earlier to allow you to get to your seats before the rush and allowing you to leave after the rush. However, there is nothing they can do about the queue for the ladies' toilets in the interval - where you have to navigate your way down the stairs, then across to the other side of the theatre, down past the toilets, down stairs to the front of the dress circle so you can then join the queue to climb the stairs back up to the toilet. Decide carefully if you want ice-cream or toilets as you wont have time to queue for both... and that is without any sort of disability to slow you down.
This is another show with a slow start, but it picks up speed like a jet engine preparing for take-off. Once it gets going there is no stopping it. It just gets better and better. The music is electrifying, the sets are stunning and the plot (although you need to concentrate to follow it) is actually easy enough to understand - and my clients were engrossed and enraptured from start to finish. There were some tense and scary moments in the second act (when a 9 year old behind us started crying) but my clients loved every single minute of this show and so did I. 
What it comes down to is, "would I see it again?" and the answer is, "yes, absolutely." I would probably treat myself to seats nearer the stage to get a little more out of the expressions (which couldn't be seen from out viewpoint), though there was so much portrayed in the acting and the inflections in the voices that you knew exactly what expressions they were making and it didn't detract too much. This is a very dark, yet humorous, show and definitely one for musical aficionados.
Joss Hockley,
East London.
__________________________
On the Saturday afternoon we went, the air conditioning was almost non-existent, so take some bottled water if it is a little warm outside! The show was however excellent and I would recommend it to anyone (with good seats!)...
... We had circle seats E 6 and 7: As another reader here says about row D in front, the front area of the stage is invisible and the distance meant that we could not see the actors clearly without opera glasses. Most of the front of the stage also had an aisle safety rail blocking visibility.
___________________________
I got seats in the Stalls, M44 and 45 - they were an absolute bargain at £20! I would definitely mark these seats green (value for money). Great distance, only occasional restricted view and generally superb. 
I really enjoyed the show, as always. I give the cast mixed reviews: Rachel was an excellent Elphaba and gave the role a new slant which I liked. Louise Dearman was unfortunately the worst Glinda I have seen - she was borderline annoying and forgot to be at all lovable. Lee Mead was handsome, but fresh back from holiday I think his voice was a little weak. Julie Legrand was also a really rubbish Morrible - a shame she couldn't sing! On a more positive note, Clive Carter was the best Wizard I have seen (I used to hate the Wizard songs, but he actually had a good voice and great character). Other peripheral characters were okay. 
Rachel certainly stole the show (as she should!), and recasting a few of those medium-rate characters (and Glinda) would make this one of the best casts of Wicked yet.
___________________________
Saw this on Monday 27th September 2010 for my girlfriend's birthday. We had seats P42 and P43 (£35) and felt they were great value for money. 
I only recall two brief instances of missing entrances from the left of the stage, and not being able to see what was in the cage during the lesson. All the other scenes were perfect, close enough to see expressions, far enough to take in the whole set.
The slight angle means that you look between the head of the people in front of you, which is useful due to the shallow dip of the seats.
____________________________
Two comments:
1) Booking: The theatre ticketing system doesn't allow you to leave a single seat - this is fully understood and supported. However, this is actually misleading as if you are booking as group of 3 you are further penalised.
As a group of 3 you can't book any row of consecutive seating in areas where the booking crosses a price break (nominally where the pricing groups include up to 2 consecutive seats in a row) - even if you try to book 3 consecutive seats in the same row, crossing these price breaks, leaving no single seat unoccupied.
This policy prevented me from having any choice to see 'Wicked' in the stalls other than 3 consecutive £62 or £95 (premium) tickets.
The policy meant I effectively had to pay an extra £100 because we are a family of 3. Maybe the theatre policy should be reconsidered to state that no single seat can be left in any row, but bookings can cross price breaks. A fairer system, but one that may make less money for the theatre??
2) Wicked Review - Stall Seats E24 to 26: My family and I went to see 'Wicked' on 28th October 2010 at the evening performance. I've noticed in the monkey reviews that row E isn't mentioned and it also seems to be one of the last to be taken up in the ticket selling plans. Well my advice is don't worry and snap up the central location. Yes it is at the edge of the price group, but being centrally located and just 5 rows back you get a fantastic view and exhilarating experience being close-up and personal.
You do look up, but only a little, the worst is at the start with Galinda in her bubble - conversely the best is when Elphaba is menacingly overhead in 'Defying Gravity.'
_______________________________
I took my twin daughters (aged 11) to see 'Wicked' on 28th October 2010 - to one of the half term matinees. After a great meal at Dim T (buy one get on free in October - so very reasonable too) we arrived at a rather chaotic theatre reception area. Open the doors earlier please, as it was packed and people were getting a little stroppy!!
We sat in seats S 38, 39, 40 in the stalls. Excellent views, good leg room and good luck as two tiny people sat in front of my daughters!! The staff in the theatre were lovely and seemed to realise that a trip to the theatre is really special. 
The show was big, bold and well acted by the female leads - Elphaba was stunning and stole the show. My daughters love Lee Mead - as they left the theatre they were pretty clear - "he can sing and dance dad, but he can't act". They still love him, mind! We have seen many musicals and my daughters were convinced that this was the best they have ever seen. We are off the see the Wizard in April - so it has something to live up to. I suspect it will.
_________________________________
We booked three seats for the matinee last Saturday the 20th of November 2010. We bought seats in Row O - 15, 16 and 17 of the Dress Circle as I had researched the seats on theatremonkey. I was a bit disappointed. When the action on stage went to the very front part of the stage we could not see it, and had to lean forward a lot. My friend and I could see down to the stage but the little girl with us who is 9 couldn't.
The show is fantastic, but please give yourself lots of time to arrive early. We didn't - due to the anti war demo - and so we arrived at 2.10 to find the place absolutely jammed. Could not get to the ladies bathroom as it was on the opposite stairs to the one we had to use. Have to say the layout of the Apollo Victoria is not as good as the other theatres I have been to.
Merchandise cost £40 for t-shirt, CD and programme!.... As it was the matinee, it was very noisy with lots of kids. I think if you don't have children, go for an evening show.
Linda O'Reilly
__________________________________
On Wednesday 24th November 2010 I saw the matinee of 'Wicked' for the fifth time: it just gets better and better!
I arrived at the box office at 9.45am to expect to find a long queue for day seats and thought that I would end up buying a student ticket (still at the same price as a day seat but obviously not front row). There turned out to be only 18 people in the queue, meaning that I was in for a chance of getting a day seat. In the end, I was given seat A18 - so when I looked at the provided seating chart I could hardly believe that I was going to be sitting in the centre block on the front row of one of the top West End shows!
The seat was absolutely fantastic! The stage literally feels like an arms-length away, and you can see right to the back of the stage because of its low height. You feel so up-close and personal with the actors and actresses that it feels like they are only performing to you- and you can notice so many intricate details that you can't notice from further back e.g. the wonderful costumes. I would highly recommend day-seating if you fancy an affordable trip to the theatre because it is completely and utterly worth it- although if you haven't seen the show before you would be better off sat further back as you can reflect on the show as a whole e.g. see the whole set, rather than being specifically 'zoomed in' on the characters.
Two points, though:
- A18 is on an aisle, and it just happens to be next to the position where the ushers sell ice-creams! Although this can be beneficial (you can be first in line for an ice cream!), it is really distracting during the interval to have people queuing next to you and looking over your shoulder!
- It seems that the day seats in the two side blocks provide less of a good view as members of the cast and parts of the set block the view - throughout the show I noticed the people sat across the aisle from me swaying from side to side to peer through the gaps between the actors.
I saw the current cast in June and I was so impressed. They have improved so much since then, and Rachel Tucker as Elphaba is absolutely outstanding! Her interpretation of 'No Good Deed' was slightly different to last time, but she sang with such power and emotion- really allowing the audience to witness the pain that she is feeling. 
I also saw Lee Mead, Julie Legrand, Clive Carter and Cassie Compton once more. Again, they have all improved, especially Lee who seemed to be enjoying it more than he was when I saw him last. We had Sarah Earnshaw (standby) performing as Glinda, and she was completely and utterly amazing - extremely comical and had a beautiful voice). Also, Danny Mac was understudying Boq, and I preferred him to George Ure - not sure why but I just think his interpretation was better - and Gareth Chart understudying Dr. Dillamond.
Overall, it was a spell-binding show...and that's just with Rachel's "riffs"! It's so fantastic that it's a difficult show to beat! You just have to see it again and again and again! 
Tom C.
___________________________
Went to see 'Wicked,' (matinee, Saturday December 4th, 2010). This was a musical that my dear wife had at the bottom of her 'to see' list, but I was keen to see having read excellent reviews. I won the day, took her, and she was won over. The show was amazing (though the opening scene is a little odd), but soon got under way when the two witches met in "school". Costumes were fantastic and the two witches were excellent, though Rachel Tucker as Elphaba stole the show for me. As the story unfolds you do get to understand how Wizard Of Oz characters became who they were. A bit obvious I know, but important to the whole Oz experience. 
As others have commented, the foyer is crowded at its peak and not help by a disorganised queue for 'ladies' on the stairs. My wife said many in the queue thought it was a queue to the dress circle. The theatre and staff could help out here. On the plus side though, the staff were very friendly and unlike other theatres, people were not harassed with bag searches. Everyone just allowed to get on with enjoying their day.
I had booked the show well in advance as the seats D36 and D37 green on the monkey seating plan were available at half the price of D35 - which had no better view than ours! The seats were on the cusp for viewing the left of the stage and very little was performed there due to the stage stairs in use immediately in front of us. There was a little neck ache looking to the right most of the time, but the price of the seats made up for this. If going again I would look for seats in the centre, though more expensive. 
Michael
____________________________
Stalls S46: I went to see Wicked in January 2011 and had a fantastic view at only £35, the rows curve into a semi-circle so you actually feel quite close to the action. The seats were slightly wider than in most theatres so more comfortable for larger visitors (me being one of them!), and leg room was more than ample HOWEVER a small step down between rows S and R means that even when the seats in front of you are occupied, you can't stretch your legs out, something I found unbearable as it's the main reason I choose the stalls. There are no such problems in row T as far as I could fathom, so it may be worth choosing this row if this is a problem for you and you can't get a seat any further forward. This end of the stalls would also be handy for anyone who wants easy access to the toilets as you just duck behind a curtain and you're at the door for the ladies (and the gents' can't be far away!)
Unfortunately the show was obviously aimed at a much younger audience so I didn't stay, it's also worth mentioning that I left one and a half into the show, and there was no sign of an interval until two more scenes were completed, so certainly not a show for fidgety or restless people, in fact by the end of the first hour, you have an almost constant stream of people walking the gangway in front of row Q to get to the toilets. I might have stayed if Lee Mead was there but he was on holiday despite his holiday dates being completely different!
Jesca
_____________________________
I saw this on Wednesday 12th January 2011 matinee performance. Stalls M17
As I always get lost, no matter where I am, to have my trusted copy of the theatremonkey book to hand with its wonderful 3D maps is always reassuring and sure enough, it got me straight to the theatre! If you haven't got a copy, buy one now as it's as excellent as the website.
Having seen this three times before and really liking the OCR CD, I was looking forward to seeing it again. The theatre is large, very large, and in the past I have found difficulty in getting good sight lines. This seat was fine at the Apollo Victoria and, being tall, I was able to put my legs into the aisle and lower myself into the chair a little to help the person behind due to my big head! Sometimes I hear people moan behind me when I sit down; if any one reads this who has had their view blocked by a tall person, we can't help it, we were born that way!!!
I have seen Kerry Ellis as Elphaba, Alexa Khadime and Ashleigh Gray. Obviously Kerry was awesome and Alexa was good, but I was very let down by Ashleigh's voice and the total lack of vibrato. So, I was wondering how I would feel about Rachel Tucker's performance, as had seen her on "Over the Rainbow". Well, if you're due to see her as the lead, all I can say is, you're in for one massive treat. She is PHENOMENAL. I have to say, THE BEST Elphaba I have seen. Her voice is quite astounding and acting skills are almost as if she is living the part in reality. As the build up to the interval got under way, i.e. 'Defying Gravity', the song progressed and I was getting more and more spine chills and actually became emotional due to the sheer force and wonderful sound of Rachel's voice in the scene that was filling the venue. Some people cheered and stood to their feet even at the interval! This girl deserves a long career in musical West End theatre. Eat your heart out 'X Factor' and Mr Cowell!
Not forgetting the rest of the cast. Galinda's replacement is excellent too. She plays this in a more understated way but gets the feel of the character across beautifully. Lee Meed, it has to be said, caused a lot of giggles and whoops from female and some male audience members when he came on - I would imagine due to the tightness and, how can I put it, outline of his jodhpurs. I heard the woman behind me say "No wonder Denise Van Outen is always smiling"!!! He played the part really well and has an amazing voice. One that stood out for me too was the guy who played the Wizard. Previously this was a sort of quiet/dull part I felt, but this guy blew the top of the place with his acting, voice and stage presence. In fact, this is THE BEST cast I've seen. Each and everyone had amazing voices and acting skills which could not be said of the cast in its entirety in prior performances I've seen.
No wonder this keeps smashing box office records. If you haven't seen it, GO NOW while these lot are on, you'll be in for a fantastic time.
_______________________________
25th January 2011. Found the theatre with my invaluable Theatremonkey book. If you haven't got it, BUY It! It's as excellent as the site :)
Sat in Row L of the stalls, seat 36. Hardly any leg room as 6ft3" and had to sit bolt upright so probably blocking the view of someone behind. Sorry!
A good view from the side, but would not have liked to be any more to the left i.e. 37 onwards) as the view must be obscured. 
Having sat in many other places in this theatre and the sound was good, the sound was not balanced here. Way too much bass. Near the drum kit I think! and some of the dialogue was drowned out. There was also the noise of what sounded like a large fan constantly? May be the lighting coolers? Not had that before either. Glad I only paid £35 for this.
________________________________
I went to see 'Wicked' and sat in seats K15 and 16 in the circle. These seats are listed as 'restricted view' and reduced as such. However, I had no problem with these seats at all; and for someone looking to see the show on a budget and have a great view I would highly recommend them. No problems at all, could see the actors faces clearly and really felt involved in the action!
________________________________
10th February 2011, stalls Row L Seat 41 (Price paid £22.50): Leg room was good. This seat was quite to the left of the stage, and I would not advise readers to sit much further to the left. Some of the stage entrances were missed but that was all. I really liked the show and there a definitely some wow moments - and I really like Glinda and Fiyero. 'Defining Gravity' was probably my highlight.
________________________________
We booked four seats in the stalls (P40 to 43) for a Friday evening performance during February 2011 half-term, which were cheaper than full price tickets but we couldn't understand why - as they offered a fantastic view. With no one sat directly behind us, we also made a 'coat booster-cushion' for our 7 year old son to raise him a little and both he and our 10 year old daughter were able to see everything.
_________________________________
D38: Although the view from this stalls seat was a slightly restricted, it was still a great view for the £20 I paid. The staircase on this side of the stage, that quite a few reviewers have mentioned, wasn't actually that much of a problem. In one scene, you couldn't really see what was going on at the very left of the stage, but it was easy to guess what was happening, and this was only for one scene. If you're happy to spend a little more, then go for a seat slightly further in, but if you're on a tight budget, this seat is more than satisfactory.
__________________________________
I have been to 'Wicked' on 3 occasions, First was on the 5th of August 2009. Paid £60 and was in stalls row J seats 24 and 25. These seats where exceptional, well worth the money. These seats offer a fantastic view of the stage and you're not too close that you feel uncomfortable, but not too far back that you don't feel part of - or engaged in - the show... and now that they are marked as 'premium seats' I feel I got a brilliant deal, best seats in the house!! 
On my second trip I was in stalls row ZD seat 34, paid £40. Good view of stage and, by sitting further back, you seem to take in a lot more of the show and notice more of detail put into the set. Although... the overhang prevents you from seeing the dragon, I also felt quiet far back and distant from the stage.
On my third visit I booked at lastminute.com and was in the dress circle Y31. Brilliant for the price of £15, but you are very far back and are unable too see the actors faces, but at £15 quid you can go wrong. 
Luke.
___________________________________
I needed two day seats for Tuesday 2nd August 2011. I thought that considering the show has been running for awhile and that it was a Tuesday I would not need to queue up that early. However I woke up earlier than expected and couldn't get back to sleep so I thought I would start queuing. I arrived just after 7am and there were already two people in the queue in front of me. Within 5 - 10 minutes another 2 people joined our queue, whom I shall address as person A and person B. From my estimates, by about 8.15-8.30am, the line had enough people for all the day seats, because at around 8am, people were doing head counts and asking people how many tickets they were buying, by about 8.30am people were just looking at the queue, doing a head count then leaving. The twist is between 8am and 9.50am, Person B was joined 5 other friends, each arriving one at a time with the last arriving at about 9.50am. Each bought one ticket. At about 9.30am, Person A was joined by 2 others. They purchased 4 tickets in total. I believe it should have been more, though I might be wrong. 
I mention this as those who arrived at around 8am and did a head count or the maths of how many tickets each person was going to purchase, were not told of the friends of A and B. So there was a chance they wasted 2 hours standing in the queue and didn't get their day seat. Another unfortunate thing is they wouldn't have found out till they reached the box office, and by this time,person A, person B and all their friends would have purchased their tickets and left. 
Concerning the seats themselves (A27 and A28), you cannot get better for the price. Many others have said, you'll miss out a bit on the mechanical dragon, though it didn't seem to move that much. It is difficult to focus on the whole stage as you are quite close. But I believe the close proximity a good thing. You are NOT close enough that you need to tilt your head back, but you are close enough that you feel as though the actors/actresses are looking directly at you while they're singing. You can see the details of all their costumes, the expression on their faces and even their beads of sweat. (The conductor also poses no problems to anyone.) 
If given the choice again, I would still chose the day seats over the regular seats as you really feel the acting, the leg room is great and you are first in line for the ice cream and drinks. 
About the show, I can see why it has been going on for quite awhile, it was great.
______________________________________
I had three seats in row N 46 to 48 in the stalls. N46 was £22.50 plus a service charge of £2.25 from www.ticketmaster.co.uk. N47 and 48 were £15 each plus service charge of £2.25. 
N46 had an amazing view and I would highly recommend it, especially for the amount paid. N47 and 48 are over to the side, therefore you miss some small bits of the show, and the back of the stage is hidden a bit, but you still get to see pretty much the whole show and are so close to the stage. Great seats for the price paid. £17.25 was a total bargain!!! I would highly recommend these seats of you can get them.
I also highly recommend Wicked - very entertaining show and amazing talent!
_______________________________________
Wicked The Musical - B13-14 (Stalls) - 15th June 2011 - Matinee.
This was my first time seeing the show since 27th March 2010, so I could only remember a brief outline of the show! These seats are marked as 'green' on the seating plan and I can definitely see why. At times (especially when she flew) you really felt as if you were in the action and there, this made it very special. Rachel Tucker completely blew us all away and I can't believe how absolutely amazing she is! These seats were definitely worth it at £28 each. If they were marked down as £62 seats, I probably wouldn't hesitate sitting there again because the view was absolutely phenomenal. 
________________________________________
26th August 2011.
I have to admit that, as not usually being a fan of musicals, I was a bit apprehensive about going to see 'Wicked,' but I needn't have been as I thought it was superb. 
What impressed me was the clever way that the traditional story of Oz has been twisted. There were plenty of catchy numbers which drove the story such as 'What Is This Feeling?' and 'Popular' but the stand out song has to be 'Defying Gravity 'which closes the first act. The chemistry between Rachel Tucker and Louise Dearman is a pleasure to see, Tucker's performance as Elphaba was top class. 
I was sat in the stalls in row D36 and 37 and they offered a decent view of the stage, there was only a small part which I couldn't get a clear view of. Definitely go and see 'Wicked' if you're looking for a family friendly musical filled with magic!
_________________________________________
My 11 year old daughter had been asking for ages to see this, so eventually got around to booking tickets. To be honest I wasn't expecting that much - a show about witches didn't seem that exciting. 
However.... I was completely blown away. It was awesome, completely captivating. Not so much for the catchy songs (I can still only really remember 'Defying Gravity'!) or for the sets (which were clever) but for the simple, enchanting relationship between Glinda and Elphaba, played to absolute perfection by Rachel Tucker and Louise Dearman. 
I had never heard of either of them before but they were amazing, both of them, just stunning; at times funny, sad, happy, all the emotions were there. I think I could run out of superlatives..... I also didn't realise that Rachel Tucker was a finalist on 'I'd do Anything' (which we watched). I don't remember her at all (I was supporting Jodie Prenger), but she was certainly an awesome Elphaba. The rest of the cast played their parts too, but these two steal the show. They so deserved their standing ovation and cheers at the end and looked genuinely happy.
The story is lovely, in essence very simple, the relationship between the nice good fairy and the horrible wicked one. Of course the nice one is not always that nice and the horrible one is not so horrible. You will never again think of the 'Witch of the West' as simply "wicked".
The ending of Act 1 is one of the most powerful I have seen.... Act 2 can't quite match its power but it's still a good ending, a nice one. 
An honourable mention must go to our seats, R8 and 9 in the Stalls, only white in the seating plan, but really really good. Because of the way the seats are laid out, R9 actually has no seat in front, meaning a completely clear view of the stage for my daughter. 
Overall, it's a must, I shall go again. It's completely WICKED (sorry!)
PS : A nice touch at the curtain call when Rachel told us about the special 'Children in Need' performance where she sings with Stacey Solomon, and asked us all to give money for the charity as we left. Of course we were in such good moods.... And as my daughter said "she spoke to us!!!". 
Mila
Saturday Matinee 17th July 2011, seats R8 and R9 stalls.
___________________________________________
Seats Q38 to Q40 in the stalls are great. There are no leg room concerns, as the seats are the first row following a walk through gap. The seats cost £65 each (including booking fee) whereas the ones just across the aisle, in the centre block, were £92 each. We each had a full and unobstructed view of the stage. The rake wasn't an issue because of the walk through gap and the row in front being set lower down. And, an added bonus for the ladies - loos just off to the side, which allow you to beat the interval rush and would have saved us queuing at the main ones when we came in had we known!
___________________________________________
yes.... have just been again!!!!
Had understudy for Elphaba, Nikki Davis-Jones, she was good but not as good as Rachel. Saw Louise Dearman as Gah-Linda though and she was just as AWESOME as before. Stole the show. She can do comedy (Popular) and tearjearking (Change For The Better) .... wow !!!! So glad I saw her again before she leaves the show. We stood at the stage door at the end hoping she may come out, but I guess if she does the evening show she may not...... 
Other cast the same as before, all very good, and I picked up more of the nuances of the story this time. 
We sat in stalls row Q, lovely, seats 3 to 9. Theatremonkey has seats 3 and 4 marked as red but not sure why, me and my friend could see everything, and a perfect view as no-one in front of us. And plenty of room for bags, and to stand and cheer Louise at the end. 
Great, great show. Love everything about it. I may go again, but not sure what I would make of someone else in the role of Glinda.
Mila
(Louise Dearman fan club)
Thursday half term matinee 27 October 2011 seats stalls Q 3-9 Perfect!!
_____________________________________________
21st November 2011.
My second visit within the space of around 3 months to see this show (which is a surprise as I'm not usually one for musicals) but I had to go whilst Rachel Tucker and Louise Dearman are still playing Elphaba and Glinda (or should that be Galinda?)
Tucker's performance once again blew me away, that role is made for her. I just wish the producers would listen to the calls for a CD soundtrack to be made whilst these two are still in the production.
My brother and I were sat in stalls G38 and 39 which gave a pretty decent view of the stage, only a slight part was obscured but tickets were still great value for money.
If you're looking for a family show then you can't go wrong with Wicked. Certainly make sure you get there before Louise Dearman leaves the show in mid December 2011.
You'll all leave the theatre so thrilled you'll feel you're "Defying Gravity" ;)
_______________________________________________
Saw it again.........wanted to see it one last time before Louise Dearman leaves (why!!!???) and was lucky enough to get Stalls E23 and 24 from ATG Tickets (Ticketmaster only had seats right at the back).
So, what can I say that I haven't already said. Wow. Awesome. Still just as good on the third visit, and, if anything, even better being so close, as we could see every expression on their faces and I picked up more than I had done before. We were very lucky to see Louise, and Rachel too.... what a combo..... as fantastic as ever. They can do funny, sad, poignant, and as I said with seats so close you really get caught up in the emotion. My friend hadn't been before and she was blown away too. I am still amazed they can do 8 shows a week and keep it so fresh and powerful.
Kudos to the rest of the cast too, they are great, especially Mark Evans as Fiyero, he's quite a hunk!!!!
That's me done now. I can't imagine anyone else playing Glinda so I don't think I will go again. But what a very special, powerful show, I am very grateful to have been there and to see the Tucker/Dearman combo.
I can't imagine there will be a dry eye in the house next Saturday when Louise leaves........ the song 'For Good' at the end of the show will be very poignant!
Mila
(Rachel Tucker and Louise Dearman fan club.... shame they don't release a CD with these two......and what will the show be like without Louise???!)
Saturday matinee December 3rd 2011.
seats Stalls E23 and 24, awesome, its great to be so close...
_______________________________________________
I went to see 'Wicked' on cast change night, December 10th 2011, the last performances of most of them. Absolutely spell-binding. Every song had me captivated, the emotion and the story felt so real and you were sucked into vying for Elphaba, Ga-linda (with a GA!) and Fiyero.
I'm a big Wizard of Oz fan, but now I can't watch it, as all I do is feel sorry for poor old Elphie. I'm a WICKED fan now, all the way and don't care that Wizard was made before and Wicked didn't even exist then. This totally changed the way I view Wizard and it will you too! 
Tucker (who's playing until Oct 2012 now!) was phenomenal as Elphaba. 'Defying Gravity' had me (and my musical-hating Dad) absolutely speechless, and 'For Good' (which got the actresses teary, it being their last together) had me in tears. I couldn't recommend this show enough. Just go, go now and try defying gravity!
Jodie Kavanagh
________________________________________________
I saw 'Wicked' at the Apollo Victoria Theatre today (11th January 2012) and thought it might be of use to your website if I gave a review of the seats.
I bought B36 in the stalls as it was only £15 (plus £2.50 for booking). I was warned that there was a limited view but decided to go for it as I was probably going for the soundtrack more than anything. Then my Mum decided she wanted to come, so I bought the two seats next to it, B37 and 38 (I wasn't planning to buy two more, but Ticketmaster's policy of not leaving single seats meant it worked out just as cheap for me to buy an extra seat as it was to move somewhere else). 
For the most part, I had a fantastic view. Being so close to the stage, you are looking at a slight upward angle but it's not uncomfortable. I had enough leg room as well, but I'm 5'7" so anyone taller may have a bit of a squeeze. There were a couple of occasions where you couldn't see actions in the back left of the stage due to the stage, but these aren't pivotal scenes and you can still tell what is happening. Also, you do find yourself looking at cast members' backs a few times but they move around a lot and for all important scenes the view is fine. 
My Mum had a little more trouble in B37 as the stairs were more in her way, so I would say that 36 is as far as you can go before the view is really hindered, but she said she could still see all of the action in the centre and didn't really feel like she missed out on anything. She also said she thought the music was a bit loud at times as the amps for the orchestra are positioned right in front of our seats. Luckily there was no one in the end 3 seats of row A so no tall people blocking the view. I don't know whether that would have been a problem; that's one advantage of going on a week day I suppose (ours was a Wednesday matinee). 
Overall I would recommend buying 36 if you're on a budget and don't mind missing a little bit of the action. Being so close was great as you could see the actors' faces perfectly and they even catch your eye a few times which was nice. It may be that if you get the equivalent seat on the right hand side of the stalls then your view would be less restricted because the stairs to the wings aren't on that side. I think 36 is as far left as you would want to go if seeing the action easily is important to you, but for such a good price it was great!
__________________________________________________
Being in London for the day, I took my chances at the theatre box office and tried for a single ticket for the same Monday evening. I was offered Q23 and told this normally went for an eye-watering £90, but I could have it for £62.50. Still pricey, but not a bad deal on a premium seat. The view really couldn't have been better. The near lack of rake in rows A to P works to your advantage here because unless you have someone particularly tall in those seats, you are looking over the people's heads. Also, as will be seen from the seat plan, it is the front row on a centre aisle so the leg room is enormous. The seats in row Q are also far enough forward so the overhang of the dress does not obscure the view of anything happening high up, as it might do with seats further back. A small (very small) irritation is that Q23 is on the junction of two centre aisles, the position where the drinks and ice cream sellers position themselves, so if you're staying in your seat for the interval, be prepared for quite a bit of traffic — as I say minor quibble. Facial expressions would have been clearer by being a bit closer, but again this is a small point and you're really not that far away. Being central, the sound is superb and Rachel Tucker's voice is so powerful it could probably be heard at the Apollo Shaftesbury Avenue, never mind the Apollo Victoria. I'm probably a bit spoilt now. I can never afford the full price of a premium seat and will not always be lucky enough to pick up one cheaper. But if you can go that extra few pounds, this is a good a seat as any in the house.
Tony
___________________________________________________
Just returned from 'Wicked' (February 2012) it was amazing. We got tickets on ticketmaster for £17.25 each and they were perfect. The stalls H43 and H44. I was a little nervous about them but after reading reviews on this website decided to take a chance. They were great seats and hardly any of the show was missed. I would recommend anyone to go for these cheaper seats than pay full price for them. The show was fantastic and booking again now for another!!
___________________________________________________
We went to see Wicked on Saturday the 10th March 2012. We had seats T38, T39 and T40 in the stalls. These seats were side right to the stage. We paid £67.50 and would recommend these seats. I unfortunately had a tall man in front of me so had to do a bit of bobbing in and out; however, he was aware of his height and sat well down in his seat, bless. The characters were easy to see but for more of a look at their expressions etc we used the binoculars. I would recommend these seats and the leg room was excellent. 
___________________________________________________
Review of show ;-)
5 stars. Amazing set, amazing costumes, amazing actors, amazing singing. Brilliant. A perfect night out for people who enjoy musicals

Review of Seat: My friend and I were sat on G32, 33. Paid £62.50 per ticket. Brilliant seat. Worth every penny.
View was clear, we could see the actors up close but were far enough to appreciate the stage. Perhaps a seat further behind in the central stalls would be more appropriate for someone who wishes to enjoy the entire stage. However, I certainly enjoyed being close to the stage.
___________________________________________________
Went to see 'Wicked' matinee show at the Apollo Victoria Saturday 19th May 2012. What can I say.... the show was amazing and, if anyone is in the area, I suggest you go watch it!! 
We were sat in Circle row H 26 and 27. The view from these seats was amazing. All the stage could be clearly seen, with none of the characters feeling too far away. Sound was pretty good, better than expected after reading the reviews. However I do not suggest these seats unless bought cheap; reason being that people in row G in front of you have the railing. We had the guy in front of us constantly moving, forward and backwards - and this was a pain. We were lucky enough that row I behind us was empty so we moved up one row, resolving the problem. So I agree with Theatremonkey marking these rows in Red as they are risky especially if you pay top price for them. Go for rows J or K or A to F middle section, worth every penny.
Emerson 
____________________________________________________
Attended the show on the 11th of August 2012, and had a marvellous time! Would thoroughly recommend the show to anyone who is a fan of musicals. 
We had seats P42 and P43, which were to the left hand side of stalls, and are ones that the Monkey recommends as they are at a reduced price compared to some of the more expensive tickets in the stalls. The tickets were £32.50 and are amazing value as you get a good view of the stage without the big price tag of surrounding seats. There was only one moment where I couldn't see one of the performers enter, but they soon moved to the foreground. I would highly recommend these seats as they are really great value.
____________________________________________________
Yes, Seen it again... 4th time for me, 3rd for daughters, 1st for their friends, and it was still magical for all of us. We were lucky enough to see the awesome Rachel Tucker for one last time before she leaves. Gina Beck has big shoes to fill after Louise, but we liked her a lot, she sings beautifully and was very sweet. Rest of the cast good as always, it really is a great show, and they all had a huge standing ovation at the end.
We sat in stalls row B 14 to 17 and row C 16 and 17. Seats great, it's fantastic to be so close. B 13 and 14 are marked as limited view so are much cheaper but are well worth it, none of us missed anything.....
We are going back just 1 more time to see Louise as Elphaba.....
Mila
Saturday matinee: 13 October 2012.
_____________________________________________________

I so wanted to like 'Wicked' – having heard "Defying Gravity," I couldn't wait to hear it live in the theatre
Saw the evening performance on 30th October 2012 – we sat in the Stalls in seats R38 and R39 – great view of the whole stage and one of us could stretch out a bit as R38 is on the aisle – seats felt comfortable and binoculars were available if you felt you needed them
For the most part sound was fine when people were speaking and singing individually, but when the whole cast sang it was hard to make out what they were saying.
Louise Dearman certainly has a pair of lungs on her – she really does belt the songs out and got well deserved applause – however both myself and my partner just didn't enjoy the first act – it seemed to drag on – I felt like I could have easily just walked in for the 'Defying Gravity' song at the end of the first act and wouldn't have felt like I had missed too much. 
Second act was better, but we both came away feeling huge disappointment – there were clever references to the 'Wizard of Oz' film, concerning three of the characters, which we thought were smart; the time dragon didn't seem to do much – apart from shaking its head a few times, there didn't seem much point to it – maybe I was expecting too much ?
Maybe Wicked isn't aimed at my age group (40) – given the number of young / teenage girls in the theatre, there's obviously a market for it – Definitely not one to go and see again for me
Geoff Jones.
_____________________________________________________
Oops! Today Tix were offering Wicked tickets for £25 (September 2019) so I had to spontaneously take them up on it! ..:.
Stalls U41-42. Seats are in the rear section of the stalls on the 'staircase' side which means that occasionally, fleetingly you miss some of the action on the rear left hand side of the stage. You do however benefit from a great view of the action as you are far back enough to appreciate the whole spectacle while still being close enough to see faces.
I didn't have particularly high expectations for the seats but they were actually fine and, whilst not first choice, I would happily sit here again.
______________________________________________________
Took the daughter to see this for the first time on TodayTix £25 deal. Stalls W38 and W39 gave us a great view and an aisle seat too. Quite far back, but the rake was perfect. Only a tiny bit of the stage was restricted, but for the price, we were more than happy. Went to a Saturday matinee and were surrounded by A LOT of children. 4 year old sat behind us who kept talking through the show, and parents rustling sweet bags to keep her fed.
 
 Show still as enjoyable as the last time I saw it over 15 years ago. Some excellent tunes - defying gravity will always be a belter! For Good was also lovely. Both Glinda and Elphaba were played by the standbys, who were absolutely excellent in role.
 
 However, it does feel like musicals have moved on a lot. It now feels like an entry level musical, especially when several of the younger audience come to the show dressed in their Frozen outfits.
 
 It's an enjoyable few hours, but be prepared for the young audience.
_______________________________________________________
"A 15, 16 and 17: Oops, accidentally booked front row seats when I spotted they were still available for an extra Xmas matinee lol! These are on a side block and the angle does get a bit acute the further you get to the end of the row. You will miss a few details here and there as the cast stand in front of you at times, it is also really loud as you are in front of a massive speaker. However, if you are not a first time visitor it's great to be so close to the actors and see the show from a different angle and notice all the little details. I loved the loud music as I sometimes think it seems a bit quiet from further back and it is very immersive to be this close. Would definitely sit here again for the price (£29.50)."
_______________________________________________________
"R 7, 8 and 9: Fantastic seats. Just behind premium row Q so only one row of people immediately in front of you. R9 also doesn't have a seat in front of it, so bonus leg room. These are on the aisle of a side block but the angle isn't so acute that you miss anything and you get a great view of the show as a whole." 
_______________________________________________________
Wicked front row stalls A32, 33 and 34.  These are 'staircase' side so you're better off on the other side - and a side block where you're better off in the middle. You don't really get a sense of the spectacle from here and there will be details you miss so to see the show 'properly' go further back.  
However, if you've seen it before and just want to be immersed I love sitting in the front row, I like watching the MD (who was doing a fine job of guiding Carina Gillespie through her first Glinda in about 4 years); the stage isn't too high, I noticed details like Ukraine flag colours in the ribbons - which I think were new - etc. It's just good to see different things when you go fairly often.  
I've now seen Lucie Jones' standby do the show twice as often as her since she started the run, not sure quite how things are working out there ...!
_______________________________________________________
Q41-43 stalls - can't go wrong. Near the end of a row but a clear view of the stage with no restrictions. 
C11-13 stalls: Sold as restricted view as you miss small amounts of the right hand side of the stage but really nothing major. The seats did seem noticeably more tight / narrow than usual, maybe because we were on the end of a row - not sure but definitely not as spacious as I've come to expect! 
_______________________________________________________
Stalls "C22 to 26: "Wicked" (Bob Pickett). I think these are as close as you want to go; already beneath the gaze of the Time Dragon, this is about as far as you can go without having to look up.  From this close you do need to move your head to take it all in, but for the big moment and songs they're perfectly positioned (No Good Deed is wonderful at this range).  But the closer you get, it does seem space is lost, plus as many others report the rake is lacking here; get someone above average height and you'll struggle to see as the stagger is non-existent.
_______________________________________________________
Stalls L44-46: New cast's opening night this week - I thought they were terrific and put back some of the magic which has faded a bit over the last year. As for the seats, well I wouldn't rush back here. Only L46 is listed as restricted but I would suggest that the others are too as you miss a fair chunk of the left hand side of the stage and at times can only hear it rather than see it. Action does tend to move to the front pretty quickly but I wouldn't recommend these to a first timer. That said, I paid the going rate of £27.50 for them and as a way to see the show without going bankrupt I'd probably sit here again. Leg room was reasonable, off-setting was good and almost most importantly-  close to the ladies so you can avoid the ridiculous queue at the interval (made worse on Tuesday by the ladies the other side being out of order!)
________________________________________________________
"Stalls F21: (Broadway John). There is not much of a rake. The person's head in front of me occasionally blocked an actor from the waist down but only briefly but you could look around if needed, which it wasn't. It was a great and perfect view. Nice to be up close. Legroom was good and seat was comfortable. Can't imagine having a much better seat than this for Wicked!
_______________________________________________________________

A great "Fan" Site for this production is available at www.wickedwestend.co.uk 
Another great "Fan" Site is available at www.wickeduk.co.uk. In particular, the monkey felt the advice on this site for those wishing to stand in line for "Day Seats" is VERY much worth reading http://www.wickeduk.co.uk/v2/index.php?id=ecdaytickets.
The monkey advises checking performance times on your tickets and that performances are happening as scheduled, before travelling.
Tuesday at 7.30pm
Wednesday at 2.30pm and 7.30pm
Thursday at 7.30pm
Friday at 7.30pm
Saturday at 2.30pm and 7.30pm
Sunday at 2.30pm
NO MONDAY PERFORMANCES.
Runs 2 hours 50 minutes approximately, with one 20 minute interval.
THERE ARE NO PERFORMANCES OF ANY PRODUCTION ON 25th DECEMBER 2023.
During the "Holiday Season" from 18th December 2023 until 7th January 2024, the above schedules will vary.
Charts showing scheduled performances during this period are available using the links below:
For Monday 18th December 2023 until Sunday 24th December 2023, click here.
For Monday 25th December 2023 until Sunday 31st December 2023, click here.
For Monday 1st January until Sunday 7th January 2024, click here. 
Theatres use "dynamic pricing." Seat prices change according to demand for a particular performance. Prices below were compiled as booking originally opened. Current prices are advised at time of enquiry.
All Monday to Thursday (except "peak week") performances: 
All Friday, Saturday and "peak week" performances: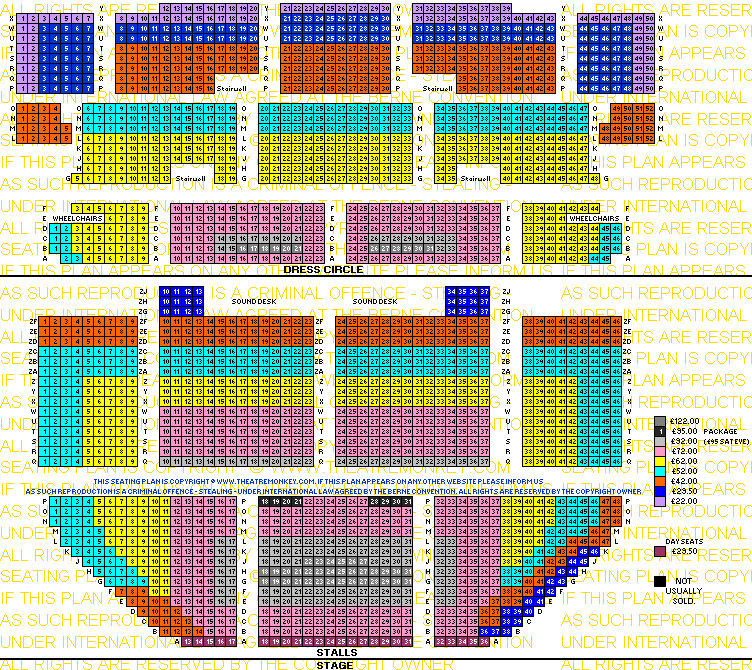 "Make It Social." A reader notes that visiting www.wickedthemusical.co.uk/london/tickets/groups and clicking on the graphics just below the "Groups of 4+" heading takes you to https://wicked.makeitsocial.com/#invite.
Basically, if you invite 3 or more friends, to form a group of at least 4, you get £10 per ticket off premium, top non-premium, second, third and fourth price seats at all Monday to Thursday performances.
Each person can pay individually, and the discount is applied once each person in the group has paid in full.
____________________________
Note that the most notorious day seat line in London is finished. DO NOT go to the theatre to buy day seats.
There are two ways to buy tickets.
Weekly Rush: £29.50 per seat. Enter online at www.wickedthemusical.co.uk. Click "Ticket Sales" then "Wicked Front Row."  Stalls front row A will be released each Wednesday at 10am for all performances for the following week. First come, first served, the first in line can buy up to 2 tickets for their chosen performance the following week. Tickets will be allocated on a "best available" basis.
App TodayTix are offering "Daily Dozen tickets" for all performances, price £29.50 per seat. 12 tickets released for the performance on that day, at 10am. Download the App from Todaytix
, to allow you to access the sale.
Back To Top