---
Back in the summer @theatremonkey1 tweeted that there should be a national filmed pantomime in case theatres were still closed over Christmas. Fortunately, just one day later, TV star and retired Chief Scout Peter Duncan revealed that he had been working on just that – with his own back garden as a stage. Assisted by Ian Talbot, this is the result.
An Amazon delivery of a pop-up book for Uncle Peter to read to young Josephine inspires both to use their imaginations.
A blink later and Garden Fairy (Nicola Blackman) is our sparkling sticked, sharp-witted rhyming-couplet guardian for a journey into enchanted realms.
Squire Shortshanks (Ian Talbot) is keen to evict Dame Trott (Peter Duncan – how did the duo find time to direct as well?) and son Jack (Sam Ebenezer) from their home in his shed. Being fair, robotic Bond-villain like Giant Blunderbore (Yuval Shwartsman) is putting the whole village under pressure - demanding money with extreme menaces. None is more extremely menacing than his man-on-the-ground Fleshcreepy (Jos Vantyler). Wailing that he is a classically trained actor too good for this, his range of accents and deranged characterisations are stellar.
Hilarious and versatile milkshake producer Daisy the Cow (Chris Redburn and Julia Gale, choreographer and sister of Peter Duncan, childhood revenge-casting?) must be sold for a trick of beans. Duly scattered, the traditional tale of climbing, kidnap and reunion ensues.
It all ends happily of course with savvy, pulchritudinous, sweet-voiced Squire's daughter Jill Shortshanks (Sarah Moss) marrying loyal, dim-but-handsome Jack... and a surprise romance for the parents too.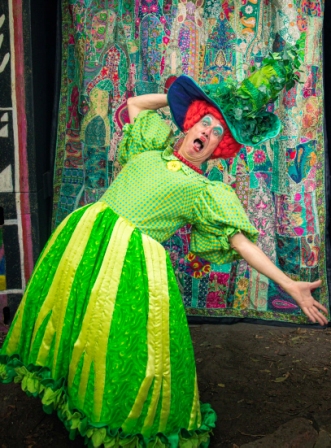 Make no mistake, this is proper pantomime - complete with space for the audience to roar "Oh no it isn't" at the appropriate moments. Indeed, it is a mark of quality that this viewer, watching alone, was doing so, laughing as he caught himself responding so instinctively. With a crowd of fellow aficionados, could this become the new cult "Rocky Horror Picture Show" with adult audiences knowing every word and joining in – with the odd refinement of their own?
The mixture of much-loved jokes (the now-rarely performed "Right-o" routine a highlight) is entirely family-friendly aside from one familiar protuberance. "If I Were Not In Pantomime" is duly delivered with gusto – and hilarious disgust from pianist Katie Duncan, one reaction joke you can't do from an orchestra pit...
There are new songs like "In Lockdown," complete with full-fledged village dance routine by the brilliant ensemble, a flying sequence far better on screen than awkward theatre projection, and much more.
The setting only adds to the magic. No indoor theatre can boast a real live beanstalk – played by a (sadly un-credited) resident oak tree. The Squire's house is real, as is the Dame's humble home at the end of his garden. Best of all, the cast can really let rip with the splosh without fear of messing up the floor for the next scene – and they do.
The first rule of panto is that there are no rules. Peter Duncan and Ian Talbot break every one of them, to 6-star effect. The main question to ask at the end of this joyous 80 minutes is how their plans for "Cinderella" in 2022 and "Sleeping Beauty" in 2023 are progressing. Think nobody is going to make them assemble this company again for any such events? Oh yes, we are...
Whether enjoyed online at home or in an Everyman cinema, if this does not put you in the festive spirit and sooth the soul after a harsh year, nothing will.
6 stars.
Tickets to watch online are available at www.pantoonline.co.uk.
The film will also be shown in Everyman and Showcase cinemas during the 2020 holiday season.
Back To Top