---
Northumberland Avenue, London WC2N 5DE 0333 009 6690
Synopsis
Theatremonkey show opinion
Reader reviews
Performance schedule
Ticket prices
In a time when the world is changing forever, there is one place where everyone can be free…..welcome to the Kit Kat Club. This is Berlin. Relax. Loosen up. Be yourself.
One of the most successful musicals of all time, CABARET features the songs Wilkommen, Don't Tell Mama, Mein Herr, Maybe This Time, Money and the title number. It has music by John Kander, lyrics by Fred Ebb, book by Joe Masteroff. Based on the play by John Van Druten and stories by Christopher Isherwood.
The Kit Kat Club has taken over the Playhouse Theatre while it has been standing empty, transforming one of London's most famous theatres with in-the-round auditorium and reimagined spaces. The marginalised have staked a claim, the artists have taken over, filled their container and found their community. It's 1930s Berlin. It's 2020s London. It's Then, it's Now. Who knows how long it will reside here. For now, we're enjoying the party. The party at the end of the world.
Guests will be allocated a 'club entry time' on booking which will allow them to fully explore and experience all parts of the Kit Kat Club and pre-show entertainment.
Exclusive three course, pre-show dining at cabaret tables available.
Before the show, guests are invited to enjoy and explore the Kit Kat Club with drinks, dining and pre-show entertainment all on offer. When booking, guests will receive a 'club entry time' to allow enough time to take in the world of the Kit Kat Club before the show starts. But of course, the show really starts when you first join us in the club……
The show swept the boards at the Olivier Awards on 10th April 2022, winning seven awards, equalling the amount previously won by the musicals Hamilton and Matilda the Musical. It also becomes the most award-winning revival of a musical in Olivier history and the first ever musical or play to win in all four acting categories. Celebrating the wins, it has released exclusive footage of the show. https://www.youtube.com/watch?v=EY9umtO4igQ
The production won:
BEST MUSICAL REVIVAL
BEST DIRECTOR – REBECCA FRECKNALL
BEST ACTOR IN A MUSICAL – EDDIE REDMAYNE
BEST ACTTRESS IN A MUSICAL – JESSIE BUCKLEY
BEST ACTOR IN A SUPPORTING ROLE IN A MUSICAL – ELLIOT LEVEY
BEST ACTRESS IN A SUPPORTING ROLE IN A MUSICAL – LIZA SADOVY and
BEST SOUND DESIGN – NICK LIDSTER.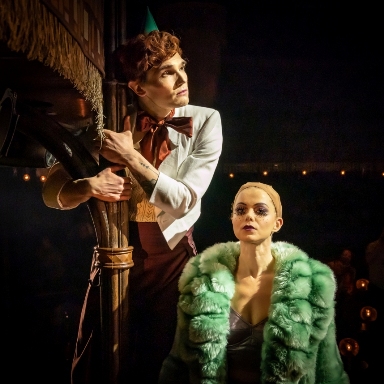 UNTIL 1st OCTOBER 2022: Fra Fee plays 'The Emcee' and Amy Lennox plays 'Sally Bowles.' The cast also includes Omar Baroud as 'Cliff Bradshaw' and Vivien Parry as 'Fraulein Schneider,' Richard Katz as 'Herr Schultz', Stewart Clarke as 'Ernst Ludwig' and Anna-Jane Casey as 'Fraulein Kost'. 
The cast is completed by Josh Andrews, Gabriela Benedetti, Emily Benjamin, Sally Frith, Matthew Gent, Emma Louise Jones, Ela Lisondra, Theo Maddix, Chris O'Mara, Daniel Perry, Andre Refig, Adam Taylor, Christopher Tendai, Bethany Terry, Lillie-Pearl Wildman  Sophie Maria Wojna.
The Prologue Company is Rachel Benson, Laura Braid, Asmara Cammock, Julian Capolei, Celine Fortenbacher, Reuben Greeph, Samantha Ho, Andrew Linnie, Carys McQueen, Hicaro Nicolai, Kate Robson-Stuart and Sally Swanson. 
FROM 3rd OCTOBER 2022 UNTIL 28th JANUARY 2023: Callum Scott Howells will play 'The Emcee' and Madeline Brewer will play 'Sally Bowles.'  At certain performances, the role of Sally Bowles will be played by Emily Benjamin. The cast also includes Sid Sagar as 'Cliff Bradshaw', Danny Mahoney as 'Ernst Ludwig' and Michelle Bishop as 'Fraulein Kost'. Vivien Parry and Richard Katz continue to play 'Fraulein Schneider' and 'Herr Schultz' respectively.
 
The cast is completed by Gabriela Benedetti, Charles Croysdill, Laura Delany, Sally Frith, Matthew Gent, Ying Ue Li, Ela Lisondra, Chris O'Mara, Grant Neal, Hicaro Nicolai, Adam Taylor, Toby Turpin, Patrick Wilden and Sophie Maria Wojna.
 
Photo credit: Joel Palmer, used by kind permission.
(seen at the afternoon performance on 2nd February 2022)
Since 'money makes the world go around' and at the time of writing this is the hottest ticket in the West End, where seemingly every returned stalls and dress circle ticket is priced at £250, to answer the question: is it worth that? On this cast, pretty much yes, says the monkey. Those who see it will gain the boasting rights "I was there" and have some sequences burned indelibly into their memories.
To invest in creating an "immersive environment" inside a Grade II listed building for the show is a real leap of faith by the producers. The monkey has been asked not to give away the secrets, and it won't, but it will note that it is worth arriving early to catch a little of the downstairs foyer and pre-show happenings. It would also note that the authenticity does not go so far as having the staff speak German, so don't bother.
As for the main attraction, at times there is a suspicion that the show is trying to live up to its surroundings and is almost inhibited by them. Director Rebecca Frecknall and choreographer Julia Cheng seem to want to use the space more conventionally than is possible. The Donmar Warehouse Theatre's acclaimed 1993 production (the first to try the show "immersivity" as it went to Studio 53 on Broadway) seemingly had at times the advantage of a thrust stage with an audience on only three sides.
On the other hand, at key moments the concept explodes like a plate glass window on Kristallnacht. Horrifying, brutalising, dividing, overwhelmingly angry and searingly historic. Frecknall eschews all previous productions which have always worked outwards from the fascism at its centre. 
Instead, British Sally Bowles (Jessie Buckley) and American Clifford "Cliff" Bradshaw (Omari Douglas), plus Emcee (Eddie Redmayne), Jewish German Herr Schultz (Elliot Levey) and eventually his lover Frau Schneider (Lisa Sadovy) are recording witnesses, orbiting evolving events in a homage to the source play "I Am A Camera."
As the action mostly happens around them, Tom Scutt's inspired set and costume design suggest constantly a party they shouldn't be at, don't wish to be at or wouldn't want to be invited to. Conical hats – later pink – mock or warn. The tatty chorus outfits forgotten dreams of better days as things fall apart. A note, though, on the gentlemen's' suits, the attention to detail contrasting national styles is impressive.
As Emcee, Redmayne is (sometimes literally) conductor. More often simply the show's thermometer, registering every often-dismissed rise in heat. "If You Could See Her" with an uncredited gorilla (and a little banana taunting) is his moment, making earlier "Two Ladies" seem a frivolous message by comparison, a haunting "Tomorrow Belongs to Me" an inexplicably ignored klaxon despite high-volume and marrow-chilling delivery.
His leading lady, Sally Bowles has Jessie Buckley combine her serious dramatic and musical theatre skills for an unprecedented reading. "Do not ask me questions" she commands – because this Sally has no answers. She is a cypher, existing in the moment, a steel carapace off which life rebounds as she charges towards it, nothing penetrating, she would have you believe.
"Don't Tell Mama" sets out her philosophy, and at the time seems too light a reading, lacking the deeper meaning given by predecessors in the role. A few scenes later as the first spotlight hits and her only internal dialogue "Maybe This Time" begins, we understand. This Sally doesn't dare to matter to herself, thus life itself does not matter. And she knows it is the wrong answer but has no question to make it right.
Her "Cabaret" is iconic. The only truth in her entire world, joyless and marrionetic before the strings are tightened, until they are jerked abruptly and the whole pile is manipulated one more time. Her final position at the end of the number is immortal musical theatre being written.
What of bemused dupe Clifford? Omari Douglas is one of the strongest performers in the role the monkey can remember. The balance between decency and naivety is almost impossible to get right, and Douglas does it here in style. His willingness to sift for what is important and stand up to protect it provides the moral pillar against which all else can be measured.
His landlady Frau Schneider is forced by circumstance to bend more easily, Lisa Sadovy (according to a staff member the monkey spoke to) giving new thought to the role every performance. Sadovy writes herself into theatre history too with "What Would You Do?" stopping the show, and two romantic duets with her would-be suitor.
In that role, Elliot Levey distinguishes himself as the optimist and likely biggest victim of the approaching toxic cloud. Both he and Sadovy are the grounded reality of ordinary Germany in a swirling mass of illusion and prowling evil, essential performances both.
A mention for Stewart Clarke as schemer Ernst Ludwig, managing to give repellent beliefs a respectability that freezes the soul of all willing to consider the ideology he expounds. and this after Anna Jane Casey's "So What," a truly horrifying act one closing reprise.
Notes too for club entertainers Emily Benjamin (covering Frenchie for absent Sally Frith), Matthew Gent, Andre Refig, Christoher Tendai, Bethany Terry, Lillie-Pearl Wildman and Sophie Maraia Wojna. A raffish bunch whose very existence may be under threat, but until it is fill the stage with ersatz life itself until that gilt is brutally rubbed away.
The orchestra, under Jenifer Whyte is beautiful, Isabella Byrd makes the light beautiful, even Nick Lidster's sound is beautiful as the dull beige gives way to sickening red, white and black.
Without a shred of real frivolity, with frivolity the only thing that keeps these people alive, to step into the Kit Kat Club at the Playhouse Theatre is to enter into a living exposition of the brutal paradox of the time. Whether future casts can match the intensity or even make it their own remains to be seen, but the construction appears strong enough to hold. 
This show is as it stands a demonstration of why live performance exists as the ethereal moment. The human mind, faced with incalculable danger deals with it by taking fleeting glimpses. This is one of them. Peak if you dare, Willkommen to Berlin.
Standing ovation given.
The most disappointing version of cabaret I've ever seen. I can understand why they made such a big deal of turning the theatre into the Kit Kat club - it was obviously to detract from the lacklustre production. The leads were OK, not good, not bad, just OK. The ticket price must be for the various actors wandering around to try and set the scene.
Fabulous. I enjoyed every second of it. It certainly lives up to the hype. The cast are excellent, the two leads make it their own. I wish I could go back again. Best show I have seen in the West End for quite a while.
Legacy reader reviews
Upper circle row D: Sight lines very good up there, unlike when it was the shallow rake. Legroom for row D was fine, it did look tight in the sides of row A. You also kinda need to lean to get the best full view. When I booked the main concern was heads in the way/front of stage being cut off but it wasn't at all. For the price (compared to the stalls/dress) it's a real bargain.
_________________________________________________________
Dress Circle B13 and 14: Perfect seats. The stage for 'Cabaret' is now rebuilt and situated in the centre of the stalls, with seating in the round. B13 and 14 are central and with the steep rake, and staggered seating, we had a completely uninterrupted view of all staging, even when people in front leaned forward - though this rarely happened as they also had a clear view.
_________________________________________________________
"B 5 and 6: (Table seats) - fabulous view of the stage and the surroundings. The stalls performance is in the round and all around so even if someone tall is sitting the front row, the view is excellent and it's great to feel part of the performance. Plenty of legroom and seats are reasonably comfortable...the show lasts nearly 3 hours. Aim to get there 30 mins or so before curtain up to soak up the atmosphere...free drinks (glass of schnapps, bottle of beer or water) are given to everyone on arrival...problem is with so many people drinking the queue for the loos in the interval are very long! No food served at this table which, from what we saw, probably doesn't warrant the extra cost. If your budget allows you to purchase these seats, you will not be disappointed."
_________________________________________________________
Last night, I was very fortunate to see Cabaret, buying a ticket for the upper circle the previous day for £30. I had been watching the website, and had seen returns appear (presumably due to Covid) - and even the £250 tickets were taken within minutes. When a block of £30 tickets appeared, I reserved one immediately, and chose upper circle C23 because, of the ones available, it was least surrounded by other seats (Covid precaution). It turned out to be probably one of the worst seats in the house for visibility, but still relatively good value - relative, that is, to a whopping £250 for a top price ticket.
Looking at the ATG website, it appears that the upper circle is not being released until close to performances (either that or every upper circle seat has been bought up to September).SPOILER ALERT: The stage is around 600mm high. It has a small central circular platform surrounded by three rings. The platform and inner ring rise, by around 1.5m and 600mm respectively, and some of the key action takes place on the platform. It is possible that the heads of people on the platform might not be visible from the rear of the existing dress circle. The middle ring rotates, and much of the ensemble performance takes place on this ring - so it is visible to both ends of the audience - and this also overcomes some of the obstructed visibility. SPOILER ENDS.
From wandering around in the interval, it seemed that most seats on the 'front side' provided good visibility, apart from upper circle C1 and 23 (see below) and the extreme seats either side on the dress circle; these were slightly obstructed by the galleries for the band, which appeared to be widened from original circle boxes. I did not get to the 'rear side', but the visibility looked good (it should be, as this is newly constructed!). Overall, I thought that the staging provided good visibility of the action, and took into account the limitations of the venue.
General Comments on the Upper Circle:
The upper circle has four rows, which have been built over the original upper circle. The rake is extremely steep, with the feet of one row at the level of the shoulders of the row in front. The stage is relatively close, but you are looking down at an angle of 45 degrees. Each row has a solid wall in front, but these are definitely not seats for people with vertigo. The leg room is adequate, and you can (just) get get past people to you seat. 
Row C is level with the lighting truss, and row D is above it, but this is not obtrusive as you are looking down so steeply at the stage. Row C extends out further than the other rows, and the view from the extreme seats C1 and C23 is partially obstructed by lighting. The other seats have a generally good view of the stage - albeit from above. Some short scenes take place partically under the galleries at the sides of the stage that house the band, which might not be visible from seats towards the sides (choose lower numbered seats if you can).
Review of Upper Circle seat C23 (also applies to C1, as the lighting is symmetrical):
This seat is further to the side than the other rows in the upper circle, and the view of the stage is partially obstructed by a lighting 'ladder'. However, you can see almost all of the action by looking through or around it - and much of the action moves around the stage for both sides of the audience. However, you are looking down steeply on the stage, and the upper circle is not suitable for people with vertigo.
Because of the steep rake, there is a wall in front of each row (padded to lean on), with just enough room to get past another audience member to your seat. Leg room was adequate for me (I am 175cm).
_________________________________________________________
I sat in the stalls seat F23. This proved to be an excellent seat, a perfect view of the stage, well raked, better than row E - which had table seats directly in front - and actual legroom, which was a real treat. As I get older my tolerance of folding into a tiny seat has got even less and this was roomy and comfortable.
There was a shelf in front to put drinks on so, unless you are desperate for the table experience, I really don't feel it's worth paying almost three times the price for sitting that little bit closer.
I also enjoyed being near the aisle where the cast came on in full character from the moment they entered the auditorium each time. Highly recommended. Being in the stalls is so immersive that I wouldn't want to sit elsewhere for this production.
Absolutely loved the show. It's a favourite of mine anyway, and this was superbly acted and sung. It's surprisingly minimalist - unless you account for the fact that the whole theatre is in effect the set.
A justified hot ticket and well worth the trip.
__________________________________________________________
We purchased Saturday evening seats for Cabaret for 9th April 2022 for £90 each directly from box office admittedly several months ago. Seat numbers were O11 and O12. These seats are fantastic and I cannot remember seating in normal central seats about say effectively 7 or 8 rows back in a normal setting without having once having to move my head to see the action. This really is a perfect view and the intrusion of any heads is not significant. We were between the gap in two tables in front so nearest 'heads' in any case would have been in row M but the view from all the seats in this row if not as perfect would still have been very good. I did not see anyone having to adjust their head position and looking around I believe all seats give a good view, certainly in the stalls and boxes anyway. Another plus is there is no-one behind you - so no 'seat-kicking' but in any case there is very good legroom in all seats in this row. By the way I'm 5ft 6in tall. Also noticed that the circle in front of us on the other side was very steep so suspect view from there would also be good.
Hope this helps - but these seats definitely not a RED for value!
__________________________________________________________
Tuesday 26th July 2022
SEAT REVIEW : DRESS CIRCLE ROW G Seats 18 and 19. 
As most people know, tickets for Cabaret can be prohibitively expensive so for the price paid I would consider these seats perfectly reasonable for the price. Comfortable with a good rake and more than fair leg room, these seats are in the back row of the Dress Circle, next to an aisle and within yards of the "Green" bar and a short stroll from the obviously newly re-fitted and spacious toilets.
The low ceiling as a result of the upper circle is literally within reach when standing up so could feel a little claustrophobic for sufferers. These seats have a clear view of the main 'in the round' stage (albeit at a bit of a distance) and also the wonderful Orchestra.
You obviously miss some of the off stage action and interaction at ground level but as those seats are up to 4 times the price of these you accept that.
SHOW REVIEW:
DID WE MISS SOMETHING ?
Having booked our tickets months ago and seen all the reviews and awards, we were really looking forward to this!
Not wishing to give too much away, the experience upon entering the theatre was unlike anything we've experienced before. The entrance corridors, the schnapps, the entertainment in the Red and Gold bars provided a unique experience that we won't forget in a hurry and only served to excite us even more about the show - which I will now try to review in 2 parts.
Positives: Wonderful Acting from the cast, inventive (if slightly overused) use of the revolving stage, atmospheric lighting, fantastic orchestra, wonderfully chilling and emotional end to act 1.
Negatives: We just didn't "get it"! So many metaphors - still no idea about the gorilla. When it came to the end we looked at each other and said "is that it?". The end seemed rushed and unfinished with many things not explained. It had been building slowly, menacingly and promisingly but then we felt there was little or no closure.
We have so many questions unanswered about this show and particularly the ending (how and why did Emcee change?) but won't go in to details so as not to spoil for others. Maybe it was just us!
Conclusion: We enjoyed the evening as a whole, we just wish the ending was a touch clearer.
A View From The Stalls.
The monkey advises checking performance times on your tickets and that performances are happening as scheduled, before travelling.
Monday to Saturday at 7.30pm
Wednesday and Saturday at 2pm and 7.30pm
Runs 2 hours 45 minutes approximately, with 1 interval. Before the performance there is an extra 1 hour pre-show.
No performances 24th and 26th December 2022 and 1st January 2023.
Extra 2pm performances on 22nd, 27th and 30th December 2022.
Theatres use "dynamic pricing." Seat prices change according to demand for a particular performance. Prices below were compiled as booking originally opened. Current prices are advised at time of enquiry.
DAILY LOTTERY: SIX £25 seats - including at a cabaret table are available via app Todaytix at https://www.todaytix.com/london/shows/23939-cabaret. Entries open at 0.01am on the day of the show, with the draw closing 4 hours before performance time. Winners are contacted by email and have 30 minutes to accept their tickets. Maximum 2 tickets per winner. 
Back To Top