---
16 Denman Street, Soho, London W1D 7DY 0844 412 6666
Synopsis
Theatremonkey show opinion
Reader reviews
Performance schedule
Ticket prices
Previews from 12th November, opens 8th December 2021.
CONTAINS STROBE LIGHTING.
NOT SUITABLE FOR THOSE AGED UNDER 12 OR THE EASILY OFFENDED.
Captioned performances: 26th February 2022 at 2.30pm, 30th July 2022 at 2.30pm, 22nd October 2022 at 2.30pm.
Audio Described performances: 5th March 2022 at 2.30pm, 6th August 2022 at 2.30pm, 5th November 2022 at 2.30pm.
Signed performance: 12th March 2022 at 2.30pm, 13th August 2022 at 2.30pm, 29th October 2022 at 2.30pm.
Rocking in Paris, a crazy tale of beauty and freedom - less a musical, more a state of mind.
Based on the Baz Luhrman movie, this Broadway hit comes to London.
The monkey advises checking performance times on your tickets and that performances are happening as scheduled, before travelling.
Monday to Friday at 7.30pm (8pm on 18th November 2021)
Wednesday and Saturday at 2.30pm and 7.30pm (7pm on 8th December 2021. First 2.30pm Saturday performance on 20th November 2021 / First 2.30pm Wednesday performance on 11th December 2021)
Runs 2 hours 35 minutes approximately. 
NO PERFORMANCES ON 24th and 25th DECEMBER 2021.
NO 7.30pm PERFORMANCE ON 31st DECEMBER 2021.
NO 2.30pm PERFORMANCE ON 1st JANUARY 2022.
EXTRA 5pm performance on 31st December 2021.
EXTRA 2.30pm performances on 15th, 22nd and 29th December 2021.
Theatres use "dynamic pricing." Seat prices change according to demand for a particular performance. Prices below were compiled as booking originally opened. Current prices are advised at time of enquiry.

Monday to Thursday "Off Peak" performances (prices run according to demand)
OR
Friday and Saturday "Off Peak" performances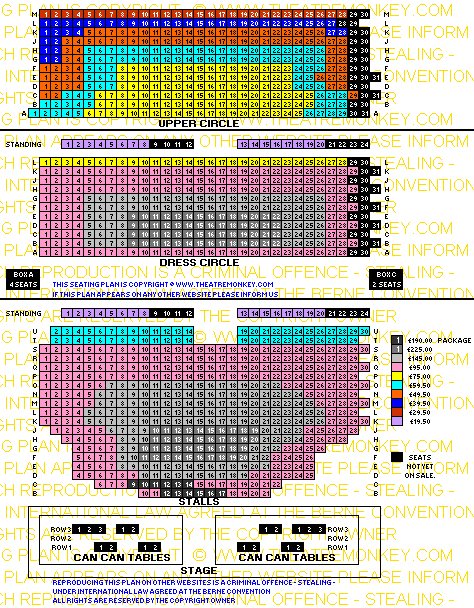 Peak Date performances
Note that cabaret table seating is not on sale initially.  
Back To Top