---
Charing Cross Road, Covent Garden, London WC2H 0DA 0844 482 5120
Synopsis
Theatremonkey show opinion
Reader reviews
Performance schedule
Ticket prices
NOT SUITABLE FOR YOUNGER CHILDREN. CONTAINS GRAPHIC MATERIAL.
Previews from 14th November 2021, opens 30th November 2021.
Audio described performance: 7th January 2022 at 7.30pm.
Captioned performance: 14th January 2022 at 7.30pm.
Pi is sixteen and stranded in a lifeboat on the Indian Ocean... with a hyena, zebra, orangutan, and one Royal Bengal tiger.
Yann Martel's Man Booker Prize-winner is adapted for the stage by Lolita Chakrabarti. Max Webster directs this hit transfer from Sheffield.
 
The monkey advises checking performance times on your tickets and that performances are happening as scheduled, before travelling.
Monday at 7.30pm
Wednesday at 7.30pm 
Thursday at 2.30pm and 7.30pm.
Friday at 7.30pm
Saturday at 2.30pm and 7.30pm
Sunday at 3pm
NO TUESDAY PERFORMANCES.
Runs 2 hours 5 minutes approximately, with one interval.
Extra 2.30pm performances on 22nd, 24th, 27th, 28th, 29th, 31st December 2021.
No performances on 25th December 2021 and 2nd January 2022.
No 7.30pm performances on 24th and 31st December 2021.
No 2.30pm performance on 1st January 2022.
Theatres use "dynamic pricing." Seat prices change according to demand for a particular performance. Prices below were compiled as booking originally opened. Current prices are advised at time of enquiry.
All performances from 30th November 2021 onwards. 

Preview performances until 29th November 2021 only: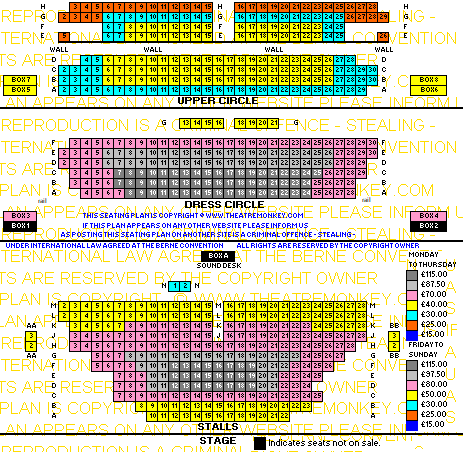 RUSH TICKETS: App Todaytix are offering £25 "Rush tickets," located at venue discretion, for all performances. Released for the performance on that day, first-come, first-served. Download the App from Todaytix, unlock the "Rush Ticketing" feature by sharing on Facebook or Twitter, and that will allow you to buy tickets.  
Back To Top