---
404 Strand, Covent Garden, London WC2R 0NH 0330 333 4814
Synopsis
Theatremonkey show opinion
Reader reviews
Performance schedule
Ticket prices
5th February to 7th March 2021.
Everybody has to make choices in life and love. This collection of songs examines the choices made by five characters.
A musical by Jason Robert Brown, starring David Hunter, Rachel John, Cedric Neal, Rachel Tucker and Shem Omari James in a show first seen at the London Palladium in 2020.
The monkey advises checking performance times on your tickets and that performances are happening as scheduled, before travelling.
Tuesday to Friday at 7.30pm
Saturday and Sunday at 2.30pm and 7.30pm
Runs 2 hours 30 minutes approximately including one interval.
Theatres use "dynamic pricing." Seat prices change according to demand for a particular performance. Prices below were compiled as booking originally opened. Current prices are advised at time of enquiry.
This theatre does not just have specific seats held "off sale" like other theatres have done, to enable "social distancing." Their system automatically also takes adjacent seats off-sale as the booking is confirmed. There will be at least a metre front to back and there will be an empty seat between each booking bubble. As a result, locations may vary.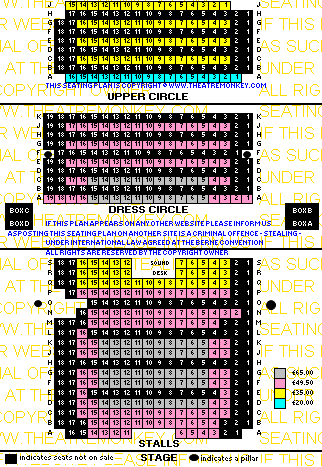 Back To Top