---
404 Strand, Covent Garden, London WC2R 0NH 0330 333 4814

Synopsis
Theatremonkey show opinion
Theatremonkey seat opinion
Reader reviews
Performance schedule
Ticket prices
27th to 30th May 2021.
'Public Domain' is a dark, funny, verbatim musical about the internet: Those who own it; those who live in it; and YOU!

Following an acclaimed digital debut at Southwark Playhouse, this thrilling, new musical, composed entirely from the real-life words of YouTube vloggers, Instagram influencers, Facebook's tech giants, and everyday internet users now has its live world premiere in the West End.

Written and performed by the hugely talented Francesca Forristal (Oddball) and Jordan Paul Clarke (Showstoppers), this blackly comic musical follows two teenage influencers; Millie (sporty spice, health guru, buddha bowls - millennial) and Z (GCSEs existential dread, swag - generation Z), as well as featuring exclusive 'footage' of inside Mark Zuckerberg and wife Priscilla Chan's family home.

You're gonna get their honest, true selves… with some serious bass, obvs. Authentic, right?

It's like 'Black Mirror' but real and set to music.

"And just like that we felt a little less alone..."


 
(from the online stream in 2021) can be read here.
Based on paying FULL PRICE (no discount!) for tickets, site writers and contributing guests have ALSO created the colour-coded plans for "value for money," considering factors like views, comfort and value-for-money compared with other same-priced seats available.
Some notes for this extra event appear below. For a full discussion, opinions, reviews, notes, tips, hints and advice on all the seats in this theatre, visit the theatre page (link at the top of this page) and click on "BEST SEAT ADVICE" (on the left of your screen).
On the plans below:
Seats in GREEN many feel may offer either noticeable value, or something to compensate for a problem; for example, being a well-priced restricted view ticket. Any seats coloured LIGHT GREEN are sold at "premium" prices because the show producer thinks they are the best. The monkey says "you are only getting what you pay for" but uses this colour to highlight the ones it feels best at the price, and help everybody else find equally good seats nearby at lower prices.
Seats in WHITE, many feel, provided about what they pay for. Generally unremarkable.
Seats in RED are coloured to draw attention. Not necessarily to be avoided - maybe nothing specific is wrong with them, other than opinions that there are better seats at the same price. Other times there may be something to consider before buying – perhaps overpricing, obstructed views, less comfort etc.
Please remember that cheaper seats often do not offer the same view / location quality as top price ones, and that ticket prices are designed to reflect this difference.
To enable "social distancing," available locations may vary.
No changes from the advice posted, beyond stalls row A being the front row and noting that dress circle seat G19 is fair value at third price. 
The monkey advises checking performance times on your tickets and that performances are happening as scheduled, before travelling.
Thursday to Sunday at 8pm
Saturday at 3pm and 8pm


Runs 1 hour 15 minutes approximately, with no interval.
Theatres use "dynamic pricing." Seat prices change according to demand for a particular performance. Prices below were compiled as booking originally opened. Current prices are advised at time of enquiry.
To enable "social distancing," locations may vary.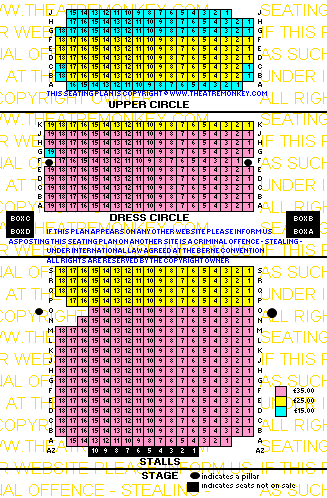 When the box office does not have seats available, or you require an alternative choice of seats, the Theatremonkey Ticketshop, telephone 020 7420 9778 (0044 207 420 9778 if calling from outside the United Kingdom), agency service can offer seats with a variable "per ticket" service charge - £7.70 on £35, £5.50 on £25, £3.30 on £15 seats. More than the box office, but well worth trying as it often has tickets when other companies do not! Note that this system will confirm exact seat numbers prior to purchase. A £1.95 per booking, not per ticket, handling fee may apply on some transactions by telephone. NO handling fee applies for online purchases.
Another alternative is www.seetickets.com which offers seats with a fee of £5.25 on £35, £3.75 on £25, £2.25 on £15 seats; and £2.75 per booking (not per ticket) postal charge.
Alternatively, through Ticketmaster with a sliding scale of per ticket booking fees: £7 on £35, £5 on £25, £3 on £15 seats. This system allows you to choose your own seats from the selection the company has available.
Encore Tickets (telephone 0207 400 1253 / 0044 207 400 1253 if calling from outside the United Kingdom) offer seats with booking fees of £7 on £35, £5 on £25, £3 on £15 seats. A postage charge of £1.45 per booking, not per ticket may be applied to bookings made from UK addresses more than 5 days before the performance.
Discounts and "Meal and Show" packages may also be available. Hotel / theatre ticket packages are also available.
Londontheatredirect.com charge a booking fee of £7 on £35, £5 on £25, £3 on £15 seats. There is a £1 per booking, not per ticket, transaction fee for collecting tickets from the box office before your performance. Alternatively, if time allows, there is a postage to your home option, costing £2.95 (£4.95 to non-UK addresses) per booking, not per ticket. Optional Ticket Insurance is also available. 
Discounts and Meal and Show Packages may also be available.
Back To Top