---
14 Whitehall, London SW1A 2DY 0333 009 6690
Synopsis
Theatremonkey show opinion
Reader reviews
Performance schedule
Ticket prices
Booking until 2nd October 2022.
CONTAINS STRONG LANGUAGE, MAY NOT BE SUITABLE FOR THOSE AGED UNDER 12 OR THE EASILY OFFENDED.


New Jersey is a state close to New York. A group of working class boys grew up there, and became Frankie Valli and The Four Seasons. This is their story, featuring their music and telling the tale of the birth of Rock-and-Roll in their own inimitable style.

Featured songs include "Oh What a Night" and "Walk Like A Man" among a host of others.
(seen at the afternoon performance on 28th August 2021)
Somehow, the monkey missed this show first time round, and second. Third time lucky (fourth attempt on actual date due to pandemic, pingdemic etc). Worth the wait? Yes, pretty much.
Brickman and Elice have constructed a really tight book from which to explore the music and personal history of one of the greatest groups of all time. Allowing all of the original quartet to have a say, and letting us hear some of the greatest hits in context of their creation it is both entertaining and a neat musical theatre history lesson.
Matteo Johnson was on as Frankie Valli, his under-amplified voice still reaching the sixth row of the stalls and apparently heard clearly to the back of the house. Into Johnson's usual role of Joe Pesci, Andy Smith stepped in with ease.
It was impossible not to warm to each of the characters for different reasons. Adam Bailey's shy Bob Gaudio, Karl James Wilson as honest Nick Massi and Benjamin Yates as loveable rogue Tommy DeVito created a believable bond shining during their final re-union.
Of the supporting cast, particular note for Helen Ternent as Francine – a very effective scene with her father took the show up an emotional gear with little said but much implied on movement alone.
If it takes a while to really catch fire, once the show does about 40 minutes into act one, it stays there. Jess Goldstein gives us a sense of time and place with intelligent mixing of projections, balcony and staircase.
Howell Binkley's lighting proves not to be actor-proof as Johnson misses his spot and ends up with an illuminated nose, but otherwise is sound. On sound, Steve Orich's design suits the smaller theatre but the mixing, as mentioned, wasn't quite right on the day.
This is several cuts above the average "jukebox" show, rewarding your emotional investment and serving up some of the best songs of the era. Add in a company who obviously enjoy playing the show together, and it is easy to see why the show has run as long as it has around the world and in these harder times its message seems both more relevant and poignant than ever.
Legacy reader reviews
(1 review)
Went to Jersey Boys last night (28th July 2021), the Trafalgar Theatre is looking lovely!  We were Dress Circle L5-7 which were great - fairly central, loads of legroom, comfortable height, well proportioned seats.
Occasionally you couldn't see the back of the stage where the band was - guitarists appeared dismembered as you could only see them from the waist down. This was purely down to the set, I don't think it would be a problem for other shows.
We had a few issues specific to our night - real problems with people in front leaning forward (for no apparent reason it would seem as nobody else was doing it) which left sight lines very badly obscured. We also had a row of people behind who thought they were at a sing-a-long show despite not being able to sing a note, so all in all it was one of the worst audience experiences ever! 
The monkey advises checking performance times on your tickets and that performances are happening as scheduled, before travelling.
Monday at 7.30pm
Wednesday at 7.30pm
Thursday at 2.30pm and 7.30pm
Friday at 7.30pm
Saturday at 2.30pm and 7.30pm
Sunday at 4pm
NO TUESDAY PERFORMANCES.
Runs 2 hours 40 minutes approximately, with one interval.
Theatres use "dynamic pricing." Seat prices change according to demand for a particular performance. Prices below were compiled as booking originally opened. Current prices are advised at time of enquiry.
Monday to Thursday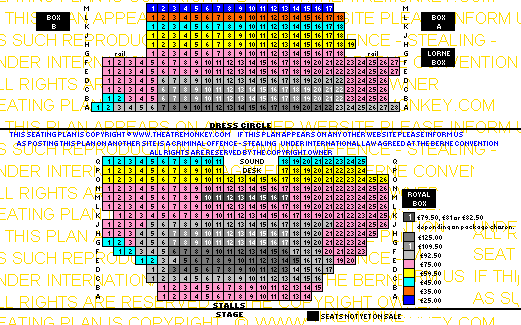 Friday to Sunday
RUSH TICKETS: App Todaytix are offering £25 "Rush tickets," located at venue discretion, for all performances. Released for the performance on that day, first-come, first-served. Download the App from Todaytix, unlock the "Rush Ticketing" feature by sharing on Facebook or Twitter, and that will allow you to buy tickets. 
Back To Top