---
18 Suffolk Street, London SW1Y 4HT 020 7930 8800
Synopsis
Theatremonkey show opinion
Reader reviews
Performance schedule
Ticket prices
Previews from 12th June, opens 27th June 2023. Ends 9th September 2023.
To cover up the scandal of an anarchist falling out of a police station window, police arrest somebody.
Their victim promptly weaves a tale exposing the scandal.
Dario Fo's farce in a new version by Tom Basden, first seen at the Lyric Theatre, Hammersmith in early 2023.
The monkey advises checking performance times on your tickets and that performances are happening as scheduled, before travelling.
Monday to Saturday at 7.30pm (7pm on 26th June 2023)
Wednesday and Saturday at 2.30pm and 7.30pm (first 2.30pm performance on 21st June 2023)
Runs 2 hours approximately, including an interval.
Theatres use "dynamic pricing." Seat prices change according to demand for a particular performance. Prices below were compiled as booking originally opened. Current prices are advised at time of enquiry.
CLICK SEATING PLAN TO ENLARGE IF REQUIRED. USE "BACK" BUTTON TO RETURN.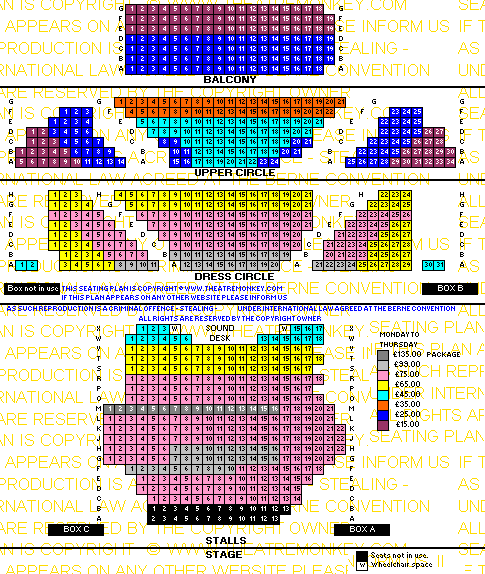 Back To Top