---
18 Suffolk Street, London SW1Y 4HT 020 7930 8800
Synopsis
Theatremonkey show opinion
Theatremonkey seat opinion
Reader reviews
Performance schedule
Ticket prices
Ends 11th September 2021.
NOT SUITABLE FOR THOSE AGED UNDER 14 OR THE EASILY OFFENDED.
CONTAINS STROBE LIGHTING, STRONG LANGUAGE, SEXUAL REFERENCES, VIOLENCE AND SENSITIVE REFERENCES INCLUDING SUICIDE.
Unpopular Veronica Sawyer makes it into the "in" crowd at Westerberg High. Then rebel JD arrives.
Not available for this production - the monkey loved the 2018 run, however!
Based on paying FULL PRICE (no discount!) for tickets, site writers and contributing guests have ALSO created the colour-coded plans for "value for money," considering factors like views, comfort and value-for-money compared with other same-priced seats available.
Some notes for this extra event appear below. For a full discussion, opinions, reviews, notes, tips, hints and advice on all the seats in this theatre, visit the theatre page (link at the top of this page) and click on "BEST SEAT ADVICE" (on the left of your screen).
On the plans below:
Seats in GREEN many feel may offer either noticeable value, or something to compensate for a problem; for example, being a well-priced restricted view ticket. Any seats coloured LIGHT GREEN are sold at "premium" prices because the show producer thinks they are the best. The monkey says "you are only getting what you pay for" but uses this colour to highlight the ones it feels best at the price, and help everybody else find equally good seats nearby at lower prices.
Seats in WHITE, many feel, provided about what they pay for. Generally unremarkable.
Seats in RED are coloured to draw attention. Not necessarily to be avoided - maybe nothing specific is wrong with them, other than opinions that there are better seats at the same price. Other times there may be something to consider before buying – perhaps overpricing, obstructed views, less comfort etc.
Please remember that cheaper seats often do not offer the same view / location quality as top price ones, and that ticket prices are designed to reflect this difference.
Little to add to that on the page, except for noting in the stalls row B is the front row and the stage is high. There are more "non premium" seats than usual there too, so do take D, E or J around them. Due to the high set, row V 5 and 13 have the best view at second price, with least sound-desk disturbance - take the seats between them if it doesn't bother you.

In the dress circle, the four side block seats near the centre aisle become premium price Friday and Saturday - go row E rather than the two furthest over.

In the upper circle, the very restricted outermost corner seats in all rows are cheapest in the place - monkey likes C3 and 25 for the cash, otherwise they are ones for those just wanting to "be there" it feels. Beside them, seats off the centre aisle are the same price as centre row G. Take whichever you prefer, feels the monkey, bearing in mind row B has problems with people leaning.

In the balcony, note that rows F and G may be added if seats can be squeezed in among the lights.
The monkey advises checking performance times on your tickets and that performances are happening as scheduled, before travelling.
Monday to Saturday at 7.45pm
Wednesday and Saturday at 3pm and 7.45pm


Runs 2 hours 30 minutes approximately.
Theatres use "dynamic pricing." Seat prices change according to demand for a particular performance. Prices below were compiled as booking originally opened. Current prices are advised at time of enquiry.
Monday to Thursday, except all performances in the final week:
Friday and Saturday, plus all performances in the final week: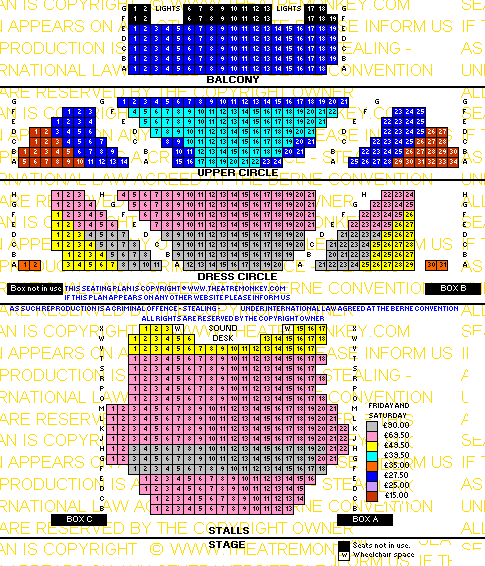 RUSH TICKETS: App Todaytix are offering £25 "Rush tickets," located at venue discretion, for all performances. Released for the performance on that day, first-come, first-served. Download the App from Todaytix, unlock the "Rush Ticketing" feature by sharing on Facebook or Twitter, and that will allow you to buy tickets. 
When the box office does not have seats available, or you require an alternative choice of seats, the Theatremonkey Ticketshop, telephone 020 7420 9778 (0044 207 420 9778 if calling from outside the United Kingdom), agency service can offer seats with a variable "per ticket" service charge - £22.50 on £90, £20 on £80, £17.40 on £69.50, £16.30 on £65, £12.40 on £49.50, £9.90 on £39.50, £9.40 on £37.50, £6.90 on £27.50, £6.30 on £25, £3.80 on £15 seats. More than the box office, but well worth trying as it often has tickets when other companies do not! Note that this system will confirm exact seat numbers prior to purchase. A £1.95 per booking, not per ticket, handling fee may apply on some transactions by telephone. NO handling fee applies for online purchases.
Another alternative is www.seetickets.com which offers seats with a fee of £18 on £90, £16 on £80, £13.90 on £69.50, £13 on £65, £9.90 on £49.50, £7.90 on £39.50, £7.50 on £37.50, £5.50 on £27.50, £5 on £25 seats; and £2.75 per booking (not per ticket) postal charge.
Alternatively, through Ticketmaster with a sliding scale of per ticket booking fees: £18 on £17.75, £15.75 on £80, £13.75 on £69.50, £12.75 on £65, £9.25 on £49.50, £7.75 on £39.50, £7.50 on £37.50, £5.50 on £27.50, £5 on £25, £3 on £15 seats. This system allows you to choose your own seats from the selection the company has available.
Encore Tickets (telephone 0207 400 1253 / 0044 207 400 1253 if calling from outside the United Kingdom) offer seats with booking fees of £18 on £90, £16 on £80, £13.50 on £69.50, £13 on £65, £9.50 on £49.50, £8.50 on £39.50, £7.50 on £37.50, £5.50 on £27.50, £5 on £25, £3 on £15 seats. A postage charge of £1.45 per booking, not per ticket may be applied to bookings made from UK addresses more than 5 days before the performance.
Discounts and "Meal and Show" packages may also be available. Hotel / theatre ticket packages are also available.
Londontheatredirect.com charge a booking fee of £18 on £90, £16 on £80, £14 on £69.50, £13 on £65, £10 on £49.50, £8 on £39.50, £7.50 on £37.50, £8 on £25, £5 on £15 seats. There is a £1 per booking, not per ticket, transaction fee for collecting tickets from the box office before your performance. Alternatively, if time allows, there is a postage to your home option, costing £2.95 (£4.95 to non-UK addresses) per booking, not per ticket. Optional Ticket Insurance is also available. 
Discounts and Meal and Show Packages may also be available.
Back To Top