---
51 Shaftesbury Avenue, Soho, London W1D 6BA 0844 482 5160
Synopsis
Theatremonkey show opinion
Theatremonkey seat opinion
Reader reviews
Performance schedule
Ticket prices
Ends 5th September 2021.
The "nineteenth century France story of a convict going straight, a single mother going on the game, students rioting, publican thieving and a policeman going bonkers" is presented in a concert version for the holiday season.
A repeat of the autumn 2019 production at the Gielgud Theatre, with a changing cast of West End favourites.  
For further casting information and the dates actors play, see www.delfontmackintosh.co.uk.
Cast details are given for information only, and theatremonkey.com cannot take responsibility for any details given.
From the 2019 production - some actors have now left the cast.
(seen at the afternoon performance on 25th September 2019).
Both regular Theatremonkey readers will know just how bitterly disappointed, angry and upset the monkey was on its final visit to the "original" show back in July 2019. Afterwards, it did wonder whether it had outgrown the show, and if it was a monkey issue, not a Mackintosh one.

This "All Star" (though they dropped the term, every single one of them is) version reassured it by the (weeping) bucket.

Simply, every inch of it – music, performance, performers is magnificent. John Owen Jones – a Valjean the monkey has seen previously – washes all horrid memories of that July night away with the richness of characterisation, vocal performance and static acting.
Michael Ball (Javert) lifts "Stars" to a new level – and it was touching that Rob Houchen (Marius) chose not to imitate Ball's original "Empty Chairs At Empty Tables" but still make a connection that those who remember will notice.
Carrie Hope Fletcher (Fantine) simply smashes "I Dreamed A Dream" so far into orbit they probably use a Space-Shuttle to bring her back for the rest of her performance after that.
Shan Ako (Eponine) finds the most fabulous meaning in "On My Own" – and draws early tears as she feels no pain later.
Matt Lucas and Katy Secombe make us glad he didn't marry his sister, as the Thenardiers are on spectacular comic – and indeed surprisingly strong – vocal form.
In smaller roles, Earl Carpenter is a beautifully sung, beatific Bishop of Digne, Raymond Walsh a highly successfully tipsy Grantaire and applause for both Young Cosette and Young Gavroche for scene-stealing performances. Also, the entire team of factory girls should be ashamed of their bitchiness – and signed up for the return of the show to the Sondheim Theatre immediately. Fun from them too in "Master of the House" and "Beggar At The Feast" (watch the sides of the stage for the first, the hands for the latter).
The orchestra sound full and lush, the setting simply works. They may want £175 for remaining tickets... if you can afford it, it's worth it. As close to the electricity of the original show, and not to be missed.

5 stars, standing ovation.
Based on paying FULL PRICE (no discount!) for tickets, site writers and contributing guests have ALSO created the colour-coded plans for "value for money," considering factors like views, comfort and value-for-money compared with other same-priced seats available.
For a full discussion, opinions, reviews, notes, tips, hints and advice on all the seats in this theatre, visit the theatre page (link at the top of this page) and click on "BEST SEAT ADVICE" (on the left of your screen).
On the plans below:
Seats in GREEN many feel may offer either noticeable value, or something to compensate for a problem; for example, being a well-priced restricted view ticket. Any seats coloured LIGHT GREEN are sold at "premium" prices because the show producer thinks they are the best. The monkey says "you are only getting what you pay for" but uses this colour to highlight the ones it feels best at the price, and help everybody else find equally good seats nearby at lower prices.
Seats in WHITE, many feel, provided about what they pay for. Generally unremarkable.
Seats in RED are coloured to draw attention. Not necessarily to be avoided - maybe nothing specific is wrong with them, other than opinions that there are better seats at the same price. Other times there may be something to consider before buying – perhaps overpricing, obstructed views, less comfort etc.
Please remember that cheaper seats often do not offer the same view / location quality as top price ones, and that ticket prices are designed to reflect this difference.
To enable "social distancing," available locations may vary. Some seats may be removed / added as Government regulations require.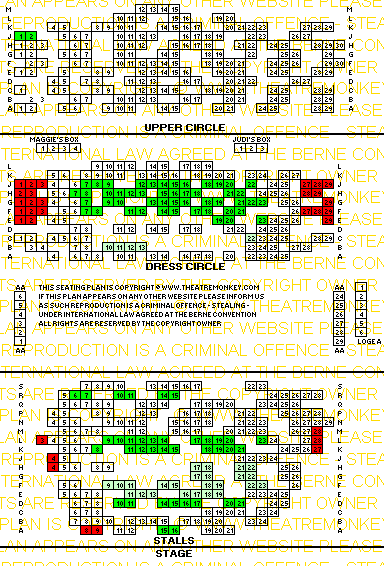 Little change from the usual price / value layout of the regular show. The rear stalls have been removed, and the price drops at row R, making them worth thinking about. Remember that in the upper circle, not having occupied seats beside you will increase legroom, which is worth thinking about. Most of the second price seats are up here, which is not ideal, but the view is going to be closer than from the rear stalls for many, and clearer for the shorter who will see past heads.
Legacy reader reviews
(2 reviews)
I picked up A20 in the Dress Circle earlier in the week - paid £97.50 which whilst not cheap, seemed good given I've seen it at up to £167.50 (the top 'gold ticket' price) for later in the staged concert's run.
Great view - much closer than I was expecting and obviously no heads in the way. Comfy seat although the leg room wasn't amazing for a 6 footer, but I coped, and at least with adjacent seats being empty meant I had some room to re-position myself when I felt uncomfortable. The sound was great, and the elevated view gives a great vantage point for the whole set and lighting. Would definitely rate as green, although perhaps a only a pale green if it's priced at premium levels!
And as for being back in a stunning West End theatre listening to one of the all time best musical scores? Goosebump-inducing and I loved it! I know this run isn't an instant sell out like the all-star version was, but it's certainly got a very strong and talented cast. Jon, Bradley and Shan Ako in particular gave brilliant performances. Very much looking forward to going back with Mum for her birthday in July.
_____________________________________________________
Had a little trip to Les Mis on Friday night (11th June 2021) which was fantastic. 
We were in the Grand Circle, D11,12,13. Fairly central and fortunately we were not too bothered by people leaning forward - although I can see how this would be a problem depending on your fellow audience members and when at full capacity.  You're pretty high up (maybe not the best if heights are an issue for you) but we had a  more or less unobstructed view, you can't see the top of the back of the stage but for this show it wasn't much of an issue.  
The main problem is legroom - woeful. We were grateful for the social distancing meaning we could stretch out to the side a little bit and we're only 5 foot 3 ish.  A man in the front row opted to sit right at the side (A1) before the show even started rather than suffer through it.  
We were very grateful for the air cooling system and also the ladies toilets were immaculate!  
The monkey advises checking performance times on your tickets and that performances are happening as scheduled, before travelling.
Tuesday to Friday at 7.15pm
Saturday at 2pm and 7.15pm
Sunday at 3pm.
NO MONDAY PERFORMANCES.
Runs 2 hours 45 minutes approximately, with one interval.
Theatres use "dynamic pricing." Seat prices change according to demand for a particular performance. Prices below were compiled as booking originally opened. Current prices are advised at time of enquiry.
To enable "social distancing," locations may vary. Some seats may be removed / added as Government regulations require.
Back To Top