---
Old Compton Street, Soho, London W1D 4HS 0844 482 5151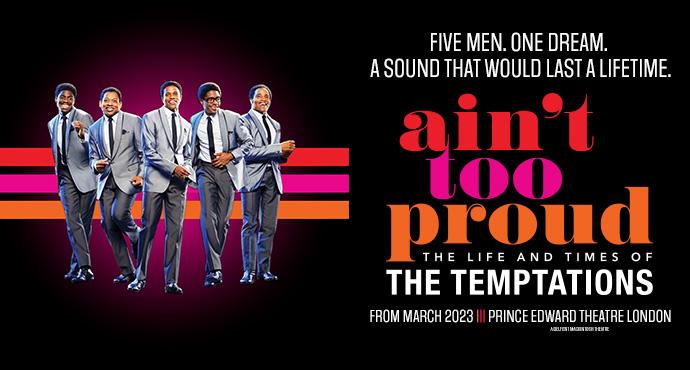 Synopsis
Theatremonkey show opinion
Reader reviews
Performance schedule
Ticket prices
Booking until 7th January 2024.
"My Girl," "Papa Was a Rolling Stone," "Just My Imagination" and more timeless classic songs came from a Detroit group "The Temptations". This is their story from the streets to the Rock & Roll Hall of Fame.
Cast includes: Cameron Bernard Jones as Melvin Franklin, Kyle Cox as Paul Williams, Sifiso Mazibuko as Otis Williams, Tosh Wanogho-Maud as David Ruffin and Mitchell Zhangazha as Eddie Kendricks. 
The cast is completed by: Evonnee Bentley-Holder, Natalia Brown, Ryan Carter, Hannah Fairclough, Christopher Gopaul, Daniel Haswell, Naomi Katiyo, Akmed Junior Khemalai, Holly Liburd, Darnell Mathew-James, Simeon Montague, Posi Morakinyo, Sadie-Jean Shirley, Michael James Stewart, Toyan Thomas-Browne, Dylan Turner and Kevin Yates.
(seen at the preview performance on 2nd April 2023)
As with many of these band biographical musicals, the monkey went in knowing a couple of songs, was surprised by one or two others but found the rest unknown and so was sitting absorbing an entire discography along with the artist history lesson.
This ran 18 months on Broadway, either side of the pandemic, and will do a fixed year in London. As a chance to see just how smooth a Broadway show can be, Dominique Morisseau's book delivers a masterclass in focussed storytelling, Des McAnuff directs at the steadiest pace and Sergio Trujillo's choreography captures the movement of the times with skilful updates as fashions change.
Paul Tazewell produces outstanding costumes for the ladies – the second dress change had the women around the monkey drooling, rightly so. Peter Nigrini's projection design also adds the much-needed energy to Robert Brill's very simple theater canopy set with the odd sliding office and a perfectly conceived bus interior.
For just the third preview, the company are already confidently into their stride. Our host Sifiso Mazibuko as the original Temptation (or "Temp") Otis Williams makes an engaging narrator. Unafraid to admit his faults, particularly in the personal relationship department with long-suffering wife Josephine (Naomi Katiyo suitably frustrated), and undefeated by the life he chose.
Tosh Wanogho-Maud as hugely troubled as talented original band member David Ruffin dominates with the strongest voice and stage presence. Likewise Mitchell Zhangazha as Eddie Kendricks exposes the rougher side of fame.
In supporting roles, Evonnee Bentley-Holder is a highly believable Mamma Rose, Cameron Bernard Jones equally as manager Melvin Franklin.
The entire ensemble work to produce one very, very slick, polished to perfection glide through the music and development of Motown.
Peculiarly, for tunes emerging from the soul, the overall effect is oddly soulless. The rise and fall of friendships as business changes personalities should be moving, but the disposal of band members for expected music industry reasons becomes strangely repetitive rather than sad and unique. 
The two most dramatic incidents provoke some appropriate reaction, but for a show about entertainment the humour is somewhat lacking and there is little feeling of the audience relaxing deeply into the music. 
That they seemed rather to tack on "The Supremes" for two sequences seemed more an artificial (but welcome) way to vary the texture and give ladies something to do than augment the story.
If you are already a fan of The Temptations, this should be a "must." For anyone else seeking a sleek night out, again, one to consider. For a little grit and constant stream of really well-known songs, perhaps "Jersey Boys" is a stronger choice in the biographical jukebox musical genre.
Didn't have very high expectations before going but was pleasantly surprised. The overall story is what it is but the performances were amazing! Excellent voices and so much energy made for very enjoyable afternoon
Legacy reader reviews
Sun 2nd April 2023 matinee stalls row ZA 19-22
Great seats very central view and good that the seating is staggered so the person in front of you isn't directly in front of you. Didn't feel cramped with regards to leg room and because we were in the middle we didn't have to get up for people either side to get to their seats. 
Enjoyed the show, good dancing and singing performances but disappointed there was no end Medley **spoiler** (felt a bit of a damp squib just updating what happened to the rest of the group?).
Loved 'The Supremes' sparkly gowns. I didn't feel the "wow" factor leaving the theatre and although the theatre was full and they got a (short?) standing ovation it didn't feel the same atmosphere as the end of other West End shows I have been to (maybe as no crowd pleasing end Medley/encore?) and much preferred 'The Drifters Girl' with regards to the story and music (as did the other people I attended with). 
__________________________
"Dress Circle Slips Box 1, seat 4. View is pretty good. Sometimes need to lean over the padded railing but it's fine. Great legroom. Would sit here again."
__________________________
Sadly, I saw the last show with the understudy as David Ruffin before the actor from the Broadway cast took over for the injured Tosh until he can return to the show. The understudy did his best but didn't have the once in a lifetime voice Ruffin was supposed to have so it didn't work. I don't like the show enough to go back to see someone else who can sing the part.
Stalls H11: Excellent view. Good rake so no heads in the way. Generous legroom. Really a marvellous seat!
Broadway John.
 
The monkey advises checking performance times on your tickets and that performances are happening as scheduled, before travelling.
Tuesday to Saturday at 7.30pm
Thursday and Saturday at 2.30pm and 7.30pm
Sunday at 3pm
NO MONDAY PERFORMANCES.
Runs 2 hours 40 minutes approximately.
Theatres use "dynamic pricing." Seat prices change according to demand for a particular performance. Prices below were compiled as booking originally opened. Current prices are advised at time of enquiry.
CLICK SEATING PLAN TO ENLARGE IF REQUIRED. USE "BACK" BUTTON TO RETURN.
RUSH TICKETS: App Todaytix are offering £30 "Rush tickets," located at venue discretion, for all performances. Released for the performance on that day, first-come, first-served. Download the App from Todaytix. 
Back To Top