---
113 Shaftesbury Avenue, Soho, London W1D 5AY 0343 208 0500
Synopsis
Theatremonkey show opinion
Theatremonkey seat opinion
Reader reviews
Performance schedule
Ticket prices
RESCHEDULED AND RENAMED: Now from 10th to 13th June 2021.
The line-up features the West End's biggest stars, including Sophie Evans, Alice Fearn, Ben Forster, Rachel John, Jamie Muscato, Shanay Holmes, Trevor Dion Nicholas and Layton Williams.
An all-singing, all-dancing extravaganza of a concert!
As with all West End Musical productions the audience will 'become the cast' and will be immersed in the wonderful world of musicals from the moment they enter the theatre.

A percentage of profits will be donated to Acting For Others.
The show is suitable for those aged 10 and over.



Creative team:
Director: Tom Jackson Greaves
Choreography: Sha Barclay
Music Direction: Richard Beadle
Produced by Chris Steward & Shanay Holmes for West End Musical Productions (the producers of 'West End Musical Drive In' and 'West End Musical Brunch'), in association with Nica Burns.
Based on paying FULL PRICE (no discount!) for tickets, site writers and contributing guests have ALSO created the colour-coded plans for "value for money," considering factors like views, comfort and value-for-money compared with other same-priced seats available.
Some notes for this extra event appear below. For a full discussion, opinions, reviews, notes, tips, hints and advice on all the seats in this theatre, visit the theatre page (link at the top of this page) and click on "BEST SEAT ADVICE" (on the left of your screen).
On the plans below:
Seats in GREEN many feel may offer either noticeable value, or something to compensate for a problem; for example, being a well-priced restricted view ticket. Any seats coloured LIGHT GREEN are sold at "premium" prices because the show producer thinks they are the best. The monkey says "you are only getting what you pay for" but uses this colour to highlight the ones it feels best at the price, and help everybody else find equally good seats nearby at lower prices.
Seats in WHITE, many feel, provided about what they pay for. Generally unremarkable.
Seats in RED are coloured to draw attention. Not necessarily to be avoided - maybe nothing specific is wrong with them, other than opinions that there are better seats at the same price. Other times there may be something to consider before buying – perhaps overpricing, obstructed views, less comfort etc.
Please remember that cheaper seats often do not offer the same view / location quality as top price ones, and that ticket prices are designed to reflect this difference.
To enable "social distancing," available locations may vary.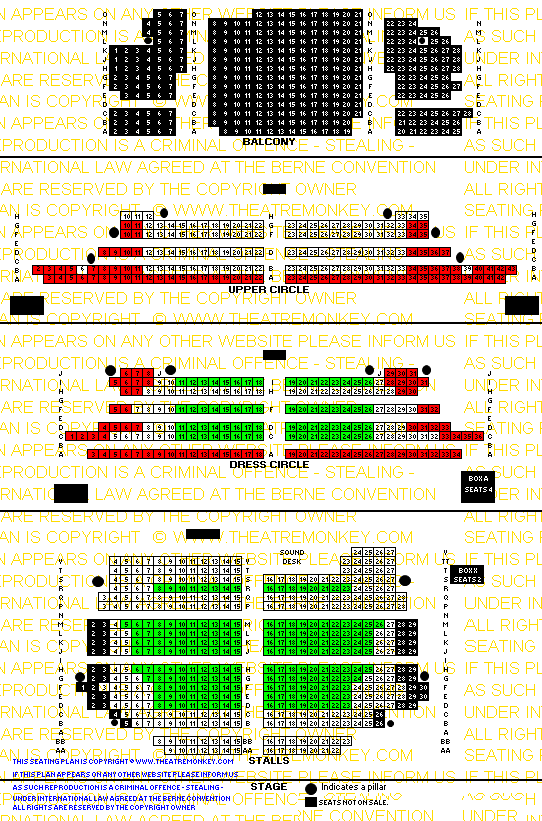 In the stalls, at premium and top non-premium price most seats are great. The stage is high, making the front row one for fans. Behind that, your choice whether to pay more for "premium" seats or go for ones around them - the price difference isn't that great. At second price, take row R over row Q for the same view, cheaper.
In the dress circle, the monkey would only skip row A if over 5ft 5 or so, as legroom isn't great. At top non-premium price the ends of rows are not brilliant either. At second price, central row I is worth a look.
In the upper circle, rows A and B are out for comfort for most. Skip the ends of other rows too, as they are not reduced for a restricted view.
The monkey advises checking performance times on your tickets and that performances are happening as scheduled, before travelling.
Thursday and Friday at 7pm
Saturday and Sunday at 2pm and 7pm
Runs 2 hours 20 minutes approximately, including an interval.
Theatres use "dynamic pricing." Seat prices change according to demand for a particular performance. Prices below were compiled as booking originally opened. Current prices are advised at time of enquiry.
To enable "social distancing," locations may vary.
Back To Top