---
The Regent's Park, Inner Circle, London NW1 4NU 0333 400 3562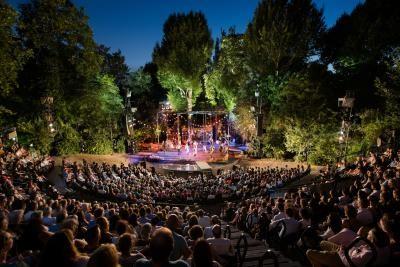 Synopsis
Theatremonkey show opinion
Theatremonkey seat opinion
Reader reviews
Performance schedule
Ticket prices
7th to 24th July 2021.
Relaxed performance: 16th July 2021 at 1pm.
Anansi is a famous spinner of stories from long ago. Cleverest in the kingdom at tricks and tales, sometimes a little too much so...
This West African and Caribbean legend is brought to the park from the Unicorn Theatre.
Suitable for ages 3 to 6, it takes place on the theatre's lawn.
The lawn is being used, not the main auditorium, so don't wear best clothes as you will probably be sitting on the grass.
The monkey advises checking performance times on your tickets and that performances are happening as scheduled, before travelling.
Monday, Wednesday and Friday at 10.30am and 1pm.
Saturday at 10.30am
 
Runs 50 minutes approximately.
Back To Top