---
The Regent's Park, Inner Circle, London NW1 4NU 0333 400 3562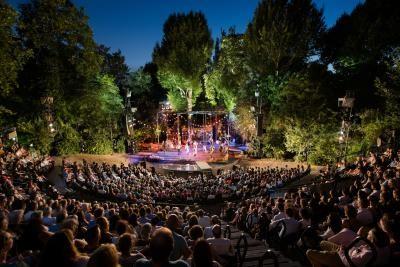 Synopsis
Theatremonkey show opinion
Reader reviews
Performance schedule
Ticket prices
14th August until 27th September 2020
Captioned performance: 18th September 2020 at 7.30pm
Not to be confused with the Susan Boyle musical ("Superstar? Jesus Christ!") this is the one about the guy who gets nailed to a tree just for suggesting everyone is kind to each other for a change.* Truly the greatest story ever told, and one of the best modern musicals, this Lloyd Webber / Rice was the first of theirs to play the Open Air Theatre.
Timothy Sheader directs a 90 minute no interval concert version.

*Gag credits: Barry Cryer and Douglas Adams.
The monkey advises checking performance times on your tickets and that performances are happening as scheduled, before travelling.
Tuesday to Sunday at 7.30pm
Wednesday, Saturday and Sunday at 3pm and 7.30pm
Runs 1 hour 30 minutes approximately with no interval.
Theatres use "dynamic pricing." Seat prices change according to demand for a particular performance. Prices below were compiled as booking originally opened. Current prices are advised at time of enquiry.

All seats: £65 except
Row L 1, 2, 63, 64; N 1 to 6, 67 to 72; P 5 to 11, 78 to 83; R 9 to 89; T 13 to 103: £45
Row P 1, 2, 87, 88; R 1 to 6, 92 to 97; T 1 to 10; 106 to 115: £25
Gangways 1 and 4 seats on the grass banks: £25
Back To Top