---
The Cut, Lambeth, London SE1 8NB 0344 871 7628
Synopsis
Theatremonkey show opinion
Reader reviews
Performance schedule
Ticket prices
Previews from 6th September, opens 19th September 2023. Ends 28th October 2023.
PLEASE NOTE THAT THIS IS NOT A MUSICAL.
NOT SUITABLE FOR THOSE AGED UNDER 12.
Captioned performance: 13th October 2023 at 7.30pm
Relaxed, audio described and captioned performance: 14th October 2023 at 2.30pm
Audio described performance: 16th October 7.30pm (touch tour 5.30pm)
Signed performance: 2nd October 2023 at 7.30pm
Pluck flower-seller Eliza Doolittle from the gutters of Covent Garden and turn her into a Lady? That's the bet between accents expert Henry Higgins and friend Colonel Pickering.
Patsy Ferran and Bertie Carvel duel in George Bernard Shaw's classic satire, directed by Richard Jones. Cast details are given for information only, theatremonkey.com cannot be responsible for the non-appearance of any performer.
The monkey advises checking performance times on your tickets and that performances are happening as scheduled, before travelling.
Monday to Saturday at 7.30pm (7pm on 19th September 2023)
Wednesday and Saturday at 2.30pm and 7.30pm (first 2.30pm performance is on 16th September 2023)
No 2.30pm performance on 20th September 2023.
Extra 2.30pm performance on 21st September 2023.
Theatres use "dynamic pricing." Seat prices change according to demand for a particular performance. Prices below were compiled as booking originally opened. Current prices are advised at time of enquiry.
CLICK SEATING PLAN TO ENLARGE IF REQUIRED. USE "BACK" BUTTON TO RETURN.
Some details may change, the monkey will update as available.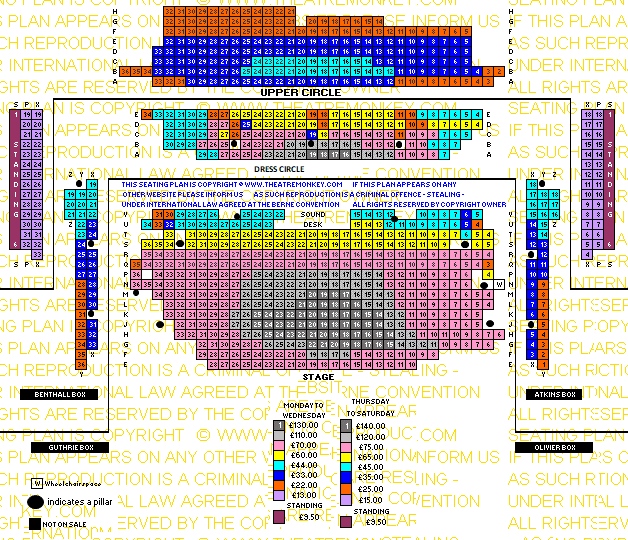 Preview performances:
During previews, half the theatre will be sold at £10. Seat locations will be allocated all over the auditorium, with remaining seats at normal prices.
Details: www.oldvictheatre.com/your-visit/pwc-10-previews/
Back To Top