---
The Cut, Lambeth, London SE1 8NB 0844 871 7628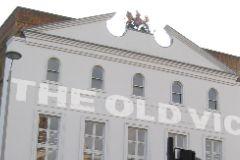 Synopsis
Theatremonkey show opinion
Reader reviews
Performance schedule
Ticket prices
Previews from 7th September, opens 15th September 2021. Ends 30th October 2021.
The traditional American Summer Camp of the 1930s. This one is on Long Island, New York, and is for children of German heritage... amidst the fun and first romances, a dangerous ideology is being communicated.
Bess Wohl's play is given its world premiere with Pasty Ferran and Luke Thallon in the lead roles.
The monkey advises checking performance times on your tickets and that performances are happening as scheduled, before travelling.
Monday to Saturday at 7.30pm (7pm on 7th September 2021)
Wednesday and Saturday at 2.30pm and 7.30pm
No 2.30pm performances on 8th and 15th September 2021.
Theatres use "dynamic pricing." Seat prices change according to demand for a particular performance. Prices below were compiled as booking originally opened. Current prices are advised at time of enquiry.
All performances from 15th September 2021 onwards:
Preview performances from 7th until 15th September 2021 only:
Note that the "PwC Previews Scheme" prices at least half the tickets at £10 for the first five previews. These tickets are released a few weeks before the show begins previews. Join the Old Vic Theatre website mailing list for the exact dates.  
Back To Top