---
85-88 St Martin's Lane, Covent Garden, London WC2N 4AP 0844 482 5141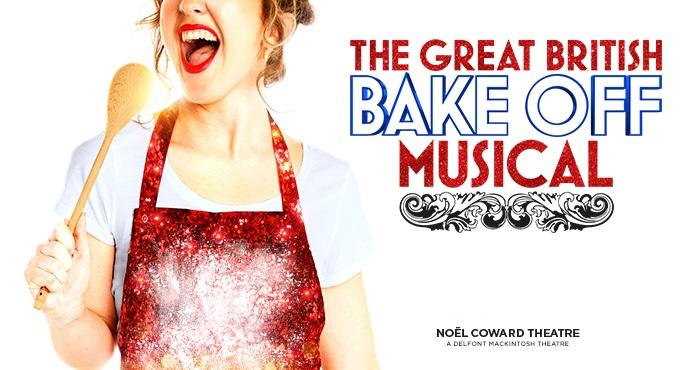 Synopsis
Theatremonkey show opinion
Reader reviews
Performance schedule
Ticket prices
Ends 13th May 2023.
Six bakers, one baking competition.
A light-hearted new musical from Pippa Cleary and Jake Brunger (yes, the monkey's prouder than it can say to say it).
Based on the hit TV show.
Legacy reader reviews
Stalls T13. Seats are quite low but the legroom is more than decent. Dead centre of the row. Doesn't feel too far back. As mentioned in other reviews, the overhang obstructs the top of the stage but, if you're seeing "The Great British Bake-Off" musical, it only affects the (unimportant) action for about 5 seconds. Sound desk is immediately behind the seat.
Loved the GBBO musical. Nearly cried at the song between Ben and his little girl. It's a solid musical. Probably the best I've seen this year. I hope it stays in the West End for a good long while!  It's like Come From Away, except British. Helps that I already adored JOJ and Claire Moore and Damian Humbley!
The monkey advises checking performance times on your tickets and that performances are happening as scheduled, before travelling.
Monday at 7.30pm
Wednesday at 7.30pm
Thursday at 2.30pm and 7.30pm
Friday at 7.30pm
Saturday at 2.30pm and 7.30pm
Sunday at 3pm
NO TUESDAY PERFORMANCES.
Runs 2 hours 25 minutes approximately, including one interval.
No 2.30pm performance on 6th May 2023.
Theatres use "dynamic pricing." Seat prices change according to demand for a particular performance. Prices below were compiled as booking originally opened. Current prices are advised at time of enquiry.
RUSH TICKETS: App Todaytix are offering £25 "Rush tickets," located at venue discretion, for all performances. Released for the performance on that day, first-come, first-served. Download the App from Todaytix.  
Back To Top