---
29 Shaftesbury Avenue, Soho, London W1D 7ES 0330 333 4812
Synopsis
Theatremonkey show opinion
Theatremonkey seat opinion
Reader reviews
Performance schedule
Ticket prices
Mondays 20th June, 18th July, 26th September, 24th October, 12th December 2022.
Suitable for ages 12 and over.
With 12 years as an Edinburgh Festival must-see phenomenon, a critically acclaimed West End run and an Olivier Award to their name, The Showstoppers have blazed a trail in world class improvised 
comedy since 2008 and delighted audiences across the globe. 
Now, with well over 1000 performances under their belts, they're back in the West End for a limited run of singular, one-night-only musical extravaganzas.
The Showstoppers transform audience suggestions - for setting, musical styles, show title and more - into an entirely different show every single night! Guaranteed to impress, they create shows packed with high drama, superb lyrics, dazzling dance routines and catchy melodies – entirely made up on the spot as the Showstopper team – cast and band – weave a brand-new musical in front of the very eyes of the audience, complete with hilarious characters, fabulous dance routines, beautiful songs, epic story lines, all sprinkled with the pizzazz of a Broadway show.
Every Showstopper! performance is a brand-new musical West End hit waiting to happen – so whether you fancy 'Hamilton' on Hampstead Heath or some Sondheim set in a castle, 'Beetlejuice' in Boots or Stephen Sondheim set on a submarine, you say it and – as always - The Showstoppers will make it happen!
Rotating Cast: 
Jonathan Ainscough, Ruth Bratt, Justin Brett, Matt Cavendish, Dylan Emery, Pippa Evans, Susan 
Harrison,Joshua Jackson, Ali James, Sean McCann, Adam Meggido, Philip Pellew, Andrew Pugsley, Lauren Shearing, Lucy Trodd, Heather Urquhart.
Rotating musicians: 
Craig Apps, Christopher Ash, Alex Atty, Jordan Clarke, Pete Furness, Nathan Gregory, Calie Hough, Chloe Potter, Duncan Walsh Atkins, Andrew Woolf.
Creators and Directors Adam Meggido & Dylan Emery
Musical Supervisor Duncan Walsh Atkins
Movement Director Ali James
Set Design Simon Scullion
Costume & Prop Design Gabriella Slade
Lighting Design  Damian Robertson, 
Sound Design Oscar Thompson
Produced by Showstopper Productions Ltd.
 
Based on paying FULL PRICE (no discount!) for tickets, site writers and contributing guests have ALSO created the colour-coded plans for "value for money," considering factors like views, comfort and value-for-money compared with other same-priced seats available.
Some notes for this extra event appear below. For a full discussion, opinions, reviews, notes, tips, hints and advice on all the seats in this theatre, visit the theatre page (link at the top of this page) and click on "BEST SEAT ADVICE" (on the left of your screen).
On the plans below:
Seats in GREEN many feel may offer either noticeable value, or something to compensate for a problem; for example, being a well-priced restricted view ticket. Any seats coloured LIGHT GREEN are sold at "premium" prices because the show producer thinks they are the best. The monkey says "you are only getting what you pay for" but uses this colour to highlight the ones it feels best at the price, and help everybody else find equally good seats nearby at lower prices.
Seats in WHITE, many feel, provided about what they pay for. Generally unremarkable.
Seats in RED are coloured to draw attention. Not necessarily to be avoided - maybe nothing specific is wrong with them, other than opinions that there are better seats at the same price. Other times there may be something to consider before buying – perhaps overpricing, obstructed views, less comfort etc.
Please remember that cheaper seats often do not offer the same view / location quality as top price ones, and that ticket prices are designed to reflect this difference.
Seats are reasonably priced, the monkey can only add that row G in front of the premium seats is probably a good bet in the stalls. Row A is even better at lowest price.
It would try for second price stalls over anything second price in the upper circle for comfort alone. 
Take balcony lowest price seats only if row A stalls have gone.
The monkey advises checking performance times on your tickets and that performances are happening as scheduled, before travelling.
Mondays at 7.30pm
Runs 1 hour 50 minutes approximately, including one interval.
Theatres use "dynamic pricing." Seat prices change according to demand for a particular performance. Prices below were compiled as booking originally opened. Current prices are advised at time of enquiry.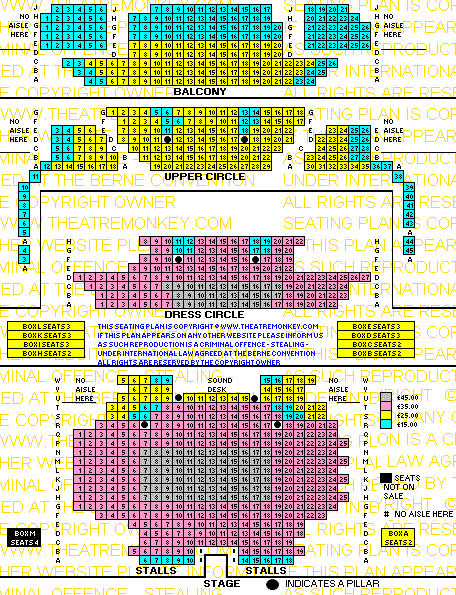 Back To Top