---
29 Shaftesbury Avenue, Soho, London W1D 7ES 0330 333 4812

Synopsis
Theatremonkey show opinion
Reader reviews
Performance schedule
Ticket prices
A tale of triumph over politics and unrest, in the tale of Jamaica's global superstar Bob Marley.
The man, his music, his story, brought to life in an exciting new musical.
Not yet available. The monkey had hoped to see this by now, but sadly hasn't yet. Professional reviews are mostly encouraging. All note that it is a standard "jukebox" show to end on - but that there is a good amount of history covered before that.
For some it is too glib, with detail hurried over to get to the songs. Others find the whole atmosphere infectious (in a good way) and are happy to just relax and go with the thump of reggae flow. 
All agree that the speaker set is not quite right, but also that the performances are strong and the use of several actors as Marley is intelligently directed. A celebration rating 3 or 4 stars seems to be the opinion.
The monkey advises checking performance times on your tickets and that performances are happening as scheduled, before travelling.
Tuesday to Friday at 7.30pm
Saturday at 2.30pm and 7.30pm
Sunday at 2.30pm and 7pm
NO MONDAY PERFORMANCES.
Runs 2 hours 30 minutes approximately.
No performances on 25th and 26th December 2021 and 1st January 2022.
TIME CHANGES
21st December 2021 at 2.30pm and 7.30pm
24th December 2021 at 2.30pm only.
29th December 2021 at 2.30pm and 7.30pm
31st December 2021 at 2.30pm and 7pm
Theatres use "dynamic pricing." Seat prices change according to demand for a particular performance. Prices below were compiled as booking originally opened. Current prices are advised at time of enquiry.
DETAILS WILL CHANGE, THE MONKEY WILL UPDATE AS AVAILABLE.
NOTE THAT THERE IS NOW A SMALL EXTENDED STAGE INTO THE FRONT ROWS OF THE STALLS.

Tuesday to Thursday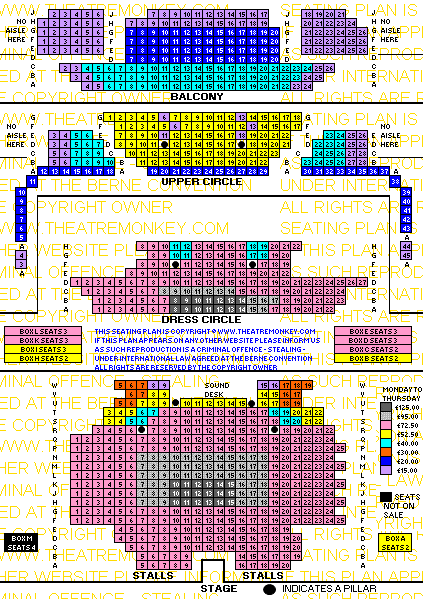 Friday to Sunday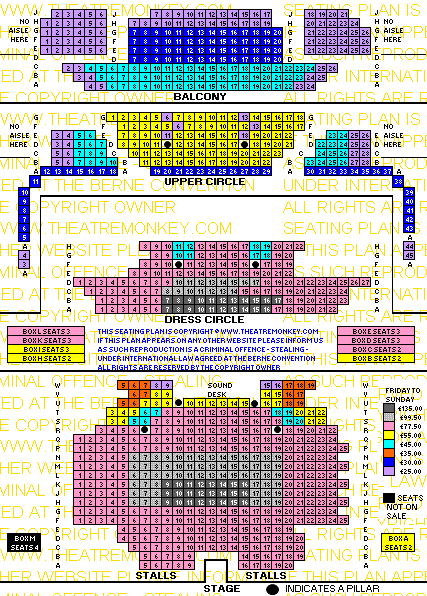 RUSH TICKETS: App Todaytix are offering £25 "Rush tickets," located at venue discretion, for all performances. Released for the performance on that day, first-come, first-served. Download the App from Todaytix, unlock the "Rush Ticketing" feature by sharing on Facebook or Twitter, and that will allow you to buy tickets.
Back To Top