---
8 Argyll Street, Soho, London W1F 7LA 020 3925 2998
Synopsis
Theatremonkey show opinion
Reader reviews
Performance schedule
Ticket prices
Previews from 9th December, opens 13th December 2023. Ends 14th January 2024.
CONTAINS INNUENDO THAT SOME PEOPLE MAY FEEL UNSUITABLE FOR YOUNGER AUDIENCES OR THE EASILY OFFENDED.
Signed performance: 31st December 2023 at 1pm.
Audio described performance: 10th January 2024 at 7.30pm.
The boy who can never grow up, chased by a pirate who wants to make sure of the fact.
For the 8th year running, panto hits the Palladium. The Christmas Crazy gang - Julian Clary, Paul Zerdin, Nigel Havers and Gary Wilmot are back, with last year's sensation Rob Madge on the team.
Jennifer Saunders gets to play Captain Hook, and, giving a flavour of the rest of the show, Julian Clary is seaman Smee... So business as usual for the annual Christmas sensation.
The monkey advises checking performance times on your tickets and that performances are happening as scheduled, before travelling.
Tuesday to Saturday at 2.30pm and 7.30pm
Sunday at 1pm and 5pm
NO MONDAY PERFORMANCES.
No 2.30pm performances on 14th and 26th December 2023, 4th, 5th, 9th, 11th, 12th January 2024.
No 1pm and 5pm performances on 24th December 2023.
No 7.30pm performance on 26th December 2023.
Extra performances at 12 noon and 4pm on 24th December 2023.
Extra performances at 1pm and 5pm on 26th December 2023.
Theatres use "dynamic pricing." Seat prices change according to demand for a particular performance. Prices below were compiled as booking originally opened. Current prices are advised at time of enquiry.
CLICK SEATING PLAN TO ENLARGE IF REQUIRED. USE "BACK" BUTTON TO RETURN.
Some details will change, the monkey will update as available.
Two price layouts are currently in use, with actual prices varying by performance time and date. The booking system will advise current prices at time of enquiry.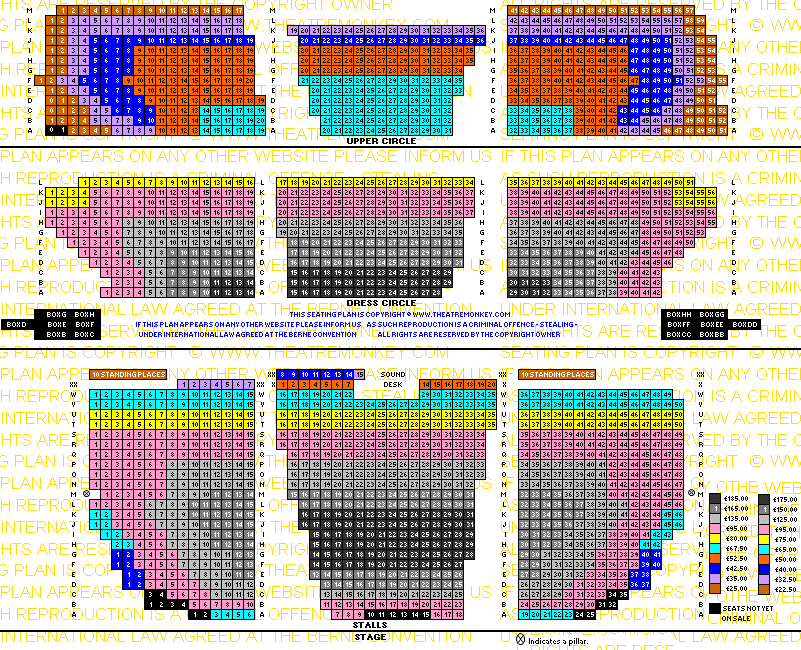 Back To Top