---
8 Argyll Street, Soho, London W1F 7LA 020 7087 7755
Synopsis
Theatremonkey show opinion
Reader reviews
Performance schedule
Ticket prices
Ends 5th September 2021.
Eleven fratricidal brothers make no profit attempting to recycle the snappily dressed dreamer in their midst. Lloyd Webber and Rice do, though.
A revival of the 2019 hit new version of the show, this time with added Alexandra Burke as narrator.
Very special guest star Linzi Hateley will play the narrator at performances when Alexandra Burke is not available. These include:
7.30pm: 28 August 2021.
5pm: 22, 29 August 2021.
2.30pm: 18, 19, 25, 26, 28 August 2021; 1, 4 September 2021.
1pm: 29 August 2021.
Information is given in good faith, but theatremonkey.com cannot be held responsible for accuracy or changes at any time.
Joseph and the Amazing Technicolor Dreamcoat:
(seen at the evening preview performance on 14th July 2021)
As the opinion below shows, the monkey was captivated by this show back in 2019, and booked eagerly for its return. Two years on, the (Canaan) day arrived. Same show, new Narrator and a chance to see Jason Donovan. So, what's changed?
The script and staging remain the same, so if you've heard the jokes don't expect anything new. The children to a kid burst with the same energy, and the score is as fresh as ever.
So why has the monkey deducted a banana this time around?
Rehearsals and some early performance dates were cancelled due to a virus alert. Sadly, this was reflected in what was effectively the third preview. Lyrics forgotten, sound cues askew (the prison door entertainingly slammed shut several seconds before it did on stage) and can somebody do up the kid's shoelace, please, before she trips herself or someone else up.
The whole pace was gentle rather than full-throttle for most of the evening, picking up after the interval – and the entire cast were clearly working their way back to peak show condition after a year of being told to get other jobs. This is why they cannot, and should not – musical theatre performers are athletes and must train constantly to keep in shape.
Back in 2019, the revival was built around Sheridan Smith. Her personality framed the show as her anarchic gang of brats both told and listened to the story. Smith was instigator and facilitator, one of the crew rather than detached as a narrator is usually.
Alexandra Burke by contrast is an adult. Her energetic hands and voice you want to sleep in are engaging enough, but she lacks the feel for comedy of her predecessor and is clearly still asking questions about how she fits into the show. There are flashes, and by the end of the run she will know, but it is a performance not quite there yet.
The monkey must also add a quick note about Mr Donovan (whom it missed the last time). An older and more cynical character than his understudy but rocking the room at the finale. Good to see him again.
As a Linzi Hateley fan, the monkey will hopefully see 1991's fabled narrator later in the run. It looks forward to finding out if the script really is narrator-specific and how the cast have settled in for the run. Meanwhile, as Ms Burke observed from the stage at the end of the show, it's just great to be back.
(seen at the afternoon performance on 13th July 2019). Some actors have now left the cast.
Fresh, funny and fabulous, this is a 21st Century re-interpretation with emphasis firmly on its origins as a delight for the brightest children - including Andrew and Timothy.
Director Laurence Connor takes the whole show from the kids' point of view. Narrator (and more - but always still her, as she reminds us) Sheridan Smith teams up with a gang of youngsters, with whom she shares the story in every way. Smith's energy and side-comments are a one-woman firework display, and it is an utter delight to see her sparkle return. This is reflected by every child in the ensemble, particularly noting those who play... well... that would give away the brilliant and often hilarious surprises set up...
Newcomer Jac Yarrow gets the title role and accompanying coat, and wears it with honour. "Any Dream Will Do" becomes 'proper meaningful' (as his stage dad might say), each word thought about and indeed given contrasting meaning at the beginning and end of his journey.
Cover Richard Carson as Pharaoh (Jason Donovan taking the day off to fulfil a pre-contractual agreement, apparently) will probably headline one day in a show about Elvis. This King is hip, adored by his subjects, and knows how to rock Egypt as well as find the right man to feed it.
John Cameron gives us fresh orchestrations, Joann M. Hunter dance moves old and new to go with them - and Stuart Burt puts together a cracking team of brothers and wives (oh, those Can'aan Ladies - great wigs Mr Mawbey) to perform them. Note too for Ben Cracknell's intelligently varied lighting and also Morgan Large's clever sets and costumes. From the big stuff of Vegas and jail, to the hysterical camels and the witty little notes (minus one sign, and later the burger recipe and Phantom mask hieroglyphics), that's award-winning right there.
If there are any criticisms, the only one is that a few of the dance breaks do go on a little longer than perhaps required. Fun, but the story did need to get on - particularly the elongated "Can Can" being a good joke if it were quicker. It's a minor quibble, though.
This is a glorious kaleidoscope of talents serving up a beloved show in a mega-mixed delight to audiences old and new, old and young and all manner between.
5 stars, standing ovation. May the monkey return...
Legacy reader reviews
(1 review)
Grand circle G45-47. My friend had booked these so I had no say in the seats and I don't think your fantastic website had been consulted! To be fair, for £35 a ticket the view wasn't bad at all, we only lost a small portion of the front left hand corner of the stage, and nothing much happened there for more than a moment or two. Sight lines were good and we could still see faces despite the distance. There's not a lot of leg room but it's a fairly short show we we coped! I'd definitely say if seats are available though, it'd be worth paying a little more to be in the centre block up there, or at least closer to the centre aisles.
The monkey advises checking performance times on your tickets and that performances are happening as scheduled, before travelling.
Wednesday at 2.30pm and 7.30pm
Thursday at 7.30pm
Friday at 7.30pm
Saturday at 2.30pm and 7.30pm
Sunday at 1pm and 5pm
Extra 2.30pm performance on 30th August 2020.
Runs 2 hours approximately, including an interval.
Theatres use "dynamic pricing." Seat prices change according to demand for a particular performance. Prices below were compiled as booking originally opened. Current prices are advised at time of enquiry.
CLICK SEATING PLAN TO ENLARGE IF REQUIRED. USE "BACK" BUTTON TO RETURN.
Wednesday to Friday Evenings until 30th July 2021 and from 1st September 2021 onwards
Other performances: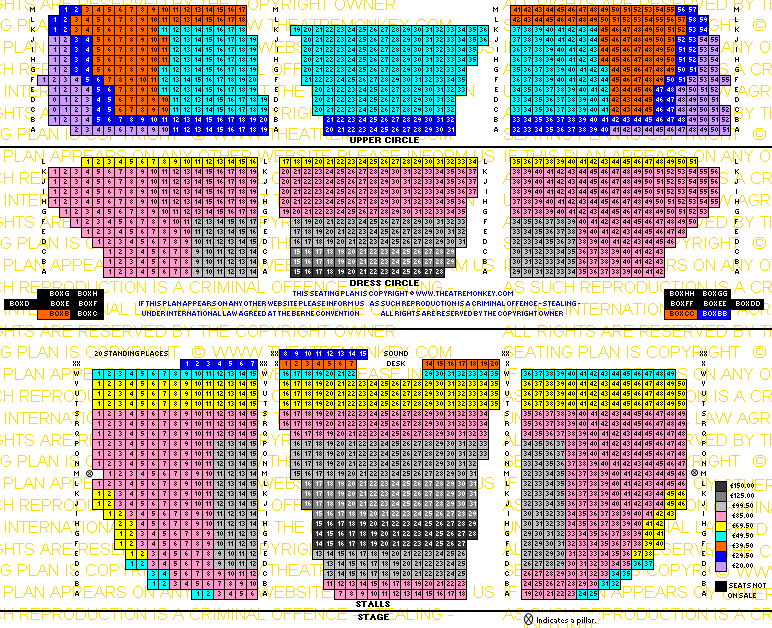 £25 Lottery: Enter online at: www.josephthemusical.com/ticket-lottery/. A draw is made each Thursday (sometimes more often) for the following week. Winners can buy up to 4 tickets for their chosen performance the following week. If you win, you will be contacted within 3 to 5 days with a link to book the actual tickets. Winners are contacted via email. Seats are priced up to £85. Entrants must be over 18, and winners under 16 must be accompanies by an adult.
Back To Top