---
St Martin's Lane, London WC2N 4BG 0333 009 6690
Synopsis
Theatremonkey show opinion
Reader reviews
Performance schedule
Ticket prices
Previews from 27th October, opens 7th November 2023. Ends 27th January 2024.
NOT SUITABLE FOR THOSE AGED UNDER 14.
Captioned performance: 23rd November 2023 at 7.30pm.
Audio described performance: 29th November 2023 at 7.30pm.
Clarence House, 1979. Early days of Thatcherism, final days of trade union strike power. The Queen Mother and her butler William "Billy" Tallon carry on regardless.
A new comedy by Marcelo Dos Santos, with Michael Grandage directing Penelope Wilton and Luke Evans.
The monkey advises checking performance times on your tickets and that performances are happening as scheduled, before travelling.
Monday to Saturday at 7.30pm (7pm on 7th November 2023)
Wednesday and Saturday at 2.30pm and 7.30pm (first 2.30pm performance is on 4th November 2023)
No performances on 16, 25, 26 December 2023 and 1 January 2024.
Extra performances at 2.30pm on 29th December 2023 and 4th January 2024.
Theatres use "dynamic pricing." Seat prices change according to demand for a particular performance. Prices below were compiled as booking originally opened. Current prices are advised at time of enquiry.
Some details will change, the monkey will update as available.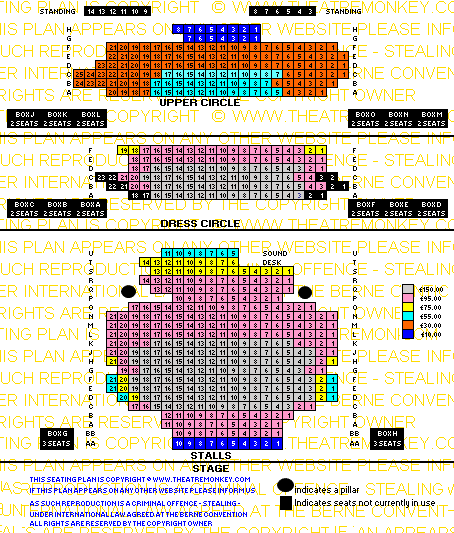 Weekly Rush: A number of tickets, price £10 each, will be released each Tuesday at noon for the following week. Visit www.michaelgrandagecompany.com for details.
Back To Top