---
St Martin's Lane, London WC2N 4BG 0844 871 7623

Synopsis
Theatremonkey show opinion
Reader reviews
Performance schedule
Ticket prices
Previews from 26th October, opens 4th November 2021. Ends 24th April 2022.
 
Sussex. Alex's mind returns to when he was 11, and the childhood pond was an ocean... Joel Horwood adapts Neil Gaiman's book. Suitable for ages 12 and over.
The National Theatre's 2019 hit comes to the West End.
The monkey advises checking performance times on your tickets and that performances are happening as scheduled, before travelling.
Monday to Saturday at 7.30pm (7pm on 4th November 2021)
Thursday and Saturday at 2.30pm and 7.30pm
No 2.30pm performance on 4th November 2021.
Extra 2.30pm performance on 3rd November 2021.
Runs 2 hours 20 minutes approximately.
Theatres use "dynamic pricing." Seat prices change according to demand for a particular performance. Prices below were compiled as booking originally opened. Current prices are advised at time of enquiry.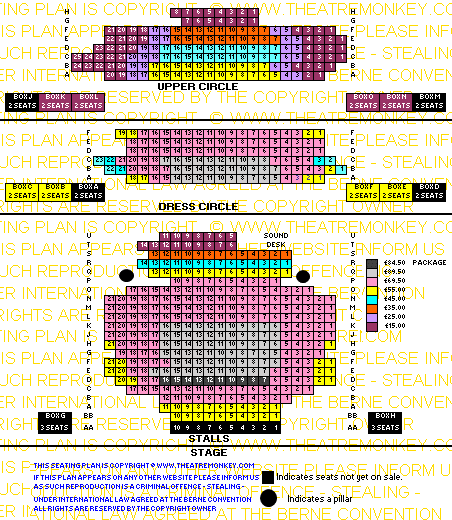 The "Friday Rush Tickets" scheme is operating. Every Friday at 1pm, a number of £10 seats are also released online and by phone for the following week's performances via the National Theatre's website www.nationaltheatre.org.uk. 
RUSH TICKETS: App Todaytix are offering £25 "Rush tickets," located at venue discretion, for all performances. Released for the performance on that day, first-come, first-served. Download the App from Todaytix, unlock the "Rush Ticketing" feature by sharing on Facebook or Twitter, and that will allow you to buy tickets. 
Back To Top