---
41 Earlham Street, London WC2H 9LX 0844 871 7624
Synopsis
Theatremonkey show opinion
Reader reviews
Performance schedule
Ticket prices
Ends 4th June 2022.
Captioned performance: 23rd May 2022 at 7.30pm
Audio described performance: 21st May 2022 at 2.30pm (touch tour 1pm)
Signed performance: 30th May 2022 at 7.30pm
What does nursing mean? A global look, past and present at women who care.
A new play by Jackie Sibblies Drury, directed by Nadia Latif.
(seen at the afternoon performance on 23rd April 2022)
About twice each year, the Donmar Warehouse throw a curveball by bringing a play which may ordinarily be seen as too esoteric for the West End to its stage. This is one of those plays.
Jackie Sibblies Drury takes the life of Mary Seacole, the 19th century Jamaican caregiver and proceeds to weave an iconoclastic yet deeply humane work around the themes of caring and some of the harsh commercial realities.
The action switches almost at random between locations and time periods. Seacole's Jamaica, a geriatric ward, public park in the USA, Scutari and training wards. Disconcerting, but a cast of five are our trusty guides via multiple subtly signified connecting roles.
Two outstanding performances anchor the piece. As Mary (not billed as Mary Seacole, for reasons those who see it will understand) Kayla Meikle has a sense of diction, cadence and oratory which holds the audience mesmerised for minutes on end. Her creole accent is as rich as the finest juices of the fruits grown there, the stage presence and easy flow of characterisations sparkle like the sea surrounding the island. Just as Glenda Jackson once played King Lear, we can hope Meikle is offered the same opportunity some day.
Susan Wooldridge as Merry provides a razor-sharp portrayal of a woman with dementia. You would need to be familiar with the condition to know, but trust the monkey, Wooldridge would be diagnosed instantly in any clinical setting.
At least her family are around her. Daughter May (Olivia Williams) behaves exactly as the child of a sufferer might, keeping up a pretence and celebrating each minor breakthrough while off setting her guilt at her own ineffectiveness onto the care team who know not to take it personally but battle every second of every day for their charges.
Granddaughter Miriam (Esther Smith) gets an oddly written moment of high drama, lost in the shuffle, but worthy of a spin-off sequel in itself. Smith and Williams later produce a "mother / daughter" act with a few laughs to balance the darkness and demonstrate another facet of their abilities.
Offering a reference point and wisdom, Llewella Gideon as Duppy Mary cuts through to the truth whenever required, with some searing and down to earth speeches delivered with decisive authority settling any question moral, ethical or spiritual.
Deja J. Bowens is given the widest range of characters and delights in all of them. Her Mamie is always put-upon and only sometimes fights for her own space. Making her professional debut, Bowens more than holds her own alongside this quartet of hugely experienced actors. With a training CV including "Hamlet" and "Twelfth Night," there must surely be a place as Meikle's daughter in "King Lear" somewhere in the future.
Director Nadia Latif navigates this choppy text with deftness. The multiple character changes, often taking place centre stage are always contiguous with the action, yet avoiding a cinematic feel which would detract from the immediacy of the writing.
Tom Scutt utilises a versatile moving curtain, probably a shedload of Velcro and a surprising number of rolling items to enhance the continuity. A team of Lucy Martin as costume supervisor, Dominique Hamilton as Hair and Make Up Consultant also share equally in producing this convincing, perpetually changing, environment.
The play itself is not perfect. It sags a little in places and judicious editing could remove several scenes containing interesting ideas which the work at the moment cannot pause to properly explore.
Still, Seacole and the millions of nurses and associated carers who followed are given a celebration, while we who are the beneficiaries gain a new appreciation and perspective on their world and how they play such an important role in ours.
After a week in which the monkey languished at several bland and derivative productions, this has a most welcome flavour and bite. The taste will most certainly prove too much for some, but the ideas and quality of performance and production are almost certain to please the jaded regular theatregoer's palate.
Legacy reader reviews
(1 review)
Stalls C30: Seat I think would normally have fantastic leg room. For this production, most of "your" leg room is on a walkway used by the cast to wheel carts and things on and off stage as well as the cast running on and off. I felt like I had to keep my legs in so they weren't hit and I didn't trip anyone. That made me have less legroom than most seats. I would not advise sitting here for this production. The view was good and I could see everything. Comfort was fine.
The monkey advises checking performance times on your tickets and that performances are happening as scheduled, before travelling.
Monday to Saturday at 7.30pm
Thursday and Saturday at 2.30pm and 7.30pm
Runs 1 hour 40 minutes approximately, with no interval.
Theatres use "dynamic pricing." Seat prices change according to demand for a particular performance. Prices below were compiled as booking originally opened. Current prices are advised at time of enquiry.
All performances except the first five previews: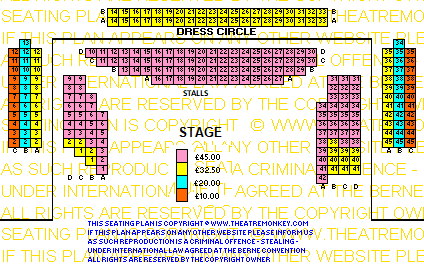 First five preview performances ONLY:
Wheelchair spaces are possible at seats C11 and 31. An extra wheelchair space, W0 is next to stalls seat D31.  A companion ticket is free with each wheelchair user ticket purchased.
For all performances EXCEPT on Press Night:
Every day at 10am, a number of tickets at all prices will be released for the corresponding day the following week, bookable by phone 020 3282 3808 or online www.donmarwarehouse.com.
£10 standing places also go on sale 7 days before each performance.
Back To Top