---
268-269 Tottenham Court Road, Fitzrovia, London W1T 7AQ 0345 200 7982
Synopsis
Theatremonkey show opinion
Theatremonkey seat opinion
Reader reviews
Performance schedule
Ticket prices
Previews from 7th December, opens 14th December 2020. Ends 2nd January 2021.
Mean man taught a lesson by four (no, it never was three) ghosts.
This staged concert version of the Alan Menken / Lynn Ahrens musical stars Brian Conley as Scrooge, with a chorus of singers and the 24 piece London Musical Theatre Orchestra. 
Based on paying FULL PRICE (no discount!) for tickets, site writers and contributing guests have ALSO created the colour-coded plans for "value for money," considering factors like views, comfort and value-for-money compared with other same-priced seats available.
Some notes for this extra event appear below. For a full discussion, opinions, reviews, notes, tips, hints and advice on all the seats in this theatre, visit the theatre page (link at the top of this page) and click on "BEST SEAT ADVICE" (on the left of your screen).
On the plans below:
Seats in GREEN many feel may offer either noticeable value, or something to compensate for a problem; for example, being a well-priced restricted view ticket. Any seats coloured LIGHT GREEN are sold at "premium" prices because the show producer thinks they are the best. The monkey says "you are only getting what you pay for" but uses this colour to highlight the ones it feels best at the price, and help everybody else find equally good seats nearby at lower prices.
Seats in WHITE, many feel, provided about what they pay for. Generally unremarkable.
Seats in RED are coloured to draw attention. Not necessarily to be avoided - maybe nothing specific is wrong with them, other than opinions that there are better seats at the same price. Other times there may be something to consider before buying – perhaps overpricing, obstructed views, less comfort etc.
Please remember that cheaper seats often do not offer the same view / location quality as top price ones, and that ticket prices are designed to reflect this difference.
To enable "social distancing," available locations may vary.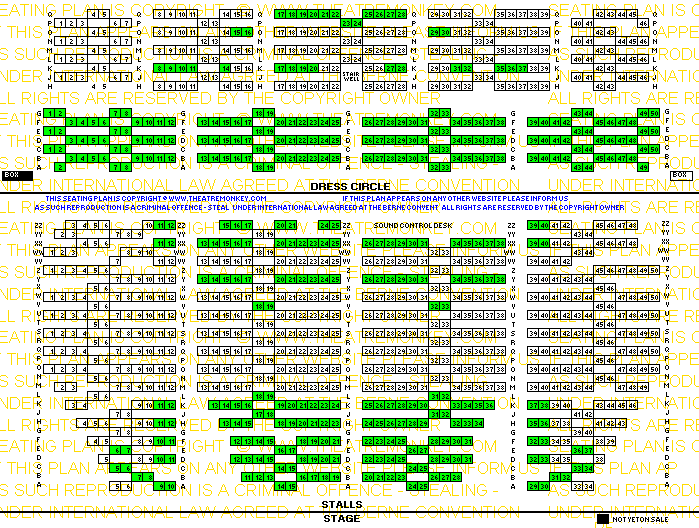 With "premium" prices set below what is normal standard top price, the front stalls back to L are good hunting, with second price centre rows A and B well worth it. Even just over the aisle, side block seats represent decent second and third price deals - much further forward than usual for the cash. If those are gone, take rows V, Y XX and ZZ, where prices drop over the row in front. At least you won't be looking over so many heads either.

In the circle, likewise the entire front section is great value. Those third price ends are a very decent deal. If they are gone, row K will see over the rail for similar money. As in the stalls, take row N over the row in front - same view, cheaper. Central rows P and Q at bottom price are closer to the stage than rear stalls for the same bananas.
The monkey advises checking performance times on your tickets and that performances are happening as scheduled, before travelling.
Monday to Saturday at 3pm and 7.30pm (7pm on 14th December 2021).
Runs 1 hour 50 minutes approximately, including an interval
EXCEPT
11.30am performances, which will run 1 hour 30 minutes approximately with NO interval. 


No performances on 25th December 2020 and 1st January 2021.
No 7.30pm performances on 14th, 24th and 31st December 2021.
No 3pm performances on 7th, 8th, 9th and 14th December 2020.
Extra 11.30am performances on 24th, 26th, 28th and 31st December 2020.
Theatres use "dynamic pricing." Seat prices change according to demand for a particular performance. Prices below were compiled as booking originally opened. Current prices are advised at time of enquiry.
To enable "social distancing," locations may vary.
All performances from 10th December 2020 onwards:
Performances from 7th until 9th December 2020 only:
Back To Top