---
The Arches, Villiers Street, London , London WC2N 6NL 08444 930 650 
Synopsis
Theatremonkey show opinion
Reader reviews
Performance schedule
Ticket prices
Ends 18th November 2023.
NOT SUITABLE FOR THOSE AGED UNDER 12.
Housekeeper Mrs Danvers resents employer Maxim De Winter's new wife. First wife Rebecca was far preferable
The hugely successful musical production by the Austrian musical producer VBW (Vereinigte Bühnen Wien) based on Daphne Du Maurier's 1938 novel 'Rebecca' gets its English language premiere in a new production.
See the first video from the show here. Also available is the show track "Mrs de Winter is Here," with Lauren Jones as the second Mrs de Winter and Kara Lane as Mrs Danvers: click here.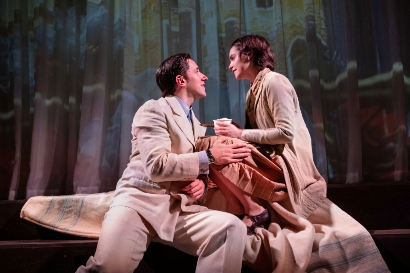 Richard Carson (Maxim de Winter), Lauren Jones (Second Mrs de Winter, 'I') and Kara Lane (Mrs Danvers) will head the cast, with an ensemble featuring Alex James-Ward, Piers Bate, Sarah Harlington, David Breeds, Amanda Minihan, Neil Moors, Nicholas Lumley, Nigel-Joseph Francis, Elliot Swann, Scott McClure, Emily Apps, Melanie Bright, Gail MacKinnon, Tarisha Rommick, James Mateo-Salt, Rosie Glossop.
The show is composed by Michael Kunze and Sylvester Levay, two of the most successful German-language musical theatre composers, and had its world premiere at the VBW-theatre Raimund Theater in Vienna, Austria, in September 2006, where it went on to play to sold-out houses in three seasons, and where in 2022 it enjoyed a successful revival.
The show has an orchestra of 18, and is directed by Alejandro Bonatto from a new English translation by Christopher Hampton and Michael Kunze.
 
During the summer, as well as returning the Charing Cross Theatre to its proscenium arch layout, the management re-discovered the area at the rear of the stalls which served its last delicious steak sandwich to interval customers circa 1993.
Measuring up, they found enough space to house 18 musicians in a theatre which previously had to lose a chunk of its already limited stage for an orchestra pit when required. A £50,000 investment pays off handsomely as the second largest orchestra in the West End (only "Wicked" is bigger) sounds lavish under Robert Scott's conducting, via Andrew Johnson's sound design.
Every word of this tale, completely new to the monkey (who has never read the original Daphne Du Maurier novel, nor seen the lauded Olivier film version) is heard clear and strong, delivered by a cast who are truly engaged with their task.
Sadly, almost every other element of this event conspires against them. 
It is rather apparent the creators Vereinigte Buhnen Wein, Michael Kunze and Sylvester Levay have at one time read a book about how to write a musical, then purchased tickets to see one, and copied faithfully what they saw.
Quite probably it was an Andrew Lloyd Webber, as there is amusement to be had spotting the similarities. Elements of "Aspects of Love" (they bought a job-lot of projections as well as the 'she wore the dead wife's dress' sequence off the recent London production – the dress itself from a local Cinderella panto). From "Tell Me On A Sunday" and "Stephen Ward" come whiney "Why am I so unexpectedly Happy / Sad" song moments.
They nail it together using the appendix at the back which explains patiently about the location of "the overture," "the "I Want" song, "patter tune," "11 o'Clock number" and "finale." Unwavering, the lyric never flows and is at points actively crass.
Most of all, with such a dense plot to communicate, the team rely on a constant stream of narrative commentary thrown at us via deadly serious extended ballads and many, many interludes from the characterful chorus in their roles of house staff of Cornish coastal estate Mandalay.
Director Alejandro Bonatto shovels them all around the stage and regularly out into the auditorium, except when choreographer Ron Howell requires their services to attempt to lighten the evening with comedic moments like "Flotsam and Jetsam" which will no doubt be recreated in "Treasure Island" which will follow "Cinderella" somewhere this year in a quid-pro-quo for letting them have the outfit cheap.
Unintentionally hilarious moments are created by Nicky Shaw's giant folding wall set design. Capturing the colour-palette of the 1920s perfectly, attempting to realise every location of this epic proves it to be a liability on this small stage.
Early on, two hotel bell-hops disappear camply behind their desk, emerging minutes later to re-arrange tables and chairs (admittedly rather inventively) into caprine assault course, deserted beach scene and also provide aspiring lovers with drawing materials.
Other scene changes are ridiculously long, and a climax is reached as the leading lady exits the previous wife's bedroom via crack in the back wall (perfectly serviceable door next to it) and two cast members enter like burglars via an upstage window purely to shift the walls around for the next sequence.
Oh, and the "Not Since Carrie" final fire is a disaster on all levels, nothing more to say, with David Seldes's already peculiar lighting design (a telephone gets its own spotlight before it rings) stretched beyond any limits a self-respecting LED lantern should have to endure.
Fortunately, the cast itself turn in some compelling performances. Lauren Jones sings her heart out as "I", trapped as second wife to Richard Carson's Maxim de Winter in a situation neither truly understand. Her emergence as a woman in her own right "Mrs. De Winter s Me!" earns a mental cheer from all present.
Carson is debonaire, and gets through the meandering denouement "I'll Never Forget Her Smile" with the relief of a marathon runner. His moody "Heathcliffe" moments elicit sympathy as they should, indicating the care taken to find appropriate nuance throughout.
Left with eternally repeating the word "Rebecca," Kara Lane as Mrs. Danvers, housekeeper and confidante of the late Mrs de Winter does her utmost to avoid straying into "Wicked Stepmother" territory and almost succeeds in eluding what the script condemns her to do.
Sarah Harlington and Neil Moors as Maxim's sister Beatrice and her husband Giles deserve a better comedy number than "The Old Country Ways" but carry what they have off rather well.
Likewise as Favell (scheming brother-of-the-departed), Alex James-Ward rises above the spinning bow-tie with which the role practically screams he should be issued to produce ultimately the quite interesting revelation of a rather sad and desperate man.
In smaller roles, Shirley Jameson steals an early scene as overbearing matriarch Mrs. Van Hopper, while Nicholas Lumley is a truly magisterial Colonel Julyan and Piers Bate a capable Frank Crawley. A bob too for Emily Apps as Clarice who has curtseys to perfection.
Also on the plus side, Du Maurier's tale is strong - despite an ending that the monkey had worked out long before the writers of this show allowed it finally to sail into view. Unlike many musical theatre failures, there is a certain compulsion therefore to hold on until the bitter end.
Still, last night the monkey dreamed of "Matilda" again – during most of act one, and a good deal of act two as well.
 
The monkey advises checking performance times on your tickets and that performances are happening as scheduled, before travelling.
Tuesday at 7.30pm
Wednesday at 2.30pm and 7.30pm
Thursday at 7.30pm
Friday at 7.30pm
Saturday at 3pm and 7.30pm
Sunday at 3pm 
NO MONDAY PERFORMANCES.
Runs 2 hours 30 minutes approximately.
 
Theatres use "dynamic pricing." Seat prices change according to demand for a particular performance. Prices below were compiled as booking originally opened. Current prices are advised at time of enquiry.
Back To Top