---
The Arches, Villiers Street, London , London WC2N 6NL 08444 930 650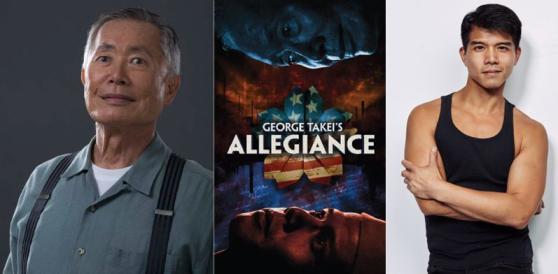 Synopsis
Theatremonkey show opinion
Reader reviews
Performance schedule
Ticket prices
Ends 8th April 2023.
CONTAINS DEPICTIONS OF WAR AND RACISM, FLASHING LIGHTS AND LOUD NOISES. NOT SUITABLE FOR THOSE AGED UNDER 10.
Captioned performance: 14th March 2023 at 7.30pm
'George Takei's Allegiance' tells the moving story of Sam Kimura (Takei) as he is transported back nearly six decades to when his younger self (Leung) and his sister Kei fought to stay connected to their heritage, their family and themselves after Japanese Americans were wrongfully imprisoned during World War II. A powerful story told with great resonance and intimacy, 'George Takei's Allegiance' explores the ties that bind us, the struggle to persevere and the overwhelming power of forgiveness and, most especially, love.  
After the bombing of Pearl Harbor during World War II, California-born Takei and his family were placed behind the barbed-wire enclosures of United States' internment camps along with 120,000 other Japanese Americans. He spent years of his childhood at Camp Rohwer in the swamps of Arkansas and at wind-swept Camp Tule Lake in northern California. At the end of the war, Takei's family returned to their native Los Angeles. Inspired by this difficult chapter of American history, Takei developed the Broadway musical Allegiance, an epic story of love and heroism in which he starred alongside Tony Award winner Lea Salonga and Telly Leung in its record-breaking world premiere at the Old Globe Theatre in San Diego in 2012. The show won multiple awards and was followed by a Broadway run in 2015-2016.
Now Allegiance gets a new and more intimate production for the UK, conceived specifically for the Off West End space at Charing Cross Theatre, directed and choreographed by Tara Overfield Wilkinson (director, 'Little Shop of Horrors' UK tour, associate director/choreographer of 'Come From Away' UK). 
Joining Takei will be his Broadway co-star Telly Leung (Broadway's 'Aladdin' and TV's 'Glee'). The multi-national cast also features Iroy Abesamis, Mark Anderson, Masashi Fujimoto, Megan Gardiner, Raiko Gohara, Eu Jin Hwang, Hana Ichijo, Misa Koide, Patrick Munday, Rachel Jayne Picar, Sario Solomon, Joy Tan and Iverson Yabut.
Telly Leung will not appear at any performance on or between 30th March and 2nd April 2023. Casting details are given for information only. Theatremonkey.com can take no responsibility for the non-appearance of any cast member.
www.AllegianceMusical.com is the official website.
Photo credit: Matthew Murphy.
Broadway composers have long used musicals to uncover the darker side of life in the United States of America. From the industrial strife of "The Pajama Game" and "Newsies" to the horrific racism of "Show Boat" and "The Scottsboro Boys" Uncle Sam's closet is thrown open to the light via some glorious tunes.
"Allegiance" is George Takei's life-long dream to expose and never forget the searing injustice perpetrated against America's Japanese community following the attack on Pearl Harbour in December 1941. 
Tens of thousands of hard-working loyal citizens forced from their homes and businesses into crude internment camps. Subjected to unsanitary conditions, abuse from their guards and political manipulation including unpassable "loyalty tests;" a piece of little-known history here made chilling and unforgettable.
Seldom does a musical come along which alters entirely your entire perspective on past events. This is one of them. Allegiance seizes heart and mind for an emotional trek through events Washington would all rather we forget.
The Acito / Kuo / Thione book is well-constructed, with the longer first half concentrating on internment, the second the horrific results, all based on Takei's realities and research. 
What could be unremittingly grim is instead relieved by simple wisdom and a great deal of humour amid anger, hurt and confusion. They sing "Gaman" – a hymn to survival and live by it, with "442 Victory Swing" a biting satire on all that has gone before.
It is an honour to see George Takei himself play both wise elder Ojii-Chan and older Sam Kimura, philosophical young hero. 
As young Sammy Kinura, Telly Leung is Takei's evolving self. Wisely told that a boy listens to his father, a man does not, Leung has us spellbound finding paths through life. Not always the right ones, but his corrections are the emotional highlights of the show.
Sister Kei (Anyrand Ferrer) is more volatile and considerably more vulnerable. Falling for controversial Frankie (Patrick Munday), the pair carry a storyline grating against everything the rest of the piece believes in with perfectly judged emotions.
"Hanna" means "flower" in Japanese, we are told, and strong writing creates the character of Hannah Campbell, a nurse sympathetic to the plight of the inmates in another major sub-plot. Megan Gardiner gives her a pleasing vocal and superb comic moments.
Deserved notes too for Masashi Fujimoto as elder Tatsuo Kimura, father and keeper of the cultural flame, a stillness of great beauty at the heart of the action.
The versatile Mark Anderson makes the most of several unsympathetic characters, a brutal Private Knight and notably well-sung Big Band Singer. Even less likable as Government conduit Mike Masaoka, Iverson Yabut's performance from the balcony makes the horrible propaganda uncomfortably credible.
Among the ensemble Hana Uchijo also stands out for some lovely fan work, the entire cast a perfect commune behind fences and suffering with quiet dignity.
The few faults are minor. A somewhat over-used "barn door of light" symbolising the death of key characters is particularly stretched in the penultimate scene. Mayou Trikerioti's set design shines; turning barbed wire trees into fences is ingenious, but also doesn't quite fit the space as previous designers of other shows in this awkwardly arranged theatre manage.
That aside, this has to be one of the greatest musical theatre roller coasters since "Les Misérables," you MUST hear these people sing their story. 
Standing ovation.
 
The monkey advises checking performance times on your tickets and that performances are happening as scheduled, before travelling.
Monday to Saturday at 7.30pm
Wednesday and Saturday at 2.30pm and 7.30pm
Runs 2 hours 20 minutes approximately, including one interval.
Theatres use "dynamic pricing." Seat prices change according to demand for a particular performance. Prices below were compiled as booking originally opened. Current prices are advised at time of enquiry.
App TodayTix offer £20 "Rush tickets" for all performances. Released for the performance on that day, first-come, first-served. Download the App from Todaytix, unlock the "Rush Ticketing" feature by sharing on Facebook or Twitter, and that will allow you to buy tickets.   
Back To Top