---
The Arches, Villiers Street, London , London WC2N 6NL 08444 930 650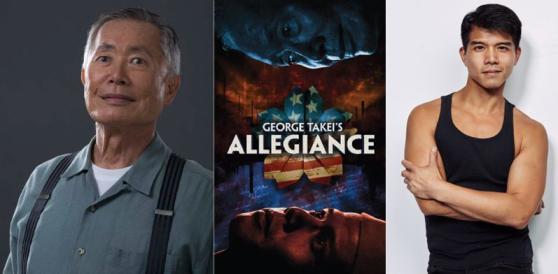 Synopsis
Theatremonkey show opinion
Reader reviews
Performance schedule
Ticket prices
Previews from 7th January, opens 17th January 2023. Ends 8th April 2023.
'George Takei's Allegiance' tells the moving story of Sam Kimura (Takei) as he is transported back nearly six decades to when his younger self (Leung) and his sister Kei fought to stay connected to their heritage, their family and themselves after Japanese Americans were wrongfully imprisoned during World War II. A powerful story told with great resonance and intimacy, 'George Takei's Allegiance' explores the ties that bind us, the struggle to persevere and the overwhelming power of forgiveness and, most especially, love.  
After the bombing of Pearl Harbor during World War II, California-born Takei and his family were placed behind the barbed-wire enclosures of United States' internment camps along with 120,000 other Japanese Americans. He spent years of his childhood at Camp Rohwer in the swamps of Arkansas and at wind-swept Camp Tule Lake in northern California. At the end of the war, Takei's family returned to their native Los Angeles. Inspired by this difficult chapter of American history, Takei developed the Broadway musical Allegiance, an epic story of love and heroism in which he starred alongside Tony Award winner Lea Salonga and Telly Leung in its record-breaking world premiere at the Old Globe Theatre in San Diego in 2012. The show won multiple awards and was followed by a Broadway run in 2015-2016.
Now Allegiance gets a new and more intimate production for the UK, conceived specifically for the Off West End space at Charing Cross Theatre, directed and choreographed by Tara Overfield Wilkinson (director, 'Little Shop of Horrors' UK tour, associate director/choreographer of 'Come From Away' UK). 
Joining Takei will be his Broadway co-star Telly Leung (Broadway's 'Aladdin' and TV's 'Glee').
www.AllegianceMusical.com is the official website.
Photo credit: Matthew Murphy.
The monkey advises checking performance times on your tickets and that performances are happening as scheduled, before travelling.
Monday to Saturday at 7.30pm
Wednesday and Saturday at 2.30pm and 7.30pm (no 2.30pm performances on 7th and 14th January 2023)
Theatres use "dynamic pricing." Seat prices change according to demand for a particular performance. Prices below were compiled as booking originally opened. Current prices are advised at time of enquiry.
Some details will change. The monkey will update as available.
Back To Top