---
The Arches, Villiers Street, London , London WC2N 6NL 08444 930 650 
Synopsis
Theatremonkey show opinion
Reader reviews
Performance schedule
Ticket prices
Ends 28th May 2022.
 
Buckle your swashes and practise carving a Z into every shirt you see... The masked legend Zorro comes to the stage in a musical battle of good-verses-evil.

Songs provided by the Gipsy Kings, colour by the Spanish setting, excitement (hopefully) by the bucket load.
Not available. Professional reviewers seem to reflect the first outing of the show at the Garrick Theatre in 2008. Some find it fun if over-done. Some find it plain ham and don't engage at all.
There is praise for the staging with a house either side of the playing area. Most also enjoy the central performances from Paige Fenlon (Luisa) and Alex Gibson-Giorgio (Ramon).
Some feel there is not enough music, others far too much of well worn Gypsy King numbers but at least they are delivered with verve by the actor-musicians.
Opinions fall from one to three stars from what the monkey has seen, but with luck the Sunday papers may be kinder. Still, one which will delight the show's fanbase, with luck.
Legacy reader reviews
Stalls E6. Seat is on centre aisle. View is wonderful. Very comfortable seat and great legroom! Highly recommend! (BwayBoy22).
E5: Good view. Decent legroom.
The monkey advises checking performance times on your tickets and that performances are happening as scheduled, before travelling.
Tuesday at 7.30pm
Wednesday at 2.30pm and 7.30pm
Thursday at 7.30pm
Friday at 7.30pm
Saturday at 3pm and 7.30pm
Sunday at 3pm
NO MONDAY PERFORMANCES.
Runs 2 hours 40 minutes approximately.
Theatres use "dynamic pricing." Seat prices change according to demand for a particular performance. Prices below were compiled as booking originally opened. Current prices are advised at time of enquiry.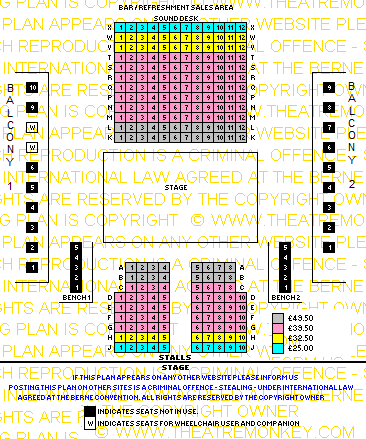 Premium price tickets include a programme and glass of bubbly (for those aged over 18). 
Back To Top