---
The Arches, Villiers Street, London , London WC2N 6NL 08444 930 650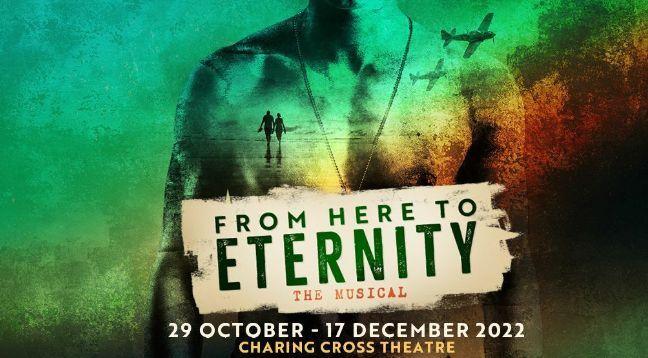 Synopsis
Theatremonkey show opinion
Reader reviews
Performance schedule
Ticket prices
Ends 17th December 2022.
NOT SUITABLE FOR THOSE AGED UNDER 14 OR THE EASILY OFFENDED. CONTAINS ADULT MATERIAL AND GRAPHIC IMAGES OF VIOLENCE.
Signed performance: 8th December 2022 at 7.30pm.
Set in the two weeks leading up to the Japanese attack on Pearl Harbor, 'From Here To Eternity' is a compelling portrait of humanity, love, duty and redemption set against the backdrop of a beautiful and conflicted paradise.
Adapted from the classic novel by James Jones this breathtaking musical unites the writing talents of Tim Rice (lyrics), Stuart Brayson (music) and Donald Rice and Bill Oakes (book), and is directed by Brett Smock (Producing Artistic Director / The Rev Theatre Company).
Cast: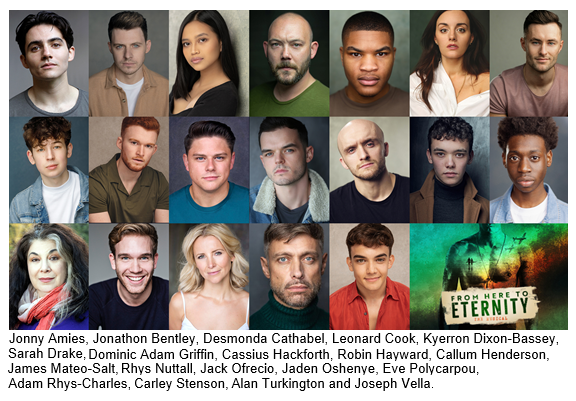 Creative team:
Director: Brett Smock
Musical Director and Orchestrator: Nick Barstow
Set and Costume Designer: Stewart Charlesworth
Sound Designer: Andrew Johnson
Choreographer: Cressida Carré
Production Coordinator: Ollie Hancock
Casting Director: Jane Deitch
Produced by Katy Lipson for Aria Entertainment, Bill Kenwright and Heartaches Limited
General Management by Chris Matanlé
This is the show we should have seen back in 2013.
For those who remember, the original version clung on for six and a half months at the Shaftesbury Theatre, London before finding a second life released on DVD.
Back then, the monkey noted the exceptionally smart Tim Rice lyric and complex, often moving, music by Stuart Brayson. Bill Oakes created a book which held together despite moving quickly between barracks, beaches, bedrooms and brothels and on to roof-top attacks for the defence of Pearl Harbour. 
"The Boys of 41" with heroes faces covering the rear wall of the set was as moving a closing number as any in the history of musical theatre, and yet, and yet... The direction back then was uneven. The show lurched from melodrama to camp, failing mostly to find the tone of, say "South Pacific" where real men face the trauma of war with understated bravery.
A revised script, four new songs and Brett Smock's punctiliously tight direction now create a high-intensity emotional cinematic adventure.
The cunningly simple stage design by Steward J. Charlesworth features palm trees and climbing columns containing secrets, bounding a two-tier offset platform with beams above at side gallery level. Kit boxes are enough furnishings for every scene, a languid dangling of a leg over the stage edge sufficient to suggest the ocean shore.
Louise Rhoades-Brown sets the time and place with projections, scrolling names replacing faces at the end to moving effect.
And so we meet exuberant Maggio (Jonny Amies), a smart mouth determined not to let institutional racism get to him. Taking new arrival Prewitt (Jonathon Bentley) under his wing they form a convincing "brothers in adversity" bond.
Both are allowed fine solo performances. Maggio's sardonic "I Love The Army" dares the audience to laugh, while Prewitt's "Fight The Fight" works better now as a solo later in the show than it did in its original production number incarnation.
Prewitt's resistance to boxing for his Company is matched by his passion for prostitute Lorene. Desmonda Cathabel here caps a meteoric year moving from training newcomer to graduate leading musical theatre actor. With Bentley, "Love Me Forever Today" is unspoken love made real. Later, lone "Run Along Joe" is pain, hurt and confusion on an epic scale, delivered with a unique voice.
Equally illicit of heart, neglected Captain's wife Karen (Carley Stenson) stops the show early on with an honest "More To Life Than This," one of the new and welcome additional numbers - set to become a modern standard, if they can match Stenson's delivery.
The third lady in the show, brothel madam Mrs Kipfer (Eve Polycarpou ever on redoubtable form against customer and Army Officer alike) combines with Cathabel and Stenson to provide the soundtrack of the show's climax. Three soulful voices from a balcony ring out "The Boys Of 41" over one of the most thrillingly theatrical sequences the monkey has seen this year. Projections, Adam King's lighting and Cressida Carre's choreography stylise with moving simplicity the 75 minutes which changed the course of World War Two. 
The choreography throughout is indeed superior to previous incarnations of the show, slipping only once into slightly "camp" for a jog around the stage. With Renny Krupinski's help the important boxing sequences feel authentic, though the monkey's pet nerve about how an American Football is thrown and caught on British stages is once again tweaked. Someday someone will get it right...
Worth mentioning in final despatches among the troops are Leonard Cook as heavy-set bully Judson, and Jack Ofrecio as confused Bloom. Both do well in substantial sub-plots considering prejudice against sexuality, faith and nationality, illustrating the parameters within the strict code of military and men in general.
For the officer class Holmes (Alan Turkington) and subordinate Warden (Adam Rhys-Charles) may be leaders, but both show the flaws which make them human. Warden's affair with Holmes wife, Holme's focus on career which allow it to happen are another well-created sub-plot deftly executed by the pair.
The closing moments confirm that there is much dust floating the air of the Charing Cross Theatre, and that the pollen count is exceptionally high in there for November, causing tears to run.
As the cast line up for the final time, the monkey can only warn of an incoming smash hit sighted. Target the box office and buy at will.
Standing ovation given.
 
The monkey advises checking performance times on your tickets and that performances are happening as scheduled, before travelling.
Tuesday to Saturday at 7.30pm
Wednesday and Saturday at 2.30pm and 7.30pm
Sunday at 3pm
NO MONDAY PERFORMANCES.
Runs 2 hours 30 minutes approximately.
Theatres use "dynamic pricing." Seat prices change according to demand for a particular performance. Prices below were compiled as booking originally opened. Current prices are advised at time of enquiry.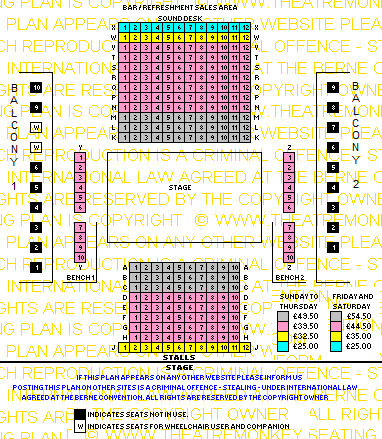 Premium seat prices include a programme and glass of bubbly (for those aged over 18). 
DAY SEATS: 8 tickets sold to personal callers at the theatre box office 1 hour before the performance, price £25 each. Location at venue discretion.
Back To Top