---
West Street, London WC2H 9ND 0333 009 6690
Synopsis
Theatremonkey show opinion
Reader reviews
Performance schedule
Ticket prices
Ends 4th June 2022.
NOT SUITABLE FOR CHILDREN OR THE EASILY OFFENDED... or the impecunious...
Taking time out from his relationship with his boyfriend, John meets a girl... Faced with a choice, he finds only one way to sort things out.
Mike Bartlett's 2009 Royal Court Theatre hit is revived, directed by Marianne Elliott.
Note that as of 2nd April 2022  Taron Egerton has left the cast, with Joel Harper-Jackson replacing him in the role of M.
(seen at the afternoon performance on 17th March 2022) Taron Egerton has now left the cast.
Times change more rapidly than we realise, until we are reminded of events only just over a decade ago. This is a good example.
Back in 2009 when this play premiered, few would understand an entire page of the current programme which offers "A non-definitive list of LGBTQ+ Terms." If the tabloid press is to be believed, today every high school teenager knows and accepts that all things about sexuality and gender identity are fluid – attitudes which older generations are also accepting.
The result is making act one of Bartlett's play somewhat tedious. Too soon, unlike "Angels In America" or "The Normal Heart" to be vital historic record, watching John (Jonathan Bailey) battle his bi-sexuality without recognising it for what it is seems lacking in self-awareness.
With boyfriend and lover M (Taron Egerton) goading in a one-dimensional relentless manner, director Marianne Elliott has them deliver a conversation seemingly as text messages of no more complexity or significance than a shopping list.  
Worse, neither actor is allowed to produce depth of internal monologue. Merle Hensel's "Coke Can Interior" set with twin revolves substituting artificial movement for literal touches of humanity, strips any magic from  this roundabout of confused emotions.
Act two fortunately kicks up a gear as first John's female paramour W (Jade Anouka) livens things up with the pungent phrase "I've a gap on" before the best-written scene in the play has him experience hetero sex for the first time.
When M's father F (Phil Daniels) joins John and W around the dinner table the play truly breathes, Elliott finally allowing each actor a personality as the bile acids corrode. Much is said, but ultimately the conclusions were reached in real life by the audience some years ago and feel less revelatory than somewhat facile.
Bailey and Egerton cope with the first half as best they can. Egerton is allowed later a mean camp streak which he makes the most of. Bailey is left with the declamatory, but when offered moments to explore his feelings proves that a different approach to the material would have drawn considerably more from him.
Anouka is battered by her own lines. Pedestrian words give her little to work with, but she seizes every opportunity to make the most of moments she is allowed to properly animate.
Daniels is the only actor whose character is fully formed and functional. A great pleasure to watch in a fine performance afforded him by the quirk of pace in his script.
Perhaps in twenty years this will transform into the living historic record it is not now, and we can hope that we will never return to the confusion found, and even broaden our acceptance of sexuality and its need not to be defined. Bartlett and Elliott make here the case, but perhaps too far out of step with the current times to make once more the impact the play originally had.
Legacy reader reviews
Stalls E1: Very high stage. Couldn't see the feet of the performers but didn't matter for this show. Very good view of the cast as you are close. OK legroom and put one leg in the aisle.
The monkey advises checking performance times on your tickets and that performances are happening as scheduled, before travelling.
Monday to Saturday at 8pm
Thursday and Saturday at 3pm and 8pm
Runs 1 hour 45 minutes approximately, with no interval.
Theatres use "dynamic pricing." Seat prices change according to demand for a particular performance. Prices below were compiled as booking originally opened. Current prices are advised at time of enquiry.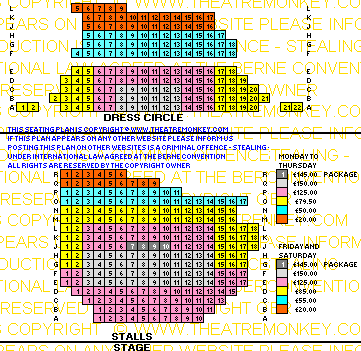 RUSH TICKETS: App Todaytix are offering £20 "BALLOT TICKETS," located at venue discretion, for all performances. Released for the performance on that day, winners will be notified. Maximum 2 tickets per winner can be bought. Download the App from Todaytix, unlock the "Rush Ticketing" feature by sharing on Facebook or Twitter, and that will allow you to buy tickets.. 
Back To Top