---
85-88 St Martin's Lane, Covent Garden, London WC2N 4AP 0844 482 5141
Synopsis
Theatremonkey show opinion
Theatremonkey seat opinion
Reader reviews
Performance schedule
Ticket prices
Ends 16th October 2021.
CONTAINS STRONG LANGUAGE. NOT SUITABLE FOR THOSE AGED UNDER 14 OR THE EASILY OFFENDED.
A dinner party in a new home. Jenny thinks it is haunted. Sam does not. Guests Lauren and Ben agree to stay up with them until 2.22am...
Lily Allen, Hadley Fraser, Julia Chan and Jake Wood appear in a play by Danny Robins. Matthew Dunster directs.
(seen at the afternoon performance on 14th August 2021)
The monkey is not bothering to waste time calculating when it last saw a brand-new play indoors in a West End Theatre. It is guessing around October 2019. It must, therefore, be careful to separate the "child in a Haribo Factory" feeling from cold, hard, theatrical opinionating.
Luckily, it doesn't have to.
This is pretty much all you can hope for in a return. Decent play, strong cast, high production standards all round. With 90% of the audience eschewing facemasks, things feel on the slope towards proper normal.
Lily Allen fans (monkey hand up), Ms Allen can act. As in, not just walk and talk at the same time while avoiding crashing into the scenery - but build a character from scratch and make her entirely convincing. The lady can even time a comic line and produce a fan of emotions. Certainly she could draw on her personal life to create strong yet bullied new mother Jenny, but there's more to her performance than that. No "star casting" vehicle here, this is the real deal.
Julia Chan as friend Lauren is cracked pewter. An NHS mental health professional with a complex emotional life, she provides the erratic contrast needed to power the whole play. Rare in a plot-driven piece, we get new and diverting layers revealed as the impregnable metallic personality splits under her own deftly adjusted pressure.
Partner Ben, the builder who never moved out is wonderful contrast and Jake Wood either was / knows people in the trade to create the person he does. Direct, rooted solidly in the community which Jenny is intent on gentrifying, his tolerances and final explosive summary of cultural collision are delivered in a manner any actor should study for elucidation.
Finally, Hadley Fraser as Jenny's partner Sam. The university boy who never really fulfilled his potential despite knowing it all. More defensive positions than Rumpole, he is an emotional Fort Knox and with the firepower to keep even his wife at arms-length. The picnic cloth of ideas flap around him, but are anchored by his rock solid weight at the centre. A lesser actor could slip into a cynicism which poisons the whole atmosphere. Fraser instead allows his line to add to the debate.
Writer Danny Robins concocts a haunting tale with humour, drama, caustic commentary on modern life and love and an ending you'll only say, "oh yes of course" to well after it has happened. Anyone claiming to have figured it out early is lying to themselves. In any case please do not give it away (as the projection at the end reminds us).
Good work from reliable Anna Fleischle creates a wonderful half-completed family home for Matthew Dunster to direct his spooky dinner party. Lucy Carter and Ian Dickinson require praise for lighting and sound both amplifying the emotional effect without audiences being truly aware. A nod too for Chris Fischer's illusions.
The play itself may not quite pile on the tension like "The Woman In Black" – too many laughs and occasional digressions. On the other hand it has plenty more interesting things to say, and when it does snap right back into thriller mode the fuel to launch the final attack is where it needs to be.
Now we have a working quartet of actors, the monkey can only conclude by raising the possibility the four of them have an annual reunion to present a different play. It would suggest Michael Frayn's "Benefactors" as a good start. Unless Sam can give as a reason otherwise.
Based on paying FULL PRICE (no discount!) for tickets, site writers and contributing guests have ALSO created the colour-coded plans for "value for money," considering factors like views, comfort and value-for-money compared with other same-priced seats available.
Some notes for this extra event appear below. For a full discussion, opinions, reviews, notes, tips, hints and advice on all the seats in this theatre, visit the theatre page (link at the top of this page) and click on "BEST SEAT ADVICE" (on the left of your screen).
On the plans below:
Seats in GREEN many feel may offer either noticeable value, or something to compensate for a problem; for example, being a well-priced restricted view ticket. Any seats coloured LIGHT GREEN are sold at "premium" prices because the show producer thinks they are the best. The monkey says "you are only getting what you pay for" but uses this colour to highlight the ones it feels best at the price, and help everybody else find equally good seats nearby at lower prices.
Seats in WHITE, many feel, provided about what they pay for. Generally unremarkable.
Seats in RED are coloured to draw attention. Not necessarily to be avoided - maybe nothing specific is wrong with them, other than opinions that there are better seats at the same price. Other times there may be something to consider before buying – perhaps overpricing, obstructed views, less comfort etc.
Please remember that cheaper seats often do not offer the same view / location quality as top price ones, and that ticket prices are designed to reflect this difference.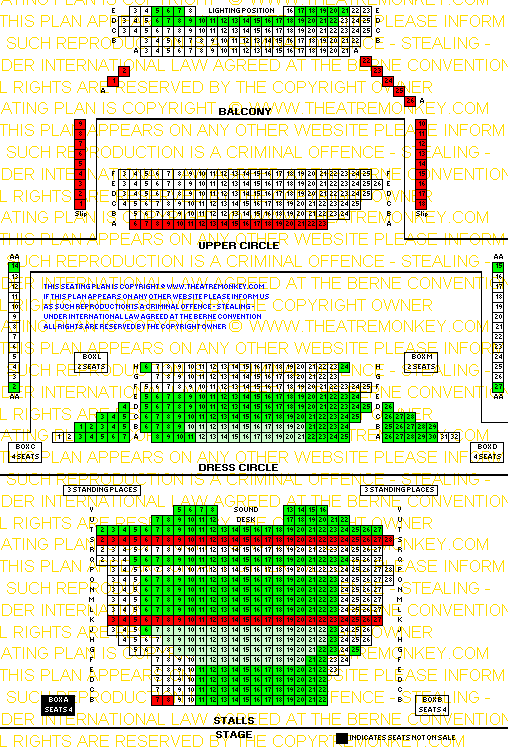 Row B is the front row and decent value as always. Good legroom but a stage above head height for those around 5ft 9 or shorter.
Watch for seating on the "low numbers" side of the stalls. The first three or four seats in rows back to around row J may not see a small sliver of action at one point in the show. B 7 and 8 in particular may be problematic.
Premium and "super premium" seats are limited in the stalls, and it is easy to go in front or behind them. Prices drop at row Q, so take it before row P for the same view. Skip row S as row T is a lot cheaper and has the same view too. Rows T to V are just £25, and have a better view than the upper circle. Legroom in U and V is cramped for those over 5ft 11, but at least feet can go under seats unlike the same price upper circle where those who are taller will know the meaning of discomfort.
In the dress circle, go around or behind the premium seats - rows D and E at top non-premium price offer a good view. Better still, the side blocks rows A to D are second price and a great deal if you can get near the centre aisle. Be aware the end pairs of A and B have a restricted view but are this price anyway, so take them last, maybe. Row H is also second price, 6 and 24 are great for view and legroom with nothing in front. The rest are acceptable if legroom isn't required.
The whole upper circle main block is second price. Avoid row A, take the rest if all seats lower down are gone or if you are smaller and feel sitting in tiered rows is more comfortable. Slips are lowest price - take the ones here before balcony ones, but only the ends.
The whole balcony main block is third price, pretty adequate but take it after the rear stalls for view and comfort. As always the rear rows of the balcony are slightly better as they see over the rail. Slips here are to be taken after the upper circle ones, feels the monkey.
The monkey advises checking performance times on your tickets and that performances are happening as scheduled, before travelling.
Tuesday to Saturday at 7.30pm
Wednesday and Saturday at 2.30pm and 7.30pm
Sunday at 3pm
NO MONDAY PERFORMANCES.
Runs 2 hours approximately, including one interval
Theatres use "dynamic pricing." Seat prices change according to demand for a particular performance. Prices below were compiled as booking originally opened. Current prices are advised at time of enquiry.
Back To Top