---
218-223 Piccadilly, St. James's, London W1V 9LB 0844 815 6131
Synopsis
Theatremonkey show opinion
Reader reviews
Performance schedule
Ticket prices
Ends 25th September 2021.
NOT SUITABLE FOR THOSE AGED UNDER 12.
 
Amelie's life is built on performing acts of kindness for others. Can she risk everything for her own love?
The film is brought to the stage.
From the producers:
Times are hard for dreamers but Amélie is someone to believe in.
Following its opening at the Watermill Theatre, a critically acclaimed sell-out tour in 2019, a highly successful Christmas season at The Other Palace in 2019, a Grammy nomination and 3 Olivier Award nominations, Amélie The Musical arrives in the heart of the West End this summer. Following the government roadmap announcement, tickets are on sale now for a socially distanced audience at the Criterion Theatre from Thursday 20 May, with a press night on Wednesday 2 June. Olivier-nominee Audrey Brisson (The Elephantom, Pinocchio and Pericles (National Theatre), The Flying Lovers of Vitebsk (Kneehigh), and The Grinning Man (Bristol Old Vic)), will return to the role of 'Amélie'.
Amélie secretly improvises small, but extraordinary acts of kindness discovering the possibilities around every corner and bringing happiness to those she encounters. When a chance at love comes her way, Amélie realises that to find her own contentment she'll have to risk everything and say what's in her heart. Experience this beautiful story and be inspired by this imaginative dreamer who discovers her voice, uncovers the power of human connection and sees possibility around every corner.
The five – time Oscar®-nominated film will be brought to life by a cast of actor-musicians and set to a critically acclaimed re-orchestrated score. With music by Hem's Daniel Messé, lyrics by Nathan Tysen and Daniel Messé and book by Craig Lucas, this musical adaptation of the five-time Oscar®-nominated film written by Jean-Pierre Jeunet and Guillaume Laurant, is directed by Michael Fentiman.
The producers acknowledge that all current government guidelines will be adhered to in terms of Covid security, and they will keep them under constant review. The seating plan at the Criterion has been designed to facilitate social distancing. The box office system is responsive to demand and will automatically auto-distance seats during the booking process to ensure a minimum 1 metre space between patrons until such a time that social distancing is no longer a legal requirement.
The full cast includes Sioned Saunders as 'Gina' (Camelot– The Watermill, Made in Dagenham – Queen's Theatre Hornchurch), Flora Spencer-Longhurst as 'Georgette' / 'Sylvie' (Once – Phoenix Theatre, The Real Thing– Rose Theatre Kingston), Rachel Dawson as 'Amandine' / 'Philomene' (The Jungle Book - UK Tour, A Little Night Music – The Watermill), Oliver Grant as 'Lucien' / 'Mysterious Man' (War Horse – UK Tour, Twelfth Night – Chichester Festival Theatre), Chris Jared as 'Nino Quincampoix' (946: the Amazing Story of Adolphus Tips – Shakespeare's Globe, The Duchess of Malfi – Nottingham Playhouse), Caolan McCarthy as 'Hippolito' / 'Elton John' (The Plough and the Stars – NT, The Beggar's Opera/Alice in Wonderland – Storyhouse), Samuel Morgan-Grahame as 'Joseph' / 'Fluffy' (Sister Act – UK Tour, All My Sons – Regent's Park Open Air Theatre), Kate Robson-Stuart as 'Suzanne' (Crazy For You – UK Tour, Untold Stories - Watermill Theatre), Jack Quarton as 'Blind Beggar' (Assassins - The Watermill, Wonderland – Nottingham Playhouse), Jez Unwin as Raphael / Bretodeau (Oliver – Leicester Curve, Once – Phoenix Theatre) and Johnson Willis as Collignon / Dufayel (Harold and Maude – Charing Cross Theatre, Dido Queen of Carthage & Salome – RSC Swan). Nuwan Hugh Perera, Miiya Alexandra, Robyn Sinclair and Matthew James Hinchliffe complete the ensemble.
Amélie The Musical, is produced by Hartshorn – Hook Productions, Broadway Asia International and Selladoor Worldwide in association with The Watermill Theatre, Piers Cottee-Jones Entertainment, Just Entertainment and Concord Theatricals.
Photo credit: Pamela Raith Photography. Used by kind permission.
Casting details are given for information only. Theatremonkey.com can take no responsibility for the non-appearance of any artiste.
(From the Other Palace Theatre production in 2019. Some actors have now left the cast).
Not available. Professional reviewers are delighted with Audrey Brisson in the title role, capturing the dreamer and singing the sometimes overpowering love ballad score to perfection. The whimsy of the film apparently powers the stage version sufficient to get it over the difficult moments where the plot drifts and an extra ballad just seems superfluous. A solid 4 stars for the strong story, direction and adaptation, seems to be the verdict.
Legacy reader reviews
(1 review)
I am just back from my first London trip since January 2020. Me, my partner and friend went to see Amelie at the Criterion Theatre. Quite the experience! We booked our tickets in advance and bought seats G22, G23 and G24. This was my first ever trip to that theatre so I have no pre Covid knowledge. Clearly a few rows have been taken out in the Stalls as there was an abundance of legroom. Prior to the show starting someone was able to walk past us without us having to move. Such a pleasure to have good legroom.
On the downside was being seated for three hours and not being able to move at all! Whilst chair service is very welcome, and using the app to place orders is fantastic, it wasn't a great theatrical 'experience'. Most frustrating of all was being made to wear a mask for the entire duration of the show (I'm not commenting on the rights and wrongs of mask wearing here!). Amelie is quite a short show so it was bearable enough. I dread to think how I would have felt sitting through Les Mis and being stuck in the same chair for 4 hours wearing a mask!  Would this impact on me going back to the theatre in the foreseeable future? I'm not sure.
As for the show, the word I keep seeing that best describes it is whimsical! It's much improved on its Broadway production however we all struggled with the amount of narration included in the songs, especially as the accent of Audrey Brisson is so thick! It was a fun night out though and hopefully the start of the return to normality!
The monkey advises checking performance times on your tickets and that performances are happening as scheduled, before travelling.

Tuesday at 7.30pm
Wednesday at 2.30pm and 7.30pm
Thursday at 7.30pm
Friday at 7.30pm
Saturday at 2.30pm and 7.30pm
Sunday at 3pm 
NO MONDAY PERFORMANCES.
Runs 2 hours 30 minutes approximately, including one interval.
Theatres use "dynamic pricing." Seat prices change according to demand for a particular performance. Prices below were compiled as booking originally opened. Current prices are advised at time of enquiry.
Tuesday to Thursday Evenings:
Wednesday Afternoons: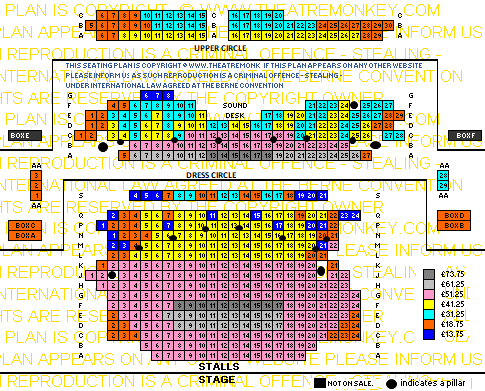 Friday to Sunday all performances:
Back To Top