---
218-223 Piccadilly, St. James's, London W1V 9LB 0844 815 6131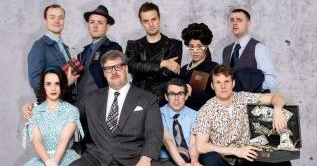 Synopsis
Theatremonkey show opinion
Reader reviews
Performance schedule
Ticket prices
Ends 3rd May 2020
NOT SUITABLE FOR THOSE AGED UNDER 12.
A diamond, 8 criminals and a dozy guard. This crime should be a cinch...

"Mischief Theatre" - the team behind "The Play That Goes Wrong" and "Peter Pan Goes Wrong" - strike again.
(seen at the afternoon preview performance on 3rd April 2016). These actors have now left the cast.
In the week that Ronnie Corbett passed away, it was rather heartening to see a show that he and partner Ronnie Barker could almost have written – and been very proud of. Yes, the choice of language at one point was possibly too strong for them (and some younger Mischief Theatre fans – if your children loved "Peter Pan Goes Wrong," be aware they need to be 12 or so to get this one) but they would surely have loved the homage and pastiche.
For that is what this is. Complete with Abbott and Costello routines, Gumshoe clichés and a shaky movie-led grasp of everything 1958 Minneapolis, writers Henry Lewis, Jonathan Sayer and Henry Shields move their theatre company into "proper" comedy play territory with this new work.
There's still plenty of the old. Playing with props, the slightly ragged feel of the set, rushing around and smart-but-obvious lines. Sometimes, this time around, it even feels a little too self-indulgent, with routines going on a bit too long, a little "we enjoyed this last time, let's do it again" even, which takes slightly the freshness away. Still, what is left is often riotous, and some of the set pieces (without giving too much away, the 'prison break' and actual robbery) are among the funniest ever staged.
Terrific sets, genuinely thrilling and inventive stunt work (even more so given Ms Russell's stated fear of heights and – what looked like scabbed, healing leg – to prove it) and madcap visual humour (note the number on the apartment door, related to dialogue) make the time fly by.
The real pleasure is seeing the core "Mischief Theatre" team really stretch their acting skills. Biggest revelation is Henry Shields. His Danny Zuko-esque Mitch Ruscitti is sharp contrast to his famous Fawlty routine. Henry Lewis as Robin Freeboys is a corpulent, hysterically funny bank manager, and Greg Tannahill an accomplice worth avoiding.
Pairing Dave Hearn and Nancy Wallinger as son and mother is an inspiration, Ms Wallinger once again confirming herself as the leading female comic talent in the West End. As ruthless daughter Caprice Freeboys, Charlie Russell adopts a decent American accent, providing a nicely hydrated performance handling a character far less vacant than her previous roles, with surprising depth.
Mention too for Mark Bell's direction which almost invariably keeps things on track, and David Farley for a set design which rarely fails to surprise. Also worth noting are Alex Frith and David Leach – stunt designer and safety consultant respectively, who must have worked overtime on this.
It's heavier and a little less naively charming than the company's previous work. It's also sometimes more mature and better considered too. Perhaps played a little faster once they are truly sure of the material it'll really hit the fifth star it is aiming for. Still, it's as satisfying for this fan of the team as all that has gone before, and if the monkey has one regret, it is that there probably won't be another new show from them for a long while to come. Luckily, for the moment, this is a pretty fair sized diamond.
 
Legacy reader reviews
Sat in the Circle Box C for this production, and whilst it's lovely having the space, boxes C and D are oddly angled away from the stage, so you need to lean over the edge for a reasonable view of the action. There is also an annoyingly placed spotlight in your line of sight. A fair amount of significant action occurs in the rear part of the stage on the box C side, which you totally miss. I think Box D would be a better bet, as the occupants of that didn't seem to be craning their necks around quite so much.

As for the production, I had high hopes after loving 'Peter Pan Goes Wrong.' This just didn't have the same volume of laugh out loud moments, with much less physical humour throughout. The amateur staging suited their previous productions, as they were pays about an amateur play, but for me it just didn't work. Neither did the American setting. It's very British humour and the ropey American accents detracted from this.
Entertaining enough, but I think it still needs work.
____________________________________________________________________
Seen: Sunday, May 8th, 2016, Evening performance.

Seat: A15
Sold relatively cheaply, this is a great seat. Looking slightly upward, as is expected, but within reason. Except for a few moments here and there clear view of everything. Legroom is quite good (I'm 6'2''), even slouching in the seat my knees had plenty of space.

Review:
Wild mix of slapstick, sight gags, wordplay, and everything else they could find. While not every joke landed, most of them did. The cast embrace the absurdity of the situations and run with it, enthusiastically. Stage design is fantastic: sometimes gleefully simple (the car/motorcycle chase), sometimes crazy inventive (view from the ceiling). I was not a super big fan of 'The Play That Goes Wrong' (now I want to see it again, of course), but this one I loved from the first moment to the last. Highly recommended!
____________________________________________________________________
We had tickets in Row N of the stalls, just to the left of centre. The leg room wasn't bad for my 6' husband, and the view wasn't bad at all, considering the shallow rake.
The play itself was very good, the laughs started straight away and continued throughout. As with the last 2 productions, the timing of the stunts are flawless, and the acting is spot-on and the set changes are slick and entertaining in themselves.
This play is maybe not as madcap as the previous plays but very enjoyable, and I would recommend it to anyone with a sense of humour.
___________________________________________________________________
Upper Circle Row C.

Another hit from the Mischief Theatre Company.

Really enjoyed this show and was very cleverly staged in places with some great performances all round.
This lot are a clever bunch, and hope they continue to write, produce and perform in many more future productions.
It's on a par with 'The Play that Goes Wrong,' and we did not leave disappointed. Would love to go and see it again.
I'm not an upper circle fan but it was the 'best of a bad bunch' when choosing. However after consulting the theatre bible a.k.a. Theatre Monkey I decided on the back row of the upper circle and was very pleased with these seats as one is still not that far from the stage and view was great so would have no problems booking these again.

Graham.
__________________________________________________________________
It did feel a little odd going down into the theatre, but that was partly because it was so crowded arriving, with nowhere to linger. The tiled walls were also oddly reminiscent of a tube station or a Victorian toilet! The theatre itself was fine, although the Circle overhang was a little disconcerting. No sign of tubes rattling by!

Seat Review: We were in the Stalls, in H1 and 2 and J1 and 2. J2 is directly next to a large pillar so those two seats are a little pair to themselves, which was cute, and pleased Tall Daughter. Leg room was fine. Those seats at the end are under the side overhang of the Circle, which didn't block the stage view (there is some business right at the top of the stage) but did make it feel a little enclosed.
Behind was an individual seat alone with space all round it, because of that pillar - no one was sitting there and that meant wriggling from side to side to see the stage was easier. The seats weren't staggered but the side angle to the stage meant a pretty good view between heads - my husband and Tall Son, in fact - with a bit of dodging from side to side. (I was in J1, TD was in J2 and saw fine.) You can't really lean back in your seat and see as well, and you miss a little of the action on the far right of the stage but not enough to matter and for the price, they were good value.
As TM said, though, higher numbers aisle seats might give you a better all round view with this particular play. And also, as the toilets and bar are at that low numbers side of the theatre, with no centre aisle, the ENTIRE row felt they had to come through in the interval, rather than walking around the back of the theatre (and it really isn't that big a walk!) including the obligatory last minute returner after the interval when we had finally sat down!

We all enjoyed the play. There was plenty of very daft word play, but the humour built up progressively as the plot twisted and turned like a duvet cover in a tumble dryer getting itself into unbelievable knots! The speed of it all was remarkable and the music was good. Several moments drew applause – most notably Caprice drinking water! – and the scene with Caprice miming across the bed to Sam (trying not to give spoilers here!) was amazing and very funny. The use of the set and the special effects in the staging were fabulous, especially in the second half. A thoroughly good evening.

Thanks, as ever, TM, for your recommendation!
___________________________________________________________________
Sat in Box D at the Criterion, for the evening performance Saturday 24th September 2016. Missed quite a bit of the happenings on our side of the stage, but we like the comfort and space.

This really should not work, it has every old cliché in the book, but they do it with gusto, and somehow manage to add a freshness to it. We loved every minute, it is a real laugh out loud farce. The Mischief Theatre is great, I cannot recommend this enough. I am still chuckling when thinking about it now.
___________________________________________________________________
A wander past TKTS lead us to an impromptu visit to see 'The Comedy About A Bank Robbery.' Thought this was great fun, and very well performed. Love the sense of madness Mischief Theatre bring to their plays, and whilst I didn't find this as funny as the other two, it was definitely worth seeing and a great way to spend a rainy afternoon. The Criterion is now another theatre ticked off my diminishing list of ones to visit.

We got seats in the dress circle, row E seats 6 and 7. Now we got these for half price but one should have been £49.50 and E6 should have been £20 due to a pillar. However, we were very pleasantly surprised. Expecting to see half the stage from E6 we actually found almost no restriction whatsoever apart from the very front right corner of the stage which was only used once, and once scene involving a window. Therefore I would say that with the present pricing structure I would have been disappointed to pay the £50 for E7, but would have found E6 to be an absolute steal for £20. But at half price, no complaints at all! Fabulous value.
___________________________________________________________________
£10 seat at box office...restricted view but that was OK. I watched the heist on a television screen. Didn't like it nearly as much as "Play That Goes Wrong," which I see again in NY in two weeks.
___________________________________________________________________
Criterion Theatre, 4th March 2017.
Having seen The Play That Goes Wrong twice, I'm a big fan of the group - and I was NOT disappointed. The Show builds very nicely - relying on traditional word play through to dynamic stage craft. Thoroughly enjoyable for all ages - there were many younger people there who laughed out loud with the rest of us. Builds and builds to a whirlwind, Excellent!

SEAT: STALLS H23, I.E. end of row but before those dreaded columns - Thanks TM for the suggestions. Missed nothing, would rather be here for this production than the other side where you would miss window scenes, and I was less obscured than end of rows in front of me. Paid usual 'partially restricted view' £33 ticket price and was happy with that. I am 6'4" though so that helped with the flat rake. Agree with others - it is a loud performance so would not want to be too far forward.
____________________________________________________________________
Went to see this show last night (1st June 2018), on the recommendation of a friend and I can happily say we are still great friends...it was brilliant!

The show is very funny with great timing, which is important as there are some clever stunts throughout the evening.
It must be exhausting to be involved with, some characters must be bruised and battered by the end of each performance. They also sing great music throughout and are very talented (especially Mrs Monaghan) and the music fits in and doesn't interrupt the flow of the action.

The clever scenery changes are smooth, very innovative and the car chases are set brilliantly using lighting and music. Look out for the scenes with the numerous moustached characters...very funny.
There is so much to this show and, having seen the sister show "The Play that goes Wrong", I think I found this one funnier.

Clearly we thoroughly enjoyed it, funny throughout and suitable for all ages.
I would also recommend our seats which were in the Upper Circle C19/20 which have a superb view of the whole stage at a good price.
____________________________________________________________________
Went to the Criterion last night (21st August 2019) for the 'Comedy about a Bank Robbery' (kids choice - making the most of Kids go free). As usual I only booked having referred extensively to your site and opted for B19, 20, 21, in the dress circle.
 
 We had a good view of the stage. There was a fairly shallow rake so I feared the worst if the people in front of us chose to lean forward but on this occasion all was well and sight lines through the seats in front were decent. Leg room was ample and we had no complaints about the comfort of the seats.
 
 The columns started in the row behind us - they were thinner than I had imagined but probably still a pain if directly in front of you.
 
 Looking down from where we were sitting there didn't appear to be any rake at all in the front stalls - beware if taking children or if you're short.
 
 We noticed that the ice cream was the most reasonably priced I've seen at the theatre for decades at £2.50 a tub, lots of ladies loos and the tube station outside the front door meant that I left with a positive impression of a theatre I had been a little wary of visiting.
Thanks for helping to make this another good theatre experience!
 
The monkey advises checking performance times on your tickets and that performances are happening as scheduled, before travelling.

Tuesday to Friday at 7.30pm
Saturday at 2.30pm and 7.30pm
Sunday at 3pm and 7pm
NO MONDAY PERFORMANCES.
Runs 2 hours 20 minutes approximately.
Theatres use "dynamic pricing." Seat prices change according to demand for a particular performance. Prices below were compiled as booking originally opened. Current prices are advised at time of enquiry.
All performances EXCEPT Friday Evenings, Saturday Afternoons and Evenings and Sunday Afternoons, plus any "Peak Date" performances:
Stalls
Row A: £39.50 
Rows B to P: £49.50 except
"Premium Seats" rows F to H 7 to 18: £69.50
Restricted view seats C3, D2: £10
Restricted view seats D 24; E 22; M 21: £15
Restricted view seats B 5, 22; C 22; D 3, 23; E 2, 3, 23, 24; F 2, 3; M21; N 20, 21; P 2, 3, 4, 22: £20
Restricted view seats C 4; F 23, 24; G 2, 3, 23, 24; H 23; K1, L 21; M 3, 4, 5; P 5, 6, 7, 18, 19: £25
Row Q 12, 13, 14: £39.50
Restricted view row Q 5, 6, 9, 10, 16, 17, 18, 20; R 9, 10, 13, 14, 17, 18; S 8, 9, 12, 13, 17: £29.50
Restricted view row Q 3, 4, 7, 8, 19, 21, 22; R 5 to 8, 11, 12, 15, 16, 19 to 22; S 7, 10, 11, 14, 15, 16, 18: £20
Restricted view seats Q 2, 11, 15, 23, 24; R 3, 4; S 5, 6, 19, 20, 21: £15
Restricted view seats R23 and S 4: £10
NOTE THAT SOME RESTRICTED VIEW SEATS MAY NOT BE SOLD UNLESS ALL OTHER SEATS HAVE BEEN TAKEN.


Dress Circle
All seats: £49.50 except
"Premium Seats" row A 9 to 23: £69.50
Restricted view row AA 28 and 29; C 27 and 28: £35
Restricted view seats C 1, 2, 5, 9, 20, 24; D 4, 5, 8, 12, 13, 16, 17, 20, 21, 24, 25; E 3, 4, 5, 8, 9; F 6 to 23, 25, 26, 27: £29.50
Restricted view seats AA 1, 2, 3; D 1, 2, 27, 28; E 1, 2, 6, 12, 13, 17, 18, 21, 22, 25 to 29; F 4, 5: G 6 to 8: £20

Upper Circle
Row A 6 to 28: £39.50
Row A 29; B 11 to 24 and C 10 to 20: £29.50
Row B 5 to 10 and 25 to 30; C 6 to 9: £20

Boxes:
C and D: £20 per seat.


Friday Evening, Saturday Afternoon and Evening and Sunday Afternoon, plus all "Peak Date" performances ONLY:
Stalls
Row A: £42.50 
Rows B to P: £52.50 except
"Premium Seats" rows E to H 7 to 18: £72.50
Restricted view seats C3, D2: £10
Restricted view seats D 24; E 22; M 21: £18
Restricted view seats B 5, 22; C 22; D 3, 23; E 2, 3, 23, 24; F 2, 3; M21; N 20, 21; P 2, 3, 4, 22: £23
Restricted view seats C 4; F 23, 24; G 2, 3, 23, 24; H 23; K1, L 21; M 3, 4, 5; P 5, 6, 7, 18, 19: £28
Row Q 12, 13, 14: £42.50
Restricted view row Q 5, 6, 9, 10, 16, 17, 18, 20; R 9, 10, 13, 14, 17, 18; S 8, 9, 12, 13, 17: £32.50
Restricted view row Q 3, 4, 7, 8, 19, 21, 22; R 5 to 8, 11, 12, 15, 16, 19 to 22; S 7, 10, 11, 14, 15, 16, 18: £23
Restricted view seats Q 2, 11, 15, 23, 24; R 3, 4; S 5, 6, 19, 20, 21: £18
Restricted view seats R23 and S 4: £10
NOTE THAT SOME RESTRICTED VIEW SEATS MAY NOT BE SOLD UNLESS ALL OTHER SEATS HAVE BEEN TAKEN.


Dress Circle
All seats: £52.50 except
"Premium Seats" row A 9 to 23 and B 10 to 22: £72.50
Restricted view row AA 28 and 29; C 27 and 28: £38
Restricted view seats C 1, 2, 5, 9, 20, 24; D 4, 5, 8, 12, 13, 16, 17, 20, 21, 24, 25; E 3, 4, 5, 8, 9; F 6 to 23, 25, 26, 27: £32.50
Restricted view seats AA 1, 2, 3; D 1, 2, 27, 28; E 1, 2, 6, 12, 13, 17, 18, 21, 22, 25 to 29; F 4, 5: G 6 to 8: £23

Upper Circle
Row A 6 to 28: £42.50
Row A 29; B 11 to 24 and C 6 to 20: £32.50
Row B 5 to 10 and 25 to 30: £23

Boxes:
C and D: £23 per seat.
DISCOUNT: A limited number of top non-premium price seats are available in advance at www.criterion-theatre.co.uk for Tuesday and both Sunday performances reduced to £25 each (plus £1.25 per ticket booking fee and optional £2 per booking, not per ticket, postage fee if required and time allows. Choose your seats at full price, and use code "Tuesdays" or "Sundays" in the discount code box on the "checkout" page to claim this discount. May not be available on "peak" dates and is subject to a fixed quota. When that is sold, tickets are at normal prices.
Back To Top